Everything you need to get your documents done
All-in-one solution for your document workflow
Market-leading products for automating entire document workflows on one platform.
No-code Automation and Integration Bots
Integrate workflows with your cloud applications
Start any process with a single click directly from your system of record. Automatically pre-fill and extract data, route documents based on real-time updates, and archive them once completed.
Explore integrations
Templates for industry-specific processes
Get started in minutes with tens of thousands of pre-built workflows and document templates for any department and industry use case.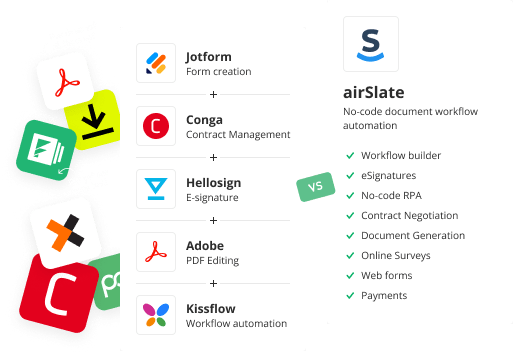 Why airSlate
01

A single holistic platform ‒ no need to integrate multiple services or platforms

02

No‑code configuration and deployment decreases time to value by 10x

03

Natively integrates with hundreds of cloud services using no‑code Bots
Trusted by forward-thinking companies around the world
Enterprise-grade security and compliance
Industry-leading security standards and protocols, adhering to and exceeding the strictest compliance certifications.
Get all the tools, training, and support you need to succeed with airSlate

airSlate Academy & certification
Learn to apply a no-code solution and automate your repetitive business tasks with the airSlate Academy.
Become an airSlate partner
Partner with the most powerful no-code document workflow platform to delight your customers.