our purpose
Empowering teams to collaborate on beautiful workflows
The power of digital workflows for teams
From medicine and real estate to sales and marketing, building exciting and engaging workflows strengthens relationships between businesses, employees and customers. Workflows delight customers, improve employee satisfaction, save money and increase revenue. For the first time ever, airSlate has made the process of creating, deploying and sharing workflows easy, fast and fun.
The airSlate story
airSlate began by solving a simple problem that had nothing to do with workflows: How to create fillable and editable forms and documents from PDF files. Today, the product that came from that original effort is used by millions of people around the globe.
From creating forms, to collecting signatures, to integrating with CRM systems, to automating workflows airSlate grew organically by iteratively building features that our customers demanded. This is how airSlate became a market leader and the only platform that empowers everyone and anyone to create beautiful workflows.
airSlate in numbers
M
Over 20 million users worldwide
+
40+ integrations with the most
popular apps and CRM systems
k
USLegal library of 85,000
state-specific legal forms
vendors sell their forms with the help
of our marketplace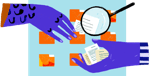 Workflows are about building experiences
We believe that workflows are about people not diagrams or budgets, and thus should be easy to create, a delight to deploy, and fun to engage with.

We're here for the long-term
Over a decade later, our mission has resulted in airSlate becoming a brand that empowers people and strengthens relationships between businesses, customers, and teammates. This is our journey.
Now airSlate in time
2008
The first build of our PDF Editor is released to the public
2009
PDFfiller surpasses 3,000 customers in its first year
2011
The team grows from 1 to 15 and we open our first office in Boston, MA
2012
10,000 customers and the first company New Year's Eve party
2013
First international Customers in all 5 continents and addition of an e-signature product.
2015
airSlate grows to service over 6 million users worldwide and expands into software integrations for CRMs and apps
2016
100 Employees worldwide and the 1% Charity pledge
2017
airSlate adds SignNow to its portfolio - becoming the e-signature provider to SMBs and Enterprises alike.
2018
The beginnings of airSlate as a complete workflow platform.
2019
airSlate's product portfolio services over 20 million customers worldwide, backed by 700 employees in five global offices
airSlate announces partnership with USLegal granting all customers instant access to the largest online library of over 85k state-specific legal forms
Meet the team
Our people are at the heart of airSlate. Meet the unique builders and innovators leading the way.
Meet our leadership team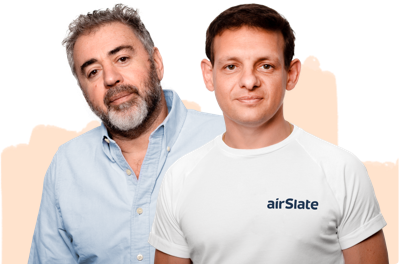 News and Press
All the airSlate news that's fit to print: articles, awards, press releases, and our press kit.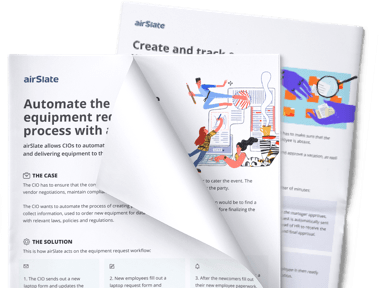 our values
Our shared values keep us connected & guide us as one team
We want to build a different type of company that's focused not only on the bottom line, but also the happiness of our customers and team, and our personal growth along the journey. Here are the values that collectively guide our decisions and actions.
We believe in the unlimited potential of humanity to collaborate and create
We, as humans, work in teams, but we are best when we add our own individuality to our work. So, we want to collaborate, but also focus on interesting problems, automating the tedious and mundane.
airSlate was built to serve these two fundamentally human needs combining collaborative team environments with Robotic Process Automation.
Being customer centric means we're here to help
Customers are the heart and soul of any business. We take care of our customers and help them take care of theirs. Our customers are the community that builds, nurtures and grows as we grow, create and transform.
Our sole focus is to create solutions that solve real problems. Our mission is to make those solutions available for everyone.
Create better solutions that deliver more value faster
Innovation is at the heart of that mission. At airSlate, we see barriers as opportunities. To us, barriers are nothing more than what hasn't been done before and a challenge to do things better.
Its not only the quality of the products that we build, but also the time to deliver value from those products for our customers. The products we build should make everyone's lives easier at minimum time.
Citizen Developer Empowerment
Software should make our lives easier and more fun, not more monotonous and tedious. Since we can't read minds, we've created a truly intuitive toolkit for citizen developers to just pick up and go. Corporate environments can be limiting for creativity, that's why airSlate is ideal for the citizen developer seeking to push their company forward using nothing more than their own initiative.
Empowering these individuals to create workflows their peers can put to use within their businesses, free from having to source expensive consultants, is what makes airSlate both versatile and ideal for companies keen on minimizing their IT expenditures.
Leading by example
airSlate pledges 1% of all profits and employee time
Software is useful, it changes the world and makes our lives better, but not for everyone. At airSlate, we recognize that what we build pales in comparison to who we are and how we treat each other. Making this world a better place for everyone, not just for our employees, investors or customers, is our mission.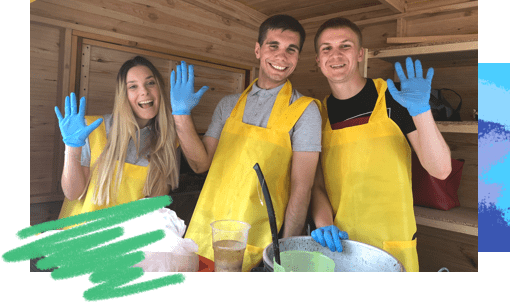 Educare
Opportunities for learning
It is no secret that many rural schools lack modern computer equipment. For many years now, airSlate employees have been collecting office and personal equipment for computer science lessons and sending hardware to schools so that they can build out and provide students with adequate technology programs.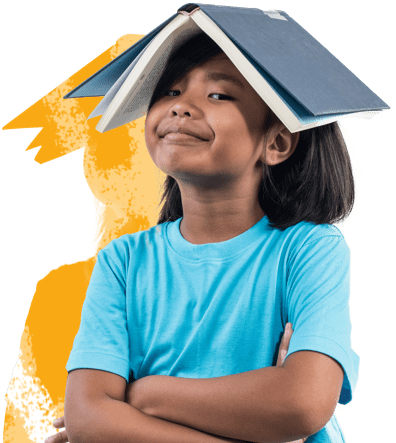 Careers
Join the team that collaborates
We've built a market-leading product that's making work easier for thousands of teams around the world.
Join our team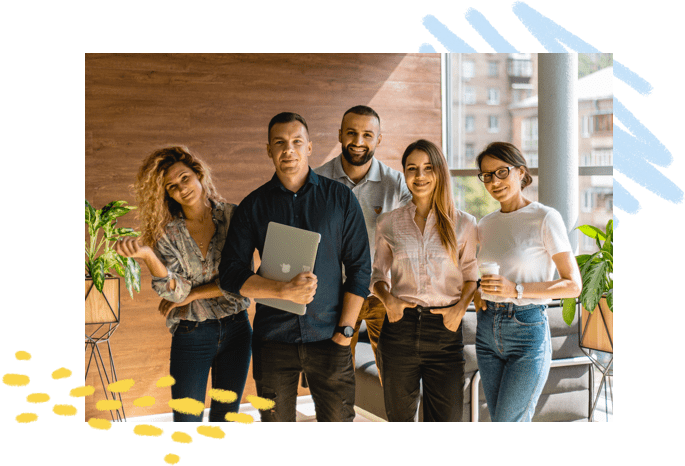 You're in good company
Teams from every industry run their daily workflows
on airSlate and its associated solutions
Our customers love what we do
We've built a market-leading product that's making work
easier for thousands of teams around the world.
People are able to complete quite complex and detailed forms online within minutes… The need to pass paper around has well and truly disappeared!
Mark Mc Nichol
In at the Deep End
…airSlate is saving us time and money. The team can pay more attention on the client experience, and less time worrying about missing a step in the administration of the enrollment process.
Brian Del Terzo
Your credit life