Self-paced
A Roadmap to Digital Transformation
Self-paced
A Roadmap to Digital Transformation
Every day, SMBs struggle to overcome problems responsible for disrupting their growth. These problems range from a lack of proper planning, flexibility, and outdated technology. Learn how digital transformation helps satisfy the most challenging market requirements, enhance day-to-day operations, and embed innovation with ease.
About this course:
This course will take you through the core aspects of digital transformation and its value for different businesses. You will take a deep dive into the key terms, steps, tools, and benefits of digital transformation.
By the end of the course, you will find out how digital transformation is applied to everyday operations and what it takes for SMBs to implement and benefit from it.
What does this course cover?
This course explains the key instruments, steps, and impact of digital transformation on everyday workflows. It delivers insights into what it takes to implement digital transformation in real life and how to take full advantage of it.
Why was this course made?
We created this course to help users get familiar with the main aspects of digital transformation in order to enhance the way they currently handle complex processes.
Who can enroll?
Anyone can enroll in this course to acquire knowledge about digital transformation as a key tool for boosting their business and adopting new technology.
The materials for this course include:
learning resources to provide you with the basics of digital transformation and its implementation.
quiz for self-assessment.
What you will learn
What digital transformation is and how it impacts businesses
How to digitally transform the way you operate processes
What the key steps of digital transformation are
The digital tools at your disposal and how to benefit from them
How to protect your customers' information and stay compliant
How best practices help to successfully employ digital transformation worldwide
| | |
| --- | --- |
| Duration | 30 minutes |
| Certificate | A sharable achievement is included |
| Subject | Digital Transformation |
| Level | Advanced |
| Language | English |
| Price | FREE |
| Rating | |
Earn a verified certificate to demonstrate the skills you gain
Verified by airSlate
Receive an airSlate-issued certificate with the airSlate logo to verify your achievement and expand your career prospects.
Shareable on social media
Post your certificate on LinkedIn or add it directly to your CV.
All you need to digitally transform your business
The airSlate Academy combines everything you need to digitally transform your business, including legally binding eSignatures, advanced PDF editing, and automated workflows.
eSignature workflows
Familiarize yourself with eSignatures, their implementation, business value, and learn how to create legally binding eSignature workflows for your business.
Paperless workflows
Change the way you work with documents into an interactive online experience and learn how to make your documents look professional.
Achieve your career goals with airSlate's advanced certification programs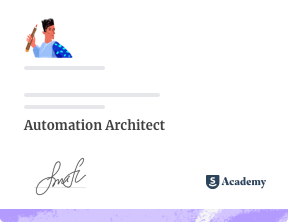 Automation Architect
Learn how to make any process in your workflow run like clockwork. Automate each step using Bots and triggers and perform integrations with popular CRMs like Salesforce or MS Dynamics 365.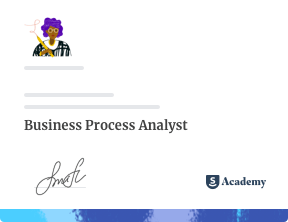 Business Process Analyst
Identify which processes in your workflow can be automated. Learn key metrics to propel your business forward and increase your return on investment (ROI).
Custom Bot Developer
Learn how to design and develop airSlate Bots — a powerful robotic process automation tool that can be customized using airSlate.
View the certificate
Become an airSlate Partner
Students who complete the airSlate Academy courses are welcome to become partners. Get the necessary skills for building automated processes, helping airSlate newbies, and generating revenue.
Learn the ABCs of digital transformation with airSlate
If you've ever come across the "digital transformation" term in the media, it was most likely concerning COVID-19. Indeed, the pandemic accelerated the need to move data fully or partially online. This means that employees used to manage documents in the physical world are now faced with the challenges of dealing with them in the digital realm. Consequently, many questions and concerns arose about how we manage data electronically, protect it, and ensure the authenticity of documents that are part of business-critical processes. So what is digital transformation in relation to our new reality?
While the term "digital transformation" seems self-explanatory on the surface, it involves a lot of behind-the-scenes elements, hidden technological gems, and not immediately obvious legal pitfalls. We'll go over all of them to give you a better idea of what this term means and how your company can benefit from it.
As a matter of fact, digital transformation is an umbrella term that covers all the concerns mentioned above and encompasses the processes related to shifting real-world operations online.
Some of the digital transformation examples you can already witness and interact with daily include order-and-collect apps, contactless payments, and customer services bots.
Digital transformation solutions for document management
Keeping track of all contracts and agreements can sometimes turn into a nightmare, especially when signing, approving, or tweaking the content happens on multiple ends. This is only one of the numerous bottlenecks you're probably struggling with daily.
When it comes to document management, one of the critical elements behind digital transformation is automation. There are various means by which automation can be implemented. They are robotic process automation (RPA), Artificial Intelligence (AI), machine learning, etc. All of them have their advantages and disadvantages and also require a different level of technical input.
All digital transformation services aim to remove multitasking, eliminate paper-based routine from the day-to-day business operations, automate repetitive tasks, streamline workflows, and take the guesswork out of data input and routing.
Whether you feel excited about the possibilities of RPA, AI, or machine learning in document management or are concerned about the robots that might potentially take over your job, one thing remains certain – digital transformation can save us all time and money. We're going to prove our statement by showing you how airSlate can transform the way you deal with documents.
Setting up the proper digital transformation strategy with airSlate
airSlate is a no-code cloud-based solution that brings valuable RPA tools and features to the table and lets you, your teammates, and clients get the most out of time by improving your daily document-based operations and workflows. Our solution was designed to set companies up for their digital business transformation journey.
Versatile Flow Templates Library. It includes all the documents, essential Bots, logical workflow execution, and data routing steps you and your team could need. You can customize your Flows as required to suit each department's or client's requirements.
Powerful document generation and editing tool. With airSlate, you can create new or edit existing PDF documents or take advantage of the library of pre-uploaded forms. In addition, it lets you create personalized web forms to collect client information and payments in clicks. Every document can be turned into a template, so you don't have to waste extra time.
Built-in industry-compliant esignature solution. You can designate roles, create multi-step workflows and send documents for esignature with confidence that they will be admissible in court.
Intuitive multi-user environment. airSlate is geared towards team collaboration and lets you add an unlimited number of teammates. It's easy to manage their access rights and work together on workflows from one secure place.
Enhanced security and compliance. This point is extremely crucial for setting up the digital strategy roadmap from the outset. Our solution is HIPAA, SOC II Type 2, CCPA, and GDPR compliant. It offers dual-factor authentication and the ability to password-protect documents. On top of that, you will be able to track each action taken on the document with military precision using the Audit Trail feature.
Streamlined data routing and real-time updates. Automate data transfers with customizable Bots and remove unnecessary steps from each point of interaction with documents. Stay on the same page with your team with instant notifications about document execution.
We understand that there's a lot of information to take in. Choosing an automation tool for your digital transformation roadmap might be challenging. That's why we created the Digital Transformation Course by the airSlate Academy to make your first steps breezy. The course highlights some of the best digital transformation trends and showcases how they were implemented across different companies. It will also walk you through the main benefits of this strategy and help you get started. The course is free, and you can take it on your terms. Sign up for it today and learn the ropes of digital transformation!
Questions & answers
Here is a list of the most common customer questions. If you can't find an answer to your question, please don't hesitate to reach out to us.
What is digital business transformation?
Digital transformation is a many-faced term that references the actions taken towards putting modern technologies, like blockchain, AI, machine learning, RPA, and others in place to optimize and modernize business processes across different departments.
Why are businesses experiencing digital transformation?
In 2020, McKinsey conducted a survey and found that 85% of respondents, to a certain degree, have witnessed the acceleration of digital transformation in their companies. One of the initial drivers for digital business transformation is the amount of data accumulating at an alarming speed. After the pandemic broke out, the need for it became even higher. Businesses around the world were forced to adapt to new WFH realities and safeguard business continuity.
What is a digital transformation strategy?
A digital transformation strategy is a plan of actions that a company develops to digitally modify business processes across different touchpoints while reducing legal risks and operational costs. This strategy involves the digital transformation roadmap for incremental implementation of new technologies and specific metrics to assess whether the digital strategy is viable. Also, one of the essential steps of such a strategy is to change the perception of employees who are reluctant to adopt new technologies.
Why is digital transformation important?
The goal of any digital transformation strategy - be it in document management or goods production - is to ensure business continuity and pave the way for further digital innovations. Every business wants to secure the best employees and retain as many customers as possible, which translates into higher profits in the long run. In the new post-pandemic era, it doesn't seem likely without embracing at least some of the aspects of digital transformation: eCommerce, cloud computing, big data, AI, VR, RPA, is no longer a choice but a vital necessity for companies that want to remain competitive and strive financially.
Why does digital transformation make no sense without the right tools?
Thriving in digital transformation begins with an intelligently planned digital transformation strategy. While there's no one-size-fits-all strategy to modernize business operations, one point of it remains universal for businesses and organizations of any nature and size - the selection of the right tools. They need to be easy to deploy and robust enough to respond to the ever-changing demands of a work-from-anywhere reality. At the same time, they shouldn't cost a fortune and be aligned with the set budget. The choice of tools will significantly define how well or bad your digital transformation strategy will go.
Why is airSlate the best no-code tool for your digital transformation strategy?
Today's market is saturated with various no-code tools to help non-tech-savvy specialists create, develop, test, and integrate different end products or services. However, they're mainly case- or industry-specific. Alternatively, airSlate helps companies create an entire ecosystem of tools and features that work together and in synergy with the existing CRMs. Unlike other services, airSlate is a cloud-based end-to-end solution that approaches document management holistically. It includes eSigning, document generation, rich RPA capabilities, and versatile contract negotiation tools – all under one roof. To read more about how airSlate helped companies implement this approach, visit our Customer Stories page and explore real-life digital transformation case studies.
Do I need industry specialists to set up digital business transformation?
It depends on the nature of your business, tasks that need to be digitized, and the scope of work in general. If you're going to implement high-level solutions that require regular code-heavy professional maintenance, then hiring specialists or loading your existing IT team is inevitable. However, with solutions like airSlate, you don't need to resort to it. It lets you create, configure and automate entire document-based processes without special skills or knowing programming languages. Even though mastering airSlate involves a particular learning curve, it's very low and doesn't take too much time or resources.
What makes airSlate a suitable digital transformation tool in terms of law and compliance?
At airSlate, privacy and law compliance are among our top priorities, besides innovations and customer centricity. We comply with laws that cover anything from esignature regulations (UETA, eIDAS, eSIGN Act) to payment details and high-stake sensitive information (SOC 2 Type II, PCI DSS certification FERPA, CCPA, HIPAA, and GDPR). You can find the information on how we hold up to the essential legal standards and maintain compliance on our Security and Compliance of Workflow Automation page.
How can I explore the possibilities of digital transformation with airSlate?
Whether you want to get to grips with digital business transformation or want to explore this subject further, you'll find the best course at airSlate. We've put together valuable and insightful materials based on our research and digital transformation case studies to help you get started in this course. We begin by explaining the fundamentals of digital transformation and move further to practical examples on how to set up and configure workflows with minimal effort, automate routine, and time-consuming processes, and get the most out of the airSlate's integration capabilities.
What are the terms of taking the course on digital transformation by airSlate Academy?
To enroll in the course on Digital Transformation, you don't need to have any technical background or special tools at hand. The course is organized by topics and complemented by various digital transformation case studies and quizzes at the end of every theme block. This way, you will stay motivated and will be able to brush up on what you've already learned right away. The best part of it is that it's free and you can take it at your own pace.