Self-paced
airSlate 101
Familiarize yourself with the basics of airSlate that are required for creating and managing automated workflows for your business.
About this course:
This course is aimed at explaining the ins and outs of getting started with airSlate. You'll take a close look at airSlate's basic terminology, its key concepts, and the role it plays in streamlining routine processes.
By the end of this course, you'll be equipped with the necessary knowledge for creating and managing automated workflows with airSlate.
What does this course cover?
This course provides a deep dive into the basics of airSlate and ensures you get a complete picture of how airSlate's key components operate.
Why was this course made?
The course serves as a helping hand for anyone who wants to learn everything about airSlate functionality and get the most out of it.
Who can enroll?
Anyone can enroll in this course to become familiar with the key principles of working with airSlate while learning everything they need to automate workflows from end to end.
The materials for this course include:
learning resources learning resources to teach you the basics required for automating and managing workflows for your business in airSlate.
quiz for self-assessment.
What you will learn
Basic airSlate concepts and how to navigate through the Dashboard
How to create and administer a Workspace, assign access permissions, and track progress
How to create and manage new workflows, use templates, and configure automation
How to share your workflows with recipients and follow up on every update in your workflow
| | |
| --- | --- |
| Duration | 30 minutes |
| Certificate | A sharable achievement is included |
| Subject | airSlate 101 Course |
| Level | Beginner |
| Language | English |
| Price | FREE |
| Rating | |
Earn a verified certificate to demonstrate the skills you gain
Verified by airSlate
Receive an airSlate-issued certificate with the airSlate logo to verify your achievement and expand your career prospects.
Shareable on social media
Post your certificate on LinkedIn or add it directly to your CV.
All you need to digitally transform your business
The airSlate Academy combines everything you need to digitally transform your business, including legally binding eSignatures, advanced PDF editing, and automated workflows.
eSignature workflows
Familiarize yourself with eSignatures, their implementation, business value, and learn how to create legally binding eSignature workflows for your business.
Paperless workflows
Change the way you work with documents into an interactive online experience and learn how to make your documents look professional.
Achieve your career goals with airSlate's advanced certification programs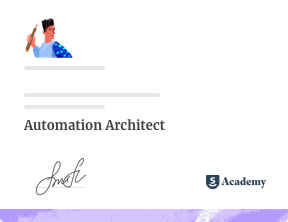 Automation Architect
Learn how to make any process in your workflow run like clockwork. Automate each step using Bots and triggers and perform integrations with popular CRMs like Salesforce or MS Dynamics 365.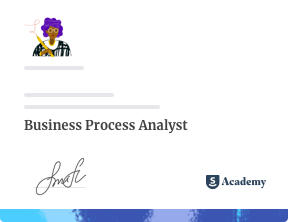 Business Process Analyst
Identify which processes in your workflow can be automated. Learn key metrics to propel your business forward and increase your return on investment (ROI).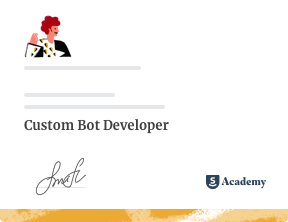 Custom Bot Developer
Learn how to design and develop airSlate Bots — a powerful robotic process automation tool that can be customized using airSlate.
View the certificate
Become an airSlate Partner
Students who complete the airSlate Academy courses are welcome to become partners. Get the necessary skills for building automated processes, helping airSlate newbies, and generating revenue.
Why you need workflow automation
Digital transformation is essential for companies to succeed in today's workspace, but it can be challenging to know where to get started. Organizations that digitally transform enjoy multiple benefits like enhanced marketing campaigns, improved customer relationship management, and streamlined processes with workflow automation.
What is workflow automation?
Workflow automation has recently become a trend, especially when it requires no code. It streamlines the process of making a task, document, or data flow from one action to another according to pre-defined rules. This means you don't have to complete repetitive tasks manually – instead, the software can replace or speed up all or part of a business workflow.
For millions of people around the world, an average workday consists of sending emails and documents, entering data in various record systems, creating and processing forms, etc. What if robust workflow automation tools could free you from manual, tedious tasks?
Implementing automated workflows into everyday tasks is possible for any industry and line of business. Take a look at the top 5 workflow automation examples:
Fast document creation

. Workflow automation software enables you to easily create, edit, fill out, sign, and archive records. Systems can use data from attached forms, spreadsheets, or even third-party services to populate records. When someone interacts with your flow, algorithms automatically fill a contract or agreement so that you receive a ready-to-use document.

Simplified tasks

. Specialized workflow automation tools can create and assign tasks without human interference. You can configure your systems to recognize who is responsible in different situations, and they will accelerate the entire process of task management.

Satisfied customers

. Automate lead nurture processes with software that moves prospects through the sales funnel until they're ready to contact your Sales team or place an order on your website. You can also implement automation into a workflow to accelerate collecting information, assigning a responsible person, and streamlining the customer experience.

Happy human resources

. Employee onboarding and offboarding require a lot of paperwork that can be digitized and automated. This empowers HR professionals to file requests easily and submit information using automated data routing instead of manually creating and sending out forms and emails.

Finances

. Optimize your processes for collecting payment and managing payment data. Automatically generate forms, send out applications, and request invoices.
Which workflow automation software is the best?
Are you ready to implement automation into workflows? Let's look at a few options.
There are two common types of workflow automation software: low-code and no-code. Low-code requires IT specialists to write code for integrations with services you utilize for everyday work. This often requires organizations to hire developers to help with integrating multiple platforms.
However, if you're interested in a service with an intuitive user interface that does not require coding, consider no-code workflow automation tools like airSlate. This no-code solution enables you to automate almost any business process. Its user-friendly interface helps users build complicated workflows without writing a single line of code. All you need to do is drag and drop preferred elements and determine actions to be performed after each step.
How to use airSlate for document workflow automation
Using airSlate is an excellent choice for digital transformation. It takes just three steps to get started so that you can discover its efficiency. Simply create an account and start customizing your Workspace. The service will provide tips to help you become familiar with the platform. From there, you can explore all aspects of the tool when you click Start New Flow and follow the guidelines below:
Create or upload documents. Choose forms, templates, or requests and build them according to your needs.
Assign Steps. Define Flow members responsible for making decisions and processing data.
Set up Bots. Every Bot has a particular task. Add a desired amount of Bots to cover all Flow needs and minimize human interactions.
Next, share the Flow with colleagues and let them test it out. This allows you to improve the Flow settings to ensure optimal automation.
Where can I learn more about using airSlate?
You can find courses and certification programs in the airSlate Academy. Start by enrolling in the airSlate 101 course to learn more about workflow automation tools and their primary concepts. Plus, you'll get assistance in creating your first automated process.
Our airSlate Academy teaches product specifics and seeks to develop a digital culture. You'll find many practical courses that can help with your professional development in digital transformation, analytics, and much more. Enroll in the course and get started today!
Questions & answers
Here is a list of the most common customer questions. If you can't find an answer to your question, please don't hesitate to reach out to us.
What is business process automation (BPA)?
BPA is the use of specialized technologies that allow business processes to run independent of human control. When you implement automated workflows, you no longer have to worry about monotonous everyday duties and get to enjoy multiple advantages like the ability to reduce the risk of human error, accelerate tasks completion, and optimize time and costs.
Why is business process automation important?
Automated work processes are significantly more efficient than manual ones. They enable you to minimize the number of mistakes made, complete tasks faster, and spend less of your budget. Consequently, the productivity of your business grows, and you reap the benefits in the market.
What does automation mean in business?
Workflow automation is the future of business. Most companies around the world acknowledge the inefficiency of human work and try to replace it with automated solutions. This way, businesses get the ability to free employees from routine duties. This allows them to focus on more creative and essential tasks to reach strategic goals faster.
Is workflow automation for small businesses possible?
Yes. You just need to find the right service that suits your needs. When it comes to implementing automated document management, consider trying airSlate – a holistic solution that can take over a number of monotonous tasks and increase the efficiency of your operations.
Can I build workflow automation in Salesforce?
Yes. Salesforce has built-in tools with a range of capabilities. However, the CRM's primary purpose is customer relationship management. If you want to expand what you can do in Salesforce, try airSlate. This solution enables you to build efficient web forms, route data, digitize contract negotiation, and do many other things to increase your productivity within Salesforce.
Where can I learn about workflow automation in healthcare?
Enroll in airSlate Academy courses. There, you will find helpful information about automated workflows and how to use them in different industries, including healthcare, education, HR, and many others. Additionally, you'll be able to test your knowledge and become familiar with best practices that have already been implemented across industries.
Can I combine workflow automation and document generation?
Yes, especially when you utilize a robust solution like airSlate. Document generation is the built-in feature that enables you to create new documents from scratch, just like you can in Microsoft Word or Google Docs. Plus, airSlate's professional PDF editor helps you modify the content of your files and insert fillable fields to collect data for processing.
What workflow automation software is the best?
The primary purpose of automated workflows software is to enable people to make their routine processes run automatically. However, not every business has enough of a budget to hire developers and build their own corporate software. Consequently, they can turn to no-code workflow automation solutions like airSlate to tackle their needs without any coding.
What is no-code workflow automation software?
"No-code" means that rather than having to work with strings of code, users can set up and use the software via its user-friendly and intuitive interface. Most available services have flow creators that require users to simply drag and drop steps of their workflow in the order they want. For many solutions, you don't even have to install any additional software—everything is available in a web browser.
Where do I find instructions about using workflow automation software?
In the airSlate Academy. Here you can find valuable courses and certification programs that will explain the essential aspects of workflow automation and the principles of its implementation within your specific business industry. Start with the airSlate in a nutshell course to get the knowledge and skills you need to automate your first workflows.