Self-paced
airSlate Bots: the Ultimate Guide
Self-paced
airSlate Bots: the Ultimate Guide
Bot is an office worker's best friend, wouldn't you agree? Discover how airSlate no-code Bots come to the rescue when automating almost any repetitive manual task (related to document workflows) in just a few minutes.
About this course:
This course will take you through the essentials of airSlate no-code Bots, including their key features, types, settings, and benefits.
By the end of the course, you'll be equipped with all the necessary knowledge to simplify and automate your document workflows with airSlate Bots.
What does this course cover?
This course will take you through the key stages of working with airSlate Bots: selecting a Bot for a specific task, adding it to your workflow, and configuring the settings to ensure the Bot acts exactly the way you expected.
Why was this course made?
We created this course to provide essential information about what airSlate Bots are, their key benefits for any workflow, and the simplicity of no-code Bot configuration.
Who can enroll?
Anyone can enroll in this course to gain in-depth knowledge about the Bot as one of the key components of workflow automation in airSlate.
The materials for this course include:
learning resources to provide you with all the necessary information about the concept of a Bot in airSlate.
quiz to consolidate the received knowledge.
What you will learn
How to select a Bot to automate the task you need
How to configure Bot settings without any skills in coding
How to make sure the Bot acted correctly by tracking its progress
| | |
| --- | --- |
| Duration | 40 minutes |
| Certificate | A sharable achievement is included |
| Subject | Intro to airSlate Bots |
| Level | Beginner |
| Language | English |
| Price | FREE |
| Rating | |
Earn a verified certificate to demonstrate the skills you gain
Verified by airSlate
Receive an airSlate-issued certificate with the airSlate logo to verify your achievement and expand your career prospects.
Shareable on social media
Post your certificate on LinkedIn or add it directly to your CV.
All you need to digitally transform your business
The airSlate Academy combines everything you need to digitally transform your business, including legally binding eSignatures, advanced PDF editing, and automated workflows.
eSignature workflows
Familiarize yourself with eSignatures, their implementation, business value, and learn how to create legally binding eSignature workflows for your business.
Paperless workflows
Change the way you work with documents into an interactive online experience and learn how to make your documents look professional.
Achieve your career goals with airSlate's advanced certification programs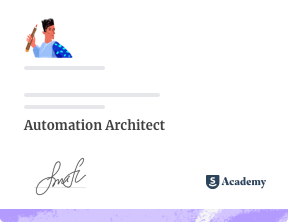 Automation Architect
Learn how to make any process in your workflow run like clockwork. Automate each step using Bots and triggers and perform integrations with popular CRMs like Salesforce or MS Dynamics 365.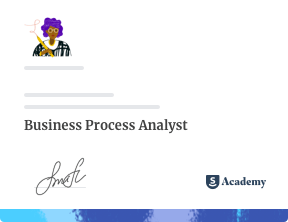 Business Process Analyst
Identify which processes in your workflow can be automated. Learn key metrics to propel your business forward and increase your return on investment (ROI).
Custom Bot Developer
Learn how to design and develop airSlate Bots — a powerful robotic process automation tool that can be customized using airSlate.
View the certificate
Become an airSlate Partner
Students who complete the airSlate Academy courses are welcome to become partners. Get the necessary skills for building automated processes, helping airSlate newbies, and generating revenue.
How bot automation makes your routine tasks hands-free
What is bot automation?
Let's break it down. A bot (short for robot) is a software application designed to complete specific and usually monofunctional tasks. Bot automation uses bots to interact with applications, workflows, and systems with the purpose of streamlining processes, typically from beginning to end. You may also hear people refer to bot automation as robotic process automation (RPA).
RPA/bot automation software enables users to execute a wide range of business-related processes and minimize human interference when it comes to repetitive processes. For example, they can request, collect, and route data, make calculations, scrape web data, archive documents, in addition to completing many other routine tasks.
How do automation bots work?
Automation bots are sets of algorithms built to complete particular tasks. Usually, they work over the internet or other networks to send and receive data from other bots or servers. Once bots are activated, they operate until the task is completed (or stop if completing a task is impossible). Furthermore, they can be launched both manually as well as automatically. Advanced services develop their bots with built-in activation capabilities, so once a bot meets certain conditions, it "wakes up" on its own.
Based on the type of tasks they perform, software robots can be divided into many different groups, such as:
Chatbots - simulate conversations with real people
Social bots - produce messages, promote ideas, act as followers, etc., on social networks
Knowbots - surf the Net and gather the information that meets specific requirements
Crawlers - (A.K.A. web crawlers) access websites and collect content to use for indexing in search engines
Monitors - analyze the health of a particular system, application, or website
Specialized bots - perform tasks according to their developers' needs
Is bot automation beneficial?
Yes! Bot automation offers multiple benefits that help you develop your business.
First of all, it optimizes your resources. When your employees are free from completing routine duties, they can concentrate on more creative and higher-value tasks that work towards your business's strategic goals.
Automation bots also reduce your operational costs. Any software robot will cost you less than any human employee. Plus, you don't have to worry about paying employees for the hours spent on a task. If a human needs half of a day to process a set of data, the software can complete the task in minutes if not seconds.
Implementing automated solutions also leads to an improved customer experience. Automating any part of client requests significantly accelerates the entire process and offers them a simple and efficient experience. As a result, their needs are met, and their satisfaction level grows.
Don't forget: bot automation software simplifies scalability. Instead of hiring new employees to process growing client requests manually, the software can deal with almost any amount of requests with no changes made to your staffing. Furthermore, you can re-use existing algorithms and apply them to other processes within your organization. The same robots, with a few tweaks, can be ready to process other types of data or to do so in a slightly different way without any significant effort on your part.
And last but not least—specialized automated solutions enhance your analytics capabilities. You can keep track of all of the actions they have performed. This data can be used to make strategic decisions that advance your business, can help your business avoid bottlenecks, and can even provide insights on how to improve your workflows even more.
How do I create bot automation software for my business?
There is no one-size-fits-all answer, but your main options are hiring your own IT department with dozens of developers (a costly endeavor) or finding a digital solution that suits your needs. Digital solutions include both low-code and no-code services, with low-code services requiring you have IT specialists, which may still be a costly option. Consider choosing no-code platforms and begin by exploring your options online to select a solution that can tackle your needs and suits your industry.
airSlate is an example of a solution that suits almost every sphere of business. If you need to accelerate document management processes, in particular, you won't find a better service. airSlate has a built-in web form builder, PDF editor, legally-binding esignatures, many valuable integrations, and numerous automation Bots that can easily handle tedious tasks. Plus, the list of software robots available with airSlate is constantly growing.
When you choose airSlate for your business, you don't need to create specialized tools on your own; you can simply customize airSlate's existing ones. The platform has a user-friendly interface that leads you through the basic steps of building automated workflows and explains how to take advantage of its many features without dealing with a single line of code. Come with a basic understanding of what your workflow should look like, and you'll have plenty to get you started. If you want to become a pro in bot automation, consider enrolling in the airSlate Academy courses. You'll learn how to maximize the service's capabilities and discover industry-specific tips to use at your organization.
To find out more about using Bots and to start your journey into the world of automated workflows, click the Enroll button at the top of the page, register, and gain new valuable skills in no time. Free yourself from routine tasks today!