Self-paced
airSlate Document Generation & Contract Negotiation Basics
Self-paced
airSlate Document Generation & Contract Negotiation Basics
Discover how to adapt airSlate document generation and contract management to boost the most crucial document workflows without hassle or risking data integrity.
About this course:
This course takes you through the core principles of the work, values, and differences between airSlate document generation and contract management.
By the end of this course, you will be able to differentiate between airSlate document generation and contract management and identify when to apply them to your contract workflows.
What does this course cover?
This course explains how to choose what works best for different contract workflows — airSlate document generation or contract management.
Why was this course made?
We created this course to explain how to use two different methods to seamlessly run contracts in airSlate and collaborate on them with your partners in real-time.
Who can enroll?
Anyone can enroll in this course to learn the difference between document generation and contract management in airSlate.
The materials for this course include:
learning resources to help you apply airSlate document generation and contract management in your contract workflows.
quiz to consolidate your acquired knowledge.
What you will learn
The differences between airSlate document generation and contract management
How to accelerate the process of creating contracts with large amounts of data
How to eliminate routine work in your contracts with automation
How to easily route data from external systems to your contracts
How to grant contract access permissions to the recipients of your choice
How to plan and visualize your contract workflows
How to start the negotiation process, track changes, and sign your contracts
| | |
| --- | --- |
| Duration | 30 minutes |
| Certificate | A sharable achievement is included |
| Subject | Document Generation and Contracts in airSlate |
| Level | Intermediate |
| Language | English |
| Price | FREE |
| Rating | |
Earn a verified certificate to demonstrate the skills you gain
Verified by airSlate
Receive an airSlate-issued certificate with the airSlate logo to verify your achievement and expand your career prospects.
Shareable on social media
Post your certificate on LinkedIn or add it directly to your CV.
All you need to digitally transform your business
The airSlate Academy combines everything you need to digitally transform your business, including legally binding eSignatures, advanced PDF editing, and automated workflows.
eSignature workflows
Familiarize yourself with eSignatures, their implementation, business value, and learn how to create legally binding eSignature workflows for your business.
Paperless workflows
Change the way you work with documents into an interactive online experience and learn how to make your documents look professional.
Achieve your career goals with airSlate's advanced certification programs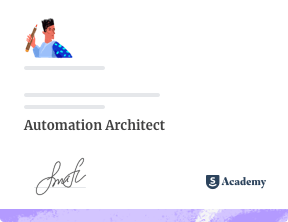 Automation Architect
Learn how to make any process in your workflow run like clockwork. Automate each step using Bots and triggers and perform integrations with popular CRMs like Salesforce or MS Dynamics 365.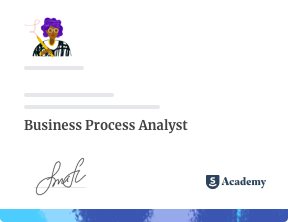 Business Process Analyst
Identify which processes in your workflow can be automated. Learn key metrics to propel your business forward and increase your return on investment (ROI).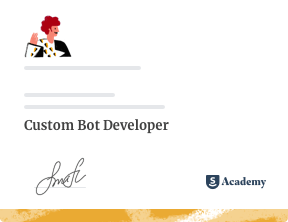 Custom Bot Developer
Learn how to design and develop airSlate Bots — a powerful robotic process automation tool that can be customized using airSlate.
View the certificate
Become an airSlate Partner
Students who complete the airSlate Academy courses are welcome to become partners. Get the necessary skills for building automated processes, helping airSlate newbies, and generating revenue.
Easily learn how to automate document workflows
If you are using several tools to create and share documents as a part of your workflow and want to streamline this process, look no further than this course. Accelerate document processes using an integrated workflow solution that has all the features and tools you need in one place. In this short training course, you will learn the basics of tackling document generation and contract negotiation in airSlate, which will improve the efficiency of your organization and build an optimal document workflow for your business needs.
Practice while you learn
Whatever the complexity of your desired document workflow, you can learn how to set up and automate document generation from scratch and with clear examples to guide you in this online course. All of the lessons are practical and easy to replicate in your own workspace. Simply listen to the explanation, watch the demonstration of every tool and action, and repeat it in your own airSlate account. If you want, you can make the most out of this automation course by building your functional workflow as you learn. Should you forget any bit of information, you can refer back to the course at any time.
Get a systemized view of contract negotiation automation
The airSlate Academy contract negotiation courses will guide you through every step of creating a workflow. You will start by learning how to create documents in the advanced online editor using powerful tools and fillable fields. Then, you will learn how to add more complex settings for the entire flow. Finally, you will train on how to tackle the negotiation process with the shared documents and contracts within the flow, which will optimize the time you spend on every deal closed.
Check your knowledge
The material presented in the course is straightforward and interactive, making it easy to absorb. At the end of every section of the course, you will be asked to check your knowledge with a quiz on the information you learned. You can take these quizzes as many times as you want to keep testing your knowledge and to improve your score. After completing the course program, you will be able to:
Differentiate airSlate document generation from contract management
Use airSlate tools to create contracts with large volumes of data
Mitigate manual work in contract creation and negotiations
Send documents for approval and grant access permissions to your team
Visualize your workflow with contracts
No previous training needed
You do not need to have any technical knowledge or coding background to learn workflow automation with airSlate. All the no-code tools you will learn about and practice with are featured in the clear and intelligible interface of airSlate, which does not require you to have any coding expertise to use.
Questions & answers
Here is a list of the most common customer questions. If you can't find an answer to your question, please don't hesitate to reach out to us.
What is automated document generation?
Automated document generation is the process of populating template-based documents with data routed from other sources. It simplifies important document workflows in your organization by automating the process of creating customized documents with specific data, which employees often handle manually. You can learn how to incorporate automated document generation into your processes to improve the productivity of your team.
What are document generation tools?
These are online tools that help you set up and automate document generation. airSlate has all of the tools you need to configure your custom document generation and contract negotiation process. Throughout this course, you will learn everything you need to know to configure automation to best serve your business goals.
How do I set up automation for document generation?
You can set up document generation and contract negotiation automation using airSlate features and tools. This course will take you through each of them step by step, from how to use the basic document editing tools to how to configure all of the steps in a complex workflow. After completing the course, you will be able to use airSlate tools for your custom document generation.
What are the 4 main stages of contract negotiations?
The first stage of contract negotiations is the proposal, followed by the second stage in which both parties exchange information with one another. Then, there are the clarification and bargaining stages. After these are complete, the parties can end their negotiations by coming to an informed decision. With the contract negotiation courses by airSlate, you can learn how to use a solution that makes this whole process digital, streamlining every negotiation.
What are automation courses?
Automation courses by airSlate are short and informative trainings on how to automate document workflows using the solution's features and they include demonstrations you can practice right away. In addition to learning the principles of automation, you can find a lot of insights on how to optimize your document flows in these courses and in airSlate Academy more broadly.
What is the first step in creating a document?
The first step in creating a document is drafting. When you have powerful document creator tools at hand, the entire document creation process will be efficient. With airSlate, you can also automate document creation as a part of your workflow.