Self-paced
airSlate for MS Dynamics 365
Self-paced
airSlate for MS Dynamics 365
Get the most out of Microsoft Dynamics 365 by integrating it with airSlate, a no-code workflow automation platform. Achieve maximum productivity from both solutions within one platform.
About this course:
This course demonstrates how to automate document exchanges and streamline data processing and transfers using airSlate for Microsoft Dynamics 365.
By the end of this course, you'll be able to connect your MS Dynamics 365 and airSlate accounts to automatically pre-fill and export data and exchange documents between the two solutions while speeding up data processing to increase customer satisfaction.
What does this course cover?
This course teaches you how to integrate airSlate with MS Dynamics 365 and build Flows for exchanging documents and transferring data via Bots to eliminate all the tedious, repetitive tasks within your workflows.
Why was this course made?
We created this course to help anyone working with Microsoft Dynamics 365 automate their workflows without leaving their CRM system and benefit from both systems simultaneously.
Who can enroll?
Anyone can enroll in this course to gain practical experience in integrating their workflows with MS Dynamics and get a comprehensive understanding of how the integration works.
The materials for this course include:
learning resources to teach you how to configure airSlate for MS Dynamics 365 in practice.
quiz to consolidate the knowledge you receive.
What you will learn
How to connect airSlate and MS Dynamics 365
How to exchange documents between the two systems
How to enhance team collaboration by assigning specific roles and permissions to team members
How to automate data transfers between airSlate and Microsoft Dynamics
| | |
| --- | --- |
| Duration | 30 minutes |
| Certificate | A sharable achievement is included |
| Subject | airSlate for MS Dynamics |
| Level | Advanced |
| Language | English |
| Price | FREE |
| Rating | |
Earn a verified certificate to demonstrate the skills you gain
Verified by airSlate
Receive an airSlate-issued certificate with the airSlate logo to verify your achievement and expand your career prospects.
Shareable on social media
Post your certificate on LinkedIn or add it directly to your CV.
All you need to digitally transform your business
The airSlate Academy combines everything you need to digitally transform your business, including legally binding eSignatures, advanced PDF editing, and automated workflows.
eSignature workflows
Familiarize yourself with eSignatures, their implementation, business value, and learn how to create legally binding eSignature workflows for your business.
Paperless workflows
Change the way you work with documents into an interactive online experience and learn how to make your documents look professional.
Achieve your career goals with airSlate's advanced certification programs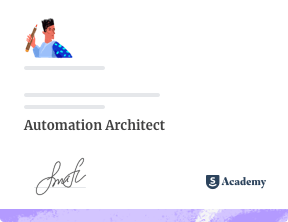 Automation Architect
Learn how to make any process in your workflow run like clockwork. Automate each step using Bots and triggers and perform integrations with popular CRMs like Salesforce or MS Dynamics 365.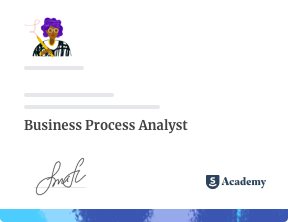 Business Process Analyst
Identify which processes in your workflow can be automated. Learn key metrics to propel your business forward and increase your return on investment (ROI).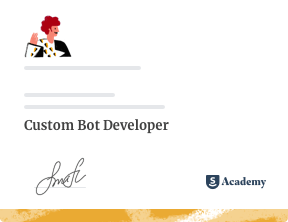 Custom Bot Developer
Learn how to design and develop airSlate Bots — a powerful robotic process automation tool that can be customized using airSlate.
View the certificate
Become an airSlate Partner
Students who complete the airSlate Academy courses are welcome to become partners. Get the necessary skills for building automated processes, helping airSlate newbies, and generating revenue.
Microsoft Dynamics 365 Automation with airSlate: Getting the best from both worlds
MS Dynamics 365 is an innovative platform that combines ERP and CRM in one place. Companies can use this platform to bring their business-critical processes to the cloud. Plus, they can use the same data within MS Dynamics 365 across different modules, including Dynamics 365 Marketing automation, Sales, Marketing, Customer Service, and others.
The basics of automating MS Dynamics 365 workflows
Our robust platform allows multiple integrations with other solutions to make document execution and data collection processes more consistent and streamlined. One solution is airSlate.
airSlate is a no-code cloud-based platform that helps businesses automate and digitize by eliminating repetitive tasks without the need for human input. With robust document generation, esignature, and data collection tools, airSlate also comes with a wide range of integration and automation Bots.
These Bots are software robots that can be trained to perform a specific action based on pre-set parameters. They can retrieve data from the mapped fields in the documents and push it to the app of your choice or vice versa, create new records, automatically store or share documents upon completion, set up reminders, and more.
The same applies to MS Dynamics 365 automation. Simply install the airSlate integration in your account to update and synchronize your data with airSlate. After you set up the integration, you can create your Flow, edit documents, and configure MS Dynamics Bots.
On our platform, you can find the following MS Dynamics RPA Bots:
Create MS Dynamics 365 Records
Pre-fill from MS Dynamics 365 Records
Update MS Dynamics 365 Records
Export to MS Dynamics 365
Prefill from Microsoft Dynamics 365 via FetchXML Bot
Invoke MS Dynamics 365 Workflow on Completion
Pre-fill MS Dynamics 365 Record Attachments
You can easily set up conditional routing of documents between apps and CRMs, generate ready-to-complete and ready-to-sign forms pre-filled with MS Dynamics 365 data, create new and update existing records in MS Dynamics 365 data based on the collected information, and more.
What makes airSlate your go-to integration for MS Dynamics 365 Automation
Easy-to-install and -use solution
Our product is designed for people with no tech background. You don't need to be well-versed in programming or know how to code to set up the integration.
Secure and compliant experience
airSlate always stays current with ever-changing laws and legal frameworks to keep your company in compliance with main data protection and eCommerce laws. Use our platform to set up your MS Dynamics 365 workflows with confidence.
A rich suite of tools
airSlate offers a vast collection of tools to make your business process automation run smoothly. These tools include eSignature, RPA tools (Bots), integrated payment collection, contract negotiation, web form creation, and document generation.
Extensive guidance
We offer everything you need to help set up integrations and other features. Explore our video tutorials and get help from our dedicated support team and solutions engineers.
Competitive subscription plans
Our solution offers the perfect balance between quality, security, and price. Our subscriptions let you make the most out of all the functionality needed to manage your business effectively.
Robust integration and API capabilities
Our out-of-the-box integrations and API are set up to facilitate data routing and record updates. Whether you need to enhance Dynamics 365 email automation or improve any other process, we've got you covered.
How to get started with MS Dynamics 365 automation
Automating Dynamics 365 workflows might seem complicated on the surface but you have help! airSlate makes sure everyone, regardless of their experience with integration or automation tools, receives a proper onboarding process that will be smooth and secure at every touchpoint. We recommend starting with this integration by enrolling in a new course, "airSlate for MS Dynamics 365". It comes with insightful information and numerous quizzes you can take to support your knowledge. You can enroll at any time and take it on your own terms. Implement airSlate for MS Dynamics 365 for a higher level of accuracy, more streamlined workflows, and increased visibility across every point of document execution. Discover all the capabilities airSlate has to offer. Sign up for airSlate Academy courses now!