Self-paced
airSlate for NetSuite
Self-paced
airSlate for NetSuite
Discover how to increase NetSuite's efficiency by integrating it with airSlate. Learn how to streamline team collaboration and get the most out of the two products.
About this course:
This course walks you through the key integration stages so you can start simplifying and streamlining data processing inside your NetSuite organization with airSlate.
By the end of this course, you will be able to configure the no-code integration to benefit from key airSlate features and tools without leaving your NetSuite organization.
What does this course cover?
This course covers the process of configuring airSlate in your NetSuite account and explains the benefits of delegating all the routine and repetitive tasks within your workflows to airSlate's no-code Bots.
Why was this course made?
We created this course so that anyone working with NetSuite can automate their document workflows without switching between their ERP system and the workflow automation solution.
Who can enroll?
Anyone can enroll in this course to acquire the necessary knowledge for integrating their document workflows with NetSuite without having to write a single line of code.
The materials for this course include:
learning resources to teach you how to configure airSlate for NetSuite in practice.
quiz for self-assessment.
What you will learn
How to set up airSlate components in NetSuite to integrate the two solutions
How to build a fully-automated document workflow directly from NetSuite
How to enhance team collaboration by granting specific access permissions to team members
How to streamline workflows by automating NetSuite record creation, data transfers and updates, and more
| | |
| --- | --- |
| Duration | 30 minutes |
| Certificate | A sharable achievement is included |
| Subject | airSlate for NetSuite |
| Level | Advanced |
| Language | English |
| Price | FREE |
| Rating | |
Earn a verified certificate to demonstrate the skills you gain
Verified by airSlate
Receive an airSlate-issued certificate with the airSlate logo to verify your achievement and expand your career prospects.
Shareable on social media
Post your certificate on LinkedIn or add it directly to your CV.
All you need to digitally transform your business
The airSlate Academy combines everything you need to digitally transform your business, including legally binding eSignatures, advanced PDF editing, and automated workflows.
eSignature workflows
Familiarize yourself with eSignatures, their implementation, business value, and learn how to create legally binding eSignature workflows for your business.
Paperless workflows
Change the way you work with documents into an interactive online experience and learn how to make your documents look professional.
Achieve your career goals with airSlate's advanced certification programs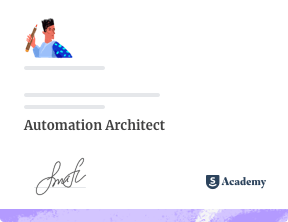 Automation Architect
Learn how to make any process in your workflow run like clockwork. Automate each step using Bots and triggers and perform integrations with popular CRMs like Salesforce or MS Dynamics 365.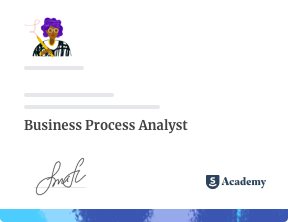 Business Process Analyst
Identify which processes in your workflow can be automated. Learn key metrics to propel your business forward and increase your return on investment (ROI).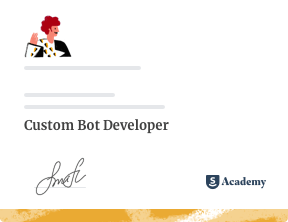 Custom Bot Developer
Learn how to design and develop airSlate Bots — a powerful robotic process automation tool that can be customized using airSlate.
View the certificate
Become an airSlate Partner
Students who complete the airSlate Academy courses are welcome to become partners. Get the necessary skills for building automated processes, helping airSlate newbies, and generating revenue.
Great results with less effort: airSlate solutions for improving NetSuite AP automation
Today's fast-paced commercial environment demands business processes run without interruptions. Automation technologies, ERPs, and CRMs are the driving forces helping companies achieve this goal and increase productivity. NetSuite has earned its worldwide reputation as one of the most efficient enterprise resource planning (ERP) systems, providing a cloud-based suite of business applications within a single platform. It has module solutions for online management of HR, sales, marketing, and customer relations processes. However, the main NetSuite automation focus is finance, accounting, procurement, and inventory management.
Finance is critical for any business requiring top-level accuracy and continuity maintenance. Manual data processing in finance and accounting results is not the solution: it's error-prone, time-consuming, and inefficient as financial teams are overstrained managing tons of paper-based invoices, bills, and reports. Switching accounts payable workflows from manual to computerized, particularly with NetSuite automation tools, is the primary step to making your finance department work more productive and cost-efficient.
What is NetSuite AP automation?
Accounts processing automation (or AP automation) is a technology that creates an automated workflow for recurring tasks in accounting. This includes receiving invoices, checking them with the relative purchase orders (often with the OCR functionality), forwarding these invoices for approval to all the responsible parties, payment processing, and post-finish reconciliation.
Performing these steps automatically instead of manually entering data and sending emails helps AP teams save time and deliver payments on schedule. NetSuite offers a solution for this goal.
NetSuite AP automation is software embedded in the platform for invoice review, approval, and payment processing. It provides an accurate invoice matching with vendor orders, purchase orders, and other supporting documentation. Plus, it automatically fills out debits and credit records, freeing account specialists from manual entry. It features a dashboard for accounts payable so that AP specialists can easily track their accounting paperwork in progress or pending, control the due dates, prepare reports, and manage payments in real-time.
With all the above, NetSuite's native software for financial management works great for improving AP workflows, but can you make it even better? Yes, through integrating with other business applications. airSlate's workflow automation platform is the ideal solution to seamlessly run all your accounting and finance processes.
Let's take a look at how airSlate improves NetSuite AP automation.
airSlate automation for NetSuite
airSlate is the best solution on the market. It's an end-to-end workflow automation platform that enables users to create, automate, and integrate recurring business processes within a single solution. airSlate offers multiple document-based templates, which you can easily customize according to your company's needs. For instance, it has pre-built workflow templates for finance and accountants, such as invoice creation, budget planning and approval, or goods receipts. It allows users to legally sign their paperwork electronically, plus request and collect payments on-site.
With airSlate, you don't need to write a single line of code to configure your workflow or to connect the tool with your ERP system. airSlate uses robotic process automation technology (or RPA) with a range of Bots to perform particular tasks. All these Bots are ready-for-use and can be set up within minutes.
Here is what you can do with RPA for NetSuite tools from airSlate:
Launch and automatically run a particular process in your ERP system
Create or update the existing records in your NetSuite module
Export data from completed forms to certain NetSuite records
Pre-populate your accounts forms with data from ERP
Notify your NetSuite contacts about a document being opened for editing or completion
You can find the list of airSlate Bots for NetSuite integration and learn more about them here. Setup is simple and the results of airSlate RPA for NetSuite are huge:
AP team's productivity increases as the manual work they perform is minimized
Relations with suppliers and partners get better thanks to faster invoice and payment processing
The sales cycle gets reduced, and the flow of goods and cash speed up
The company saves money and increases its profitability
A final word
Integrating your ERP with airSlate will greatly improve your business. Plus, there's no need to organize a special airSlate for NetSuite online training for your staff. Your employees can enroll in the airSlate Academy and take free courses to learn how to automate AP workflows. Explore best practices for NetSuite automation and streamline your business today!