Self-paced
Workflow Analytics with airSlate
Self-paced
Workflow Analytics with airSlate
Track your team's progress and put updates and key metrics on autopilot in document workflows. Discover airSlate workflow analytics as a working solution to detect errors and inefficiencies on time and boost your company's performance.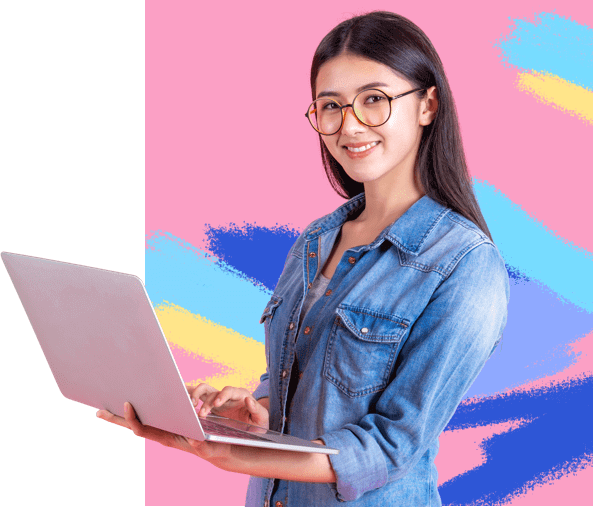 About this course:
The course explains how airSlate analytics works and how to stay on top of changes that take place in an organization.
By the end of this course, you'll be able to track changes and resolve problems that occur in your organization using the airSlate audit trail and dashboard metrics.
What does this course cover?
This course explains the concept of workflow analysis, the issues it addresses, and how it affects document workflows. You will learn how to monitor your workflows and stay in the loop on everything happening in your organization with airSlate.
Why was this course made?
We created this course to show why tracking everything that takes place in your organization is critical for business process efficiency.
Who can enroll?
Anyone can enroll in this course to learn how to track changes in their organization, determine areas for improvement, and use resources more efficiently.
The materials for this course include:
learning resources to help you understand the importance of airSlate analytics and be able to use it.
quiz to consolidate the received knowledge.
What you will learn
Where to start analyzing your document workflows in airSlate
How to generate reports that reflect all activities in your organization
How to follow up only specific events that take place in your organization
How to collect and save information from the completed documents
| | |
| --- | --- |
| Duration | 30 minutes |
| Certificate | A sharable achievement is included |
| Subject | Workflow Analytics with airSlate |
| Level | Intermediate |
| Language | English |
| Price | Free |
| Rating | |
Earn a verified certificate to demonstrate the skills you gain
Verified by airSlate
Receive an airSlate-issued certificate with the airSlate logo to verify your achievement and expand your career prospects.
Shareable on social media
Post your certificate on LinkedIn or add it directly to your CV.
All you need to digitally transform your business
The airSlate Academy combines everything you need to digitally transform your business, including legally binding eSignatures, advanced PDF editing, and automated workflows.
eSignature workflows
Familiarize yourself with eSignatures, their implementation, business value, and learn how to create legally binding eSignature workflows for your business.
Paperless workflows
Change the way you work with documents into an interactive online experience and learn how to make your documents look professional.
Achieve your career goals with airSlate's advanced certification programs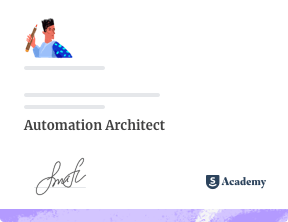 Automation Architect
Learn how to make any process in your workflow run like clockwork. Automate each step using Bots and triggers and perform integrations with popular CRMs like Salesforce or MS Dynamics 365.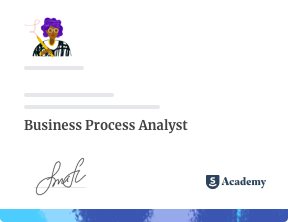 Business Process Analyst
Identify which processes in your workflow can be automated. Learn key metrics to propel your business forward and increase your return on investment (ROI).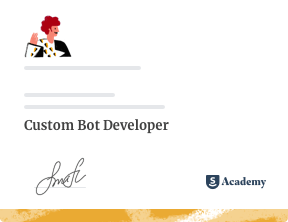 Custom Bot Developer
Learn how to design and develop airSlate Bots — a powerful robotic process automation tool that can be customized using airSlate.
View the certificate
Become an airSlate Partner
Students who complete the airSlate Academy courses are welcome to become partners. Get the necessary skills for building automated processes, helping airSlate newbies, and generating revenue.
Professionalize your business with a data analytics workflow
A professional business is always trying to develop and stay up to date. In some cases looking to get ahead of its competition. A data analytics workflow is one of the most critical aspects of keeping a business professional through automation but also for identifying its own strengths and weaknesses.
You should always know your company in and out. Even the smallest details help you understand how your organization is working, who is involved in particular tasks, how long a workflow typically lasts. This knowledge gives you what you need to make sure your teams are flows are operating as they should. Start with the most straightforward questions:
What are your company's processes?
How do your teams work and cooperate?
How often do these actions last?
What is the value gained from each process? Should the process continue?
The answers to these questions give you the opportunity to gain insight into the most delicate details of a workflow. After all, we all understand that business is developing as fast as the actions taking place within our own companies.
What will a data analytics workflow tell you about your company?
The first thing you will understand after implementing workflow analytics is whether the work happening is integrated or if all your teams work separately from each other. In fact, not many actions need to be independent. Understand the importance of and need for particular processes. Search for strengths and weaknesses. This is a separate task, as inefficient processes not only consume your money but don't lead to productive work. The second benefit is a list of time and energy-consuming duties that are not important. This insight allows you to decide if the process is worth optimizing or simple removing. Third, but not least, gain access to the time it takes to complete each process and each task in each process. Knowing this gives you a chance to target inefficiencies and remove them.
How to improve work with a data analytics workflow?
Of course, no software will analyze all the information for you. You need to collect it by yourself and then use existing tools to optimize it. In our airSlate course, find a complete list of points that must be analyzed to begin implementing improvements using a data analytics workflow. They give you the opportunity to evaluate the needs and implement new algorithms properly.
Then implement another document flow. No, we're not talking about the paperwork that annoys everyone and slows the process even more. No handwritten sheets, paper mails or attachments are required. In the modern world, all of this can be done electronically. Could you have imagined that creating, signing and sending a document can take 2-3 minutes without printers or scanners? Yes, it's really possible with airSlate. Although signing and sending documents is only the tip of the iceberg. In airSlate, your capabilities are increased by 10 fold. airSlate is a useful solution for implementing workflow analytics in any sphere of business: construction, insurance, sales or anything else.
You can start improvements by following a few simple steps:
Create a Flow.
Attach or create the necessary documents.
Define Steps.
Set up automation.
Share the Flow.
Other benefits of a data analytics workflow
Implementing workflow analytics extends your business management capabilities. First, get access to all the processes that are currently happening in the company and at which stage each of them is. Considering that airSlate doesn't require any software to be installed and is available online, long business trips or vacations will not interfere with keeping your properly informed. Use spreadsheets and databases or view the analytics widget. We have all the tools that will allow you to adjust everything for yourself for maximum convenience and understanding. Second, share access to statistics so others can interact with it and use it for their own purposes. Department heads, project managers, and team leaders should make use of it to better understand how their own departments are running and how they affect the company as a whole. Third, airSlate as a platform with an affordable data analytics workflow is very flexible, which means that making changes to the parameters, Flow, methods of data collection and processing won't be complicated.
If you still doubt whether you need workflow analytics, take a course from the airSlate Academy. Understand why it's not as difficult as it may seem: neither analytics nor the use of new tools. Once implemented, your business will become more efficient through automation and that'll spark business growth and more profit.
Questions & answers
Here is a list of the most common customer questions. If you can't find an answer to your question, please don't hesitate to reach out to us.
What is data analytics?
A data analytics workflow is a set of processes connected to collecting information from different datasets for making conclusions. These conclusions can help you to discover patterns from new information and extract insights from it. Data analysis workflows can be used for examining almost any process within a company, whether it's related to sales reports or plan executions.
What is big data analytics?
Big data analytics is reviewing large amounts of information and trying to find hidden correlations and patterns. It requires having powerful hardware because standard computing techniques can't handle it. However, not so many businesses really need big data. In most cases, it's enough to have a data analysis workflow. airSlate is a comprehensive no-code automation service that offers just that.
How do I learn data analytics?
Data analytics isn't the easiest thing to learn, but, luckily, there are many platforms that teach you the basics. Try completing the airSlate Academy's Workflow Analytics course, get familiar with fundamentals, and build your first data analytics workflow right in your web browser.
Why is data analytics important?
All businesses need to have strategies for growth, and these strategies have to be built based on research into many different aspects. Creating data analysis workflows is extremely helpful when you need to collect information and discover patterns. Without collecting this information, all your ideas will be chaotic and don't lead you to your desired results.
What is Workflow Analytics?
Workflow Analytics is the course by the airSlate Academy that lets people learn how to build efficient data analysis workflows. After completing this training program, students know more about avoiding time-consuming tasks and tips for significant acceleration in information processing.
How do I collect data for a workflow analysis?
It depends on the type of collected information and where it came from. High-quality automation services like airSlate automatically create graphs to visualize collected data. Enroll in the Workflow Analytics course by the airSlate Academy to learn more about automation and start using its powerful tools right now!
How do I build an efficient data analytics workflow?
First, you need to understand what type of information you want to collect. Then, you should find a way to clean this information to be able to interpret the results. Become an analyst in airSlate after completing the Workflow Analytics course. By the end, you'll know how to set up visual analytics and handle them according to your needs.
How do I build a data analysis workflow?
In airSlate, it isn't necessary to build a separate data analytics workflow for reviewing results. When you automate your business with airSlate, it helps you to get up-to-date information anytime you need. To learn more about workflow analytics, enroll in the airSlate Academy. It's free!
Why is a data analytics workflow so useful?
A data analysis workflow allows you to inspect other existing workflows in your company or organization, identify bottlenecks, and detect ways to improve your efficiency. With the help of this information, you get the capability to remove ineffective steps, eliminate time-consuming tasks, and accelerate monotonous work. As a result, you'll boost your business without spending a fortune on expensive specialists.
Can I build a data analytics workflow on my own?
Yes, you just need to use a suitable service like airSlate. In addition, in the airSlate Academy, you can learn how to build data analytics workflows but also transfer your business to a comprehensive document process automation solution and eliminate routine steps from your business. Explore the power of no-code automation now!