Self-paced
Automation Bots
Self-paced
Automation Bots
Automate without writing a single line of code. Sound unrealistic? Get familiar with airSlate Automation Bots and forget about manual work such as assigning document names, creating notification emails, and more.
About this course:
This course goes through all the nuances of airSlate's Automation Bots: their purpose, principles, and settings.
By the end of the course, you will be fully equipped with the necessary knowledge and tips on how to automate the most common document workflow tasks with the help of no-code Bots.
What does this course cover?
This course provides detailed guidelines on how to automate notifications, reminders, document renaming, and other simple document workflow tasks within minutes.
Why was this course made?
We created this course to help you save time and hassle by delegating routine, repetitive actions within document workflows to airSlate's Automation Bots.
Who can enroll?
Anyone can enroll in this course to learn how to configure Automation Bots for streamlining document workflows.
The materials for this course include:
learning resources to teach you how to work with the airSlate Automation Bots.
quiz for self-assessment.
What you will learn
The purpose and benefits of Automation Bots for your document workflows
How to automate notifications, reminders, etc., by setting up a no-code Automation Bot
How to check whether the Bot performed successfully
| | |
| --- | --- |
| Duration | 30 minutes |
| Certificate | A sharable achievement is included |
| Subject | Automation Bots |
| Level | Intermediate |
| Language | English |
| Price | FREE |
| Rating | |
Earn a verified certificate to demonstrate the skills you gain
Verified by airSlate
Receive an airSlate-issued certificate with the airSlate logo to verify your achievement and expand your career prospects.
Shareable on social media
Post your certificate on LinkedIn or add it directly to your CV.
All you need to digitally transform your business
The airSlate Academy combines everything you need to digitally transform your business, including legally binding eSignatures, advanced PDF editing, and automated workflows.
eSignature workflows
Familiarize yourself with eSignatures, their implementation, business value, and learn how to create legally binding eSignature workflows for your business.
Paperless workflows
Change the way you work with documents into an interactive online experience and learn how to make your documents look professional.
Achieve your career goals with airSlate's advanced certification programs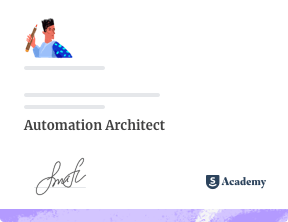 Automation Architect
Learn how to make any process in your workflow run like clockwork. Automate each step using Bots and triggers and perform integrations with popular CRMs like Salesforce or MS Dynamics 365.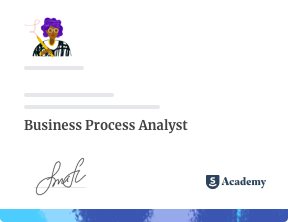 Business Process Analyst
Identify which processes in your workflow can be automated. Learn key metrics to propel your business forward and increase your return on investment (ROI).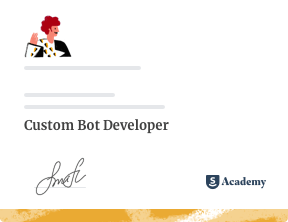 Custom Bot Developer
Learn how to design and develop airSlate Bots — a powerful robotic process automation tool that can be customized using airSlate.
View the certificate
Become an airSlate Partner
Students who complete the airSlate Academy courses are welcome to become partners. Get the necessary skills for building automated processes, helping airSlate newbies, and generating revenue.
Develop skills for using Automation bots to maximize the efficiency of your workflows
Manual data entry is a thief of time and an enemy of productivity. Think about how much time your employees spend manually performing the same tedious tasks, day after day, and how much it costs your business. Luckily, with workflow automation solutions like airSlate and its no-code Bots, you can automate your regular workflows and eliminate errors and inefficiencies of such work. You may think doing so requires long and costly learning to acquire the necessary skills. However, airSlate Academy provides quick bot and automation training, online and free of charge.
What is a bot in workflow automation?
A bot, short for "robot," is a piece of software built to perform a particular, often time-consuming, task. These pieces of code are not meant to replace people in the workplace but to handle tedious, repetitive actions for them. robotic process automation bots can do their job on a schedule or around the clock based on if-this-then-that logic. Thereby, employees can better focus on their customers and the company's more important tasks instead of wasting time on routine, manual work.
Unlike many other solutions, airSlate offers no-code automation Bots, so there's no need to create them from scratch. Our Bots are already programmed for particular functions and don't require coding from your side. Even employees with less technical skills can install and configure them according to their business needs in up to ten minutes. But, no matter how easy the software solution is, it requires learning how to use it properly. We recommend you join our online training to explore what RPA tools airSlate offers and how they work.
airSlate Academy: top courses for bot and automation training
airSlate Academy is the best place to take automation courses online. It's a comprehensive learning platform that shows you how to effectively automate your regular business processes. It leads you through airSlate functionalities, from the fundamentals to complex solutions to automate almost any document workflow tasks. After each course, you can take a quiz and receive a certificate confirming your competencies and skills.
Why is it so important to take automation courses?
You should always explore the functionality of the software before implementing it into your business activities. airSlate Academy makes this process quick and easy both for people new to automation and those experienced with airSlate thanks to the following:
All information is provided in a simple and clear manner.
There are visual demonstrations of typical workflow configurations.
You'll explore real use case examples.
Bot training course structure
Automation bots are a large category that include bots for: sending email and SMS notifications once the document has been opened or completed; creating custom reminders that are sent to document recipients to complete and sign forms; adding and deleting tags; and renaming completed forms. During the course, you will:
Learn what bots are and what they can do for you in your day-to-day activities
Learn how to install automation bots with step-by-step screenshots
Focus on bot execution conditions and advanced settings
Watch a video example of bot configuration for a real use case
Take a quiz and complete practical tasks to reinforce your knowledge
Enroll today to become more productive with airSlate tomorrow!
Questions & answers
Here is a list of the most common customer questions. If you can't find an answer to your question, please don't hesitate to reach out to us.
What is a bot in robotic process automation?
Robotic process automation (RPA) refers to the use of small software solutions preprogrammed to complete specific repetitive tasks. These programs are called robots or simply bots. Robotic process automation bots aim to liberate employees from manual routines and automatically complete digital tasks without the support of humans. These pieces of code can pre-populate forms, transfer data between documents, create email notifications, send reminders, create events in a calendar, update information in CRM systems, etc.
How do you make an automation bot?
With airSlate, you don't need to create bots to provide automation for your workflows. Our team has already programmed them for you, so you only need to add them to a particular business process and set them up. The configuration process is straightforward and takes up to 10 minutes. During the installation, you need to provide rules and conditions for the Bot to work. airSlate Academy offers free Bot training programs for the most popular airSlate Bots with practical examples and quizzes. After the learning ends, you will be able to implement our no-code Bots into your workflows in no time.
What are two types of RPA bots?
Robotic process automation bots are generally classified into unattended (or server-based) and attended bots. The first ones provide full automation for defined actions without any human intervention. Attended bots work based on human activities and help to automate repetitive business tasks, such as pre-filling documents in real time. Also, we can divide these bots by the sort of task they perform: automation bots help automate workflows and integration bots connect two applications and provide smooth data transferring between them.
What is an example of workflow automation?
Workflow automation is the process of using software solutions that work with if-this-then-that logic and automate typical business processes without human interaction. The most common examples of workflow automation are task creation, invoice generation and approval, new employees onboarding, and vacation approval. airSlate provides a set of no-code robotic process automation bots so you can complete such tasks without manually entering data. No-code means you don't need to create bots from scratch but only need to add them to a particular workflow and set up rules and conditions to make them work correctly.
How can I learn automation?
airSlate Academy is the best way to quickly learn about bots and automation that apply to the most recurring business processes. Our training provides free learning programs covering the platform's fundamentals, how to create a workflow from scratch or customize an existing template, and how to install automation and integration bots. Apart from that, there are quizzes to reinforce your knowledge, practical tasks, and videos showing how the platform works for the most common use cases.
Which automation course is the best?
airSlate Academy is the best way to take automation courses online. This comprehensive learning platform covers all aspects of bots and automation with real use case examples and video guides on streamlining your document workflows. All courses are free and easy to learn to enable you to start improving your business processes anytime.