Self-paced
Bot Basics
This course is dedicated to intermediate users and aims at explaining all there is to know about airSlate Bots — a powerful robotic process automation tool. A review of Bots categorization and basic setup, along with hands-on assignments and quizzes are included in this course.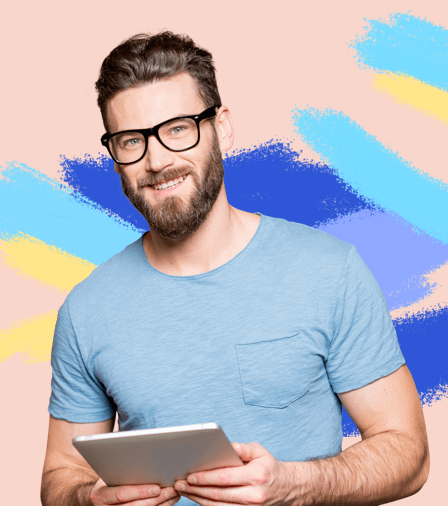 About this course
airSlate has already proven useful in automating routine processes and eliminating paper-based tasks. This course will walk you through the basic steps of setting up task automation along with the different types of Bot automation technology designed for this purpose.
By the end of this course, you will be able to create fully automated workflows that save your business' resources which you can refocus towards higher priority goals.
What does this course cover?
This course provides a detailed explanation of how to use task automation Bots for your workflows with airSlate.
Why was this course made?
This course was created to provide you with an in-depth understanding of one of airSlate's main tools for automating document workflows.
Who can enroll?
We recommend taking this course to get to know airSlate better.
The materials of this course include:
learning resources to help you grasp the idea of airSlate Bot automation.
interactive practice sessions so you can consolidate learning through practical application.
What you will learn
The main components of airSlate
Bots as one of airSlate's main automation tools
How to set up automation for your workflow
How to develop Bot for automation tailored to your specific needs
The basics of a Bot's conditional logic
Bot categories
The philosophy of airSlate automation
How to track progress with the help of the Bots log
| | |
| --- | --- |
| Duration | 3 hours |
| Certificate | A verified certificate is included |
| Subject | airSlate no-code Bots |
| Level | Intermediate |
| Language | English |
| Price | Free |
Earn a verified certificate to demonstrate the skills you gain
Verified by airSlate
Receive an airSlate-issued certificate with the airSlate logo to verify your achievement and expand your career prospects.
Shareable on social media
Post your certificate on LinkedIn or add it directly to your CV.
Achieve your career goals with airSlate's advanced certification programs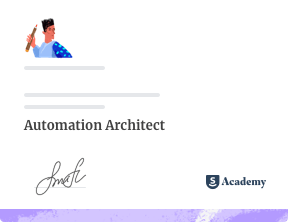 Automation Architect
Learn how to make any process in your workflow run like clockwork. Automate each step using Bots and triggers and perform integrations with popular CRMs like Salesforce or MS Dynamics 365.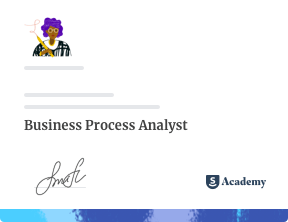 Business Process Analyst
Identify which processes in your workflow can be automated. Learn key metrics to propel your business forward and increase your return on investment (ROI).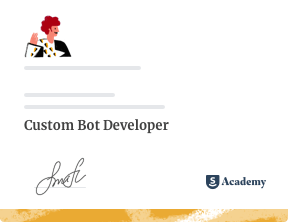 Custom Bot Developer
Learn how to design and develop airSlate Bots — a powerful robotic process automation tool that can be customized using airSlate.
See the certificate sample
Become an airSlate Partner
Students who complete the airSlate Academy's courses are welcome to become partners. Get the necessary skills for building automated processes, helping airSlate newbies, and generating revenue.
Problems you run into without Bot automation
Completing routine duties is not a pleasant task for anyone. And the longer a person performs these monotonous tasks, the worse the results become. Considering that the main purpose of any business is profit, employees that do monotonous work can only harm your business.
First, they become less attentive. This reduces their accuracy and therefore leads to numerous mistakes that can result in lost money or time in specific business processes.
Second, it's a waste of everyone's time. Any time that you have a situation where an employee performs monotonous tasks like moving info from emails to databases and vice versa, submitting requests or approvals you run the risk of getting stuck if something happens to that employee. Or worse, the employee has been making hundreds and hundreds of minor mistakes without anybody noticing. The possibility of errors while processing large arrays of data is almost guaranteed.
Third, inefficient processes and errors are expensive. Imagine a situation where an error caused problems with payments to employees or even problems with partners or clients. Business needs momentum. And achieving it by manually completing tasks is incredibly difficult and costly. Why should you have to spend extra money if you can just use Bot automation?
How does Bot automation solve your problems?
Bots are software robots that automate the steps of your workflow. They perform specific tasks or sets of tasks without the need for human interaction.
Bot automation helps you solve all the problems mentioned above. Just imagine if your workers didn't make mistakes and worked fast. Now imagine if you could optimize the cost of human resources? It's the dream of any manager!
It sounds like we're talking about fantasy workers that aren't real. However, this is already possible. These ideal workers are the automation Bots. They do not need lunches, weekends or sick leave. They work for you around the clock. Set them up once, and the system will do everything else for you.
Why is it better to use automation Bots?
The possibility to automate processes using special software for your business was available many years ago. However, nobody talks about the software costing a lot of money and that you need to pay third-party developers or create your own IT department just to use them. It's already expensive for big companies, most of the time it's not even an option for small and medium-sized businesses? Spending so much money is an irrational solution. It's why you should pay attention to the already existing solutions instead of creating new ones.
airSlate uses Bots to help you and your business automate document-related processes without coding or the need for special education. Each software robot has its own special role. This means that you don't have to bother with complicated settings. By customizing each operation individually, edit the Flow without getting confused in the processes.
These software robots do not require installation. Automation Bots are available online. That means that you do not have to buy expensive equipment or spend money on their maintenance.
What processes can you automate with airSlate
Automation Bots can't make a cup of coffee for you, but they improve the processes associated with documents and their completion. Take a look at some actions airSlate Bots can effectively do without any effort from you:
Notify recipients about completed actions.
Send reminders.
Control access to information.
Archive files.
Pre-fill information.
Export data.
Build integrations with CRM, messengers, task-managers and databases.
airSlate offers you more than 70 different Bots connected to document and record management and this extensive list continues to grow.
How to start using airSlate automation Bots?
Like we said above, you don't need to be an expert to start using Bot automation. We don't mean complex processes for low-code integrations like Zapier or Nintex that require additional costs. All you need for airSlate is a basic understanding of work principals. With this knowledge, you can find the appropriate course from the airSlate Academy and learn how to improve your automation skills one step at a time. The airSlate Academy course on automation Bots will teach you about:
The essence of Bots.
Use cases with Bots.
Archive files.
Setting up Bots.
Usability and other important things about Bots.
Also, find information about popular Bots and how to use them to maximize your workflows.
Note: you can start working with airSlate before taking any of the airSlate Academy courses. The academy is for showing you useful tips and tricks to enhance and grow your automation skills.
Do I need to learn about Bot automation if I don't have my own business?
The airSlate Academy has many courses that turn you into a professional automator. If you don't have a business that's ok. Use the academy to develop your skills as a freelancer and help companies implement airSlate Bot automation into their working processes.
Non-formal education provided by the airSlate academy adds value to you as a specialist. Find work in the field of automating business processes. Get airSlate yourself and take all of the available courses to start your journey in becoming a Bot automation specialist.