Self-paced
BPM Essentials
Self-paced
BPM Essentials
Business process management has been around for several decades and the traditional approach has already outlived its utility. The new era of BPM has arrived and with modern no-code technologies, anyone can use these solutions to enhance their business's efficiency. Find out what the approach encompasses and how to benefit from integrating new BPM technologies into your business workflows.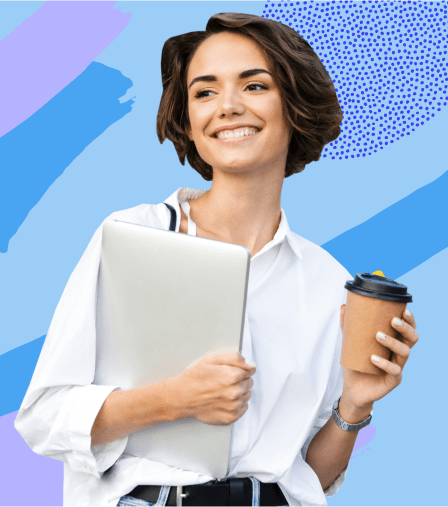 About this course:
The course goes through the key concepts and benefits of new-era business process management solutions for the most popular industries. The purpose of the course is to familiarize you with the new BPM, its value, and explain the difference between low-code and no-code solutions.
By the end of this course, you will be equipped with all the necessary knowledge to choose the most appropriate type of software for your business.
What does this course cover?
This course expands on different types of business process management software and their key features. We will teach you how SMBs from any industry can capitalize on implementing new-era BPM solutions into their workflows. You will also learn why traditional BPM is no longer the best option for increasing business efficiency and what to use instead.
Why was this course made?
We created this course to provide information on the new generation of BPM software to those not familiar with this approach and help users enhance their business workflows by selecting a suitable type of BPM solution for their field of activity.
Who can enroll?
Anyone can enroll in this course to gain general knowledge about the new-era business process management software, its key features, and how your company can capitalize on it.
Enroll in this course if you:
don't know the difference between traditional and new-era BPM solutions
think that modern BPM software is something only developers can use
aren't sure how to choose a suitable type of BPM solution for your business
The materials for this course include:
learning resources to provide you with all the necessary information about the business process management approach.
quiz for self-assessment.
What you will learn
What BPM is
Why new-era BPM solutions are better than legacy software
The difference between low-code and no-code platforms
Key benefits of the new generation of BPM platforms for different industries
How to choose the right BPM solution for your business
| | |
| --- | --- |
| Duration | 20 minutes |
| Certificate | A sharable achievement is included |
| Subject | Business process management essentials |
| Level | Beginner |
| Language | English |
| Price | FREE |
| Rating | |
| Enrolled | 4074 students |
Earn a verified certificate to demonstrate the skills you gain
Verified by airSlate
Receive an airSlate-issued certificate with the airSlate logo to verify your achievement and expand your career prospects.
Shareable on social media
Post your certificate on LinkedIn or add it directly to your CV.
All you need to digitally transform your business
The airSlate Academy combines everything you need to digitally transform your business, including legally binding eSignatures, advanced PDF editing, and automated workflows.
eSignature workflows
Familiarize yourself with eSignatures, their implementation, business value, and learn how to create legally binding eSignature workflows for your business.
Paperless workflows
Change the way you work with documents into an interactive online experience and learn how to make your documents look professional.
Achieve your career goals with airSlate's advanced certification programs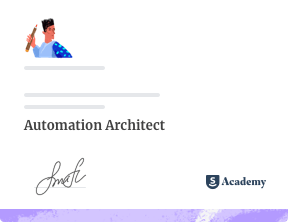 Automation Architect
Learn how to make any process in your workflow run like clockwork. Automate each step using Bots and triggers and perform integrations with popular CRMs like Salesforce or MS Dynamics 365.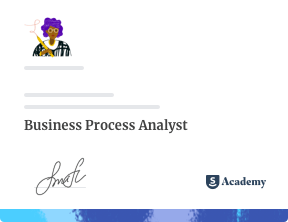 Business Process Analyst
Identify which processes in your workflow can be automated. Learn key metrics to propel your business forward and increase your return on investment (ROI).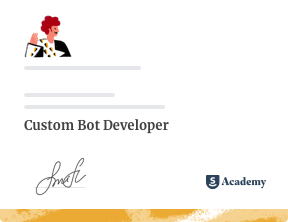 Custom Bot Developer
Learn how to design and develop airSlate Bots — a powerful robotic process automation tool that can be customized using airSlate.
View the certificate
Become an airSlate Partner
Students who complete the airSlate Academy courses are welcome to become partners. Get the necessary skills for building automated processes, helping airSlate newbies, and generating revenue.
Business Process Management Software: a company must-have or just a trend?
Regardless of the size and industry, any company has business processes. Some of them are small, for example, a vacation request workflow that only needs two parties to carry it out, an employee and their manager. Others are more extensive, such as onboarding, which involves IT, Legal, and HR departments. Even if you have fewer than 50 people, business processes are an integral part of your ecosystem. Unfortunately, what once worked for your company is now likely outdated and more problematic than good. If you want to turn your procedures into a well-oiled machine, you need to learn how to handle them. This is where Business Process Management, or BPM comes in handy.
What is Business Process Management?
BPM (Business Process Management) is a set of tools and methods for organizing, analyzing, scaling up, and optimizing a company's workflows. BPM often includes automation that helps run workflows without human assistance. In a nutshell, this approach allows you to build a streamlined and error-free workflow based on the predictable and repetitive path of your existing process.
Is it difficult to implement Business Process Management?
BPM is an idea but in most cases, it's in the form of a tool (a software) for fixing outdated or mundane steps in a process, usually digitizing and automating it. "Proper process management" depends on your and your employees' needs. All you have to do is find bottlenecks and remove them.
The most common bottlenecks in just about any workflow are:
Manual data entry
Printing and scanning
Communication issues
Repetitive tasks
To grasp which bottlenecks you need to remove from your workflow, use the instructions below.
Map out your workflow. Start with a trigger that initiates your workflow. Usually, any document workflow starts with some form that needs to be filled out. Each procedure is based on a predictable path that can be optimized. Describe each step of this path. You can write down a plan or draw an algorithm as you like.
Test it. After the preparation is complete, you need to see the workflow in action. Look at it the same way one of your employees would look at it. Question every step. Why is this needed, what is the most time spent on, what can be automated? Feel free to ask your employees and involve them in mapping and testing. As a result, you should find valuable insights and a list of improvements that will make everyones' lives easier.
Create an improved workflow. Don't rush to implement all the ideas that you gathered through communication with your team. Instead, design the procedure again, considering the changes you'll apply.
Where can you get a Business Process Management certification?
If you still think that BPM is an intricate science and you need to hire business process consultants and a whole team of professionals to deal with this, then breathe a sigh of relief. You are the one who knows the specifics of your business better than others. The BPM training course from the airSlate Academy will help you figure out all ins and outs to the successful implementation of BPM. The course is free and available to everyone who wants to bring automation to their company.
By enrolling in this course, you receive theoretical and practical knowledge that can be applied to real-life workflows. If you're interested, take a look at the other courses that the airSlate Academy offers for business management training. The company's success is based on strong business process management. Seize the opportunity now and learn online at your pace.
Questions & answers
Here is a list of the most common customer questions. If you can't find an answer to your question, please don't hesitate to reach out to us.
When is business process management (BPM) concluded?
In short, never. Business process management is a technology aimed at continuous process improvement. Even if you have achieved the results you want and turned your to-do list into a well-oiled mechanism, after a while, you need to update everything and keep your workflow from becoming obsolete.
What is the final and ongoing step of the business process management model?
As already noted, BPM never ends. Therefore, the last step is tough to highlight. But for any workflow, there's a final step, more like a repeated step that needs to be maintained. This is usually measurement and monitoring. Once you've made updates, check out how your new process works and calculate how much money and time you're saving, how much it's helped your employees, and so on. It isn't rocket science. If a workflow runs faster and smoother than before, then BPM is benefiting your business.
What is business process management?
BPM is a technology that helps control and upgrade processes, making them cost-effective and efficient. There are many steps to setting up workflows and an organization as a whole, but dozens of models that you can adapt to your needs. The BPM training course here at the airSlate Academy will help you figure out how to optimize your business's workflow.
What is business process management certification?
BPM certification validates your processes management knowledge. If you want to prove or measure your skills, a business process management course comes in handy. Plus, by becoming certified, you open new opportunities and get business process management jobs. As a certified professional, you're able to redesign and optimize any process regardless of size and industry.
What is an example of business process management?
There are three types of business process management:
human-centric BPM
integration-centric BPM
document-centric BPM
A human-centric workflow, like a hiring process, is based on a human decision and controlled by a human at every stage. An integration-centric type workflow aims to reach a smooth connection between all third-party services, CRMs, databases, and so on, and provides you with an all-in-one workflow. A document-centric type of workflow is robust document management and allows for the sharing of files with multiple people faster and better.
What is a business process management tool?
Business process management tools are different instruments that you use to organize, control, optimize, and automate your workflow. Such tools may include a task manager, a template library, and much more. For those who have a variety of workflows for each department, it's highly recommended to use an all-in-one solution that provides all the necessary tools and easy integration with other services.
What kind of jobs can you get with BPM certifications?
The opportunity to get a job related to BPM is extremely high. Thousands of companies are developing more and more channels for profit, which means that there are more processes and a need for people who need to control and automate them. By working as a business process consultant, you'll create and maintain a robust ecosystem within a company, helping it succeed.
Is BPM training hard to study?
It's not difficult to learn business process management. Nor is it difficult to apply the acquired knowledge in practice if you have the right tools. There's no ideal model, so you need to monitor your process and find the bottlenecks that prevent it from running faster. Also, you have to make serious decisions, for example, not just change a workflow, but completely replace it. To see the most common disadvantages of any workflow and learn how to work faster in a new environment, take the airSlate Academy's business process management certification course.
How do I find a business process management course?
You can find courses on the internet or sign up for offline classes. There are a lot of courses, so it can be tough to filter through the good ones and the bad ones, and even harder to know if a specific course (good or bad) fits your needs. Save time and give the airSlate Academy a shot. The courses are designed to give you the opportunity to apply learned knowledge. Learn how to customize any process from start to finish and gain hands-on experience.
How much does business process management certification training cost?
With the airSlate Academy, your business process management training course is free. All courses, including the BPM Essentials course, are free. Register an account and study at your own pace. Pass the quizzes, tests and then get your certificate.