Self-paced
Business Process Automation
Self-paced
Business Process Automation
Looking for ways to enhance business performance with minimal time and hassle? This course explains how to increase an organization's efficiency and productivity using business automation. It describes the purpose behind automation, the key pain points BPA solutions address, and introduces practical use cases for implementing automation in your business.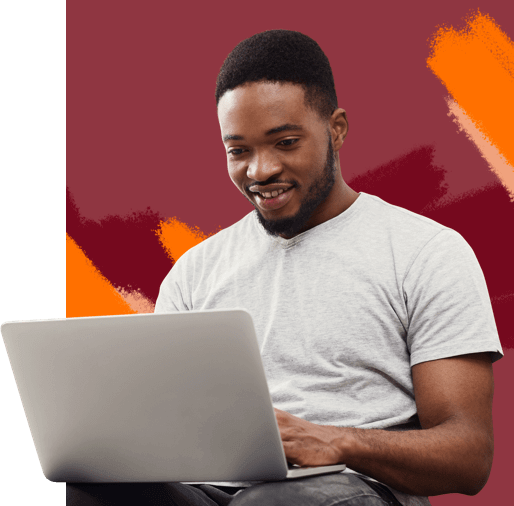 About this course:
This course is aimed at both who are somewhat familiar with business process automation or are complete newbies to the subject. You will discover the key benefits of BPA and how workflow automation solutions help streamline the most complicated business processes in order to save time and cut costs.
By the end of this course, you will have a clear picture of why automated workflows are more efficient than manual processes and how the airSlate workflow automation works for different industries.
What does this course cover?
This course demonstrates the key differences between manual and automated workflows. You will also learn about business process automation benefits for various industries based on practical use cases.
Why was this course made?
We created this course to get you familiar with business process automation, its key features and benefits, and provide you with practical examples of how workflow automation software helps streamline business processes for different industries.
Who can enroll?
Anyone can enroll in this course to get familiar with business process automation and its benefits for their organization.
The materials for this course include:
learning resources in the form of workflow automation use cases to help you better understand the main advantages of business process automation in action.
quiz to consolidate the knowledge you receive.
What you will learn
What business process automation is and its basic features
Key benefits of workflow automation for your business regardless of industry
Main differences between automated and manual workflows
How business process automation software works in practice
| | |
| --- | --- |
| Duration | 30 minutes |
| Certificate | A sharable achievement is included |
| Subject | Business process automation |
| Level | Beginner |
| Language | English |
| Price | Free |
| Rating | |
| Enrolled | 3525 students |
Earn a verified certificate to demonstrate the skills you gain
Verified by airSlate
Receive an airSlate-issued certificate with the airSlate logo to verify your achievement and expand your career prospects.
Shareable on social media
Post your certificate on LinkedIn or add it directly to your CV.
All you need to digitally transform your business
The airSlate Academy combines everything you need to digitally transform your business, including legally binding eSignatures, advanced PDF editing, and automated workflows.
eSignature workflows
Familiarize yourself with eSignatures, their implementation, business value, and learn how to create legally binding eSignature workflows for your business.
Paperless workflows
Change the way you work with documents into an interactive online experience and learn how to make your documents look professional.
Achieve your career goals with airSlate's advanced certification programs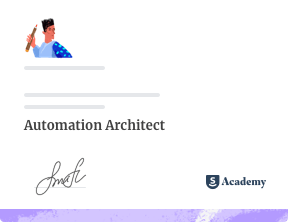 Automation Architect
Learn how to make any process in your workflow run like clockwork. Automate each step using Bots and triggers and perform integrations with popular CRMs like Salesforce or MS Dynamics 365.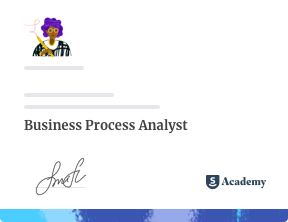 Business Process Analyst
Identify which processes in your workflow can be automated. Learn key metrics to propel your business forward and increase your return on investment (ROI).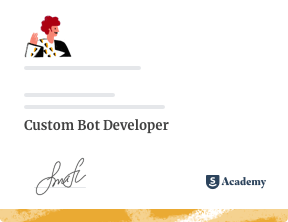 Custom Bot Developer
Learn how to design and develop airSlate Bots — a powerful robotic process automation tool that can be customized using airSlate.
View the certificate
Become an airSlate Partner
Students who complete the airSlate Academy courses are welcome to become partners. Get the necessary skills for building automated processes, helping airSlate newbies, and generating revenue.
Discover the 'next best thing' in business efficiency: business process automation.
High operational business efficiency is a key feature to stay competitive and ensure the highest possible level of profit. Achieve this by implementing automation. Any time an existing work environment is optimized it requires a particular understanding of that environment; how it works, its processes, etc. Reading this will explain why the only 'next best thing' is business automation. Explore its standards, benefits and the most effective tools and solutions on the market.
Business process automation software
Currently, companies around the world deal with the issue of optimizing business process management in several ways. Depending on your market, size, and goals there are few options. The first option is to create a unique software tailored to your needs. This is great if you have a team of software developers/engineers laying around. However, even if you do, the development and testing of such software is time-consuming and expensive. The second option to optimize enterprise workflows is to use ready-made products. This is great if you don't have a team of software developers/engineers laying around. Plus, they're almost always faster to launch and cheaper to implement.
Make your choice, wisely and make sure to go over the pros and cons of both. Determine what changes your company expects to have over the next few years. Try to consider everything. Today, business environments change like the wind. The best business automation services should be flexible and customizable to meet customer needs.
Automate workflows of any complexity with unique technology from airSlate, the only holistic, no-code configurable workflow platform. Thanks to ready-made solutions for automating workflows, airSlate allows you to flexibly implement the features needed to improve any department, from the front desk to marketing or accounting. Manage changes across the entire enterprise effectively. Enjoy complete access to custom tools for configuring and managing your system.
Business process management and where to start automating it
Before you start implementing the new software, analyze and understand what you are unhappy with about your current workflow and which processes actually require optimization. It's essential to choose the best business automation software to make sure the things you need automated get automated. Answer the following questions to get started:
What can you automate?
What is your budget for acquiring and implementing business automation software?
Which of your teams will/would benefit from digital workflows?
How quickly do you need the software implemented?
How flexible should the system be and what level of security do you need?
What is your budget for the maintenance and support needed to keep the software running correctly?
You might not know the answers to all of those questions right now, so don't be overwhelmed. We recommend taking the Business Process Automation with airSlate course for a better understanding of the whole process. Completing this course is the first step towards success. The information in the course will help you, owners, team managers, analysts and employees with useful tools and tips to help the company achieve profitable growth through workflow automation. Learn how to accelerate your business's core processes and improve overall performance.
See what you get with the business automation
Digital transformation engages companies of all sizes. By optimizing operations, avoid business challenges, including insufficient or excess control, late reporting, breaches of discipline, and others. This applies to both enterprise and small business automation.
Choosing the right solution decreases the cost of deploying a workflow by 10-100x. Join thousands of other businesses who've chosen airSlate as their partner on the journey to digital transformation. It's a modern multi-cloud workflow solution, automated, integrated and configurable. By partnering with airSlate, get the ultimate enterprise suite of tools for:
Improving productivity
Reducing costs
Eliminating routine and repetitive actions
Improving the quality and accuracy of results
Increasing transparency, supervision, and manageability
Rerouting wasted time to more productive tasks
Increasing profits
Business automation software takes over all of the routine processes in a given workflow. Because of that, it's possible to take orders, issue invoices, send goods and even more on autopilot. Switching to a digital workspace with airSlate enables, develops and educates.
How quickly do employees learn to work in the new system?
Employee training should be done from the very beginning. According to specialists' experience, the average time to familiarize an employee with airSlate's software takes anywhere from a day to several weeks depending on how many employees participate and how many different workflows are created. At airSlate, we believe that on-boarding should be fun.
Get even more! Advance your and your teams' automation skills with the airSlate Academy free certification program.
Questions & answers
Here is a list of the most common customer questions. If you can't find an answer to your question, please don't hesitate to reach out to us.
What is business process automation?
Business process automation is a technology that helps to automate and optimize regular workflows such as contract management, employee onboarding, financial operations, and others. The automation of business processes helps to eliminate manual repetitive work, save costs, and streamline a company's productivity. Register on any of the airSlate Academy's courses and learn all about business process automation benefits in practice.
What kind of businesses would be interested in business process automation?
Business process automation is a versatile technology that suits companies of all areas and sizes as it covers all the regular operations any business runs. Sales, Marketing, Education, and Finance are just a few areas that can be interested in applying business automation software to improve their efficiency.
How does business process automation work?
Business process automation is a digital technology that involves using software robots to transfer repetitive tasks from staff to software (at airSlate, we call them Bots). Some of the business process automation tools use low-code technology that requires developers to use custom code for each process. airSlate is a no-code business process automation solution that uses ready-made Bots and allows anyone without coding skills to streamline their company's workflows.
How does process automation work to promote business?
Business process automation tools help companies to significantly cut costs, increase the accuracy and rapidity of processes, enhance the quality of results, increase customer satisfaction, and boost productivity. Sign up for the airSlate Academy, find many courses dedicated to the automation of business processes, and discover how your company can benefit from implementing no-code business automation software.
Why is business process automation important?
Business processes automation eliminates the routine of day-to-day tasks and can automate just about any workflow humans usually handle manually. It reduces paperwork, manual data input, and errors, saves time and resources spent on repetitive work, and enhances a company's productivity. Enroll in the airSlate Academy's courses free of charge. You will find out how to apply business automation software and streamline your entire organization.
What business process automation benefits are there?
By using business automation software, companies can significantly reduce their expenditures and save 8 to 20 hours per week on tasks that were previously handled manually. Among the business process automation benefits are also streamlined document management, increased ROI, higher security standards (compliance), and higher productivity levels. If you're interested in learning how to implement business processes automation and how your company can benefit from it, register on the specialized course at the airSlate Academy now, free of charge.
What is business process automation software?
Business process automation tools are digital solutions for optimizing some or all of a company's regular processes. Sign up for the Business Process Automation course with the airSlate Academy to discover how the automation of business processes works and learn tips on how your business can benefit from implementing the airSlate platform.
What are the examples of best business process automation tools?
Business process automation tools can be of two types: low-code business automation software like Kissflow, Creatio, or Zoho Creator, and no-code solutions that don't require any coding skills, like airSlate or Zapier. Join the airSlate Academy to discover how to implement RPA technologies in your workflows and become an expert in the automation of business processes.
How do you choose business process automation software?
Before choosing a business automation software to implement into your company's workflows, you need to analyze which operations you need to optimize, how flexible and secure the tool should be, what type of business process automation you need (low- or no-code solution), and what kind of budget you have. airSlate is a flexible and customizable no-code RPA solution that doesn't require any particular skills or training to start using it. Join the airSlate Academy now. Our free course will help you explore all business process automation benefits your company can get by using airSlate in your day-to-day tasks. You will take both theories with practice and obtain a verified certificate at the end of the course.
How much does business process automation software cost?
The prices for business process automation software vary depending on the capabilities and functionality that it offers. Usually, business process automation companies set a monthly price per user starting from about $20/user/month and higher. airSlate charges $30/flow creator/month with all basic automation features and unlimited access to documents and $50/flow creator/month for its comprehensive Business Cloud. Register for an airSlate Academy course free of charge to become a certified expert in the automation of business processes.