Self-paced
Business Process Mapping
Self-paced
Business Process Mapping
The business landscape is constantly evolving — forcing businesses to achieve a higher level of control and management over their processes. Learn how to build more efficient processes that grant greater control over your workflows.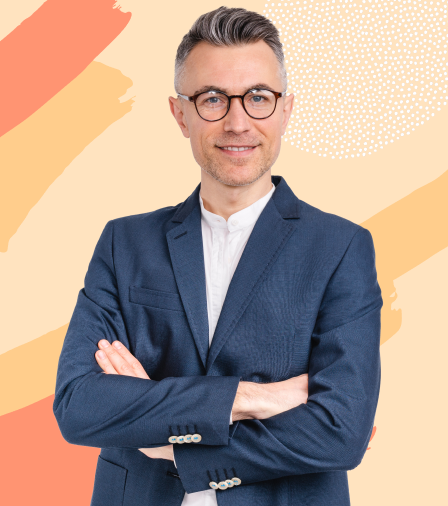 About this course:
This course provides an in-depth explanation of process mapping for business and introduces you to the tools, strategies, and solutions required. You'll learn how to automate the execution of routine tasks, identify and prevent any issues in workflows, and improve the overall operational efficiency of a business.
By the end of this course, you'll be able to create a process map for your business and automate as many routine processes and workflows as you need.
What does this course cover?
This course explains the basic principles of process mapping, its implementation, and its impact on business industries. It guides you through the key stages of process mapping from problem-solving to automation.
Why was this course made?
We created this course to help businesses stay up-to-date on the evolving business landscape, gain greater control over processes, and streamline the management of their critical tasks.
Who can enroll?
Anyone can enroll in this course to learn about business process mapping as a key technique for smart decision-making.
The materials for this course include:
learning resources to teach you how to adopt business process mapping, establish and plan tasks, and automate tasks.
quiz to consolidate the knowledge you received.
What you will learn
What business process mapping is and its core principles
Basic stages for implementing process mapping into your organization
Examples of automating business process mapping for the most typical workflows
| | |
| --- | --- |
| Duration | 1 hour |
| Certificate | A sharable achievement is included |
| Subject | Business Process Mapping |
| Level | Intermediate |
| Language | English |
| Price | FREE |
| Rating | |
| Enrolled | 2217 students |
Earn a verified certificate to demonstrate the skills you gain
Verified by airSlate
Receive an airSlate-issued certificate with the airSlate logo to verify your achievement and expand your career prospects.
Shareable on social media
Post your certificate on LinkedIn or add it directly to your CV.
All you need to digitally transform your business
The airSlate Academy combines everything you need to digitally transform your business, including legally binding eSignatures, advanced PDF editing, and automated workflows.
eSignature workflows
Familiarize yourself with eSignatures, their implementation, business value, and learn how to create legally binding eSignature workflows for your business.
Paperless workflows
Change the way you work with documents into an interactive online experience and learn how to make your documents look professional.
Achieve your career goals with airSlate's advanced certification programs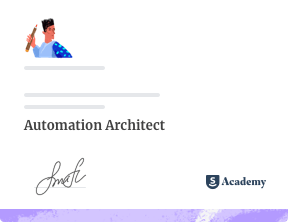 Automation Architect
Learn how to make any process in your workflow run like clockwork. Automate each step using Bots and triggers and perform integrations with popular CRMs like Salesforce or MS Dynamics 365.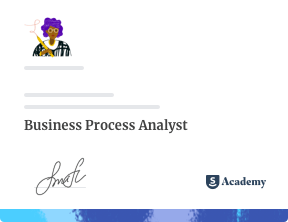 Business Process Analyst
Identify which processes in your workflow can be automated. Learn key metrics to propel your business forward and increase your return on investment (ROI).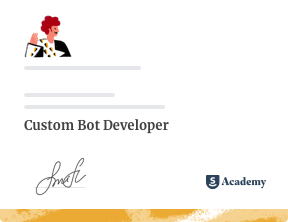 Custom Bot Developer
Learn how to design and develop airSlate Bots — a powerful robotic process automation tool that can be customized using airSlate.
View the certificate
Become an airSlate Partner
Students who complete the airSlate Academy courses are welcome to become partners. Get the necessary skills for building automated processes, helping airSlate newbies, and generating revenue.
The best business process mapping training course on the web
To enhance and speed up a workflow, you need to take a closer look at all ins and outs. However, often the details simply don't coalesce into a big picture, baffling you even more. If you want to see your workflow as a whole from start till finish, business process mapping technology is your solution. If you're interested, go through this article and learn what this technology is and where you can get comprehensive training with verified certification.
What is business process mapping?
The idea of workflow mapping isn't groundbreaking. For decades, people have used this technique to divide complex workflows into small steps and depict them. It didn't change much, except that now you can use a computer to draw a plan instead of a pencil and a piece of paper. Plus, business process mapping software helps to describe each step in more detail. For example, a step includes the performer's name, the performed action, and reasons for the action.
The benefits of using business analyst process mapping:
Transparent workflows
Easy-to-change steps
Estimated results
Removed bottlenecks
Fast onboarding
To prevent your plan from turning into puzzle lines and rocket science diagrams, you need to figure out how to implement helpful techniques into your organization.
Decide on which workflow you want to depict
It looks like a simple task. However, many people make mistakes here. For example, some may split the Vacation Request Flow into paid and unpaid. However, it would be much easier to combine them and just extend the current Flow. More processes don't mean better ones. For newcomers, a complex workflow can be a real mind-bender.
Go through the workflow
Even if you think you know the entire sequence of stages in the workflow by heart, take time to repeat the workflow again. Count how many employees are involved in the process and what tasks each of them performs. Start with overall questions like when do you need to launch this Flow. Gradually come to more precise questions, such as in which case a task is considered complete.
Visualize your Flow
Using business process mapping tools keeps your steps in order. You can assign Steps to each task and name it. You'll likely see some shortcomings at this stage, but don't rush to fix them. This is one of the most common mistakes, even for those who use business process mapping repeatedly. You'll still have time to correct deficiencies at the next stages.
Check the steps
Use your ready-made mapping diagram as a checklist for Flow verification. Follow the workflow from step to step and figure out whether it adheres to your business process mapping template or not.
Finalize
If you have anything to edit or change in your plan, then it's time to do it. Delete unnecessary stages or add more steps to enhance your Flow. Once your flowchart is complete, share your map with other stakeholders. Of course, pay attention to their feedback because there's always room for improvement.
If you map out your workflow properly, anyone should be able to understand how many tasks are in this Flow, who's in charge of them, and the sequence of stages.
How to use business process mapping software
Visualizing a workflow via airSlate is even easier than ever. Using the Drag and Drop flow creator, you can build any workflow. Because of the intuitive interface, you're able to follow a sequence of steps and eliminate all bottlenecks in clicks. Additionally, each stage is customizable, so you can adapt it to your needs. Set up conditions, triggers, and steps. airSlate helps you automate workflows while you use business process mapping methods. Implement Bots to archive, import, or export data by adjusting simple 'if-this-then-that' logic and building a flexible process. You can add Bots and combine different data sources to complete your workflow.
If you want to optimize tasks, you should learn how to use business process mapping tools. The business process mapping course from the airSlate Academy comes in handy. Enroll in the course for free and get a certificate to start making changes in your company. When you're ready, complete the after-course quiz. If you need to pass the course again, you can repeat it at any time you want without any additional charges. Seize the opportunity to change your business's structure.
Questions & answers
Here is a list of the most common customer questions. If you can't find an answer to your question, please don't hesitate to reach out to us.
What is process mapping in business analysis?
Business process mapping is a method of depicting a workflow using diagrams and flowcharts. The method visualizes any flow as a sequence of events that lead to a result. It helps to break down a complex flow into smaller stages and build a robust structure. The resulting diagram simplifies the process of understanding for non-technical specialists and reveals bottlenecks that should be eliminated.
What is process flow mapping?
The flow map is a workflow diagram. It's a commonly used tool for analytics, management, and planning. A diagram helps in understanding and changing a flow, in particular, each of its stages. Additionally, you can use it to optimize your operations.
What are the four major stages of process mapping?
To map out a flow, you perform four stages: identification, information gathering, interviewing, and analysis. At the first stage, you determine the basic requirements of the flow, its value, and goals. The second stage helps you collect information such as whom this workflow might involve. You proceed to meetings with people that are responsible for particular tasks and conduct a survey. As a result, you get an in-depth analysis of your workflow that you can use to improve it.
What is process mapping methodology?
The cornerstone of this methodology is a visualization of processes via diagrams and flowcharts. You can follow a full workflow step by step to understand each stage and task better. Even if you have never used a flow like this before, a simple graphic can clarify all ins and outs.
How can I begin gathering requirements for business process mapping?
Collecting requirements is the first step in using this technology. Focus on eight main points of any workflow, Responsibilities, Objectives, Activities, Inputs, Outputs, Customers (Users), Risks & Controls, KPIs. Without this data, your plan and scheme are useless. To get details, speak to your employees, managers, and others involved in the particular Flow you want to improve.
Which process mapping software is best for business?
The market provides users with a vast number of solutions. Consider price and functionality before deciding on software. If you don't know where to start, try out airSlate. The solution offers a set of tools for creating diagrams. Plus, they are easy to use. Just drag and drop "bricks" of a workflow and customize each of them.
What is the difference between business process mapping and a UML diagram?
UML is a special visual modeling language for displaying software components or models, including their behavior. UML can look like diagrams and charts, but it's just a schematic flow representation. Besides, UML diagrams can use many other tools such as SIPOC Diagrams, BPMN, VSM, etc. Business process mapping is a technology for visualizing diagrams to simplify flows.
What is business process mapping?
A process map is a schematic representation of a business workflow via diagrams. A diagram includes actions, objects, participants' responsibilities, and results. The main goal is to improve the efficiency of a business by simplifying processes. In order to get things done, your diagram needs to be understandable. Each step is a separate task. You should not unite several people in one step, even if they work in parallel. For this, it is better to use a different kind of diagram.
Why is workflow and process mapping important to a business?
Mapping is the easiest and fastest way to structure your workflow and make it convenient and straightforward. Everyone can delve into the procedure and even help to enhance it. As a result, you get ongoing optimization without hassle.
How do I set up process mapping via airSlate?
airSlate is a no-code workflow automation solution. You can see the steps that need to be accelerated by displaying your Flow in a visualized way. Click Create Flow and upload your documents. Then add members and steps to your workflow using the drag-and-drop creator until you get satisfactory results. Customize each step and add Bots for automation.