Self-paced
Automating Contract Management
Self-paced
Automating Contract Management
Contract management is a complex process by definition. Discover how to get rid of excessive paperwork, accelerate the negotiation process, keep track of all changes to a contract, and get it signed within minutes without compromising legal requirements. Start transforming your perception of contract management with no-code automation.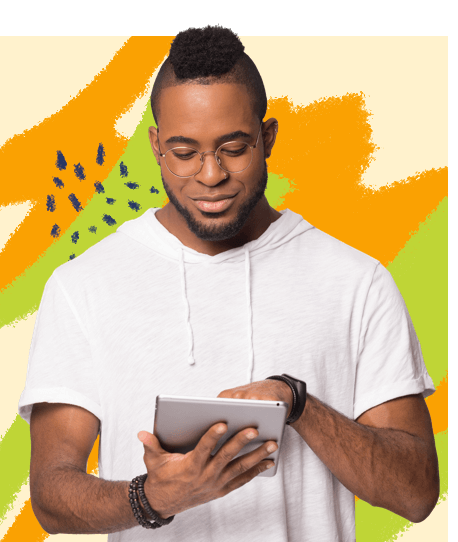 About this course:
This course demonstrates how to boost contract management workflows by eliminating overextended and confusing negotiation procedures, document routing issues, and data inaccuracies.
By the end of the course, you will be able to build a fully automated document workflow with legally binding contracts, negotiate their terms, and get them signed within minutes in real time.
What does this course cover?
This course provides comprehensive guidelines on how to run an automated contract management workflow, make an offer, accept or reject changes online, and keep participants in the loop while remaining legally compliant.
Why was this course made?
We created this course to show you how simple, yet efficient an automated contract management workflow can be to both yourself and your partners.
Who can enroll?
Anyone can enroll in this course to automatically run contract workflows with airSlate.
The materials for this course include:
learning resources to teach you how to automate every step of the contract management workflow with no-code Bots.
quiz to consolidate your acquired knowledge.
What you will learn
How to create and customize an automated contract management workflow
How to ensure every party is notified when changes are made to a contract
How to eliminate errors by automatically routing data between documents
How to automatically archive different contract versions upon completion
How to negotiate and sign contracts in real-time
| | |
| --- | --- |
| Duration | 30 minutes |
| Certificate | A sharable achievement is included |
| Subject | Contract Management |
| Level | Intermediate |
| Language | English |
| Price | Free |
| Rating | |
Earn a verified certificate to demonstrate the skills you gain
Verified by airSlate
Receive an airSlate-issued certificate with the airSlate logo to verify your achievement and expand your career prospects.
Shareable on social media
Post your certificate on LinkedIn or add it directly to your CV.
All you need to digitally transform your business
The airSlate Academy combines everything you need to digitally transform your business, including legally binding eSignatures, advanced PDF editing, and automated workflows.
eSignature workflows
Familiarize yourself with eSignatures, their implementation, business value, and learn how to create legally binding eSignature workflows for your business.
Paperless workflows
Change the way you work with documents into an interactive online experience and learn how to make your documents look professional.
Achieve your career goals with airSlate's advanced certification programs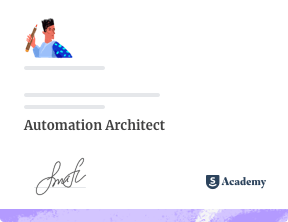 Automation Architect
Learn how to make any process in your workflow run like clockwork. Automate each step using Bots and triggers and perform integrations with popular CRMs like Salesforce or MS Dynamics 365.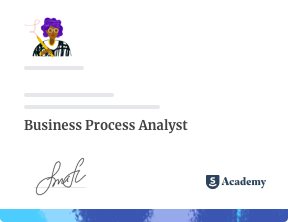 Business Process Analyst
Identify which processes in your workflow can be automated. Learn key metrics to propel your business forward and increase your return on investment (ROI).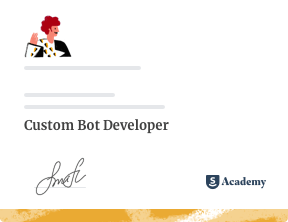 Custom Bot Developer
Learn how to design and develop airSlate Bots — a powerful robotic process automation tool that can be customized using airSlate.
View the certificate
Become an airSlate Partner
Students who complete the airSlate Academy courses are welcome to become partners. Get the necessary skills for building automated processes, helping airSlate newbies, and generating revenue.
Contract management automation changes how we do business
Nowadays, every organization has to complete tasks related to official reports and operational information; access, control, planning, etc. The larger the company, the more tools it needs for competent and convenient data processing.
Automating the contract management lifecycle is a key and paramount objective for any business involved in active cooperation with external contractors.
Namely, the creation of an online platform for working with contracts and agreements affects the company dramatically. It leads to the acceleration of closed deals and essentially reduces the risks of signing contracts with unfavorable conditions. Contract management solutions increase department efficiency, including; the tender and negotiation department, procurement department, HR, accounting, sales and more. Workflow automation helps employees directly involved in the Flow perform tasks faster and with fewer errors. In turn, management gets a reliable tool for controlling processes and timing transactions.
airSlate specialists have implemented our no-code contract management system to automate agreement processing in organizations of various industries and sizes. They gained their experience from taking the courses in the airSlate automation Academy. Take a look and enjoy free lifetime access to our online courses.
Benefits of automating your contract management process
When negotiations are delayed for a week or more without proper digital management, documents get lost — it's time to automate the contract management process. airSlate workflow automation gives you the flexibility and advantages to get ahead:
Accelerated contract lifecycle — execute documents between two or more parties in record time.
Eliminated human error — get forms filled out with the correct data the first time.
Automated document routing — route documents to the right people and to the right storage.
Enhanced Visibility — see into the whole process and all significant parameters including actions from Bots and people.
Customized templates — access the Forms library to take advantage of thousands of pre-built templates.
Operative control — get full control of what roles are set and what recipients can see.
Organized database — utilize a comprehensive database for storing all of your files created in airSlate.
airSlate's out-of-the-box contract management solution allows you to ensure that a document has passed all the necessary stages of approval. Using the right business productivity tools enable the process to be completely transparent and straightforward for all employees.
Building conditional workflows with airSlate
The most likely way to adapt and succeed in the digital age is to know how to configure robotic process automation and embed it into your existing business environment. No-code airSlate Bots help you stand out from others who don't have any type of automation architect skills.
Our easily configurable and triggered tools successfully cope with everyday tasks, which take from 10 to 20% of team members' time. When things are automated, employees can switch to more essential duties.
Bots help teams carry out negotiations from anywhere, and reduce the time it takes for preparing and managing contracts by 3-5 times. Quickly configure smart Bots for routine activities and set conditions for when they act.
In conclusion, we note that special attention should be paid to the secure storing of contracts and the distribution of user access when implementing automation. With airSlate, you can accurately specify the rights and abilities of users; access to editing and viewing documents.
We believe your business could benefit from centralized online contract management. Improve your automation skills with our academy's advanced certification programs. Sign your next contract with airSlate!
Questions & answers
Here is a list of the most common customer questions. If you can't find an answer to your question, please don't hesitate to reach out to us.
Why is contract management important?
Contracts are an essential part of business. They protect the interests of all involved parties and guarantee the completion of all defined obligations. Sometimes, vendors or customers are slow to prepare them, and it leads to lost profits. To avoid missing opportunities, complete the contract administration courses in the airSlate Academy and streamline how you manage your documents.
What is redlining in contracts?
This term is commonly used to describe the procedure of contract editing and negotiation. During this process, all involved parties mark text and track changes. The name comes from earlier times when no electronic documents existed, and people had to use a red pen for making corrections on paperwork. Nowadays, when people go digital, they don't need paper anymore. Furthermore, they automate these processes. How do they do that? Enroll in the airSlate Academy's redlining contracts courses and get answers.
What is procurement and contract management?
Procurement is associated with the optimization of organizational spending without losing the quality of goods or services. Contract management is the process of controlling agreements from start to finish. Both spheres are essential for reaching the strategic goals of a business. Therefore, they must be efficient and automated. Complete the Contract management courses by the airSlate Academy to learn how to automate your work, eliminate routine tasks, and accelerate your business.
What is the contract management process?
Contract management is a set of processes connected to preparation, editing, and storing of agreements. Contrary to popular opinion, it starts out with declaring interests and goals and then continues on to document generation. If you want to learn how to automate this procedure, consider completing the Contract management training courses by the airSlate Academy.
Can I complete contract management courses online?
Of course! The airSlate Academy specializes in teaching business process automation, you can find comprehensive contract management training courses. After that, you'll be able to generate contracts using the data from different systems of record, automate processes with Bots, share docs for negotiation and signing, and archive them to your preferred cloud or CRM automatically.
Where can I find free contract administration courses?
There are contract management courses available for free with the airSlate Academy. Get access to valuable resources and information online and at a work-at-your-own-pace structure. In addition, you'll be able to reinforce your knowledge and practice in real time.
How do I get a certificate for completing contract management courses?
At the airSlate Academy, you receive personalized certificates to your email automatically upon completing each course. Simply find contract management training courses, learn the material, pass the quizzes and tests, and get your verified certificates.
How do you find courses about redlining contracts in the airSlate Academy?
Redlining contracts is a skill you'll go over while taking the сontract management courses at the airSlate Academy. Learn more about automation and possible methods of improving your document-heavy workflows. Contract administration courses are very valuable in advancing your career and improving your skills.
How much time do I need to complete contract administration courses?
If you study with the airSlate Academy, you need only 30 minutes to complete contract management courses online. Why so few? We wanted to save your time, so we chose the most important things. In this way, we've prepared practical contract administration courses that are equal to expensive alternatives but don't require days or weeks of studying.
How do I find contract management courses near me?
The airSlate Academy allows you to complete contract management courses online, which means that you don't need to leave your home or office. Study when and where you want and complete as many training sessions as you need. All you have to do to complete contract management training courses is have an internet connection. The platform allows you to study from any browser without installing specialized software.