Self-paced
Automating Course Enrollment
Self-paced
Automating Course Enrollment
Academic institutions shouldn't have to focus on documents instead of students. Unfortunately, there are piles of separate forms that have to be processed, sorted, and stored. Luckily, airSlate's workflow automation solution can do all the heavy lifting and the airSlate Academy will teach you how.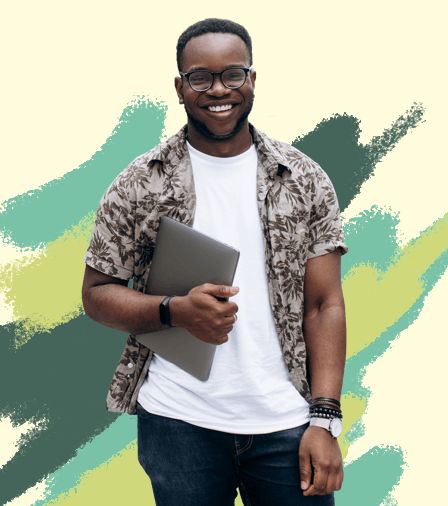 About this course:
This course shows you how to streamline student data collection and automate transfers of information to the databases and systems of record you're using. No more deciphering student handwriting, searching through stacks of forms, or misplacing documents.
By the end of this course, you will be able to create a fully automated course enrollment workflow that benefits teachers, students, and any academic institution in general.
What does this course cover?
You will discover how to save time by digitizing and automating the course enrollment process. This course provides a detailed step-by-step setup that enables you to configure an automated workflow within minutes.
Why was this course made?
We created this course to help academic faculty dedicate more of their time to students and the teaching process instead of paperwork. The knowledge you receive here will enable you to save time, eliminate data errors, and increase student satisfaction.
Who can enroll?
Anyone can enroll in this course to gain practical experience in automating the course enrollment process and we recommend doing so while getting to know airSlate better.
The materials for this course include:
learning resources to teach you how to automate course enrollment workflows in practice.
quiz and assignments to consolidate the received knowledge.
What you will learn
How to eliminate the need for paper and printing equipment
How to speed up the course enrollment process without affecting accuracy
How to get rid of manual data transfers between enrollment forms and your academic institution's databases
| | |
| --- | --- |
| Duration | 30 minutes |
| Certificate | A sharable achievement is included |
| Subject | Course enrollment workflow |
| Level | Intermediate |
| Language | English |
| Price | FREE |
| Rating | |
Earn a verified certificate to demonstrate the skills you gain
Verified by airSlate
Receive an airSlate-issued certificate with the airSlate logo to verify your achievement and expand your career prospects.
Shareable on social media
Post your certificate on LinkedIn or add it directly to your CV.
All you need to digitally transform your business
The airSlate Academy combines everything you need to digitally transform your business, including legally binding eSignatures, advanced PDF editing, and automated workflows.
eSignature workflows
Familiarize yourself with eSignatures, their implementation, business value, and learn how to create legally binding eSignature workflows for your business.
Paperless workflows
Change the way you work with documents into an interactive online experience and learn how to make your documents look professional.
Achieve your career goals with airSlate's advanced certification programs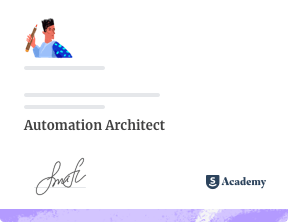 Automation Architect
Learn how to make any process in your workflow run like clockwork. Automate each step using Bots and triggers and perform integrations with popular CRMs like Salesforce or MS Dynamics 365.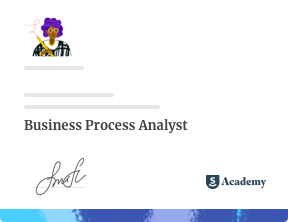 Business Process Analyst
Identify which processes in your workflow can be automated. Learn key metrics to propel your business forward and increase your return on investment (ROI).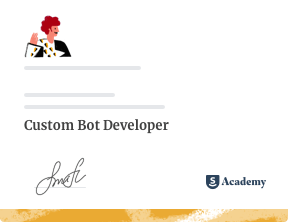 Custom Bot Developer
Learn how to design and develop airSlate Bots — a powerful robotic process automation tool that can be customized using airSlate.
View the certificate
Become an airSlate Partner
Students who complete the airSlate Academy courses are welcome to become partners. Get the necessary skills for building automated processes, helping airSlate newbies, and generating revenue.
Automate course enrollment to increase efficiency and speed up the enrollment process
It's silly to believe that only a commercial business needs automation. Customers, clients, employees, teammates, users, whatever you want to call them are demanding simpler, more streamlined processes. But what does streamlined mean? It means automated, and educational institutions are no exception. Students want automation too. Educational institutions like colleges and universities have to step up to the plate and introduce better systems, technology, and practices to keep students' attention and interest. Simply put, when your course enrollment workflow is as quick and easy-to-fill-out and sign as possible, your program becomes more attractive. This article is going to show you how the airSlate Academy and its courses will help you turn your error-prone and slow enrollment process into fully-automated Flow.
The traditional course enrollment system: why things have to change
Using a paper-based workflow leads to a number of problems that affect the quality and speed at which students can successfully register to study at your institution.As a result, frustrated students will stop registering and go somewhere where it's easier to sign up and start. Meaning you lose valuable customers and your institution builds itself a reputation of being "out-of-date."
Let's take a closer look at what turns prospective students off.
Printing, scanning, signing, and saving hard copies
First of all, not everyone has office equipment anymore. Most businesses don't even have office equipment anymore. Don't expect your students to. Aside from that, depending on the school or the course a student is signing up for, finding the applications and filling them out can take a long time. And what about when they make a mistake while filling them out? Should they go back, make another copy and restart the whole process? No. So if filling out your institution's form takes more than 45 minutes, think about updating your course enrollment system. Automation tackles this problem by giving the students the freedom to fill out their application from anywhere on any device; laptop, tablet, smartphone.
Being outside the loop: in the dark
If you don't know what's going on with an application you filled out, is that frustrating? It probably is. There are so many questions a student has; did they receive my papers? Are they filled correctly? Lack of awareness is annoying and stressful, and if you can't soothe those pain points, they'll lead to you losing a lot of potential students. Often applicants just apply to several schools and go with the one that responds the fastest. To avoid being the slow one, implement automatic notifications to help your staff stay on top of incoming registration forms.
Lost documents
A major nightmare of many going through a registration process is that their forms won't ever reach their destination. The potential for lost documents and attachments are high when it comes to a paper-based course enrollment workflow. Failure to deliver high-performing document management is a sure way to lose credibility in the eyes of young applicants and their parents. Switching to an automated enrollment process greatly reduces the possibility of losing a document.
How does an automated registration system help educators and educational institutions create error-free processes?
The airSlate Academy's Course Enrollment course will help you identify the bottlenecks in your workflow and suggest ways to get rid of them. With an automated Flow, actions get executed with Bots instead of humans, which means fewer errors and more efficiency.
Learn how to remedy routine and mundane tasks like:
Manual data entry

. Integration Bots pre-fill and post-fill electronic forms, making it easier to generate and process large numbers of applications in a shorter amount of time.

Accuracy

. Electronic forms improve the accuracy of collected data by flagging issues and eliminating bad handwriting.

Paperwork

. Digital processes remove the need to print hard copies saving everyone involved time and hassle. In addition, Integration Bots play a big role in automatically storing electronic forms in the right places, be it a CRM or ERP system.
The course will give you theoretical knowledge on how to create a student automated registration system in airSlate.
Implementing airSlate will save your staff and potential students from unnecessary paperwork, giving your educators time to focus on working with students rather than processing and filing their documents. With airSlate, set up a Flow once and use it over and over again. You'll be surprised how easy it is to do with our Automation and Integration Bots. Our no-code solution is a chance to create an automated registration system without the need for outside consultants or an IT department. Learn how to upload a document, assign steps, install Bots, and automate the Flow to run over and over again.
After completing the course, you'll receive a certificate and access to many other professional courses that teach you about automation. Many who take our courses continue on with a new career in automation architecture, helping companies set up Flows of any complexity. Join now to get an efficient student automated registration system!
Questions & answers
Here is a list of the most common customer questions. If you can't find an answer to your question, please don't hesitate to reach out to us.
What's the easiest way to enroll in automation classes?
Take advantage of airSlate Academy courses to learn everything you need to know about BPA. The automation classes provide you with use cases, theoretical lessons, and quizzes. After completing any of the courses, you get a certificate that proves your knowledge.
How is an automated school management system operationally feasible?
Any process can be automated, including your course enrollment system. First, you need to find out what processes need to be reinforced using BPA. Consider the most fundamental workflows that the school needs to function. Then replace manual administrative tasks with Automation and Integration Bots.
What does a school use to make automated calls?
Your school can choose any auto-dialer to set up automated calls. However, emails work better. First, your email should contain all the necessary information that your recipient can re-read instead of memorizing everything. Second, you don't distract anyone, and they can devote time to your message when they're ready. You can set up auto-messages with airSlate by connecting MailChimp or other third-party service.
How is an automated school management system technically feasible?
To get an automated school workflow, you need either a staff of programmers or a solution that can run your tasks automatically without coding. Use airSlate to embed Bots into your process and automatically manage a mass amount of data. Start with the course enrollment system and get the most out of automation for Education.
What will automation do for Education?
Automation for Education enhances administrative processes with Bots. By installing Bots, you get rid of manual data entry, filtering requests, creating invoices, and so on. All this is taken over by Bots that do it accurately and several times faster than a human can. Where does this lead? All staff members can focus on teaching rather than endless paperwork.
How does an online course enrollment system work?
The online course enrollment system is a system or platform for automating the process of enrolling students into a school or program. In short, an applicant who wants to enroll in courses or get into a school fills out a form online from any device, anywhere. Further, this form is submitted to the school administration. Using the applicant's email or phone number, the school contacts the applicant to inform them whether they are approved or not. Of course, the complexity of this process depends on schools, so your workflow could also include interviews.
How can you automate school records?
Take advantage of airSlate to learn how to automate school records. This all-in-one solution helps you filter documents and get valuable information when you need it. Connect airSlate to your database to update and create new records automatically without manual input. Save your time and money by saying goodbye to old-fashioned paper-based processes.
What can you automate in school?
In a nutshell, you can automate everything (almost). But to be realistic, a school automates administrative tasks like registering students, paying salaries, ordering new equipment, and so on. airSlate Bots export and import data, set up automatic notifications and reminders, and generate ready-made documents in a matter of seconds.
How can you automate a school-fee payment?
Collect payments automatically using self-generated invoices. Provide your organization with an automated fee schedule to keep your students and their parents in the loop on deadlines. Track all income and send auto-notifications if somebody forgets to pay their fees. Get a flexible workflow that adapts to any school-fee schedule, even if it's personalized.
What are the advantages of education automation?
Education automation gets rid of paper-based processes for good. Moreover, the new structure erases error-prone workflows while minimizing human intervention. Opt out from routine and repetitive tasks to save your employees from burning out.