Self-paced
CRM Integrations: a Brief Outline
Self-paced
CRM Integrations: a Brief Outline
Heard of CRM but unsure what it means? You've come to the right place. Get familiar with the concept of a customer relationship management system in simple terms, its business value, and why integration capabilities are crucial for the efficiency of a CRM solution.
About this course:
This course will take you through the key aspects of a CRM system and the benefits it brings to any customer-related business process. It also explains how integrations help you make the most of any CRM solution.
By the end of this course, you'll be fully equipped with the necessary knowledge about CRMs, their functions and benefits, and how to increase your business efficiency while enhancing customer satisfaction by integrating your CRM system with a workflow automation solution.
What does this course cover?
This course provides a basic overview of a CRM system, including types, examples, and implementation peculiarities. It also goes through the benefits of integration capabilities along with real-life use cases of successful CRM integrations with document workflow automation in different industries.
Why was this course made?
We created this course to familiarize you with the concept of CRM software, why it is beneficial for business processes, and how to make CRM processes more efficient and customer-oriented by integrating them with a workflow automation platform.
Who can enroll?
Anyone can enroll in this course to gain general knowledge about CRMs and the basics of CRM integrations, including practical use cases.
The materials for this course include:
learning resources to provide you with the necessary information about CRM software and integration benefits based on practical examples.
quiz for self-assessment.
What you will learn
What a CRM system is, the various types, and their objectives
The benefits of CRM solutions for business efficiency
Which implementation factors are crucial in choosing a solution
Practical examples of successful CRM integrations with workflow automation in different industries
| | |
| --- | --- |
| Duration | 30 minutes |
| Certificate | A sharable achievement is included |
| Subject | CRM basics |
| Level | Beginner |
| Language | English |
| Price | FREE |
| Rating | |
Earn a verified certificate to demonstrate the skills you gain
Verified by airSlate
Receive an airSlate-issued certificate with the airSlate logo to verify your achievement and expand your career prospects.
Shareable on social media
Post your certificate on LinkedIn or add it directly to your CV.
All you need to digitally transform your business
The airSlate Academy combines everything you need to digitally transform your business, including legally binding eSignatures, advanced PDF editing, and automated workflows.
eSignature workflows
Familiarize yourself with eSignatures, their implementation, business value, and learn how to create legally binding eSignature workflows for your business.
Paperless workflows
Change the way you work with documents into an interactive online experience and learn how to make your documents look professional.
Achieve your career goals with airSlate's advanced certification programs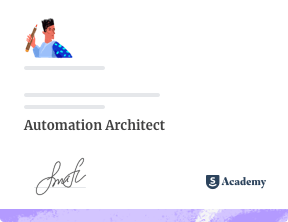 Automation Architect
Learn how to make any process in your workflow run like clockwork. Automate each step using Bots and triggers and perform integrations with popular CRMs like Salesforce or MS Dynamics 365.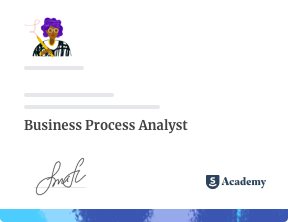 Business Process Analyst
Identify which processes in your workflow can be automated. Learn key metrics to propel your business forward and increase your return on investment (ROI).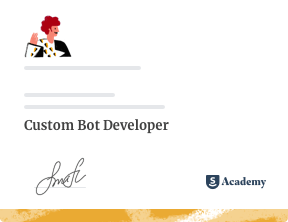 Custom Bot Developer
Learn how to design and develop airSlate Bots — a powerful robotic process automation tool that can be customized using airSlate.
View the certificate
Become an airSlate Partner
Students who complete the airSlate Academy courses are welcome to become partners. Get the necessary skills for building automated processes, helping airSlate newbies, and generating revenue.
airSlate: no-code solutions for enhanced CRM integrations
In today's fast-evolving business environment, it's crucial for companies of all sizes to quickly search for and properly handle customer-related information. Being in the know about consumer behaviors and preferences and always having all essential business records at hand is one of the keys to successfully striking deals and achieving higher profits. And Customer Relationship Management (CRM) systems are a must-have for every modern company.
These tools have drastically changed the way businesses approach customer satisfaction and service, and how they close deals. Customer Relationship Management systems have grown into comprehensive systems that allow users to manage both internal and external marketing, sales, support, and other related processes all in one place. However, they can't handle all of a company's needs and provide a 360-degree outline of all business communications without working in tandem with other applications via CRM integrations.
So what is a CRM integration and why is it so important? Let's take a look at CRM systems in general, their role in business productivity, and why linking them with other programs is no longer an option but rather a necessity.
What is CRM integration and why does a company need it?
Let's start by defining a Customer Relationship Management system: it is an ad hoc software or cloud service that helps companies properly build and develop their customer relationships and interactions. This tool allows sales and marketing specialists to collect, store, categorize, and manage all information about a company's customers (whether they're old, current, prospective, etc.). This software makes it easy to process incoming requests from potential clients, turn them into leads, better understand their needs, keep track of the query history, and promptly enter into agreements. It allows businesses to stay better connected with their clients at all stages of the sales cycle, provide after-deal support, and repeat sales in the future.
But no matter how powerful your Customer Relationship Management is, your company still needs dozens of other solutions to properly run all its processes. Using these solutions separately can result in data silos, duplication, or even loss. That's why companies should be enhancing their work and capabilities with CRM software integrations.
CRM integration is a process of combining various business applications with a CRM system to unite their records and functionality within a single platform. It provides a seamless data exchange between tools, giving a comprehensive overview of your business activities and client relations. Integrating your most-used tools into a holistic data environment benefits your business by offering:
Accurate customer data collection from multiple digital sources

. People make business requests via different channels, like website applications, phone calls, messages on social media, etc. A proper CRM integration collects all the information within a single database.

Increased client satisfaction and retention

. CRM data integration provides better communication with clients and improves the customer experience.

Revenue growth

. A logical consequence of the previous point, as satisfied clients most likely will return, providing you with stable repeated sales.

Streamlined productivity

. The automated data flow between different applications reduces manual data input, saves time on repetitive manual tasks, allowing teams to focus on new projects and deals.
There are base CRM integrations that each company should employ to improve their commercial activity. Companies would benefit from integrating their Customer Relationship Management systems with tools like email services, calendars, messengers, accounting and billing tools, and contract management solutions.
CRM software integration with workflow automation
Workflow automation tools are among the most advanced tools that leading companies use today. For instance, airSlate, a professional no-code automation platform, allows users to run various business processes within a single platform which comprises solutions for document generation, contract negotiation, payment collection, survey creation, and process analytics. It uses a range of no-code Bots (ready-made robotic software) to automatically accomplish mundane tasks as well as minimize human interactions and manual data input.
Apart from automating workflows, airSlate also integrates with many other tools, including cloud storage services, email and messenger tools, and popular Customer Relationship Management systems such as Salesforce, Oracle's NetSuite, Microsoft Dynamics 365, and Pipedrive. These base CRM integrations allow you to automatically:
Pre-fill your airSlate documents and reports with data from a CRM system
Create new or update existing records in your CRM
Export information from forms completed with airSlate into a related CRM record
Send emails to contacts in your database about a document being edited or completed
To sync your applications and make your data seamlessly flow between applications, you only need to add the appropriate Integration Bot and set all the necessary conditions.
airSlate Academy: explore the ease of CRM software integration setup
It may at first seem like configuring Integration Bots is too complicated, but in reality, it's not. And with the right training course, it's even easier. airSlate Academy provides you with free courses dedicated to the different CRM integrations that it features. You will get a detailed roadmap of all the steps to take to: install the Bots, connect your tools, map the related fields, and set conditions for the Bot to start working.
Register for the course in airSlate Academy, explore how to properly set up your CRM integration in about 10 minutes, and become a certified expert in workflow automation!
Questions & answers
Here is a list of the most common customer questions. If you can't find an answer to your question, please don't hesitate to reach out to us.
What is CRM integration?
CRM integration is a process of uniting a CRM platform with various external business applications. It provides seamless data flow between several programs and allows you to adapt them to your business needs as much as possible. The most important third-party tools, which companies should unite with their CRM system, are cloud storage, email services, accounting programs, and workflow automation solutions.
What CRM has the most integrations?
Today, the number of CRM systems on the market is huge. There are several popular solutions that are considered highly customizable because they integrate with a range of other applications. These are Salesforce, Microsoft Dynamics 365, Oracle NetSuite, HubSpot, Zoho, and Pipedrive.
What is the difference between data migration and data integration in a CRM?
Data migration is the extraction and transfer of information from one data storage device to another, or from a computer to a cloud service. It takes place, for instance, when a server is replaced or recovered after a breakdown, or when a data center is relocated. In contrast, data integration is the process of combining data from several sources into one holistic system. It provides smooth data transfer between applications, improving collaboration between them and ensuring their functionalities complement one another.
Why is CRM integration important?
Companies use numerous programs and applications in their day-to-day operations, including CRM systems. CRM software integration allows companies to connect their CRM with third-party tools, providing seamless data transmission and data updating between them. This allows teams to always have access to the most up-to-date and accurate customer-related information. Using CRM integration saves time on searching and updating data within different programs, improving customer communication and experience.
What are the most necessary CRM integrations?
Every company uses different software, so defining the most suitable CRM integrations depends on the organization's individual business needs. However, there are a number of software solutions that are highly valuable to consolidate with your CRM system. Email marketing tools, programs for billing and accounting, IP telephony, and cloud storage services are some of the examples of essential CRM software integrations.
What is CRM data integration?
CRM data integration is the process of consolidating data from several sources (tools and databases that different departments use), joining other data with the company's CRM records, and keeping it within a single data warehouse. This guarantees all essential business information is available in one system anytime team members need it for processing and analysis. CRM data integration helps companies better manage their business processes and improve customer service.
What CRM software integration does airSlate offer?
airSlate integrates with different tools and platforms, including cloud data storages, email services, and CRM systems. With the help of the ready-to-use Bots, you can easily connect your airSlate Workspace with the most popular CRM tools, such as Salesforce, Microsoft Dynamics 365, Zoho, SugarCRM, Pipedrive, NetSuite, etc. You can find the full list of airSlate's CRM software integration options on the related webpage.
How does the CRM integration with airSlate work?
With airSlate, you don't need to spend extra time and money for developers to connect your business applications with your CRM system and to set up a proper data flow between them. You only need to install the appropriate Integration Bot and follow the configuration instructions to build your CRM data integration. To learn more, check out the airSlate Academy and take advantage of its free courses about workflow automation and Bot integration.
What can I do by configuring CRM data integration with airSlate?
By setting up CRM software integration with airSlate, you can significantly facilitate your daily workflows and save plenty of time on repetitive tasks and manual data entry. The tool provides you with several Bots for each CRM integration to enable seamless data flow between both solutions. For instance, they enable you to automatically create new records in your CRM with the information from completed Slates in airSlate, export the records, or update existing ones in your CRM. Also, in the same way, you can configure record transmission in the opposite direction and auto pre-fill documents in airSlate with information from your CRM system.
Where can I learn more about CRM software integrations with airSlate?
airSlate provides users with a free training platform to get them acquainted with its tools and capabilities free of charge. Sign up for the airSlate Academy to become an expert in workflow automation. Apart from courses on the fundamentals, you will also learn about all kinds of Bots, how to properly set them up, and typical use cases of airSlate automation and CRM data integration.