Self-paced
Data Movement Bots
Self-paced
Data Movement Bots
Still transferring data manually? With Data Movement Bots you no longer need to waste time on these types of tasks. Learn how to set up a no-code Bot for fast and error-free data transfers between documents and systems within minutes.
About this course:
This course goes through each stage of setting up the Data Movement Bot to fulfill different types of automated data transfers.
By the end of the course, you will be able to select the most appropriate type of Data Movement Bot for a specific task and configure it within minutes.
What does this course cover?
This course provides detailed guidelines on how to automate a data transfer directly between documents or using a webhook.
Why was this course made?
We created this course to help you save time and eliminate errors while moving different types of data between documents and setting up a webhook if needed.
Who can enroll?
Anyone can enroll in this course to learn how to automate a data transfer in minutes without any coding skills.
The materials for this course include:
learning resources to teach you how to configure a Bot to perform an automatic data transfer.
quiz for self-assessment.
What you will learn
The purpose and benefits of Data Movement Bots for your document workflows
How to automate data transfers between documents and systems by setting up a no-code Bot
How to check whether the Bot performed successfully
| | |
| --- | --- |
| Duration | 30 minutes |
| Certificate | A sharable achievement is included |
| Subject | Data Movement Bots |
| Level | Advanced |
| Language | English |
| Price | FREE |
| Rating | |
Earn a verified certificate to demonstrate the skills you gain
Verified by airSlate
Receive an airSlate-issued certificate with the airSlate logo to verify your achievement and expand your career prospects.
Shareable on social media
Post your certificate on LinkedIn or add it directly to your CV.
All you need to digitally transform your business
The airSlate Academy combines everything you need to digitally transform your business, including legally binding eSignatures, advanced PDF editing, and automated workflows.
eSignature workflows
Familiarize yourself with eSignatures, their implementation, business value, and learn how to create legally binding eSignature workflows for your business.
Paperless workflows
Change the way you work with documents into an interactive online experience and learn how to make your documents look professional.
Achieve your career goals with airSlate's advanced certification programs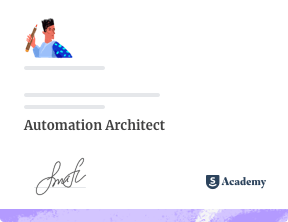 Automation Architect
Learn how to make any process in your workflow run like clockwork. Automate each step using Bots and triggers and perform integrations with popular CRMs like Salesforce or MS Dynamics 365.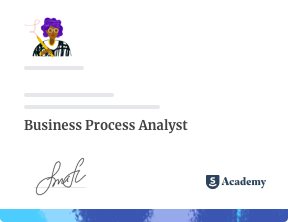 Business Process Analyst
Identify which processes in your workflow can be automated. Learn key metrics to propel your business forward and increase your return on investment (ROI).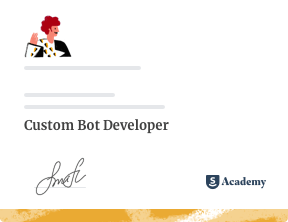 Custom Bot Developer
Learn how to design and develop airSlate Bots — a powerful robotic process automation tool that can be customized using airSlate.
View the certificate
Become an airSlate Partner
Students who complete the airSlate Academy courses are welcome to become partners. Get the necessary skills for building automated processes, helping airSlate newbies, and generating revenue.
Make your data movement hands-free with automation courses by airSlate Academy
Working with tables and storing critical information in databases makes it easier to run a business. With all the data you need organized, you will have an easier time navigating information and maintaining it. However, the way your data moves, especially if you are moving it manually, will impact how easy it is to navigate and maintain it.
Transferring information from one place to another, populating document templates with information from a database, and keeping records up to date all require manual work that takes time. Additionally, this manual work is error-prone, with something as small as a single wrong digit making a whole client record incorrect and useless. If you want to make these processes more efficient, learn how airSlate data Bots can handle them for you.
Automated data transfer straight to your cloud app or database
You no longer need to transfer data from surveys or contact forms manually. Take no more than 15 minutes to set up data moving automation and spend your newly won time to focus on more important things. When running, these airSlate Bots automatically transfer data from the documents and fields in your Flow to the locations of your choice, be it online tables or databases. Use the Bots to simplify your work with Excel 365, NetSuite, Google Sheets, Salesforce, Airtable, and much more.
Automating document creation with data from your tables
When you know how to set up automated data movement with airSlate Bots, creating documents based on information in your databases is simple. Use pre-fill integration Bots compatible with your apps to populate documents with information and make invoices, reports, or contracts in no time.
Automatically updating of your tables and records
The data in your database is valuable only when it is up to date. To keep it this way, you don't need to spend hours updating your records by hand. All it takes is roughly 15 minutes to adjust the right settings for your Bot and you will see the results right away. When your Bot is running, it will make automatic changes wherever you specified once the set up 'in-this-then-that' conditions are met.
Manage your Bots easily
Installing and adjusting the conditions for your Bot to act does not require you to have any specific background or coding skills. You can adjust all of the settings using a simple and user-friendly interface, so it is simple to navigate them. If you want to enjoy more benefits of data automation, be sure to take the Data Movement Bots course in the airSlate Academy. After this course, you will:
Understand the variety of airSlate automation Bots and the principles of their work
Learn how to set basic and additional conditions for the Bot to act
Optimize your data processes and save time on manual data entry
Eliminate errors related to manual data entry in your workflow
Participate in this short interactive training and leave maintaining your databases manually in the past.
Questions & answers
Here is a list of the most common customer questions. If you can't find an answer to your question, please don't hesitate to reach out to us.
What does data movement mean?
In this context, data moving means exporting information from one place to another. For example, say you have conducted a survey among your staff or collected contact information from clients on your website. Now you need to move the data from the collected surveys into an organized table or copy the content to a table with existing data. This process can be manual or automated, depending on the method one chooses, but it is data movement nonetheless.
What is the purpose of data movement?
Typically your business goals define the purpose of your data movement. It can be to preserve your client's database, compile statistical research, or to simply organize any important information. Depending on your business approach and the assets available to you, you can utilize manual or automated data movement.
What are data bots?
Data bots are pieces of software that automate the process of data movement as data moves from one location to another. These bots help to drastically reduce the time it takes to export information to and from a database. They also eliminate possible issues that come with manual data entry, such as minor errors and typos.
What are the benefits of data automation?
The main benefits of an automated data transfer relate to the resources they save your business. Working with columns and rows in a database takes your team significant time without allowing them to be creative or problem-solve for challenges they are seeing. When you automate this process, your team will have more time to tackle more complicated tasks. Manual data entry also increases the chance of minor errors and delays your processes, as humans are not machines. So, if you want to accelerate your data processes, automation bots by airSlate will help greatly.
What are automation courses?
Automation courses by airSlate are meant to simplify your work with airSalte Bots. The courses are brief, concentrated, and interactive, so you can quickly learn and practice automating your processes with Bots that handle your manual tasks. Create an airSlate account and you can start learning automation without any background in coding.
How do I start learning automation?
This course by airSlate is the perfect place to start learning about data automation. This type of bots you will use do not require you to have any coding skills or background. Participate in bot training with a simple and user-friendly interface and learn more about the opportunities you have to make your processes more efficient with airSlate automation Bots.