Self-paced
Designing a Flow
Self-paced
Designing a Flow
Discover a faster and more convenient way to create, store, and transfer documents within a single business process known as a Flow.
About this course:
This introductory course will take you through the process of creating airSlate Flows from A to Z.
By the end of this course, you'll be equipped with all the necessary knowledge you need to create, visualize, automate, and share your process with others.
What does this course cover?
This course will take you through the key steps of workflow automation with airSlate — creating, managing, and granting access permissions to a Flow.
Why was this course made?
We created this course to provide in-depth information about airSlate Flows, their peculiarities, and configuration.
Who can enroll?
Anyone can enroll in this course to gain in-depth knowledge about the Flow as one of the key components of workflow automation in airSlate.
The materials for this course include:
learning resources to provide you with all the necessary information about the concept of a Flow in airSlate.
quiz for self-assessment.
What you will learn
How to create a business process (known as a Flow) and manage it
What document types can be added to a Flow, their purposes, and editing
How to design and visualize an entire process for your use case
How to automate processes in your Flow with no-code Bots
How to share your Flow with others and grant access permissions
| | |
| --- | --- |
| Duration | 15 minutes |
| Certificate | A sharable achievement is included |
| Subject | The concept of a Flow |
| Level | Beginner |
| Language | English |
| Price | FREE |
| Rating | |
Earn a verified certificate to demonstrate the skills you gain
Verified by airSlate
Receive an airSlate-issued certificate with the airSlate logo to verify your achievement and expand your career prospects.
Shareable on social media
Post your certificate on LinkedIn or add it directly to your CV.
All you need to digitally transform your business
The airSlate Academy combines everything you need to digitally transform your business, including legally binding eSignatures, advanced PDF editing, and automated workflows.
eSignature workflows
Familiarize yourself with eSignatures, their implementation, business value, and learn how to create legally binding eSignature workflows for your business.
Paperless workflows
Change the way you work with documents into an interactive online experience and learn how to make your documents look professional.
Achieve your career goals with airSlate's advanced certification programs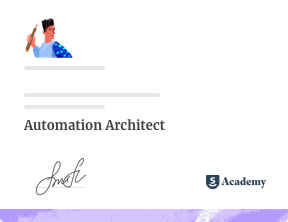 Automation Architect
Learn how to make any process in your workflow run like clockwork. Automate each step using Bots and triggers and perform integrations with popular CRMs like Salesforce or MS Dynamics 365.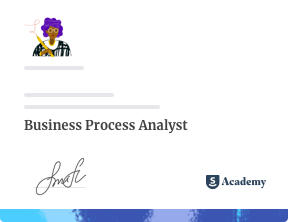 Business Process Analyst
Identify which processes in your workflow can be automated. Learn key metrics to propel your business forward and increase your return on investment (ROI).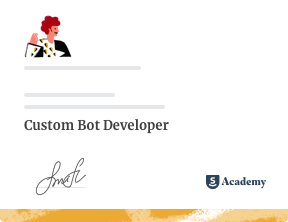 Custom Bot Developer
Learn how to design and develop airSlate Bots — a powerful robotic process automation tool that can be customized using airSlate.
View the certificate
Become an airSlate Partner
Students who complete the airSlate Academy courses are welcome to become partners. Get the necessary skills for building automated processes, helping airSlate newbies, and generating revenue.
Learning the essentials of flow automation with airSlate
Today, it's becoming increasingly rare to meet someone unfamiliar with the term "automation." This technology has penetrated almost every aspect of our lives, from self-driving cars and coffee machines to chatbots and email campaigns.
At the same time, some companies are only starting to scratch the surface with automation and remain skeptical about implementing it within various professional activities. Document management is no exception. There are different reasons why companies are reluctant to embrace automation in their document-based processes. These include but are not limited to:
The complexities of implementing new technologies (compliance, legal nuances, ever-changing data protection policies)
The high costs associated with experimenting with different workflow automation tools
A considerable lack of awareness of what automation can bring to the business
With that said, it's time to shed some light on automation, explain why process flow automation is essential for any business, and share some tips on how to get your automation efforts off the ground.
Process flow automation in a nutshell
Automation process flows are the means by which you can automate routine and mundane tasks you'd otherwise have to perform manually. In the document management realm, this might include pulling and pushing data to external and internal systems of record, document routing, notification and reminder creation, and much more.
In an effort to streamline daily business processes, companies very often use a wide array of workflow automation tools. For instance, they might use different solutions for eSignature, document generation, and workflow automation. In most cases, these solutions can't be synced or natively integrated without resorting to writing code. It can be quite difficult to start a journey in automation, considering all the roadblocks associated with its implementation. But there's no need to despair: no-code, all-in-one solutions like airSlate exist.
airSlate is here to spare you from needing multiple vendors and IT professionals to piece different automation tools together. Our no-code automation workflow solution offers a cloud-based platform with robust functionality, privacy-focused frameworks that protect your data at each point of interaction, and an intuitive interface that doesn't require an intensive learning curve.
Tackling routine tasks with marketing automation Flow Creator in airSlate
Dealing with documents, approvals, and data or signature collection isn't what attracts people to marketing in the first place. However, these routine processes constitute an integral part of any marketing work.
Let's say you work for a marketing department and want to make sure you're aligned with your colleagues on content plans and strategy. Before tackling a content project, you'll need to create a content request form to be filled out by multiple departments in order to collect all the information you need. Using the various applications in operation in your department, you start off by putting together a document with fillable fields and assigning them to specific recipients. After that, you send the form out and check on its completion status before ideally storing the collected information in your app or CRM system.
Eventually, you reach the point where this simple data collection takes days rather than hours because of the effort it takes to patch together the different productivity and data storage applications in use and to build a process from the ground up.
With airSlate, you don't need to start from scratch when setting up a content request workflow or bounce from application to application. airSlate provides you with a set of tools that enable you to create and configure a content request workflow from within a single place. We offer a huge library of department-specific and ready-to-use Flows that you can set up and configure in minutes, and customize to suit your needs. You can even create your own unique Flows using the wide selection of advanced workflow automation tools airSlate has to offer, like document generation, eSignature, automation, and integration. As a result, you save ample time, energy, and resources.
You can build or customize entire workflows by:
Creating and putting together documents by using an intuitive drag-and-drop editor
Launching easy-to-configure, no-code Bots to create reminders, notifications, and route data to the apps you already use
Creating execution and role-based orders that will improve the accuracy of the input
By using airSlate as your go-to process flow automation solution, you get easy no-code integration, accurate data inputting, and up-to-date and industry-compliant document management solutions.
One of the best parts of using airSlate is the possibility of learning the ins and outs of business process automation with airSlate Academy. This course, titled Designing a Flow, will take you through what you need to get started on creating and configuring your first marketing automation flow as well as automating other business-critical processes.
In this course, you will learn the essentials of business process automation, explore various RPA (robotic process automation) and integration capabilities, and solidify your knowledge with short quizzes.
Register for our course today and learn how to fast-track your projects with our flow automation solution.
Questions & answers
Here is a list of the most common customer questions. If you can't find an answer to your question, please don't hesitate to reach out to us.
What is automation flow?
Automation Flow, within airSlate's terminology, is a process that includes document templates and fillable forms that can be automated and configured based on predefined rules. Flow automation tools help businesses and organizations cut down on the number of manual tasks and streamline routine processes.
What are the benefits of creating a marketing automation flow?
The term "marketing automation flow" is mainly used in reference to email or social media campaigns. However, there's a lot of routine, document-based activities behind the scenes in marketing that would benefit from automation too. Solutions, like airSlate, help to take the routine out of marketing strategy and shift the focus of professionals from repetitive tasks to more strategic and value-based work.
Do I need to have specialized training to learn automation process flow with airSlate Academy?
At airSlate Academy, we make sure your first introduction to automation meets you where you're at, and that you will get the most out of it. Our courses are designed for everyone, no matter your educational or professional background, and are informative and full of unique insights. You can start learning automation process flow at any time and become an automation pioneer for your company.
What flows other than the marketing automation flow can I create in airSlate?
You can create and configure process flows to automate tasks across various departments in whatever industry you're in. Be it finance, HR, sales, or any other professional area, you will benefit from the whole spectrum of automation and integration tools to build workflows. On top of that, we provide a Flow Library where you can find various ready-to-use marketing automation flows and other department-specific Flow templates.
Can I get help while exploring flow automation in airSlate?
As you start to explore flow automation in airSlate, you can enable the Tutorial mode by clicking on the student cap icon to take a brief tour around the Dashboard. You can also take advantage of numerous learning materials and courses that will walk you through the essential steps for creating and configuring your first Flow.
What is a Flow template in airSlate flow automation terminology?
In airSlate flow automation terminology, a Flow template is a set of documents with fillable fields. These fields enable you to collect information, eSignatures, and payments and even request attachments. Flow templates can be used repeatedly so you don't need to start over and create documents from scratch.
Can I integrate with apps or CRMs while performing flow automation in airSlate?
With airSlate, there's no need to switch between different apps, databases, or cloud services. Instead, you can set up and launch Bots to automatically push and pull data, store it in your apps, and create and update new records in your CRMs. The best part of using integration Bots in your flow automation is that you don't need to ever write a single line of code yourself.
What makes airSlate a suitable flow automation solution when it comes to legal and compliance concerns?
At airSlate, we put all the necessary privacy measures in place to shield your information from a data breach. We comply with laws in heavily regulated industries that cover everything from payment information to health records (e.g. SOC 2 Type II, PCI DSS certification FERPA, CCPA, HIPAA, and GDPR) to eSignature frameworks (e.g. UETA, eIDAS, eSIGN Act). If you want to learn more about the laws and regulations we follow, please visit our Security and Compliance of Workflow Automation page.
Can I create a marketing automation flow and collaborate on it with my teammates?
airSlate offers all the needed features to help you set up a marketing automation flow and collaborate on it with your team. You will be able to create multiple workspaces, control access, and set up execution orders and role-based signing. You can also enable Guest mode and share a Flow with other users that are not on your team or are outside of your organization.
What is business flow automation?
The automation of process flow is a strategy directed at automating and streamlining mundane business processes. It helps companies keep up with an ever-changing business landscape, meet growing customer expectations, and become more competitive. You can automate anything from payments and data collection to document generation and eSignature requests by implementing specialized tools.