Self-paced
Digital Lending: a Roadmap to ROI and Intelligent Automation
Self-paced
Digital Lending: a Roadmap to ROI and Intelligent Automation
Advancements in tech have had a major impact on the entire financial industry. As one of the most influential parts of the financial sector, lending has gone digital and is now more convenient and accessible for both lenders and borrowers than ever before. Learn how to digitize and automate lending using intelligent lending automation.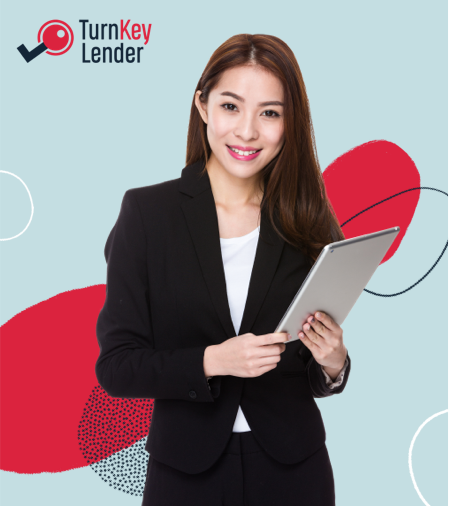 About this course:
We've created this course in partnership with Turnkey Lender to help you discover the ins and outs of digital lending, its benefits, types, and services. You will learn how delivers a seamless digital lending experience, as well as the role AI and ML have in the process.
What does this course cover?
This course reveals how Turnkey Lender automates the key lending steps for increasing business productivity, reducing credit risk, lowering operational costs, and eliminating human error. It explains how to customize functionality and simplify credit processes using integrations as well as providing real-life examples of businesses that went digital with TurnKey Lender.
Why was this course made?
We created this course to demonstrate how Turnkey Lender's digital lending automation works in practice. The course will guide you through automating the entire lending process from loan origination to regulatory compliance.
Who can enroll?
We recommend this course to all users who take an active part in the financial industry and are interested in enhancing their lending process.
The materials for this course include:
learning resources assist your learning of automated lending.
quizzes so you can practice your knowledge.
What you will learn
What digital lending encompasses, the value it can bring to your business, the benefits of lending process automation, and the statistics driving success in today's digital transformation of the lending process
How automated lending processes will solve your customers' pain points
How Artificial Intelligence holistically evaluates risk and streamlines auto-decisioning for loan applications
Why in-house financing is the wave to ride into 2021
How to automate lending processes step by step
What the bottlenecks in traditional lending are and how to solve them
How to streamline the customer experience through digital transformation
Why API integrations are vital for your digital lending operation
| | |
| --- | --- |
| Duration | 1 hour 30 minutes |
| Certificate | A sharable achievement is included |
| Subject | Digital lending |
| Level | Beginner |
| Language | English |
| Price | FREE |
| Rating | |
| Enrolled | 93 students |
Earn a verified certificate to demonstrate the skills you gain
Verified by airSlate
Receive an airSlate-issued certificate with the airSlate logo to verify your achievement and expand your career prospects.
Shareable on social media
Post your certificate on LinkedIn or add it directly to your CV.
All you need to digitally transform your business
The airSlate Academy combines everything you need to digitally transform your business, including legally binding eSignatures, advanced PDF editing, and automated workflows.
eSignature workflows
Familiarize yourself with eSignatures, their implementation, business value, and learn how to create legally binding eSignature workflows for your business.
Paperless workflows
Change the way you work with documents into an interactive online experience and learn how to make your documents look professional.
Achieve your career goals with airSlate's advanced certification programs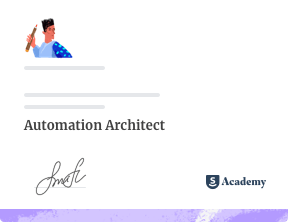 Automation Architect
Learn how to make any process in your workflow run like clockwork. Automate each step using Bots and triggers and perform integrations with popular CRMs like Salesforce or MS Dynamics 365.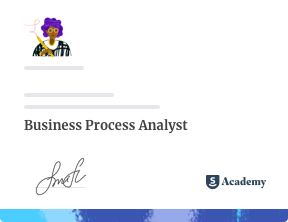 Business Process Analyst
Identify which processes in your workflow can be automated. Learn key metrics to propel your business forward and increase your return on investment (ROI).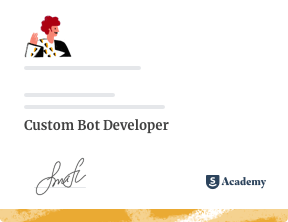 Custom Bot Developer
Learn how to design and develop airSlate Bots — a powerful robotic process automation tool that can be customized using airSlate.
View the certificate
Become an airSlate Partner
Students who complete the airSlate Academy courses are welcome to become partners. Get the necessary skills for building automated processes, helping airSlate newbies, and generating revenue.
What is intelligent automation (IA)?
In a world of constant change, nothing stays the same for long. Organizations across the globe are already successfully implementing powerful document and robotic process automation. But intelligent automation is more than just automation, it's forward-facing. Every day we see advancements in technology, innovations like artificial intelligence, big data, neural networks, and more.
Advancements in artificial intelligence introduce new opportunities and capabilities for businesses. Get access to a powerful new tool — intelligent automation — that combines the power of RPA (robotic process automation) and AI (artificial intelligence). It significantly accelerates the process of digital transformation and improves workflows. More and more organizations are already implementing it into their working processes and are reaping the benefits.
Why you need intelligent process automation
Intelligent automation is key to leveling the playing field and getting your organization the upper hand it needs to compete more competitively.
Let's clear the water and go over the main advantages of artificial intelligence.
Operates 24/7 according to defined rules
It never tires, meaning it doesn't take breaks, doesn't go home early, and doesn't go on vacation. AI is always learning and completes its tasks accurately and according to the rules you set. Humans can make mistakes, miss important information, and so on. Errors related to the human factor are time-consuming and costly.
Does more, more effectively
Intelligent automation processes and transfers data much faster and more accurately than humans. It works with large amounts of data in less time with far fewer mistakes.
Increases customer satisfaction
Quick processes mean happier, more satisfied customers and clients. When data is analyzed faster, and decisions are made quicker, questions are asked and answered in record time, financial issues are immediately resolved, and website visitors get what they want sooner.
Makes business more secure
Intelligent automation solutions examine many factors, some of which can be missed by humans or hidden by consumers, including digital behavior. IA can analyze a system's potential vulnerability to being cheated. Thus, providing an honest rating of each user to avoid or eliminate risk factors.
Increases business profitability and ROI
All the factors mentioned above, including decreasing risks, streamlining and accelerating workflows, and growing customer satisfaction — positively influence your ROI (Return on Investment).
Lending steps that need intelligent automation & soft computing
As powerful as IA is, the system can't process all the steps in a lending workflow (for example) on its own, but it's only a matter of time. Each case, more or less, requires human interaction. However, robotics drastically minimizes these interactions. For example, some of the steps in the lending process can be easily automated. These include loan applications where a potential borrower files all the required personal and financial information. Or email communications when you and your client need to correct mistakes in forms or discuss an agreement. Other steps include automating risk evaluation for simplifying the process of making decisions and signing procedures.
Intelligent automation and robotics in lending and many other spheres are definitely worth implementing.
How to become an intelligent process automation expert
Learning how to automate business processes is easier than you think. The days of universities are gone. Now you have the opportunity to learn from your home, office, or anywhere. The airSlate Academy makes this a reality.
The airSlate Academy offers professional courses that teach you and your team how to utilize different tools for improving your business in various spheres. It starts with advanced tutorials for airSlate — a holistic BPA solution, which allows you to organize and streamline your everyday workflows. For example, in the Fundamentals course, you'll find information about how to build your first Flow and set up Bots to do manual, repetitive work for you.
The airSlate Academy offers various materials that cover a wide scope of automation possibilities with airSlate. Learn how to use intelligent automation & soft computing via solutions like TurnKey Lender for lending organizations.
How to enroll in the airSlate Academy
Absorb new information in a fun, interactive way. Begin improving your skills by creating an account and choosing a course to start with.
At the end of the course, you will have obtained:
Theoretical knowledge
Practical skills
Relevant use cases
Licensed certificate
The future is here and now. It's time to adapt and grow to stay competitive on the market. Enroll in our intelligent automation course today!
Questions & answers
Here is a list of the most common customer questions. If you can't find an answer to your question, please don't hesitate to reach out to us.
What is intelligent automation?
Intelligent automation is a combination of technologies synthesizing robotic process automation and artificial intelligence solutions for seamless automation of business processes. Intelligent automation can be applied to processes in businesses of diverse scales or fields. It empowers the efficiency of an enterprise, as automation can take on routine, time-consuming processes that do not require critical thinking or problem-solving. It gives more time to the team for more demanding tasks.
What is intelligent automation used for?
Essentially, intelligent process automation is used to replace people on tasks that can be handled by a machine or artificial intelligence. An automated approach to tasks helps save employees' time and secure their safety if it handles potentially dangerous tasks. With intelligent automation, the company distributes challenging and mentally demanding tasks more effectively.
How does intelligent automation work?
Based on the tasks it is set up to cover, intelligent automation runs on the combination of artificial intelligence, machine learning, computer vision, natural language processing, and process mining. These technologies are encompassed in the rule-based processes that can be carried out without human involvement with tasks that are mainly time- and effort-consuming.
What is an example of intelligent automation?
As of today, there are many processes that can be handled with intelligent automation. One of the examples is the automation of the dialing process for call centers, in which operators do not have to put in numbers and listen to calls. Instead, call center operators are only connected to answered calls, and automation handles the rest. AI and automation can also be involved in data transfer, order processing in E-commerce, employee onboarding in human resources, and many more routines.
What are intelligent automation tools?
Intelligent automation tools help to set up the automated process. Their combination depends on the task they are to handle and the company's business objectives. If you want to know about their diversity and implementation, try this interactive training course to figure out how it works and how your business can benefit from it.
What is the difference between RPA and intelligent automation?
Intelligent automation is a broader notion that includes RPA, or robotic process automation. The latter usually handles repetitive manual tasks with the help of software bots. RPA can complete tasks without decision-making or judgment, while automation AI can do both.