Self-paced
Digital Security at airSlate
Self-paced
Digital Security at airSlate
This course walks you through the most common data privacy and security regulations, their key principles, and how airSlate complies with them in practice. You will also learn how to ensure your customer's data privacy and easily address any automated workflow security issues.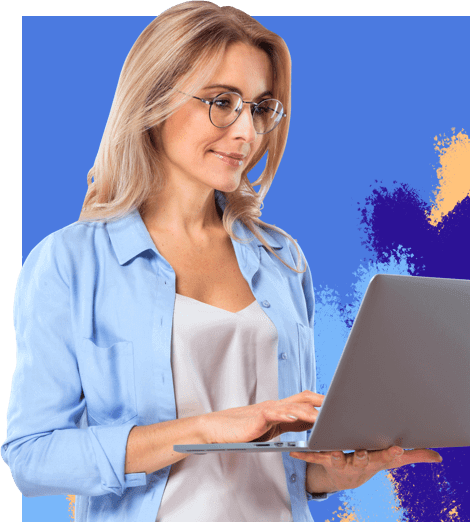 About this course:
The course is aimed at those interested in maintaining the security of their own and their team's digital data. You will get familiar with the most common data security concerns and the methods airSlate uses to overcome them.
By the end of this course, you will be fully equipped with the necessary knowledge to maintain a secure environment for you and your team's digital data when using airSlate.
What does this course cover?
This course provides a comprehensive overview of the key legislative regulations for data security and how airSlate ensures compliance within its automated workflows.
Why was this course made?
We created this course to provide you with all the necessary information on how airSlate ensures data security when setting up automated workflows.
Who can enroll?
Anyone can enroll in this course to get familiar with airSlate's features and methods of ensuring data security according to key legal regulations.
The materials for this course include:
learning resources to help you understand the principles of data security and how airSlate implements them into its automated workflows.
quiz to consolidate the knowledge you receive.
What you will learn
The most common data security issues and how to resolve them
What the GDPR, HIPAA, FERPA, CCPA, SOC 2, and PCI DSS certifications are and their main provisions in terms of data protection
How airSlate helps its users to comply with key data security legislation
How airSlate protects its users' personal data from unauthorized access while configuring an automated workflow
How airSlate helps backup and restore its users' data
| | |
| --- | --- |
| Duration | 1 hour |
| Certificate | A sharable achievement is included |
| Subject | Digital security at airSlate |
| Level | Beginner |
| Language | English |
| Price | Free |
| Rating | |
Earn a verified certificate to demonstrate the skills you gain
Verified by airSlate
Receive an airSlate-issued certificate with the airSlate logo to verify your achievement and expand your career prospects.
Shareable on social media
Post your certificate on LinkedIn or add it directly to your CV.
All you need to digitally transform your business
The airSlate Academy combines everything you need to digitally transform your business, including legally binding eSignatures, advanced PDF editing, and automated workflows.
eSignature workflows
Familiarize yourself with eSignatures, their implementation, business value, and learn how to create legally binding eSignature workflows for your business.
Paperless workflows
Change the way you work with documents into an interactive online experience and learn how to make your documents look professional.
Achieve your career goals with airSlate's advanced certification programs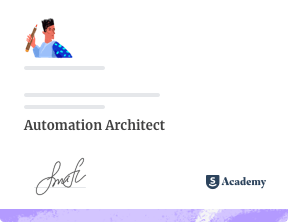 Automation Architect
Learn how to make any process in your workflow run like clockwork. Automate each step using Bots and triggers and perform integrations with popular CRMs like Salesforce or MS Dynamics 365.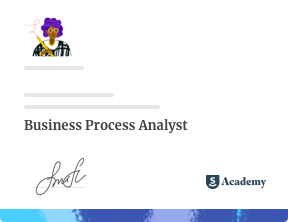 Business Process Analyst
Identify which processes in your workflow can be automated. Learn key metrics to propel your business forward and increase your return on investment (ROI).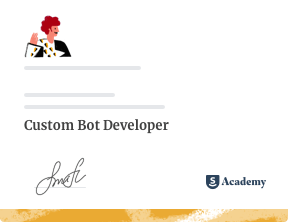 Custom Bot Developer
Learn how to design and develop airSlate Bots — a powerful robotic process automation tool that can be customized using airSlate.
View the certificate
Become an airSlate Partner
Students who complete the airSlate Academy courses are welcome to become partners. Get the necessary skills for building automated processes, helping airSlate newbies, and generating revenue.
Discover data security policy and GDPR compliance regulations
Workflow automation has indisputably hit the global market helping small, medium and large companies enhance their business processes. However, despite so many advantages, the issues of privacy, security and compliance still make businesses be very careful and selective of the automation software they choose to use.
What is privacy and security policy?
When it comes to cooperation between businesses and their customers, it's very important to guarantee the protection of personal data. A company's Privacy Policy and Security Policy ensure customers that their personal information as well as information from their documents and cookies are protected and will not be disclosed to third parties.
Here are types of information collected from customers:
What can you automate?
What is your budget for acquiring and implementing business automation software?
Which of your teams will/would benefit from digital workflows?
How quickly do you need the software implemented?
How flexible should the system be and what level of security do you need?
What is your budget for the maintenance and support needed to keep the software running correctly?
Basically, private and security policy is a detailed explanation for the customers on what kind of information is collected, how it's done, where it's stored and whether third parties have access to it or not. This kind of information helps the customer choose among the variety of automation software.
What is GDPR and what are GDPR regulations?
Apart from the internal privacy policy, there are specific standards for reporting and compliance that help strengthen information security in companies. The most modern data protection regulation both in the USA and Europe is General Data Protection Regulation (GDPR). Let's have a short GDPR overview. It's been one of the most comprehensive standards since 2018 in the field of data protection and information security. The GDPR meaning shouldn't be ignored as it covers a huge list of security-related issues. The GDPR privacy policy is applicable mainly by companies inside the EU that work with personal data and companies outside the EU that monitor the behavior of individuals in the EU. This regulation is important for businesses that seek to be GDPR-compliant.
Other security and standards regulations among different industries include:
System and Organization Control (SOC).
Food and Drug Administration (FDA).
Code of Federal Regulations (CFR).
HIPAA.
How to esign documents securely?
Going digital is not only about enhancing workflows, but also about using e-signatures daily as a common practice. There are legal regulations that cover e-signatures specifically: ENSIGN for the USA and eIDAS for the EU. Both of them are considered to be best practices. To esign online, most compliant companies offer you different ways to authorize: via name, email or telephone number. Keep in mind that names and initials can't be an e-signature.
Does airSlate meet GDPR requirements?
airSlate, as one of the most robust and popular automation software solutions, uses advanced tools for data security. Out of all the data above for processing, airSlate doesn't require banking or geo-location information. However, geolocation can sometimes be revealed by the IP address. airSlate ensures security by offering its clients a disclosure agreement. In this agreement, the client learns how the software processes information and agrees to it by signing. airSlate stores the documents on its own servers. Once the documents are deleted they can't be restored. So if customers hesitate on whether they will need a document in the future, it's better to archive it. You can also safely esign documents. Regarding different legal standards, as GDPR and SOC, airSlate offers a procedure to comply with data protection requirements.
What is a digital security and compliance course?
The course will introduce you to legal regulations and standards related to security and compliance. It reveals how airSlate processes and saves data securely and helps companies stay GDPR and HIPAA compliant. Overview of privacy and security policies will make you better understand how data is collected and for what purposes. You'll be able to understand how to enhance compliance with the help of the audit trail and track every single step in your Flow.
The course is free. It consists of four lessons and a final quiz. It takes approximately 1 academic hour to complete it. Take a look and become an automation pioneer.
Questions & answers
Here is a list of the most common customer questions. If you can't find an answer to your question, please don't hesitate to reach out to us.
What is a Security Policy?
A Security Policy is a set of laws, measures, rules, requirements, restrictions, instructions, regulatory documents, recommendations, etc., which regulate the processing of information and the procedures for protecting information from certain types of threats. A Data Security Policy is a fundamental document for ensuring a company's information is kept secure at all times.
What is considered the first step in formulating a Security Policy?
A Security Policy and related measures cannot provide 100% protection against all threats. Therefore, risk analysis is the first part of any risk management and protection program. It's the process of assessing a system's vulnerabilities and the threats facing them. The analysis identifies the likely consequences or risks associated with exposures and provides the basis for creating a cost-effective security program.
What is the meaning of GDPR compliance?
GDPR (General Data Protection Regulation) is a data privacy protection regulation in the European Union (EU) and European Economic Area (EEA). GDPR compliance is a set of rules designed to give EU citizens more control over their personal data.
What does compliance mean in business?
The definition of compliance includes all policies, practices, external and internal controls that an organization must comply with. An organization is compliant when all of its processes adhere to accepted standards and laws. Thus businesses, depending on their field of activity, operate in compliance with labor and financial regulations, accounting, environmental regulations, data security, and many other regulations.
How can a service be GDPR compliant?
There's a lot that a company needs to do to be GDPR compliant. The sooner you start putting the following GDPR compliance checklist into place, the better off you'll be: Be aware of how to manage customer data; Provide accurate privacy notices; Understand how to manage data access requirements; Have a plan of action for potential hacks; Prepare to revise and update your policies frequently. It's not simple, so, if you're looking for advanced automation to help you be GDPR compliant, try airSlate.
How should companies update their Privacy Policy for GDPR?
Updating your Privacy Policy for GDPR can be a great opportunity to completely rewrite and improve your policy if it's out of date. Although, many existing data privacy policies may require minor updates to become more specifically GDPR compliant. For example, you will need to make a few changes to become GDPR compliant if you are already compliant with Data Protection Directive 95/46/EC.
What is a Local Security Policy?
A Local Security Policy defines various security settings for a specific platform or tool. These can be policies for assigning user rights and auditing, account, or password lockout. Remember, it's essential to be cautious when it comes to domain work as domain security will override local Security Policies.
What is the most common Security Policy failure?
The most common mistake in a Security Policy is a lack of user awareness. Companies need to pay more attention to educating employees about data security policy. This is where our Digital Security at airSlate course can help you. Everyone can take it at a convenient time and date, free of charge.
How should one implement GDPR compliance?
The following GDPR compliance checklist will help you to understand what you should check first: Lawful basis and transparency; Data security; Accountability and governance; Privacy rights; GDPR is a complex piece of legislation that requires expert assistance and knowledge. That's why we recommend taking the free Digital Security at airSlate course by the airSlate Academy.
What are US privacy and security laws?
The United States has a patchwork of sector-specific laws and regulations related to data protection on the internet. These cover health and credit information, telecommunication, marketing, etc. You can find more detailed information in the airSlate Academy's Digital Security at airSlate course.