Self-paced
Document Generation
Self-paced
Document Generation
Document generation is often a complicated and time-consuming process. Learn how to simplify and speed up the workflows that include different types of documents with airSlate. Automating document creation means streamlining your workflows and improving productivity.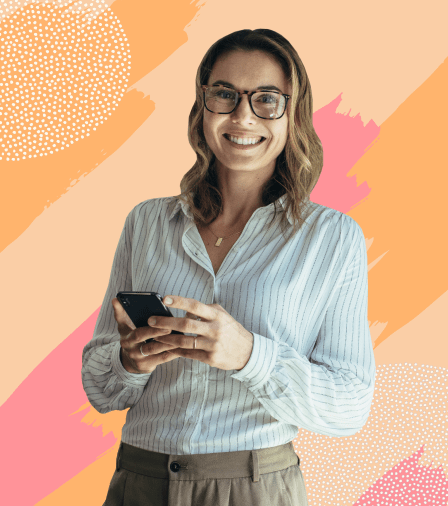 About this course:
This course demonstrates how to streamline document workflows with airSlate to automatically create documents pre-filled with data from external apps in seconds.
By the end of this course, you will be able to create and configure documents using tags and fillable fields and connect them to your systems of record with no-code Bots.
What does this course cover?
Identify the best place in your workflow to start generating documents and learn the available methods for customizing them according to your needs.
Why was this course made?
We created this course to help users make document workflows smooth and fast with DOCX documents, tag syntax, and no-code automation.
Who can enroll?
Anyone can enroll in this course to simplify their data-heavy document workflows and learn how to work with airSlate document generation.
The materials for this course include:
learning resources to take you through the setup and customization process of generating documents pre-filled with data using DOCX documents and tag syntax.
quiz to consolidate your acquired knowledge.
What you will learn
How to automatically generate and customize DOCX documents in airSlate
How to work with tag syntax and its types in different document workflows
How to connect your workflows that contain DOCX documents to external systems
| | |
| --- | --- |
| Duration | 30 minutes |
| Certificate | A sharable achievement is included |
| Subject | Document Generation |
| Level | Advanced |
| Language | English |
| Price | FREE |
| Rating | |
| Enrolled | 1719 students |
Earn a verified certificate to demonstrate the skills you gain
Verified by airSlate
Receive an airSlate-issued certificate with the airSlate logo to verify your achievement and expand your career prospects.
Shareable on social media
Post your certificate on LinkedIn or add it directly to your CV.
All you need to digitally transform your business
The airSlate Academy combines everything you need to digitally transform your business, including legally binding eSignatures, advanced PDF editing, and automated workflows.
eSignature workflows
Familiarize yourself with eSignatures, their implementation, business value, and learn how to create legally binding eSignature workflows for your business.
Paperless workflows
Change the way you work with documents into an interactive online experience and learn how to make your documents look professional.
Achieve your career goals with airSlate's advanced certification programs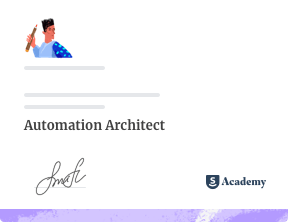 Automation Architect
Learn how to make any process in your workflow run like clockwork. Automate each step using Bots and triggers and perform integrations with popular CRMs like Salesforce or MS Dynamics 365.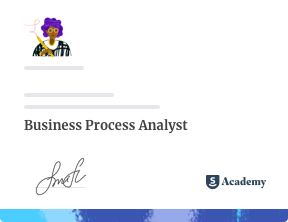 Business Process Analyst
Identify which processes in your workflow can be automated. Learn key metrics to propel your business forward and increase your return on investment (ROI).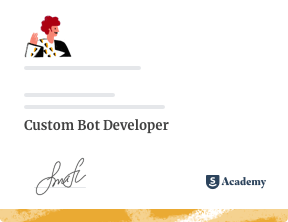 Custom Bot Developer
Learn how to design and develop airSlate Bots — a powerful robotic process automation tool that can be customized using airSlate.
View the certificate
Become an airSlate Partner
Students who complete the airSlate Academy courses are welcome to become partners. Get the necessary skills for building automated processes, helping airSlate newbies, and generating revenue.
How using an airSlate Document Generation leads to major benefits like increased team productivity
Documents are the legal basis for all business interactions. Contracts, invoices, accounting and tax reports, purchase orders, and many others are vital for a business to operate. In addition to those that are required by law, there are also many internal forms and reports that help analyze a company's/team's productivity. In other words, without documentation, you can't buy and sell your products or services, track banking transactions, hire new employees, or properly manage other business processes. Document generation that's simple (automated) is crucial to modem workflows.
People tend to make mistakes. When constantly performing many similar tasks, the human brain simply loses its concentration. Sometimes, those mistakes have major consequences. For example, small mistakes or typos in financial reports caused by a manager's fatigue can lead to things like fines or suits. But where people are wrong, computers and robotic solutions aren't. Employing automated document generation software is quite clearly something that will set you up for success now and in the future.
The pros of automated document generation
Automation is key to a company's overall success. It helps keep accuracy in data recording by eliminating its error-prone and time-consuming manual input. Creating forms and agreements without human intervention is just one but a significant part of a broader concept of business process automation.
Document generation software helps create, customize, edit, and share forms, contracts, reports, invoices, etc. Good software allows you to generate forms from scratch or update existing PDF and text files. Implement automated document generation with the following features:
push and pull records from forms to CRM systems or the cloud;
create dynamic templates and interactive forms;
generate reports automatically based on other completed templates;
integrate with other business applications and platforms;
save records in different file formats;
share documents within the organization, with partners, and customers;
e-sign contracts and agreements (if the software features legally-binding electronic signatures);
save both time and costs spent on regular monotonous tasks.
The above list is only a few of the things that you should look for when investigating new solutions. Just imagine how your team could operate when all paper-related processes are automated and streamlined from beginning to end. The advantages of automated document generation are obvious:
saved time for other tasks and focusing on customers;
data accuracy and error-free records after excluding manual input;
smooth file sharing and data mapping to forms and reports;
faster ROI.
Today, there are many different document generation tools for businesses of all sizes. They vary in functionality and price, and choosing the right one can significantly affect your company's results and boost its productivity. The most effective tools, like airSlate, offer far more than just form creation but a holistic workflow automation solution.
airSlate's online Document Generation
airSlate is an all-in-one Document Process Automation (DPA) platform. It allows anyone to automate any part of a business, and it integrates perfectly with CRM/ERP systems and cloud services. With airSlate, automating processes doesn't require you to hire experts or have any special knowledge. Thanks to no-code Bots, you can quickly configure automated workflows.
Here's how airSlate's easy Document Generation works:
Upload a PDF or Word file, or use the template library or create an agreement from scratch.
Drag and drop fillable fields. Add as many as you need.
Assign Steps to your fields and give permissions to different users.
Add signature fields where you need to collect approvals.
Configure Bots for automated document generation. Pre-fill fields from other templates or from third-party business solutions like Salesforce, NetSuite, Microsoft Dynamics 365, Google Drive, etc.
Set up Bots to update records in those applications when your template is completed and/or signed.
Share your new forms, contracts, or reports with colleagues, customers, and partners. Set up automatic notifications and reminders.
Collect payments from recipients from the same form or invoice they are filling out and/or signing.
airSlate no-code automation allows you to say goodbye to all manual form processing and data input. It's an easy Document Generation that any employee can learn to use. With the airSlate Academy, anyone can become a citizen developer to help their team be more productive.
The Document Generation course from the airSlate Academy
airSlate created its Academy to help you learn about no-code automation and streamline your processes in the most straightforward and affordable way possible. Sign up for the Document Generation course and explore how to generate contracts from DOCX and PDF formats, create custom templates from scratch, automatically pre-fill and post-fill data in forms and external data sources. Use the many use cases and practical sessions to help you better comprehend the features airSlate has to offer for simplifying your own processes. After completing the course, you'll be able to auto-create forms, contracts, invoices, reports, and other business-related documentation, and set up fully automated workflows in less than 30 minutes. Get a verified certificate in automated document generation. Join the airSlate Academy to level up your skills in business workflow automation!
Questions & answers
Here is a list of the most common customer questions. If you can't find an answer to your question, please don't hesitate to reach out to us.
What is the best document creator?
airSlate is one of the leading no-code document generation solutions that allow teams working in multi-department environments to create and customize documents from scratch or from pre-made templates. With airSlate, you no longer need to labor over manual data entry. Instead, the multitude of automation and integration tools lets you route data between documents and existing applications with no extra effort on your side. The best part is that you can seamlessly integrate the documents into multi-branch workflows.
Which program or document generation software can you use to make a document?
One of the most popular offline software is Word. However, as businesses started moving their processes online, companies have gravitated to cloud-based solutions like airSlate. It gives them an entire suite of tools flexible enough to create documents online with lightning speed and offers powerful data collection and analytics tools. This makes Word document generation a thing of the past.
Can I use an online document creator instead of Word?
Absolutely. The documents created in Word have proved to be not very edit friendly and not optimized for web and mobile devices. Besides, using Word as your go-to document creator requires you to keep track of all program updates. Alternatively, you can try airSlate and reap all the benefits of automated document generation such as intuitive drag-and-drop fields, smooth data routing options, dozens of Bots for taking over extra steps in document creation processes.
Does airSlate come with a simple document creator?
Yes, airSlate is a feature-rich no-code workflow solution that requires no special skills or professional background to learn. If you want to know how to use our document creator online, you can take our Document Generation course. It will help you get the hang of basic airSlate terms for quickly grasping how every document creation tool works.
How does automated document generation work in airSlate?
airSlate has a distinct advantage over other solutions. It offers different ways you can create or customize your existing documents. For instance, if you don't know where to start, you can browse our extensive library of pre-uploaded document templates and tailor them for your customers, employees, or business partners. In addition, you can upload or export your document and make it fillable. However, if you want to draft everything from scratch, airSlate is ready to provide such an option. In all cases, you'll get all the needed tools to make document creation and customization as seamless as possible. Are you still searching for an answer to your "How does automated legal document generation work" question? Take the airSlate Document Generation course and start creating documents more efficiently.
Can the documentation process be automated with document generation software?
Yes, however, not all document generation solutions feature capabilities to automate an entire document workflow. With airSlate, you get a central place for building simple or complex document workflows and automate them using no-code Bots. Each step of the workflow can be configured and tailored to your needs. Moreover, access to shared documents can be manipulated, meaning that every party can view and execute documents according to their specific terms.
Do I need to hire IT specialists to set up the document generation process?
The solutions like airSlate help companies become less reliant on IT teams. You can set up and configure document workflows by yourself, connect them to the CRMs and programs you already use, and automate the entire process without using a single line of code. If you get stuck creating your very first document or while building a workflow, our dedicated support team can walk you through each step of our automated document generation solution. In addition, you can learn the ins and outs of document generation by enrolling in the course by the airSlate Academy.
What makes an online document creator compliant?
The compliance of any document creator, including cloud-based ones, is defined by whether or not it follows the regulations and security-oriented practices ensuring that personal user data and financial information is protected. At airSlate, we understand that client concerns, especially in today's business world, revolve mainly around data security and compliance. That's why we put in place the following regulations (FERPA, CCPA, HIPAA, GDPR) and legislations (UETA, eIDAS) to safeguard our clients' sensitive information. To learn more about how we protect user data, visit our Security and Compliance of Workflow Automation page.
Does your automated document generation solution include the eSignature feature?
Yes, apart from a powerful document drag-and-drop editor, airSlate includes the capability of adding and collecting legally-binding eSignatures. The authenticity of eSignatures is backed up by an Audit Trail, compliance with UETA, eIDAS legislation, two-factor authentication, and role-based signing. So, whenever you use our online document creator to sign a document or collect signatures, you can stay reassured that the signatures will be legally valid and admissible in court.
How can I create a fillable form with your document creator?
You can create fillable forms using our easy-to-use drag-and-drop editor that comes with various basic and advanced elements that facilitate data collection. On top of that, our document generation tools allow you to connect Bots to your web forms and set up if-this-then-that logic for every element you add. What's more, the data collected in the forms can be linked to the fillable fields in other documents or routed between different CRMs and programs.