Self-paced
Introduction to Document Process Automation
Self-paced
Introduction to Document Process Automation
Looking for simple ways to streamline your document workflows? You came to the right place! Discover the basics of document process automation, the benefits it delivers to businesses, and tips for selecting the most suitable automation solution for your business needs.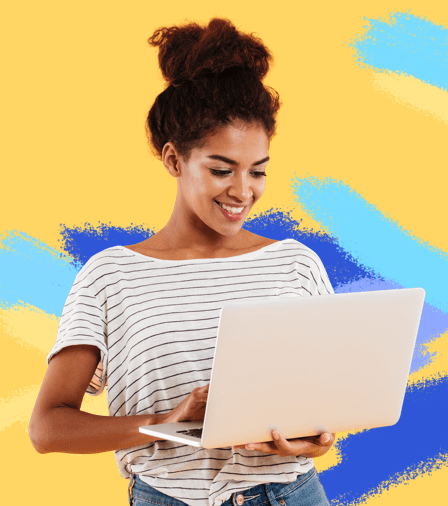 About this course:
This course will familiarize you with document process automation solutions, business process management (BPM), and the correlation between the two.
You will discover how to automate monotonous document process workflows in different industries so that employees can refocus their efforts on more vital tasks, such as:
decision making
problem-solving
team collaboration



By the end of this course, you will be able to distinguish between the different business process automation tools for task optimization and rededicate your business' time and money towards higher priority goals.
What does this course cover?
This course provides a detailed explanation of how to automate data transfers and document processing without coding, and how your business benefits from automated document workflow routing.
Why was this course made?
We made this course to help you understand the key benefits that document automation can offer your business.
Who can enroll?
Anyone can enroll in this course to learn how to enhance and streamline their document workflows without any programming skills.
learning resources to help you better understand the main peculiarities of document process automation, business process management, no-code automation, and simplified data entry.
quiz to consolidate the received knowledge.
What you will learn
Why document process automation suits your business needs
How to automate your business processes in minutes without coding
How to save time and money by minimizing routine tasks
Illustrative example of applying document process automation in practice
| | |
| --- | --- |
| Duration | 50 minutes |
| Certificate | A sharable achievement is included |
| Subject | Document Process Automation |
| Level | Beginner |
| Language | English |
| Price | Free |
| Rating | |
Earn a verified certificate to demonstrate the skills you gain
Verified by airSlate
Receive an airSlate-issued certificate with the airSlate logo to verify your achievement and expand your career prospects.
Shareable on social media
Post your certificate on LinkedIn or add it directly to your CV.
All you need to digitally transform your business
The airSlate Academy combines everything you need to digitally transform your business, including legally binding eSignatures, advanced PDF editing, and automated workflows.
eSignature workflows
Familiarize yourself with eSignatures, their implementation, business value, and learn how to create legally binding eSignature workflows for your business.
Paperless workflows
Change the way you work with documents into an interactive online experience and learn how to make your documents look professional.
Achieve your career goals with airSlate's advanced certification programs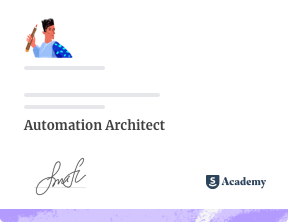 Automation Architect
Learn how to make any process in your workflow run like clockwork. Automate each step using Bots and triggers and perform integrations with popular CRMs like Salesforce or MS Dynamics 365.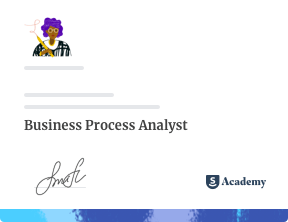 Business Process Analyst
Identify which processes in your workflow can be automated. Learn key metrics to propel your business forward and increase your return on investment (ROI).
Custom Bot Developer
Learn how to design and develop airSlate Bots — a powerful robotic process automation tool that can be customized using airSlate.
View the certificate
Become an airSlate Partner
Students who complete the airSlate Academy courses are welcome to become partners. Get the necessary skills for building automated processes, helping airSlate newbies, and generating revenue.
Document process automation and how to benefit from it
Businesses have to deal with huge volumes of information in both paper and digital formats on a daily basis. The thing is, when this process is carried out manually, it takes too much time and effort. On the other hand, there are tasks where human involvement is crucial; teamwork issues, decision-making processes, etc. A reasonable question here is 'How to get everything done with as little amount of time and human interaction as possible?' That's when document process automation, or DPA, comes to the rescue.
What is document process flow automation?
The notion can be defined as the process of automatic document drafting. In other words, documents are transformed into intelligent templates that are then applied to create valid documentation. DPA plays a key role in improving the performance of insurance companies, legal firms, financial institutions, the sphere of logistics, e-commerce and other sectors with a focus on efficient paper flow.
Advantages of process automation
DPA is becoming more and more popular in modern business environments and there's a good reason for it. Below you'll find the key benefits of documents automation:
Simplicity

Modern software for documentation automation does not require any special technical knowledge. Therefore, there won't be any difficulties in figuring out how it works. The majority of such programs have instructions, file storage, a dashboard and tools for collaboration.

Cost-efficiency

Firstly, there is no need to hire extra workers. Secondly, a lot of money is saved on supplies like paper, ink and other expenses connected with printing.

Reduction in errors

Making errors is in human nature. Too much work, stress, lack of time, all of this raises the risk of making mistakes that can cost a company huge amounts of money. Document automation eliminates this risk and increases productivity.

Collaboration improvement

The majority of cloud-based document software has one common feature, embedded collaboration tools. The process of editing files online and communicating on related issues enhances collaboration between teams.

Increased profits

Employees get more time to devote to marketing and sales. Besides, business process solutions aimed at automation will simplify the onboarding process which makes it more attractive to new team members and clients.
How to automate a business process
The process itself may vary depending on the industry in question. However, all of them have a common characteristic, human interference is not crucial anymore. In many cases, specialized document process automation software requires particular knowledge. Certainly, all the necessary information can be found on the Internet. However, you'll need to browse through dozens of websites, compare and verify the information you get, which is rather time-consuming. Being a universal document management tool airSlate took care of everything and created its Academy with online courses. One of them, Introduction to Document Process Automation, provides the basic information you need about BPA (business process management), DPA and their interaction. It's been designed for those who want to understand the key advantages of  workflow automation or plan to build an automation-related career. The course duration is 50 minutes after which you will receive a certificate.
The course is absolutely free, however, upon its completion, you'll know how to:
automate your business workflow without coding;
simplify data entry;
save resources.
Document automation software: what to choose?
The modern business process automation software market has plenty of options to choose from. Therefore, it's easy to get lost in dozens of digital tools offering more or less similar solutions. Different websites provide different rankings for such programs. Among the most popular are PandaDoc, Formstack, Conga, Nintex, airSlate and others. With the example of the latter let's examine the strong and weak points of document automation software. The two main aspects people pay attention to when choosing this or that program are price and usability. airSlate provides a 30-day period during which the access to each document will be unlimited. Even after the free period is over, the solution's price is much lower than its closest competitors. No-code configuration eliminates the need for additional expenses. Some process automation solutions require certain skills to work with them. In order to use airSlate no additional training is needed. The solution provides free Academy courses in terms of DPA for those who want to deepen their knowledge in the sphere. However, it's not obligatory. The program has two more large advantages: an online PDF editor and esignature. The second is security. The data airSlate Bots transfer is compliant, verifiable and accurate. The tool has been created specifically for those seeking an all-in-one solution for automated document management.
Choose airSlate Academy and enhance your career prospects with the knowledge you gain.
Questions & answers
Here is a list of the most common customer questions. If you can't find an answer to your question, please don't hesitate to reach out to us.
What is document automation?
It's commonly understood as documents' automation; a set of processes connected to the processing of electronic documents without human assistance. Usually, it's built with logic-based systems that can complete different types of work on predefined conditions. According to these rules, the system automatically creates, prefills/fills documents, transfers information between multiple recipients, and does many other helpful things. To get more information, consider enrolling in digital automation courses by the airSlate Academy.
How can I launch documentation automation?
First, you need to analyze your existing workflows to identify the most critical ones. Then, choose document automation software according to your requirements and, if possible, complete an automation training session. This way, you'll learn how to eliminate routine from your and your employees' jobs much faster.
Where can I find free automation courses?
Among various vendors who offer automation training courses and use them as tutorials and step-by-step guides for their products, the airSlate Academy pays much attention to practical knowledge. It combines theory with real-life practice.
Can I automate training courses?
You can automate training sessions and many other document management tasks when using the right service like airSlate. This platform assists you in building a comprehensive training program and helps move customers and/or employees through each of the learning stages. Just create a Flow with all the required steps and track learners' progress.
How does documents automation work?
High-level services like airSlate don't require coding. They ask you to upload or generate documents that must be processed, assign roles for different workflow participants, add software robots that complete tasks, and set up conditions to 'wake up' these robots. The complex of mentioned tools allows you to get started with documentation automation minutes or hours instead of days and weeks.
Why do I need to automate training courses?
Digital automation courses simplify the onboarding of new employees and enhance refresher programs. By using specialized services, you don't have to hire advisors or trainers anymore. Automated courses are great for streamlining the education process and keeping students on track.
How do I begin documents automation for lawyers?
Lawyers need to generate a lot of paperwork to keep their practice up and running. What happens is by having so much paper, lawyers waste time with slow filling-out steps and unorganized files. With airSlate, implement documents automation into your workflows on your own. All you need is a web browser. However, to make getting started easier, check out the airSlate Academy.
What courses do I take for automation engineering?
First, try automation training courses by the airSlate Academy. Here you'll learn how to start improving your workflows without a single line of code. All the tools are available right in your browser. Consider completing an automated document management training course. To begin your digital automation training session, see the Document Process Automation topics to understand the basics, continue with the Fundamentals automation course, and then learn anything you want. Create your most efficient workflows and implement the latest innovations in your organization.
What documents automation tools do I need?
No code solutions like airSlate operate online, meaning all you need is a stable internet connection and a web browser to get started. To complete your digital transformation more efficiently, consider completing short airSlate Academy automation courses to avoid common mistakes by beginners and work more efficiently from your very first Flow!
Do I need to complete any automation course to start using airSlate?
airSlate is a comprehensive solution with a user-friendly interface that assists you in building your first automated Flow without any tutorials. However, we recommend enrolling in some airSlate Academy courses. They help you understand the logic of documents automation and give valuable knowledge and skills to implementing Flows without delays.