Self-paced
Email on Documents Completion
Self-paced
Email on Documents Completion
Getting notified right after recipients complete documents is a great way to maintain transparency in your document workflows. Get to know the Email on Documents Completion Bot to stay in the know on the completion status of your documents.
About this course:
This course will take you through the process of setting up automatic email notifications right after your recipients complete the documents you've shared with them.
By the end of this course, you'll be able to add the Email on Documents Completion Bot to any of your document workflows and configure it to your needs.
What does this course cover?
This course covers all the ins and outs of setting up this Bot for your workflow: from selecting recipients and customizing the notification message to adjusting conditions for the Bot to act and creating text tags for easier navigation of the completed documents.
Why was this course made?
We created this course to demonstrate how to automatically notify people as soon as a document is completed, saving both time and resources as they no longer need to manually monitor a document's status.
Who can enroll?
Anyone can enroll in this course to start receiving automatic email notifications once documents are completed.
The materials for this course include:
learning resources to show you the entire process of the Email on Documents Completion Bot setup and help you stay in the know once your documents are completed.
quiz to consolidate your acquired knowledge.
What you will learn
How to select the recipients to be notified on document completion
How to edit and personalize an email notification message
How to set different types of conditions for when to send notifications
How to manage the Flows in case there are issues with the Bot setup
How to add text tags for easier navigation of the completed docs
| | |
| --- | --- |
| Duration | 15 minutes |
| Badge | A sharable achievement is included |
| Subject | Automate notification on documents completion |
| Level | Intermediate |
| Language | English |
| Price | FREE |
| Rating | |
Earn a verified certificate to demonstrate the skills you gain
Verified by airSlate
Receive an airSlate-issued certificate with the airSlate logo to verify your achievement and expand your career prospects.
Shareable on social media
Post your certificate on LinkedIn or add it directly to your CV.
All you need to digitally transform your business
The airSlate Academy combines everything you need to digitally transform your business, including legally binding eSignatures, advanced PDF editing, and automated workflows.
eSignature workflows
Familiarize yourself with eSignatures, their implementation, business value, and learn how to create legally binding eSignature workflows for your business.
Paperless workflows
Change the way you work with documents into an interactive online experience and learn how to make your documents look professional.
Achieve your career goals with airSlate's advanced certification programs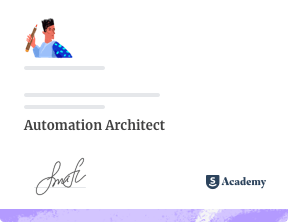 Automation Architect
Learn how to make any process in your workflow run like clockwork. Automate each step using Bots and triggers and perform integrations with popular CRMs like Salesforce or MS Dynamics 365.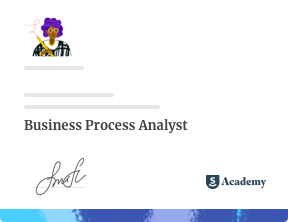 Business Process Analyst
Identify which processes in your workflow can be automated. Learn key metrics to propel your business forward and increase your return on investment (ROI).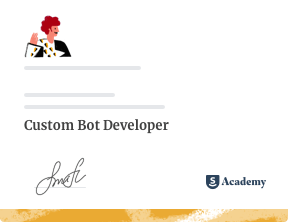 Custom Bot Developer
Learn how to design and develop airSlate Bots — a powerful robotic process automation tool that can be customized using airSlate.
View the certificate
Become an airSlate Partner
Students who complete the airSlate Academy courses are welcome to become partners. Get the necessary skills for building automated processes, helping airSlate newbies, and generating revenue.
Prevent lost forms: how to create a Bot for notifications on documents completion in airSlate
At the present time, the average business produces an enormous amount of paperwork. Contracts, letters, purchase orders, invoices, client applications, and many more documents are created and shared every day. It's no wonder that people often get tangled up in papers and simply forget about having received them or about the need to send them back after having completed them. How many times have you faced a situation when your colleagues or partners held up sending documents back to you after they filled them out and signed? You know they've received your draft by email but have they completed it or simply forgot about it in their pile of other files? And how much time do you usually spend reaching them and asking whether they've finished signing your sample and reminding them to email it back? Dealing with one issue doesn't take too long, but it becomes problematic and rather prolonged with dozens of forms. There's a clear solution. A notification Bot embedded into your workflow will help you stay in the know about every aspect of what's happening to your documents and where they're at any given time.
What is a notification Bot and how does it help?
Bots (software robots or robotic software) are small programs built into applications and platforms for performing repetitive tasks and automating regular processes. Today, they are widely used over the internet to respond on social media, in e-commerce to respond to simple client requests or questions, or to send push notifications to make someone complete an action (e.g., to update the system on your device) or communicate some information (e.g., about a new message received). This last type of robotic tool represents the kind of notification Bot we're covering in this short article and is widely used in workflow automation.
We all use different kinds of notification software when enabling alert messages in our email settings to stay informed about when our recipients get our mail in their inbox or when they open it. It's very helpful to know that your message reached the recipient, especially when sharing important documents. But how can you be sure that a message is not only opened but filled out too? Standard email platforms' settings don't provide users with such an option. So, what's the answer to how to make a Bot send you a push notification upon form completion?
How to create a Bot for notification in airSlate
airSlate provides users with ready-to-use robotic process automation tools for just about any business workflow, including the sending and receiving of automated alerts for email, SMS, Slack, Twitter, MS Teams, and Salesforce. A Flow can contain several Bots at the same time to help you track document progress. For example, you can install a notification Bot to be informed when your recipient opens an agreement you sent for approval. Also, you can add a postfinish notification Bot to receive a message once the agreement is completed and signed. If you want to get messages about a sent email and are looking for how to make a Bot send you a push notification, choose the Email on Documents Completion Bot and add it to your Flow.
This notification Bot helps users keep track of their forms. After being notified about a Slate's completion, you can instantly proceed with the next steps of your Flow allowing you to run your workflow faster and more efficiently.
It's very intuitive and easy to install, so the level of your technical skills doesn't matter. Once you've added it from the list, you need to specify the emails where alerts should be sent. As a Flow owner, you can choose specific teammates to be notified of when a form is filled out.
If I set the airSlate Bot for form completion up correctly, will it email it to me upon completion?
Notifying you about a Slate's completion is not the only thing the Bot offers. While configuring its settings, you can also select documents to attach to the email notification. This assures that you receive the documents you're interested in staying up to date on.
It's really easy to learn how to create a Bot for notification upon document completion if joining the airSlate Academy. There are many courses that cover how to properly set up notification Bots and explain how they work with common use cases. Take the Email on Documents Completion Bot course. Improve your workflows with airSlate!
Questions & answers
Here is a list of the most common customer questions. If you can't find an answer to your question, please don't hesitate to reach out to us.
What is a Bot?
Bot is short for a robot. And in the framework of digital transformation, it's a small robotized software that automates simple tasks within various programs and applications. Every Bot contains a pre-set script and algorithm for a certain type of task. For instance, you can add a customer service Bot to your website to answer customer questions or use a notification Bot that'll inform you every time you get a new email, client application, or when a form is completed by a recipient.
What is a notification Bot?
A notification Bot is an RPA solution that automatically reports when a certain action is completed. For example, when your client fills out and signs a document, the notification Bot will instantly inform you. The notification Bot will instantly inform you about it. What that does is creates an environment that prevents forms from getting lost in workflows. If you want to know more about how to make a Bot send you a push notification when someone finishes a form, check the relevant course at the airSlate Academy.
Does airSlate use notification Bots?
Yes, airSlate provides users with different RPA tools for sending alerts. You can choose a notification Bot that'll inform you via email when your parties open an agreement or complete it. There are also options to get messages in Slack or inform your Salesforce contact about changes made to your form. Check them in more detail by following the airSlate Academy courses that are dedicated to Bots.
How do you set up a notification Bot for email?
With airSlate, the Bot setup doesn't take more than 10 minutes. On the Flow configuration page, simply click Add Bot and choose the Email on Documents Completion Bot from the list. To set it up, add emails for those you need to notify when your form is completed. Customize the text, if needed, attach the completed form, and add conditions for when your notification Bot should be triggered.
How do I enable a push notification?
It depends on the purpose of the alert messages you're looking for. Marketing notifications to visitors on your website require special settings. Mobile alert messages are typically easy to enable. If you're looking for a solution for how to make a Bot send you a push notification regarding the completion of your documents, try using airSlate. Take the airSlate Academy courses that are completely free of charge and find out how to configure and utilize Bots for almost every kind of task.
How do I get email notifications from forms?
If you're working with Google forms, check out its Help Center and look for the appropriate add-on. If you're looking for a Bot that sends notifications upon a form's completion in airSlate, then check out the airSlate Academy and pass the Email on Documents Completion Bot course. You'll get detailed guidance on how to correctly set up your notification Bot and what additional conditions you need to apply to your workflow to make it work properly.
How do you make a Bot send you a push notification in airSlate?
airSlate features no-code Bots that are ready to use and don't require special technical competence. Some of them inform you when recipients open your document, others notify you when your forms are completed. If you want to keep track of when your document is completed, add the Email on Documents Completion Bot to your workflow. The configuration process is very simple and fast. You'll never lose a form or miss deadlines again.
How much does it cost to create a Bot for notifications?
The price depends on the software you work with. With airSlate, there's no need to pay to create a Bot because within your Workspace you have access to hundreds of different Integration and Automation Bots. Each subscription plan enables users to set up automated notifications upon a Slate's opening or completion. Check the airSlate pricing page to see the entire list of features you get in each plan.
Where can I learn more about how to create a Bot for notifications?
Take advantage of airSlate Academy's free courses. They're created for anyone who wants to learn about workflow automation. After passing its Fundamentals and Bots training, choose the course that takes you through the Email on Documents Completion Bot. It covers the tool's typical use cases and how to correctly configure all settings to make the Bot send you a push notification once a form is filled out.
When a form is filled out, will the Bot email it to me upon completion?
It depends on the settings you make when installing the notification Bot to your Flow. Once you've added your email for notification (or several emails if you want to notify additional parties) and customized the text for the message, pick the Documents to attach option. You can choose any form from your Flow or only a specific document. After you finish with the Advanced settings and conditions, the Bot will inform you about the Slate's completion and email it to you.