Self-paced
Automating Employee Onboarding
Self-paced
Automating Employee Onboarding
Onboarding a new employee goes hand in hand with hours of exhaustive paperwork and lost time. Learn how to streamline the process and provide a smooth experience to new hires.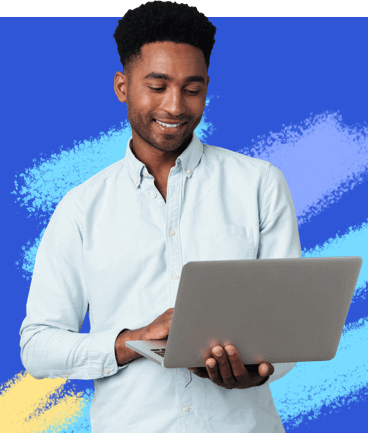 About this course:
This course is aimed at those interested in building employee onboarding workflows in a fast and efficient way. You'll learn how to automate the employee onboarding process from A to Z, reduce time spent on onboarding documents such as employment and non-disclosures agreements, and receive updates once they are signed.
By the end of the course, you will be able to create an onboarding workflow and automate any action within it, without the need to code.
What does this course cover?
The course goes through the most common bottlenecks of onboarding employees manually and how automation addresses these issues. Besides, the course provides step-by-step guidelines on how to automate an employee onboarding workflow from scratch, including process visualization and custom forms and documents with fillable fields.
Why was this course made?
We created this course to help HR teams and companies in general focus more on hiring new people instead of preparing and processing large volumes of paper such as employee contracts, non-disclosures, etc., and then manually entering this data into their system.
Who can enroll?
Anyone can enroll in this course to apply airSlate no-code automation to employee onboarding processes and similar workflows and we recommend doing so while getting to know airSlate better.
The materials for this course include:
learning resources to teach you how to automate employee onboarding in practice.
quiz and a practical assignment to consolidate the received knowledge.
What you will learn
How to automate employee onboarding without loads of paperwork
How to ensure data collection and processing is fast and safe
How to reduce heavy workloads and stress for employees with airSlate automation
How to streamline document routing and storage while onboarding employees
How to save time and resources for higher goals and ensure a positive experience for the new hires
| | |
| --- | --- |
| Duration | 30 minutes |
| Certificate | A sharable achievement is included |
| Subject | Employee onboarding workflow |
| Level | Intermediate |
| Language | English |
| Price | Free |
| Rating | |
| Enrolled | 1978 students |
Earn a verified certificate to demonstrate the skills you gain
Verified by airSlate
Receive an airSlate-issued certificate with the airSlate logo to verify your achievement and expand your career prospects.
Shareable on social media
Post your certificate on LinkedIn or add it directly to your CV.
All you need to digitally transform your business
The airSlate Academy combines everything you need to digitally transform your business, including legally binding eSignatures, advanced PDF editing, and automated workflows.
eSignature workflows
Familiarize yourself with eSignatures, their implementation, business value, and learn how to create legally binding eSignature workflows for your business.
Paperless workflows
Change the way you work with documents into an interactive online experience and learn how to make your documents look professional.
Achieve your career goals with airSlate's advanced certification programs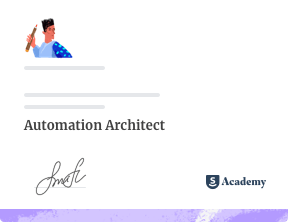 Automation Architect
Learn how to make any process in your workflow run like clockwork. Automate each step using Bots and triggers and perform integrations with popular CRMs like Salesforce or MS Dynamics 365.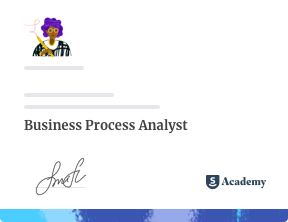 Business Process Analyst
Identify which processes in your workflow can be automated. Learn key metrics to propel your business forward and increase your return on investment (ROI).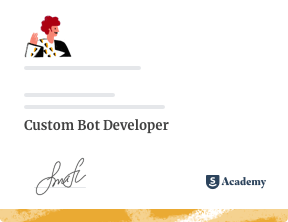 Custom Bot Developer
Learn how to design and develop airSlate Bots — a powerful robotic process automation tool that can be customized using airSlate.
View the certificate
Become an airSlate Partner
Students who complete the airSlate Academy courses are welcome to become partners. Get the necessary skills for building automated processes, helping airSlate newbies, and generating revenue.
Employee onboarding: the start of every employee journey
They say "theater starts with a cloakroom," and in a similar way, employment starts with the employee onboarding process. Unfortunately, the procedure is rather time-consuming due to a large number of documents that have to be filled out and signed.
The human resources process: onboarding new employees
The process itself is the responsibility of the Human Resources department. A newcomer walks into HR, talks to the manager, and receives a lot of papers to sign and gets familiar with things like rules and the code of conduct. To paint a better picture, continue reading to learn more about what's involved when someone goes from prospect to employee without proper human resources automation.
Onboarding documents

The first document the new employee receives is a Welcome letter. Usually, it's in the form of an email. At the office, the newcomer receives a non-disclosure agreement (NDA), Employment Eligibility Verification (Form I-9), Employee's Withholding Allowance Certificate (Form W-4), and the Company Policy Manual. These plus others are documents anyone eligible to work in the US has to deal with when being hired.

The pains of the manual process

Even onboarding one person is grueling. The number of documents to be read, completed, and signed at one time is significant. Therefore, just imagine the piles of paper HR processes consist of when hiring 30 or 50 people. If you're an HR manager you definitely can. If the company is small and the onboarding workflow is done manually, a lot of problems arise; HR managers are overloaded with paperwork, documents can get lost, and due to the human factor errors are inevitable.

A solution to the problem

There's no need to reinvent the wheel or look for expensive HR certification programs. Software specialists have already created HR automation process solutions. For instance, airSlate has a separate workflow dedicated to automating employee onboarding procedures.
Employee onboarding software and its benefits
We are at a place in time when software can solve most of our daily issues. The problem is, there are so many different options, how do we choose? The reality is finding a reliable solution before fully investing takes a whole team of specialists and trial/error. However, we have a much faster and more reliable solution for HR process automation. airSlate is revolutionizing the way businesses introduce automation into their existing processes.
Increased efficiency.

Due to Bots included in the workflow, each stage of the process gets done automatically. It eliminates the need to monitor whether this or that document has been sent, filled out, or signed. For instance, the Pre-fill from Doc to Doc Bot automatically copies data from a particular document and moves it to the corresponding fields of another document.

Reduced human error.

When a process is optimized with automation the only time human involvement is directly needed is at the beginning: the first step when the HR manager inputs the new employee's info into the CRM. After that, the onboarding package is generated automatically. Documents, notifications, and confirmations are sent in the same way. Therefore, the risk of human error is next to impossible.

Decreased expenses.

HR process automation removes the costs associated with a paper-based workflow. Namely, ink, paper, printing equipment, etc.

Increased employee satisfaction.

From start to finish, every participant receives a form or contract with pre-filled information. Meaning, no one has to spend time adding the same data over and over again. Simply open and sign. Being so easy, newcomers at every stage are happier, more efficient, and overall more satisfied.

Elimination of the mundane.

With monotonous and mundane paperwork connected with the employee onboarding process eliminated, HR managers are free to focus on what they do best – improving how employees experience their work and handling other more important issues.
How to implement onboarding workflow automation into your business
airSlate provides the best possible way to make the process of shifting from a manual to an automated workflow fast, simple, and painless. The airSlate Academy contains a range of HR certification courses that teach businesses the ins and outs of process automation. For example, a popular course is focused on employee onboarding. Finishing the self-paced course gives you free HR certification and a clear understanding of how to automate processes and profit from it.
Create an airSlate account.
Create a Flow.
Attach the required documents.
Define Steps.
Set up necessary Bots.
Share the Flow with other participants.
Get away from the old-fashioned way of executing a human resources workflow. Increase your HR department's efficiency exponentially and pass Academy HR training certification while making a good impression on new recruits from the very beginning. Choose airSlate to keep your current and prospective workers happy, because happy employees are the key to a company's success.
Questions & answers
Here is a list of the most common customer questions. If you can't find an answer to your question, please don't hesitate to reach out to us.
What is the HR planning process?
Human Resources requires organized planning that involves predicting a company's needs when it comes to personnel. The process of planning Human Resources includes steps such as analyzing the current situation of the labor market and labor supply, predicting future demands for employees, balancing between these two categories, and creating plans for a company's future needs. airSlate helps HR departments easily automate all HR processes including employee onboarding, reducing paperwork and manual errors, and increasing employee satisfaction.
Why is employee onboarding important?
Employee onboarding is an HR process that refers to introducing a new employee to a company and helping them smoothly adapt to their new job and quickly get started completing their tasks. In other words, it's a new hire's organizational socialization. An effective employee onboarding process helps a new team member to better understand their role in a company and improve their productivity. Sign up for the airSlate Academy's course and learn how to implement onboarding automation into your workflows with airSlate.
What are onboarding documents?
An onboarding workflow requires a lot of forms being completed and signed. Aside from the welcoming letter to a new hire from HR, onboarding documents include things like a company's policies, a non-disclosure agreement, various compliance forms, an Employment Eligibility Verification (Form I-9), an Employee's Withholding Allowance Certificate (Form W-4), a letter for opening a Salary account, and so on.
What is the planning process of human resources?
Planning is a key HR process. It involves four basic steps such as exploring the current labor market, forecasting a company's future demand for personnel based on its strategic plans, finding balance between demand and supply, and developing plans that correspond with a company's goals and objectives.
What is the workflow for employee onboarding?
New employee onboarding begins right after a prospective team member accepts the job offer sent to them and lasts until the new team member starts performing their new role. This human resources workflow consists of releasing and receiving offers of acceptance, introducing the new employee to the staff, and arranging the workspace with all the necessary supplies. The workflow for employee onboarding also involves coordinating with other departments to provide them with computer assets, access to their email and other company platforms, setting up a salary account, etc. The HR process requires many onboarding documents to be signed.
Do you know how to set up an onboarding workflow?
Creating an effective onboarding workflow requires the use of an appropriate employee onboarding software, like airSlate, that helps in automating HR processes and digitizing the actions needed for completing and signing necessary employee onboarding documents.
Do you know how to automate the employee onboarding process?
IT specialists have created various employee onboarding software that helps to streamline all interactions between departments involved in welcoming a new staff member. airSlate is a no-code solution for onboarding automation via Bots and mapped data Flows. Sign up for one of the airSlate Academy courses and learn how to automate your employee onboarding process in minutes or hours instead of days or weeks.
What is meant by employee onboarding?
Employee onboarding is an HR process that helps a new staff member to acclimate into their new company's working and social environment: its workflows, systems, culture, and values. Usually, it takes from several months to one year. It's also often called "organizational socialization".
What is employee onboarding software?
Employee onboarding software is a technological solution for streamlining an onboarding workflow. airSlate is a no-code business process automation tool that helps to minimize manual data input for onboarding documents, decrease costs for paper-based onboarding workflows, and increase productivity and staff satisfaction. Register for the employee onboarding automation course by the airSlate Academy and find out how to set up and effectively run your processes.
What does onboarding automation software do?
Employee onboarding software helps to configure automated workflows for smooth employee onboarding. airSlate uses no-code Bots so that each step of the HR process gets done automatically, for example, creating a record regarding a new staff member in the company's CRM. This helps to automatically pre-fill documents, send them out for signing, archiving, etc. Sign up for the Employee Onboarding course at the airSlate Academy, discover how to set up automated workflows for your business, and get a verified certificate of completion for free.