Self-paced
Flow Versioning
Self-paced
Flow Versioning
Does changing your working routine mean creating a new workflow from scratch? With airSlate, not anymore. Create and manage new Flow versions, analyze their history, and test them before publishing without disrupting your initial document workflow setup.
About this course:
This course goes through the entire process of working with Flow versions, from creating and managing a new version to publishing it.
By the end of the course, you will be able to create a new Flow version, edit it, test how it works, export data from separate versions, and check the history of changes.
What does this course cover?
This course provides detailed guidelines on how to create, manage, and publish different versions of the same Flow.
Why was this course made?
We created this course to help you save time and hassle by creating new document workflow versions instead of building new ones from scratch.
Who can enroll?
Anyone can enroll in this course to learn how to enhance their document processes using different versions of the same Flow.
The materials for this course include:
learning resources to teach you how to work with airSlate Flow versions.
quiz for self-assessment.
What you will learn
How to create different versions of one Flow without changing the initial setup
How to make sure your Flow is error-free before publishing it
How to optimize document workflows by managing each version separately
How to stay in the loop on every change made within each version
| | |
| --- | --- |
| Duration | 30 minutes |
| Certificate | A sharable achievement is included |
| Subject | Flow versioning |
| Level | Intermediate |
| Language | English |
| Price | FREE |
| Rating | |
Earn a verified certificate to demonstrate the skills you gain
Verified by airSlate
Receive an airSlate-issued certificate with the airSlate logo to verify your achievement and expand your career prospects.
Shareable on social media
Post your certificate on LinkedIn or add it directly to your CV.
All you need to digitally transform your business
The airSlate Academy combines everything you need to digitally transform your business, including legally binding eSignatures, advanced PDF editing, and automated workflows.
eSignature workflows
Familiarize yourself with eSignatures, their implementation, business value, and learn how to create legally binding eSignature workflows for your business.
Paperless workflows
Change the way you work with documents into an interactive online experience and learn how to make your documents look professional.
Achieve your career goals with airSlate's advanced certification programs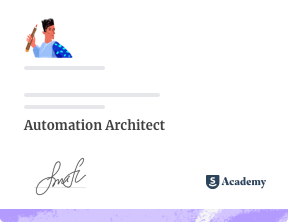 Automation Architect
Learn how to make any process in your workflow run like clockwork. Automate each step using Bots and triggers and perform integrations with popular CRMs like Salesforce or MS Dynamics 365.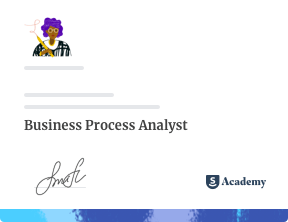 Business Process Analyst
Identify which processes in your workflow can be automated. Learn key metrics to propel your business forward and increase your return on investment (ROI).
Custom Bot Developer
Learn how to design and develop airSlate Bots — a powerful robotic process automation tool that can be customized using airSlate.
View the certificate
Become an airSlate Partner
Students who complete the airSlate Academy courses are welcome to become partners. Get the necessary skills for building automated processes, helping airSlate newbies, and generating revenue.
Embrace no-code automation and error-proof your workflows with airSlate's new Flow versions feature
airSlate empowers businesses to streamline their document-based workflows and helps them keep up with the accelerating pace of digital transformation. Adopting automation tools is becoming more critical for companies that want to maintain a healthy flow of hybrid and remote work across different industries and departments.
Flow versioning automation: How it works
airSlate is a no-code business process automation solution to help you build seamless document-based workflows without writing a single line of code. It lets you select from dozens of pre-programmed Bots, conditions, and document templates to create a logically structured document approval process. On top of that, you can extend the power of the document workflow automation with various integrations that handle frictionless data routing between your documents and applications.
We've introduced a new feature—Flow versions—that can help you better understand whether your workflows are working the way you set them to. Before explaining what Flow versioning is and how it works, let's cover some basic airSlate terminology:
Flow is a one-time business process that you create by adding fillable documents and forms, setting up a step-by-step workflow, and automating it with the help of Bots. To run multiple Flows with the same settings but different recipients, save your Flow as a Template.
Template is a repeatable business process that allows you to run multiple Flows with the same settings by sending documents to different recipients. By making changes to a Template's configuration, you create a version.
Version represents the current configuration of a Template. When you publish a new version, its settings will be automatically applied to every subsequent Flow.
An Audit Trail is a detailed record of actions applied to the document and logs. This feature is included in each Flow version history.
From now on, you can introduce new changes to your existing Flow without disrupting it. Every time you perform a new action on your Flow, the system automatically creates a new version of it.
But not all actions lead to Flow version creation. Here are those that can trigger a new version: tweaking documents, changing a workflow diagram, and configuring Bot settings. Additionally, you will have the option of selecting what you would like to do next with each version: You can choose to edit, publish, save, or test it. Running a test is an important option, as it can help you ensure you are creating a well-functioning workflow. It will help you spot mistakes and flaws in your flow configuration before it is active, which will help you save tons of time. You can also check each Flow version history and track all the changes you've made to the Flow down to the tiniest detail.
Document execution, delivery, and management are the processes that are most prone to mistakes. The Flow versions feature can therefore be a game changer if you want to save time and resources down the line.
Learning the ropes of Flow versioning automation
The entire process of creating Flow versions and Flows more broadly might seem complicated on the surface for those who haven't used no-code automation tools before. This is where airSlate Academy comes to the rescue. We've created a detailed course explaining how to:
Work with Flow versions
Edit a newly created version
Apply and track the Flow version history
Pull data from different versions
Publish, save, and test them
In addition to this course, we offer other intro-to-advanced level courses on business process automation to help you get started with airSlate and carve out a niche for yourself as an automation specialist.
The best part of enrolling in our Flow versioning & automation courses is that they're free and self-paced. You have the freedom to decide when and how often you would like to take them. At the end of the courses, provided that you've passed the quizzes, you will get a certificate proving your knowledge. While many people remain on the fence about whether or not they need to embrace no-code automation in their critical business processes, you can and should start embracing it right now! airSlate provides a wide range of learning materials, courses, and insightful information on where the no-code automation industry is heading and how to get the most out of it with our solution.
Our main goal is to keep creating and developing no-code tools so that businesses and organizations can use them in a way that would allow their IT departments to concentrate on more far-reaching and strategic projects.
Enroll in our course and become a business process automation enthusiast like us!