Self-paced
Getting Started with airSlate
Self-paced
Getting Started with airSlate
Discover an easier way to improve productivity, enhance transparency, and get things done smoothly by creating a single place for team collaboration.
About this course:
This introductory course will take you through the concept of an airSlate Workspace, including configuration, team management, and the benefits for team collaboration.
By the end of this course, you'll be equipped with all the necessary knowledge to create your own Workspace, differentiate access permissions, and collaborate on document workflows.
What does this course cover?
This course will take you through the key benefits in the process of workflow automation with airSlate – creating and managing a Workspace, as well as demonstrating how to easily improve team collaboration.
Why was this course made?
We created this course to demonstrate how to create effective team collaboration, work in an airSlate Workspace, and the benefits it delivers to your team.
Who can enroll?
Anyone can enroll in this course to gain in-depth knowledge about the Workspace as a key component of document workflow automation in airSlate.
The materials for this course include:
learning resources to provide you with all the necessary information about the concept of a Workspace in airSlate.
quiz for self-assessment.
practical assignment to consolidate the received knowledge.
What you will learn
How to create a place for team collaboration
How to adjust your personal account and Workspace settings
How to onboard teammates and manage access permissions
The advantages of Workspace collaboration
| | |
| --- | --- |
| Duration | 20 minutes |
| Certificate | A sharable achievement is included |
| Subject | Where to start your work in airSlate |
| Level | Beginner |
| Language | English |
| Price | FREE |
| Rating | |
Earn a verified certificate to demonstrate the skills you gain
Verified by airSlate
Receive an airSlate-issued certificate with the airSlate logo to verify your achievement and expand your career prospects.
Shareable on social media
Post your certificate on LinkedIn or add it directly to your CV.
All you need to digitally transform your business
The airSlate Academy combines everything you need to digitally transform your business, including legally binding eSignatures, advanced PDF editing, and automated workflows.
eSignature workflows
Familiarize yourself with eSignatures, their implementation, business value, and learn how to create legally binding eSignature workflows for your business.
Paperless workflows
Change the way you work with documents into an interactive online experience and learn how to make your documents look professional.
Achieve your career goals with airSlate's advanced certification programs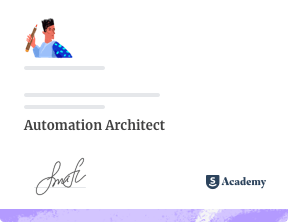 Automation Architect
Learn how to make any process in your workflow run like clockwork. Automate each step using Bots and triggers and perform integrations with popular CRMs like Salesforce or MS Dynamics 365.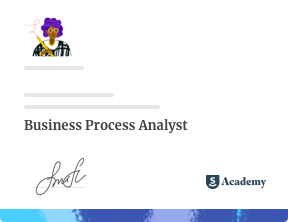 Business Process Analyst
Identify which processes in your workflow can be automated. Learn key metrics to propel your business forward and increase your return on investment (ROI).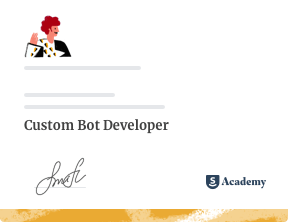 Custom Bot Developer
Learn how to design and develop airSlate Bots — a powerful robotic process automation tool that can be customized using airSlate.
View the certificate
Become an airSlate Partner
Students who complete the airSlate Academy courses are welcome to become partners. Get the necessary skills for building automated processes, helping airSlate newbies, and generating revenue.
airSlate: workflow automation software for effective workspaces
Today, more and more companies worldwide turn to workflow automation, searching for tools to improve how they run their businesses. During the pandemic, people had to manage their work remotely and employ technologies to help them create a single virtual space for teamwork and collaboration.
Many organizations consider these technologies for their day-to-day operations to help automate and speed up tedious and time-consuming processes. Workflow automation is crucial to increase productivity and stay ahead of competitors in today's fast-past work environment. Let's look at workflow automation tools, why companies need them, how they boost productivity and improve business processes.
What is workflow automation, and why is it beneficial?
Workflow automation is the creation, design, and automation of regular business processes based on predefined rules. In other words, it's a series of actions triggered by another action and automatically completed without human interaction.
The main goal of implementing automated software is to reduce manual and paper-based processes. When businesses go digital, they can streamline processes, reduce errors, keep data secure, and easily track progress.
Here are some key benefits businesses enjoy with the automation of workflows:
Reduced errors and data loss

. Paper-based tasks and manual data entry often result in typos and errors in documents or database records. Reviewing and correcting them is time-consuming and tedious.

Optimized task completion

. Automated workflows are faster than manual processes. Once set up, they can perform recurring tasks in seconds with just the click of a button.

Minimized costs

. Even the most expensive workflow automation software costs less than employee time, effort, and resources. Specialized platforms handle tasks 24/7 and keep processes moving forward at all times.

Streamlined communication and collaboration

. Most services enable users to create separate workflows for each team or department while allowing collaboration. Advanced analytics widgets show the amount of performed actions and tasks, recent activities, etc., and make everyday processes transparent.

Increased staff satisfaction

. Employees can focus on more creative and strategic initiatives when you automate routine, repetitive tasks. Delight staff with streamlined processes - no need to manually fill out forms or print documents.
Workflow automation examples
Professional services are highly adaptable and can simplify and accelerate multiple tasks. Here are a few workflow automation examples:
Preparing and organizing records. Creating and sending documents can be cumbersome for many businesses, taking away from customer-facing time. Save time and hassle when you automate filling out blank fields in document templates and transferring records from one file storage to another.
Creating tasks. Services can offer specific tools to replace inefficient task creation and assignment procedures. With the right software, you can quickly develop a flow to instantly create a card in your project management software, notify assignees, and remind them about deadlines.
Onboarding employees. Requesting and entering new employees' information for onboarding paperwork is time-consuming. Streamline this process with reusable templates, fillable form fields, and data-binding to automatically update records.
Approving requests. All employees need to use third-party software to request and approve invoices, vacation requests, and other work-related matters. Filling out a template, printing it, and sending it to multiple managers for approval can take weeks. Instead, save time and hassle with automated workflows.
Generating invoices. Invoicing can be a tedious task, especially if you bill customers monthly. The software can create and send documents and confirm payments based on your specific schedule.
Managing leads. Time-consuming following up leads is more efficient with automated systems that can collect your customers' data, transfer it to the CRM system, send emails, and route it to responsible people. It helps your sales team to focus on the later stages of your sales funnel and sell services or goods more efficiently.
Dealing with issues. Usually, customer support has to receive information from a client, clarify lots of details, and then send this report to the IT team to have this issue resolved. Automated systems allow you to create a web form that will request all the crucial points and transfer them to developers automatically in no time.
What is document workflow automation with airSlate?
With airSlate, document workflow automation is a breeze. It has all the tools required for dealing with many types of records. You can edit PDFs, build professional web forms, and request payments or attachments. You can also use numerous specialized workflow automation tools – software robots called Bots – which automate and streamline your tasks.
With airSlate, you have multiple ways to configure your account, Workspace, and analytics widgets to improve team management and collaboration, make it more trackable and transparent. The user-friendly interface helps you quickly prepare your Workspace. If you would like to learn about all the features available in airSlate, consider enrolling in our specialized course.
Click Enroll at the top of the page, register for an account, and discover how you can benefit from airSlate's digital transformation!
Questions & answers
Here is a list of the most common customer questions. If you can't find an answer to your question, please don't hesitate to reach out to us.
What is workflow automation?
Workflow automation is a process of organizing work and launching regular tasks without or with minimum human interaction thanks to using if-this-then-that rule-based logic. After logic is established and rules are defined, an automated workflow can create a document, send it for signing, pre-fill forms, send an email, and many more, given that another action is completed. For example, once an employee fills out a survey, his answers are automatically exported into another form or spreadsheet without any extra manual data input.
What is business automation?
Business automation is a general term for applications and programs that automatically perform various business tasks and repetitive processes with minimized human involvement. This helps to eliminate manual work and helps employees focus on more critical tasks. Business automation technology streamlines basic workflows in different areas, including HR, Sales, Finance, Procurement, and others.
What kind of businesses would be interested in business process automation?
Business process automation covers a vast range of core business operations. Therefore, it suits companies of any sphere and size. The financial sector, education, healthcare, construction are just a few examples where business automation can and should be applied for better business efficiency.
What are the most common workflow automation examples?
By general definition, workflow automation is the creation, design, and automation of regular business processes. It covers various repetitive tasks which businesses of any specialization have. Creating tasks, generating documents, form pre-filling with data from other files, document signing, onboarding employees, approving invoices, purchase orders, vacation requests, etc., are just a few of its examples to mention. This list is not exhaustive, as virtually any routine process can be automated with an appropriate workflow automation tool, like airSlate.
What is a workspace, and why do I need it?
As an IT term, a workspace means temporary digital storage for a specific data type. In the context of business, it relates to working premises or, when talking about software, a separate digital organizational space. You can have one general workspace for the whole company to use or create multiple ones for each team to deal with its particular tasks separately from other colleagues. This helps to better structure work inside each department and improve team collaboration.
How do you create a workspace in airSlate?
In airSlate, you can have as many Workspaces as you need to make your work efficient. To create one, log in to your airSlate account, click on your organization's name in the upper corner of the window and choose Create Workspace from the dropdown. Add a domain name for it (for example, using your team's name or a project your work on). When done, add teammates and create groups in your Workspace, add Roles to them, allowing them only to fill out Slates, manage the team, or audit the Flows.
What is the best tool for business automation?
There are lots of offers for business automation processes on the market. Whether you run a small business or a big company with multiple functions and departments, try airSlate. It's a robust workflow automation solution that requires no coding skills from users. It features a ready-to-use Bot for each automation task or integration with other software your company uses. It's quick to configure and offers free courses on how to use the product, configure a document workflow automation for different use cases, and integrate the tool with other popular business applications. Join the airSlate Academy to learn more.
What is the difference between workflow automation and RPA?
Workflow automation and Robotic Process Automation (abbr. RPA) are often used interchangeably, as they have much in common. However, these concepts have some differences. The first one refers to task automation within a certain business process. At the same time, RPA can automate them from A to Z. RPA automates the entire workflow thanks to using robotic solutions (low- or no-code) that work on a rule-based logic.
What is document workflow automation?
Document workflow automation refers to generating, pre-filling, exporting and sharing documents with minimized human interaction through automation software. It means that most of your document routine is automatically performed by special software. This helps eliminate errors caused by manual data input and significantly saves your time spent on document management.
How do you automate document workflows?
With the right tool, automating document workflows is easy and fast. Use airSlate, a top-notch no-code workflow automation solution. It offers ready-to-use workflows for document creation, contract negotiation, and other daily business processes. The tool uses no-code Bots to help you automatically generate new forms, pre-fill them with data from other documents and spreadsheets, export these newly created documents to the cloud or CRMs, and notify other people about these updates. You can learn more about automating document workflows with airSlate and integrating your preferred business tools with our solution by taking free courses at the airSlate Academy.