Self-paced
Incident Reporting Course
Self-paced
Incident Reporting Course
Accurate and precise incident reports are vital for workplace safety compliance. Learn how to automate the process of incident reporting, organize the data you collect and store it for further investigation and analysis with airSlate.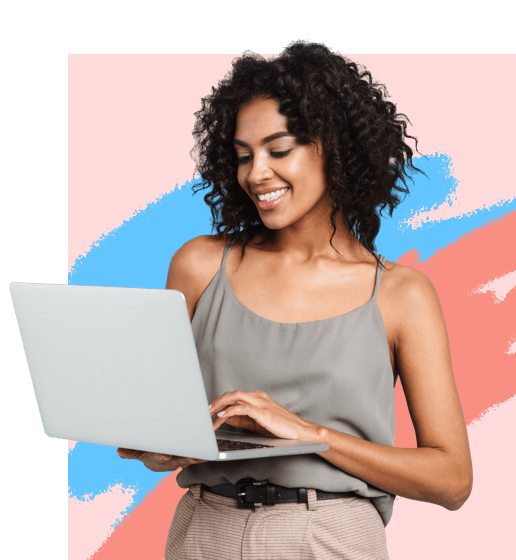 About this course:
This course will show you how to digitize, simplify, and streamline incident reporting workflows with airSlate. You will learn how to replace paper-based reports with configurable templates, minimizing the time and hassle associated with manual data entry.
By the end of the course, you will be able to build incident reporting workflows in airSlate using no-code Bots, drag-and-drop documents and forms, and integrate it with any system of record.
What does this course cover?
You will learn how to automate the incident reporting workflows with fillable forms, no-code Bots, and custom integrations. All these will help you to easily document any incident, collect witness statements, and transfer the report across multiple departments for further analysis.
Why was this course made?
We created this course to educate businesses on how to automate incident reporting procedures within their organization to keep their company and staff safe. You'll learn how to use incident report automation to prevent the event from reoccurring, identify its root cause, and reveal other potential risks in the workspace.
Who can enroll?
Anyone can enroll in this course to gain practical experience in automating an incident reporting process and we recommend doing so while getting to know airSlate better.
The materials of this course include:
learning resources tto teach you how to automate incident reporting workflows in practice
practice sessions so you can consolidate learning through practical application
What you will learn:
How to replace paper-based incident reports with configurable fillable forms
How to build digital incident reporting workflows with no-code Bots, drag-and-drop documents, and custom integrations
How to automatically transfer incident data to any system of record, update, and store it for further use
| | |
| --- | --- |
| Duration | 2 hours |
| Certificate | A verified certificate is included |
| Subject | Incident reporting workflow |
| Level | Advanced |
| Language | English |
| Price | FREE |
Earn a verified certificate to demonstrate the skills you gain
Verified by airSlate
Receive an airSlate-issued certificate with the airSlate logo to verify your achievement and expand your career prospects.
Shareable on social media
Post your certificate on LinkedIn or add it directly to your CV.
Achieve your career goals with airSlate's advanced certification programs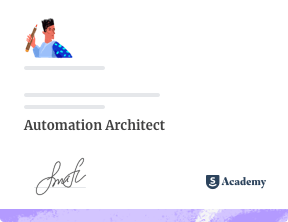 Automation Architect
Learn how to make any process in your workflow run like clockwork. Automate each step using Bots and triggers and perform integrations with popular CRMs like Salesforce or MS Dynamics 365.
Business Process Analyst
Identify which processes in your workflow can be automated. Learn key metrics to propel your business forward and increase your return on investment (ROI).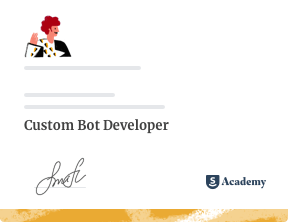 Custom Bot Developer
Learn how to design and develop airSlate Bots — a powerful robotic process automation tool that can be customized using airSlate.
See the certificate sample
Become an airSlate Partner
Students who complete the airSlate Academy's courses are welcome to become partners. Get the necessary skills for building automated processes, helping airSlate newbies, and generating revenue.
Incident report: Understand how automation increases cross-company security
Employee safety is one of if not the most critical focus for any business outside of sales, especially if a company has a large staff. Thus, the question 'How does an organization make the reporting process more efficient to cope with an incident and also prevent it from happening in the future?' remains relevant. Learn how to enhance how your company handles incident reporting with increased efficiency.
Why are incident and accident reports so important?
The procedure itself exists primarily for informing a particular member of a managerial staff about a situation or event. The facts related to the case have to be documented and sent for further investigation within 24 hours after the case occurred. This process might sound simple, but for those who handle it daily can tell you it's not.
Common bottlenecks are as follows:
Slow turnaround


Speed is one of the key criteria needed to successfully respond to and handle internal issues. The sooner all the evidence facts are collected, the more likely the case will be analyzed properly.

Delayed responses


The human factor should always be taken into consideration when processes are done manually. People are people, and get distracted or even forget about giving certain documents to certain managers.

Lost data & information


Just like the first two points, lost data and information are direct results of human-prone error and tendencies. If all the information hasn't been collected within 24 hours (especially when it comes to serious incident reporting), evidence can get lost or even disappear.

Recurring incidents


When good policies and great intentions come together with slow processes, it doesn't matter how many times you go over something. Recurring issues are a huge problem for a lot of companies and require a lot of mundane processing to in the end fix nothing.
However, every single one of those problems can be eliminated with automation. Let's see how airSlate turns a rusty reporting process into a well-oiled, and automated workflow.
Automated incident reporting: how to implement it
When you decide to move away from old school manual processes in favor of a modern incident report workflow, the first thing to decide on is the software you'll use. airSlate is quickly dominating the market since its a no-code automation software, which means companies can onboard it without any specific technical knowledge or even an IT department. Specialized Bots, software robots, are key tools to airSlate's success. But what really takes the cake and sets airSlate apart from its competitors is it provides free online courses that contain all the necessary information users need to automate Flows. Taking the airSlate Incident Reporting Course will teach you how to automate any reporting process quickly and effortlessly whether you've worked with an incident reporting system before or not.
Set up the airSlate Incident Reporting Flow in no time:
Create an airSlate account or log in if you already have one.
Find the Incident Reporting Flow template and add more documents to it if necessary.
Assign roles to the parties involved: Reporter (submits the report to the manager) and Supervisor (collects all the related data for further analysis).
Install Bots. These include the Export to Google Sheet Bot, the Send a Slate to Role Bot, and the Email Notification Postfinish Bot.
Get the result.
The course provides clear video instructions for each step to make setting up our incident reporting software as simple as possible.
The incident and accident report form and what it consists of
The incident reporting form is the main document the whole reporting process starts with. Therefore, let's have a closer look at what its elements are and how airSlate helps. As a standard, an incident report template is similar across most companies. It must include the following information:
What happened and how the event unfolded in detail.
When the situation took place (date and time).
Where the situation occurred (exact place).
Who was involved and their explanation.
The supervisor's contact details and signature.
With automation, airSlate saves you from inputting the data and details manually, which both minimizes the possibility of human error and speeds up the process. The no-code Bots export the necessary data to Google Sheets, guaranteeing that particular fields will be filled out by specific people and that selected parties will get notifications as soon as the procedure is completed.
In 2020 and beyond, there isn't an option to handle things without AI anymore. Stop wasting time, money, and human resources on manually running your workflow. Discover all the benefits of automation airSlate has to offer and jump-start your education with its academy courses.