Self-paced
Integration Bots
Self-paced
Integration Bots
Tired of switching between multiple tools and apps non-stop? Put an end to the hassle and headache of going between different software solutions. Get familiar with airSlate Integration Bots and start enhancing your document workflows with the tools you're already using.
About this course:
This course provides a detailed overview of the airSlate Integration Bots, their configuration principles, and guidelines on how to set up a Bot within minutes.
By the end of the course, you will be fully equipped with the necessary knowledge to connect a document workflow with external systems such as email and cloud storage services, spreadsheets, messengers, CRMs, and others, without any coding skills.
What does this course cover?
This course covers all the aspects of working with airSlate Integration Bots to simplify and automate integrations with third-party applications and streamline entire document workflows.
Why was this course made?
This course covers all the aspects of working with airSlate Integration Bots to simplify and automate integrations with third-party applications and streamline entire document workflows.
Who can enroll?
Anyone can enroll in this course to learn how to configure Integration Bots to automate document workflow connections with external systems.
The materials for this course include:
learning resources to teach you how to work with the airSlate Integration Bots.
quiz for self-assessment.
What you will learn
The purpose and benefits of Integration Bots for your document workflows
How to save time and make use of multiple software tools simultaneously with the help of no-code Bots
How to check whether a Bot has acted successfully
| | |
| --- | --- |
| Duration | 30 minutes |
| Certificate | A sharable achievement is included |
| Subject | Integration Bots |
| Level | Intermediate |
| Language | English |
| Price | FREE |
| Rating | |
Earn a verified certificate to demonstrate the skills you gain
Verified by airSlate
Receive an airSlate-issued certificate with the airSlate logo to verify your achievement and expand your career prospects.
Shareable on social media
Post your certificate on LinkedIn or add it directly to your CV.
All you need to digitally transform your business
The airSlate Academy combines everything you need to digitally transform your business, including legally binding eSignatures, advanced PDF editing, and automated workflows.
eSignature workflows
Familiarize yourself with eSignatures, their implementation, business value, and learn how to create legally binding eSignature workflows for your business.
Paperless workflows
Change the way you work with documents into an interactive online experience and learn how to make your documents look professional.
Achieve your career goals with airSlate's advanced certification programs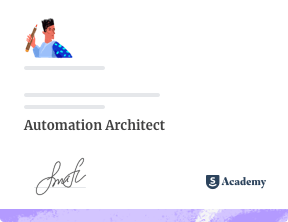 Automation Architect
Learn how to make any process in your workflow run like clockwork. Automate each step using Bots and triggers and perform integrations with popular CRMs like Salesforce or MS Dynamics 365.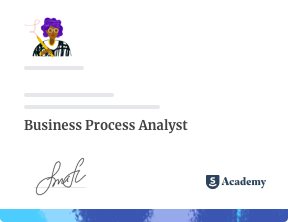 Business Process Analyst
Identify which processes in your workflow can be automated. Learn key metrics to propel your business forward and increase your return on investment (ROI).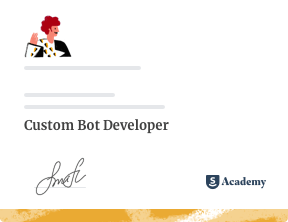 Custom Bot Developer
Learn how to design and develop airSlate Bots — a powerful robotic process automation tool that can be customized using airSlate.
View the certificate
Become an airSlate Partner
Students who complete the airSlate Academy courses are welcome to become partners. Get the necessary skills for building automated processes, helping airSlate newbies, and generating revenue.
How airSlate Academy Bots for Integration course can help you sort out your workflows
As a part of a company, you rarely work with a single software solution to store, manage, and analyze data. Your usual toolkit is a vast list of software, including but not limited to CRM systems, work management solutions, automation platforms, and databases. This is true of organizations of all sizes and in all industries.
The importance of bot automation software has grown substantially in the past two years. This is likely because you have less room for error and more demand to be as precise as possible when dealing with large data amounts. Transferring your data manually, and the time and error that comes with that, is no longer an option.
Therefore, having a holistic no-code platform that allows integration between multiple tools can be a perfect solution for any industry. Using airSlate Bots for integration is a part of the overall digital transformation goal of improving the quality of your work and day to day.
Level up your business with bots for integration
airSlate Bot integration exists to optimize your processes and encourage you to redirect your focus from monotonous tasks to business milestones. Notably, bot automation is essential for all processes of your organization, everything from new employee onboarding to sales analytics. Having all the necessary tools will pay off in the long run, but you will also notice major benefits almost immediately:
Fewer mistakes in your data will nurture more trustworthy relationships with departments, businesses, and customers.
Fewer mistakes will bring the accuracy and quality of your results to another level.
Having multi-cloud software will save you money and ensure your data security.
Fast and accurate business processes will increase your advantage over industry competitors.
Your full potential will be unlocked as you remove manual routines and have more time to focus on critical projects.
The benefits of learning bot integration with airSlate
The Integration Bots course is among the free automation courses provided by airSlate for you and your team. Along with integration Bots, you have an opportunity to enroll in free permissions, data movement, and automation Bots training. Learning automation and how to master integration Bots significantly impact your user confidence and adds digital literacy to your soft skills list. You will:
Easily navigate through airSlate Bots for integration and set them up without need support from an IT professional
Learn how to create different Flows and integrate them with external systems
Feel less pressure knowing that automation bot software works 24/7 and doesn't require your constant supervision
Not need to seek out additional solutions because airSlate integrates with all popular systems, databases, and platforms
Start your training today!
Having reliable bot automation software is not a luxury but a necessity. Therefore, you have a unique opportunity to be ahead of your competitors and promote new technology in your workplace.
The airSlate integration Bots course offers you the essential knowledge you need to manage your workflows and accelerate your business growth. You always have support from the airSlate team if you have any additional questions.
Questions & answers
Here is a list of the most common customer questions. If you can't find an answer to your question, please don't hesitate to reach out to us.
Why do we need integration tools?
Integration bots make your workflow experience as flawless as possible. They connect your Flows with relevant cloud services and digital tools. Bots for integration simplify your workflow and reduce errors in data transfers from and to CRMs, spreadsheets, SQL databases, and other software.
Why is bot integration difficult?
Integration processes may have been a challenge in the past. However, airSlate presents users with reliable and stable technology and comprehensive training to configure the Bots they need. Simply configure the Bot of your choice and enjoy the results.
What is a bot and how does it works?
Within automation, a bot is a no-code software application that requires pre-set "if-this-then-that" conditions to perform. Bots function according to instructions you provide. They complete a task or a set of tasks faster and without human supervision.
How do you create bot automation?
All you need to do is to complete integration bot training with airSlate and choose an external system you want to integrate into your workflow. Bot automation is a fast and reliable feature for any business operation. airSlate constantly updates its Bot's library for your convenience.
Is automation hard to learn?
With airSlate Bots, system integration services become a part of your workflow in one click. Bot automation software training with airSlate Academy is fast and available for anyone. Bot automation and configuration is a straightforward process you can do without needing a background in coding.
Can I learn automation without coding?
Anyone without a programming degree can join the course and learn how to navigate integration Bots. You do not need a technical background or advanced skills to master automation bot software by airSlate. This knowledge will add to your skillset and perhaps encourage you to learn more about tech.