Self-paced
Automating Partnership Agreement
Self-paced
Automating Partnership Agreement
Are you about to start a business with a new partner? Discover how to go paperless by delegating all the manual work to no-code automation. Eliminate human error and sign agreements with new partners in no time.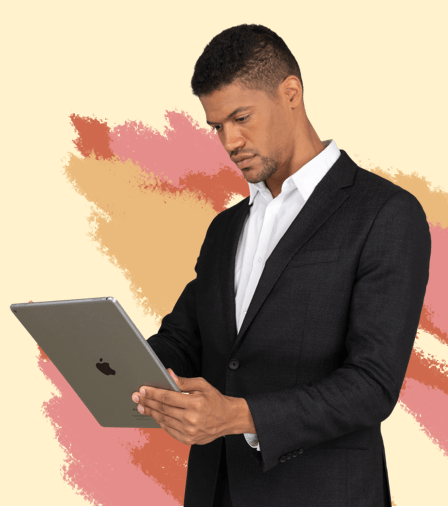 About this course:
This course explains how to create, customize, and run an automated end-to-end partnership agreement workflow, ensure parties agree with the outlined terms, and sign the agreement on time.
By the end of the course, you will be able to set up a fully automated partnership agreement workflow that will benefit both your business and your customers.
What does this course cover?
The course addresses the common bottlenecks of an inefficient partnership agreement process with airSlate no-code automation. It guides you through the entire process of creating and configuring automated document workflows tailored to your business needs, including document editing, adding role-based routing, enabling integrations with external systems, and many others.
Why was this course made?
We created this course to help businesses run their document workflows in minutes regardless of their complexity and location.
Who can enroll?
Anyone can enroll in this course to automate the partnership agreements workflow, eliminate paperwork and human errors, and ensure document safety.
The materials for this course include:
learning resources to show you where to start applying no-code automation for your document workflows, including a partnership agreement.
quiz and assignments to consolidate your acquired knowledge.
What you will learn
How to streamline partnership agreement workflows with no-code automation
How to ensure the terms and conditions of an agreement suit both parties
How to populate agreements with data from the external applications you use
How to eliminate unnecessary paperwork and errors within your document workflows
How to automatically transfer completed documents to data storage systems
| | |
| --- | --- |
| Duration | 30 minutes |
| Certificate | A sharable achievement is included |
| Subject | Partnership Agreement |
| Level | Intermediate |
| Language | English |
| Price | FREE |
| Rating | |
| Enrolled | 1690 students |
Earn a verified certificate to demonstrate the skills you gain
Verified by airSlate
Receive an airSlate-issued certificate with the airSlate logo to verify your achievement and expand your career prospects.
Shareable on social media
Post your certificate on LinkedIn or add it directly to your CV.
All you need to digitally transform your business
The airSlate Academy combines everything you need to digitally transform your business, including legally binding eSignatures, advanced PDF editing, and automated workflows.
eSignature workflows
Familiarize yourself with eSignatures, their implementation, business value, and learn how to create legally binding eSignature workflows for your business.
Paperless workflows
Change the way you work with documents into an interactive online experience and learn how to make your documents look professional.
Achieve your career goals with airSlate's advanced certification programs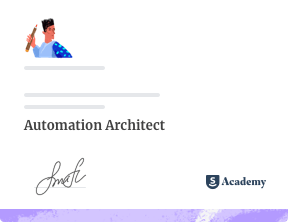 Automation Architect
Learn how to make any process in your workflow run like clockwork. Automate each step using Bots and triggers and perform integrations with popular CRMs like Salesforce or MS Dynamics 365.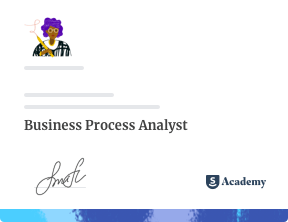 Business Process Analyst
Identify which processes in your workflow can be automated. Learn key metrics to propel your business forward and increase your return on investment (ROI).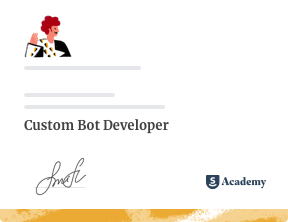 Custom Bot Developer
Learn how to design and develop airSlate Bots — a powerful robotic process automation tool that can be customized using airSlate.
View the certificate
Become an airSlate Partner
Students who complete the airSlate Academy courses are welcome to become partners. Get the necessary skills for building automated processes, helping airSlate newbies, and generating revenue.
The automation of Partnership Agreements: automated contract negotiation and document management
Like any other business process, drafting partnership agreements requires preparation and investigation so that every party involved will be ready to sign. For those who've decided to build a business, signing business contracts is a necessary step. This lengthy process includes discussing requirements, outlining terms between partners, drawing up a legally binding agreement, and more. You're bound to run into situations that are prone to bottlenecks. Postponing face-to-face meetings, misplacing documents, and making typos lead to delays and redundant layers of manual review which consume more time and money.
Is it even possible to turn these error-prone processes into a smooth contract workflow? The airSlate Academy takes you on an in-depth journey into configuring workflows for business agreements. You learn about their ins and outs and observe what your team has to do to implement automation of partnership contracts into your organization using airSlate.
The Automating Partnership Agreement Academy course doesn't answer the question "What are the different types of business agreements?". It's specifically designed in such a way that in addition to theoretical knowledge of contract automation processes, including business agreements, you also have a variety of opportunities to practice what you've learned by using, for example, small business partnership agreement samples. The Academy introduces you to all of airSlate's features and teaches you how to implement them while drafting partnership agreements properly.
Enroll in the partnership agreement course to learn how to:
Stay up-to-date on changes using automated email notifications.
Integrate your workflow with any third-party system, CRM, or ERP without coding.
Generate documents in a few clicks.
Process large amounts of data automatically.
Pre-fill business contracts with relevant information.
The course on the automation of partnership agreements is based on self-paced learning methods, allowing you to control the pace at which you and your team study. It's also designed to enable users to retake or revisit the course as many times as needed to fully absorb all of the information. Useful guides are accompanied by insightful videos that help save time by showing the platform's interface and functionality, making it easier to get started sooner. You can also use any small business partnership agreement sample to get a feel for the full spectrum of airSlate's functionality. The course is beneficial for those who want to generate a certified partnership agreement between two or more individuals or between business entities.
Can reusable partnership business agreements templates be valid?
As mentioned earlier, drafting partnership agreements is required when establishing a collaboration between individuals or entities. Let's take the social media partnership agreement as an example. All parties involved work on creating a contract and try to prevent future conflicts by anticipating the needs of the relationship and writing everything down. Aside from standard information like the partnership's name, parties involved, etc., a contract should resolve disputes about contributions, allocation of profits, and responsibilities.
No matter the nature, be it a social media partnership agreement or any other type, each contract is unique, so creating a reusable partnership agreement isn't realistic. However, airSlate is revolutionizing the way we do business and negotiate partnerships. Meaning, you only need one agreement form – a template, if you will – that satisfies state and federal requirements with your preferred proposition structure.
For instance, after you send out your, say, social media partnership agreement to your potential partners, they can then edit it in real-time (highlight, blackout, redline text, and add notes) when coming to a consensus. When both parties come to an understanding, everyone can eSign and automatically receive copies of the executed social media partnership agreement in their email.
Get the most out of the automation of partnership agreements
Drafting partnership agreements is just the tip of the iceberg. Traditionally, the entire process was paper-based and contained a number of bottlenecks and drawbacks. Errors in manual data entry and poor customer experiences are inevitable in environments that promote slow and inaccurate execution, leading to lost revenue. How can airSlate help solve these shortcomings?:
Complete the life cycle of business contracts faster. Automation makes contract negotiation smoother, more efficient, and faster. Come to an official understanding in hours rather than days with the automation of partnership agreements.
Increase accuracy. Manual data entry results in errors and, in some cases, handwriting that can't be deciphered. Deploy Integration Bots to push and pull data from various systems of record for more accurate data input.
Protect data. Cloud-based data storage is much safer and more convenient than paper-based storage. Control access permissions to your business contracts and other documents, protecting them from loss, theft, and incorrectly added information.
Reduce contract management costs. Traditional processes like scanning, printing, and in-person meetings require more resources to support. Establish digitized management of your business agreements and built-in editing and esignature tools to increase productivity and decrease costs.
Manage deals online. airSlate's comprehensive Dashboard allows you and your team members to manage documents in a single Workspace. Access a vast Forms library of state-specific partner agreement forms, small business partnership agreement samples, addendums, notices, etc., from any device, anywhere, on desktop or mobile.
Automation of business agreements is something your business needs. However, don't make a mistake, so many others do by not taking advantage of free opportunities to learn about automation specific to your business processes.
If you're ready to uproot old and outdated steps entrenched in your organization and replace them with streamlined automation, enroll in the Automating Partnership Agreement course at the airSlate Academy today!
Questions & answers
Here is a list of the most common customer questions. If you can't find an answer to your question, please don't hesitate to reach out to us.
What are the different types of business agreements?
According to the usual classification of business agreements, there are three main types of documents: general business contracts (partnership, indemnity, nondisclosure agreements and property/equipment leases), sales-related contracts (bills of sale, purchase orders, security agreements), and employment contracts (employment, independent contractor, and non-compete agreements).
How do you write a business agreement?
When it comes to writing business contracts, keep them simple, straightforward and clear; make sure to address the right parties (including entities) and define objectives. In addition, you should always outline a plan for what to do/what happens when a dispute arises. In this way, you'll create a solid business contract that most organizations can accept.
Are verbal business agreements binding?
Verbal and written business agreements have the same legal force. They need to meet the requirements of a usual contract, and then they can be enforced in court. Nevertheless, the existence of verbal business agreements is harder to prove, so consider having a written document with signatures to protect yourself from potential problems or lengthy judicial proceedings.
Where can I find examples of business agreements?
You can find examples of business agreements in the airSlate forms library. In addition, you can eliminate tedious tasks and automate the preparation of documents. Join the airSlate Academy and learn how to implement workflow automation in your company.
Can business contracts be canceled?
All the business agreements you draft must include termination clauses. It allows parties to define circumstances for when they have a right to call off a deal and what happens when they do that. These paragraphs help you protect parties from losing money or time.
Where can I make business contracts?
airSlate has powerful document generation capabilities, so you can use it for drafting partnership agreements. However, it's not a text editor analog. It's a comprehensive workflow automation solution that helps millions of businesses around the world to streamline their document management processes, delegate monotonous tasks to software robots, and get certified partnership agreements with legally-binding electronic signatures. Try a course by the airSlate Academy to learn more about workflow automation.
How do business contracts work?
Every business contract is a promise to provide services or sell goods within a specified period. To recognize a document as valid, it must have four key elements: agreement (acceptance of an offer), capacity (understanding of the conditions), consideration (exchanging of values), and intention (understanding that a contract is legally binding). If either party fails to keep promises, another party has every right to sue and recover the amount defined in their business agreement.
What are business contracts?
All companies want to sign business contracts on their terms. If somebody doesn't agree with somebody else, a compromise needs to be found. For a deal to come out as successful, all parties should feel that their potential gains have been maximized and risks minimized. This process of coming to an agreement on a set of terms is called contract negotiation.
What is a social media partnership agreement?
A social media partnership agreement is a contract between a brand or marketer and influencer. Drafting partnership agreements is required to allow you to include all the expected deliverables, define timelines, payment terms, covered fees and expenses, termination and cancellation clauses, or any other essential aspects of business contracts. This way, you protect yourself from a wide range of troubles.
What are the most important tips to drafting a partnership agreement?
Make sure you structure your business agreements properly. They must include names of all parties, terms and conditions of the relationship between all parties, and the distribution of profits and losses. Consider using a platform like airSlate to automate your partnership-agreement workflows; drafting partnership agreements doesn't have to be monotonous or time consuming. Enroll in a free airSlate Academy course to learn how to do it.