Self-paced
Patient Intake Course
Self-paced
Patient Intake Course
Patient registration usually means piles of paperwork and time lost. Learn how to replace paper-based forms with configurable web forms and reduce administrative processing from hours to minutes. Set up airSlate no-code Bots to integrate your workflows with CRMs/EMRs to automatically create and update patient records.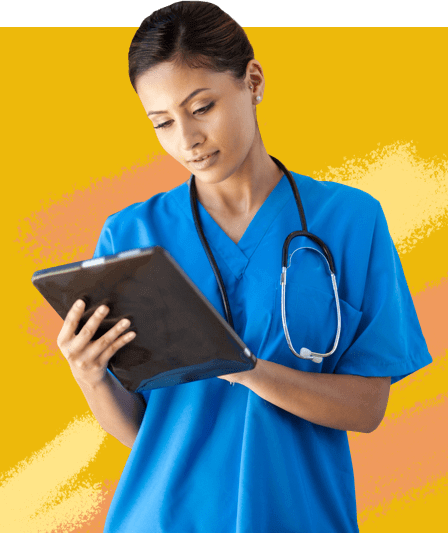 About this course
This course shows you how airSlate automates the patient intake workflow by transferring patient data from one document to another, revising and editing forms, creating patient records in CRMs/EMRs, and updating patient data after each visit within minutes.
By the end of this course, you will be able to create your own patient intake workflow in airSlate, including documents, roles, no-code Bots, and integrate your workflow with CRMs.
What does this course cover?
We will teach you how to automate the patient registration process focusing on forms and signatures, so you can devote more time to your patients. Moreover, you will improve the overall patient experience at your medical institution since each patient can fill out all their forms beforehand.
Why was this course made?
We created this course to help healthcare organizations automate the patient registration process with configurable web forms, no-code Bots, CRM integrations, and to provide a seamless experience for patients, doctors, and receptionists.
Who can enroll?
Anyone can enroll in this course to gain practical experience in automating the patient intake process and we recommend doing so while getting to know airSlate better.
The materials of this course include:
learning resources to teach you how to automate patient intake workflows in practice
practice sessions so you can consolidate learning through practical application
What you will learn
How to design and implement digital patient intake workflow with drag-and-drop documents and forms and no-code Bots
How to automate a workflow with no-code Bots: recipient-to-recipient routing, CRM integrations, reminders, and notifications
How to automatically create patient records in CRMs/ERMs and update patient data after each visit
| | |
| --- | --- |
| Duration | 30 minutes |
| Certificate | A verified certificate is included |
| Subject | Patient intake workflow |
| Level | Advanced |
| Language | English |
| Price | Free |
Earn a verified certificate to demonstrate the skills you gain
Verified by airSlate
Receive an airSlate-issued certificate with the airSlate logo to verify your achievement and expand your career prospects.
Shareable on social media
Post your certificate on LinkedIn or add it directly to your CV.
Achieve your career goals with airSlate's advanced certification programs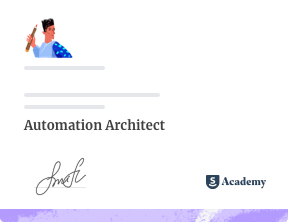 Automation Architect
Learn how to make any process in your workflow run like clockwork. Automate each step using Bots and triggers and perform integrations with popular CRMs like Salesforce or MS Dynamics 365.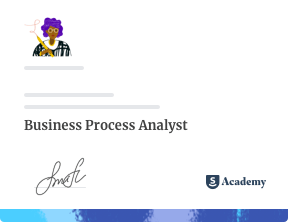 Business Process Analyst
Identify which processes in your workflow can be automated. Learn key metrics to propel your business forward and increase your return on investment (ROI).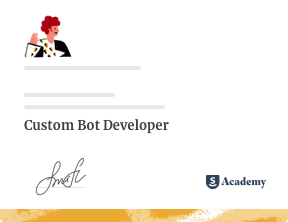 Custom Bot Developer
Learn how to design and develop airSlate Bots — a powerful robotic process automation tool that can be customized using airSlate.
See the certificate sample
Become an airSlate Partner
Students who complete the airSlate Academy's courses are welcome to become partners. Get the necessary skills for building automated processes, helping airSlate newbies, and generating revenue.
How to turn a paper-based patient registration process into an automation workflow: the airSlate Academy
Patient intake is a crucial process and is the first interaction a patient has with a health institution and its staff. Customer satisfaction rates and clinical success depend on patients' first interactions with a hospital. Typically, the process is full of mundane routines and manual tasks like gathering data, updating the CRM and searching through medical history. The airSlate Academy helps enhance repetitive processes, creating an automation workflow.
Why was the Patient intake course created?
The airSlate Academy patient intake course aims to improve and automate each step of patient registration. The course plan covers all the bottlenecks and pain points of the admission process, starting from filling out the new patient intake form template to scheduling the next appointment.
While taking this course you will learn how to automate the admission process with airSlate. Learn how to:
create a reusable patient intake form template;
configure Integration Bots to connect with other software you already use;
get rid of decoding a patient's writing with automatic data-driven.
update the patient intake coordinator on all changes;
use the e-signature tool to get consent from patients faster.
Who is eligible to take the Patient intake course?
Anyone who has completed the airSlate Fundamentals course is eligible to enroll. In addition to those who:
want to master digital process transformation within health institutions;
are ready to change the healthcare structure with automation tools from the ground up;
have theoretical automation knowledge and want to get practical experience in automating clinical processes with the right tools.
What does the course consist of?
In addition to theoretical knowledge; you will receive practice to consolidate your understanding by creating a fully operational workflow; you will use Bots for client admission and transferring data between internal and external services. This course teaches you everything you need to know about how to use airSlate's tools to automate and enhance document workflows.
A great example is, how to integrate with Salesforce. With airSlate, you are able to integrate with the most popular systems of record. After this course, you will be able to put your skills to good use.
The airSlate Academy understands why patient registration jobs need more automation
As we mentioned above, the intake process is the start of a patient's relationship with a hospital or clinic. The information in our course helps healthcare institutions and their employees:
Reduce time-consuming tasks.

 By reducing time-consuming tasks, you give your clients a better customer experience. Automate how you prove patient identity, find their medical history and check their insurance details. Everything is pre-filled from your CRM and updated after each visit.

Eliminate mistakes.

 The biggest pain point for any clinic is inaccurate data. Human error occurs because collecting data requires constant focus and rechecking. Though, that often leads to burnout. And burnout leads to mistakes. With data-driven Bots, you only need to enter data once. After that, all information is automatically organized, stored, pre-filled, updated and archived.

Enhance customer experience.

 Automating workflows allow you and your staff to spend more time with clients instead of their paperwork. Enhanced processes directly result in better communication, faster results and a more comfortable experience for everyone.

Reuse e-templates.

 Turn your patient registration form into a fillable template that you can reuse as much as you need. Say goodbye to printing and scanning.

Improve productivity.

 Get rid of red tape. Instead of wasting time on paperwork, your staff will be able to focus on clients' well-being. This approach helps you maintain the right attitude your team needs to increase its effectiveness.

Increase security.

 Checking in online protects documents from being lost or misplaced. Configure workflow privacy and security to process sensitive data behind industry-leading HIPPA compliance.
Does improving the patient registration process have a positive effect on the entire hospital/clinic?
Of course. Like we mentioned at the beginning of this article, patient intake forms are crucial to the initial relationship a patient has with a health institution. Create one sustainable process that you can implement in any number of systems without limit. Customize forms depending on your needs, duplicate the Flow, appoint colleagues as administrators and more. Then take that Flow and adjust it to meet the needs of other departments and processes.
Those who take and finish this course receive an airSlate certificate and an opportunity to become an automation consultant in healthcare. Take other courses for free and learn how to transform a clinic's entire structure.