Self-paced
Permissions Bots
Self-paced
Permissions Bots
Still managing document access permissions manually? Delegate this process to Permissions Bots to let them monitor who can access your documents and even specific document fields within your workflows.
About this course:
This course acts as an overview of the airSlate Permissions Bots and the benefits they deliver to document workflows and different workflow configurations.
By the end of the course, you will be fully equipped with the necessary knowledge and tips to automatically set up access permissions for your documents and specific fields, hide esignatures, and much more, with the help of no-code Bots.
What does this course cover?
This course provides detailed guidelines on how to assign access permissions to a document and revoke it within a specific period of time, automatically limit certain editing options, or hide eSignatures from other recipients with a few clicks.
Why was this course made?
We created this course to help you ensure that your workflow documents and their fields are accessed by the right people in a reasonable period of time with the help of Permissions Bots.
Who can enroll?
Anyone can enroll in this course to learn how to configure Permissions Bots to ensure proper document access within your workflows.
The materials for this course include:
learning resources to teach you how to work with the airSlate Permissions Bots.
quiz for self-assessment.
What you will learn
The purpose and benefits of Permissions Bots for your document workflows
How to ensure your data security by automatically providing and revoking document access to specific recipients
How to check whether the Bot has acted successfully
| | |
| --- | --- |
| Duration | 30 minutes |
| Certificate | A sharable achievement is included |
| Subject | Permissions Bots |
| Level | Intermediate |
| Language | English |
| Price | FREE |
| Rating | |
Earn a verified certificate to demonstrate the skills you gain
Verified by airSlate
Receive an airSlate-issued certificate with the airSlate logo to verify your achievement and expand your career prospects.
Shareable on social media
Post your certificate on LinkedIn or add it directly to your CV.
All you need to digitally transform your business
The airSlate Academy combines everything you need to digitally transform your business, including legally binding eSignatures, advanced PDF editing, and automated workflows.
eSignature workflows
Familiarize yourself with eSignatures, their implementation, business value, and learn how to create legally binding eSignature workflows for your business.
Paperless workflows
Change the way you work with documents into an interactive online experience and learn how to make your documents look professional.
Achieve your career goals with airSlate's advanced certification programs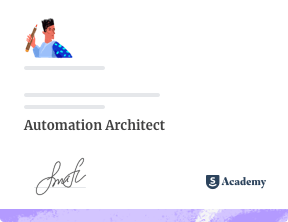 Automation Architect
Learn how to make any process in your workflow run like clockwork. Automate each step using Bots and triggers and perform integrations with popular CRMs like Salesforce or MS Dynamics 365.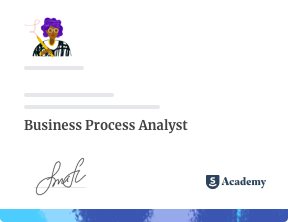 Business Process Analyst
Identify which processes in your workflow can be automated. Learn key metrics to propel your business forward and increase your return on investment (ROI).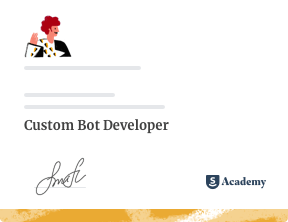 Custom Bot Developer
Learn how to design and develop airSlate Bots — a powerful robotic process automation tool that can be customized using airSlate.
View the certificate
Become an airSlate Partner
Students who complete the airSlate Academy courses are welcome to become partners. Get the necessary skills for building automated processes, helping airSlate newbies, and generating revenue.
Manage permissions to secure and fast-track your workflows with airSlate's automation Bots
As the IT processes get more complex, there's a growing number of concerns about the security of these processes. It also applies to document-based operations that always involve a certain degree of sensitive information. This forces many corporations and organizations to seek solutions to mitigate and dodge the potential risks of a data breach or unintentional exposure of confidential information.
airSlate, a no-code automation platform, offers a more holistic and end-to-end approach to managing document-based processes. Not only does it allow to build of efficient document approval and data collection workflows, but it also helps manage access rights to define what hands the information or certain rights can end up in. Further, we'll briefly go over the list of Bots available in airSlate and show you how to learn to manage permissions using our Bots.
Manage full or partial access permissions with airSlate's Automation Bots
For the most part, a business document lifecycle involves multiple people. But not all of them have the exact scope of responsibilities when it comes to editing, viewing, and executing the document. This is when our automation Bots come into play. airSlate provides you with all the essential tools to create a fine-tuned workflow from scratch while configuring access rights for different workflow participants.
Let's quickly go over Bots currently available in our library that automatically manage user access to your process flows and documents.
Restricting or enabling editing options
Lock Documents Editing Bot
Forbid Discarding Changes Bot
Enable Editing Tools
Showing or hiding selected documents (based on specific conditions)
Revoke Access to Step (when a revision is completed)
Set Expiration of Step Assignment Bot
Show Conditional Document
Assigning users to and reassigning them from a specific task
Other permission Bots
Forbid Saving as Draft Bot
Redirect Recipients to Website
Tipping the toes into automation bots with the airSlate Academy
As we mentioned, airSlate is a no-code solution that doesn't require substantial knowledge of programming languages or specific Bot training. Additionally, our developers have already done the heavy lifting, so setting up Bots has become a breeze. Yet, there are some tips and tricks in configuring access rights Bots that you might want to learn. For that, you can enroll in our free courses on how to give bots permissions, fine-tune them to your particular workflows, and make your entire automation experience as smooth as possible. In addition, you can practice while taking the course by creating a free account with airSlate. It will help you get hands-on experience using our tools and features. The course is self-paced and requires no commitment from your side. Upon completing it, you'll earn a certificate that can be used to help you advance in your career path.
Have any doubts about how your business processes can benefit from automation? Take our automation courses or contact us today. We'll gladly show you the full functionality spectrum that airSlate offers for individuals and entities of any size!
Questions & answers
Here is a list of the most common customer questions. If you can't find an answer to your question, please don't hesitate to reach out to us.
How do you make a bot without code to manage permissions?
You don't need to know programming languages to set up and run a Bot in airSlate. As soon as you set up a Flow, you can start configuring Bots. Simply select the needed Bot from the library, add it to your Flow, and use the settings to tell the Bot what it needs to do when certain conditions are met. You're not limited to using the access rights Bots and can include as many of them as your workflow requires.
What are the types of permissions and Bots used for them?
There are currently 8 Bots available in our Library. You can select the respective Bot depending on the type of access you want to give or restrict. Generally, using Access control Bots, you can expand or limit editing rights for a document and/or entire Flow. You can show or hide documents based on the pre-set "if-this-then-that" logic; reassign specific steps to other users if previous ones failed to do so; automatically redirect to the website; forbid users to save the document as draft or save changes made to the document.
How do I manage permissions in airSlate?
Any permissions within airSlate can be managed from your Workspace (if you want to assign specific roles, like Admin, Editor, etc. ) or through our no-code Bots (if you want to give or restrict access rights to the users who are a part of your Workflow). Please head to our library and get detailed instructions on how to give bots permissions to limit or expand access to a particular Document or Flow.
What is the role of access management?
Data safety must always be high on the list of priorities to avoid data breaches, losses, and possible aftermath litigations. Choosing the solution that offers versatility when it comes to access management is key to protecting your sensitive data. airSlate helps prevent data mismanagement and ensures that the information can be accessed quickly and by designated users only.
What permissions should I give a bot?
You're to decide what permissions you give the Bot to run. For instance, when restricting or enabling editing access rights, you can choose from a wide selection of feature options. You can order the Bot to act open based on the specific conditions. For example, specific editing features can be enabled once the user fills out the email field, etc. Enroll in our free course to learn more about how our automation Bots work!
Is automation easy to learn?
Yes, especially if you have the right learning materials at hand. airSlate Academy offers a wide range of automation courses that will not only show you how to manage full access permissions, but also set up eSignature workflows, collect information with minimal input, and make sure your critical document-based processes aren't interrupted.