Self-paced
Pre-fill from Doc to Doc
Self-paced
Pre-fill from Doc to Doc
No more manual data transfers resulting in typos, missed information, and time lost. Learn how to automate and speed up the movement of data from one document to another within minutes.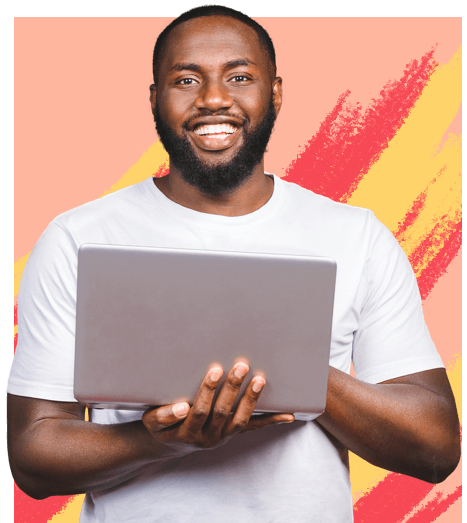 About this course:
This course is aimed at those who value their time and don't want to waste it manually transferring data between documents. You will learn how to automatically move data from one document to another without involving yourself in the process.
By the end of the course, you will be able to set up automatic data transfers between docs, thus saving time and eliminating errors.
What does this course cover?
The course contains detailed guidelines on how to configure automatic data transfers without any skills in coding. You will learn how to set up the process to ensure the data from one document is moved to the proper fields of another document instantly and without your involvement.
Why was this course made?
We created this course to help you break free of menial routine, repetitive tasks such as transferring data between documents. You will also learn how to eliminate typos, errors, misplaced or lost information, and so on.
Who can enroll?
Anyone can enroll in this course and we recommend doing so while getting to know airSlate better.
The materials for this course include:
learning resources to help you set up the Pre-fill from Doc to Doc Bot on your own.
quiz and assignments to consolidate the received knowledge.
What you will learn
How to save time with automatic data transfers between documents
How to ensure specific data is moved to the correct fields of another document
How to eliminate typos, misplaced data, and other errors related to the human factor
| | |
| --- | --- |
| Duration | 15 minutes |
| Certificate | A verified certificate is included |
| Subject | The Pre-fill from Doc to Doc Bot |
| Level | Intermediate |
| Language | English |
| Price | FREE |
| Rating | |
Earn a verified certificate to demonstrate the skills you gain
Verified by airSlate
Receive an airSlate-issued certificate with the airSlate logo to verify your achievement and expand your career prospects.
Shareable on social media
Post your certificate on LinkedIn or add it directly to your CV.
All you need to digitally transform your business
The airSlate Academy combines everything you need to digitally transform your business, including legally binding eSignatures, advanced PDF editing, and automated workflows.
eSignature workflows
Familiarize yourself with eSignatures, their implementation, business value, and learn how to create legally binding eSignature workflows for your business.
Paperless workflows
Change the way you work with documents into an interactive online experience and learn how to make your documents look professional.
Achieve your career goals with airSlate's advanced certification programs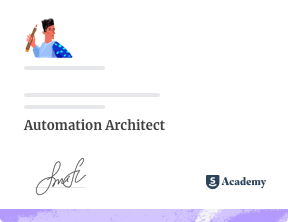 Automation Architect
Learn how to make any process in your workflow run like clockwork. Automate each step using Bots and triggers and perform integrations with popular CRMs like Salesforce or MS Dynamics 365.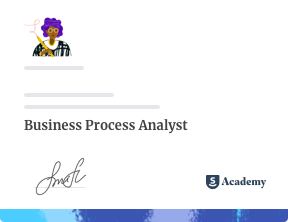 Business Process Analyst
Identify which processes in your workflow can be automated. Learn key metrics to propel your business forward and increase your return on investment (ROI).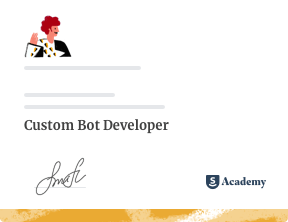 Custom Bot Developer
Learn how to design and develop airSlate Bots — a powerful robotic process automation tool that can be customized using airSlate.
View the certificate
Become an airSlate Partner
Students who complete the airSlate Academy courses are welcome to become partners. Get the necessary skills for building automated processes, helping airSlate newbies, and generating revenue.
When do I need to autofill a document?
Each business must efficiently use its resources to become high-performing. Some specialists suggest implementing a wide variety of tools, but more often than not, implementing multiple tools is not only time-consuming but also expensive. So what should you do?
Highly repetitive and routine tasks are prone to human error and should be eliminated or minimized. But how?
Working with forms and documents is unavoidable and often monotonous. Depending on the job, it usually requires quite a few steps: creating, filling out and signing documents, approving requests, transferring data to electronic databases, and so on. Many are still handling this process manually. You might be doing it too. Or maybe you're using workflow automation tools? Use automated processes to save time, effort, streamline records, and reduce errors. Dozens of work hours can be saved just by implementing quality workflow automation software like airSlate. Autofill documents any time you or your team is faced with any kind of routine data entry.
Software pre-fills the document more efficiently than you do
Automation software generates documents much faster and saves a lot more time than when you do it manually. Powerful tools look for information in already existing databases or other records and autofill documents in the appropriate fields using that data. It makes the process more convenient for everyone. No matter how fast your staff types or finds data in your paper archives — AI does it much faster.
Workflow automation saves costs
It might not seem this way, but you pay employees for creating documents and then correcting those documents. The more data that needs processing — the more staff you need to hire and thus, the more mistakes that need correcting. Save money with software built to autofill documents in less time, with fewer mistakes, and more clarity. In addition, digital document management doesn't require traditional expenses like paper, printers, ink, folders, etc. It's not only cost-effective but eco-friendly too.
Employees like workflow automation
It's not a secret that everyone hates tasks that lead to mental fatigue. You can increase staff satisfaction by implementing robotic process software that can pre-fill documents. It allows employees to focus on more engaging work, while at the same time being more productive.
What can you Pre-fill in a document?
After you set up your workflow automation software, you get the ability to map fields and use smart fillable fields. Use pre-defined logic and rules to transfer and process data. Easily autofill a document with texts, images, and numbers from other documents or databases.
How to choose a workflow automation software
There are many services that implement automation in your workflows, and you would need to spend days finding the right one if it wasn't for this article. Being able to autofill a document is just one thing automation can give you.
Use the questions below to better understand what to look for when choosing a platform.
Do I have the resources needed to hire developers to integrate new software into my processes?
Where will I store the documents in-cycle, or the ones that are executed?
Do I have time to teach my staff how to use the new software?
Workflow automation is in right now. With hundreds of products on the market, consider finding a solution that will allow you not only to pre-fill documents but complete many other tasks. airSlate is a prime example of a solution that can update records, send reminders, import or export data to various services, sign documents electronically, etc. It's an all-in-one BPA platform that uses no-code integrations. That means you don't need an IT department or expensive developers to integrate it.
How to become an expert in workflow automation
airSlate is more than just a workflow automation software. You can join the airSlate Academy to gain new knowledge and skills that will help you establish yourself as an automation expert. In the academy, you'll find courses that introduce an assortment of Bots (for example, the Pre-fill the Document Bot). You will understand the fundamentals of business process automation, ways to set and use analytics, how to improve your workflows' security, and much more.
The most significant advantages of the airSlate Academy:
High quality. Get valuable knowledge in a simple and entertaining way.
Practicality. Discover new use-cases and ways to solve different problems.
Accessibility. Join the academy for free from anywhere you have an internet connection.
Product orientation. Learn how to use powerful tools for document management.
Get a fully-automated Flow today! Become a workflow automation expert and autofill a document with your new skills.
Questions & answers
How do I set up automatic form filling?
Consider using airSlate, a progressive no-code automation tool that'll help you digitize your workflows and facilitate completing routine tasks. You can also use it for automatic form filling. Once you register an account, you'll be able to create Flows from scratch or use those available in the Flow library. Add the Pre-fill Document Bot to your workflow to seamlessly transfer completed information from one sample to another by mapping corresponding fields for pre-filling data.
How do you autofill forms online?
Doing paperwork manually without automating processes is time consuming and error prone. Sign up for an account with airSlate, a cloud-based no-code workflow automation solution. It's also a great auto filling software that features a Pre-fill Document Bot that transmits information from one document and pre-populates the relative fields in another one. All you need to do is to add the Bot to your workflow and configure the automatic form filling in the Bot's settings. If you set it up correctly, it'll automatically pass information between documents and autofill your forms everytime someone fills out the initial template.
How can I autofill forms from Excel?
airSlate features the Pre-fill Document Bot to make it possible for any user to properly set up automatic form filling with the data from other templates in minutes, without hassle. When the Bot is installed to a Flow, you need to indicate what fields should be transferred and map them with the corresponding fields in another form. If you need to pre-populate a spreadsheet, use the Table method of mapping to pass data from columns in one form to relative columns in another one. To get more detailed instructions on how to autofill forms with Bots and properly set up workflows, join the airSlate Academy.
What is the best autofill form software?
There is a good number of automated form filling software on the market that can help you with prefilling documents, including cloud-based and installable tools. Cloud-based solutions are better as they save space on your device and can be accessed from virtually any place. Choose airSlate to easily automate form filling for virtually all day-to-day business processes. The tool uses no-code Bots that allow users to start prefilling documents without any coding skills or the help of IT specialists.
What is document auto fill software and how does it work?
Auto form filling software serves a simple purpose: these form filling programs help to instantly fill out documents and automatically transfer data from one completed template to another. This allows users to save a bunch of time usually spent on tedious paperwork and complete tasks faster. The market offers many different auto form fill software, both installable and online. Consider choosing airSlate workflow automation, it's a great solution for prefilling documents and streamlining business procedures. Check the training courses on how to use the tool by joining the airSlate Academy for free.
Why do I need a document autofill program?
Form filling programs help administrative staff and other professionals who deal with document collection to facilitate their daily tasks and digitize paperwork. They speed up the process of creating and filling out documents and collecting forms while reducing manual data entry. Implementing solutions that automate form filling saves time and money.
How can I set up automatic form filling in airSlate?
airSlate uses no-code Bots (robotic software) to automate just about any business workflow. You don't even need to have special programming skills or hire extra IT professionals to properly set them up. It's a great form filling software that can save you from monotonous, time-consuming, and error-prone paperwork and boost your team's productivity. All you need to do is add the Pre-fill Document Bot to your Flow and select documents to transmit data between. Indicate the document you need to start prefilling and the one you need to pass information from, map the fields to transfer, and set other conditions. To learn more, go through the relative course with the airSlate Academy.
What does the auto fill tool do?
Automatic form filler software allows users to transmit information from fillable fields in one document to corresponding fields in another one. By using an auto fill program, you can eliminate errors caused by manual form completion and save a lot of time for more priority tasks.
What do I need to set up a form filling software?
If you choose airSlate to facilitate your regular workflows, all you need to do is register an account. The platform works online in any browser, so there's no need to set up any auto-fill software on your device. airSlate also doesn't require you to have IT specialists to configure all workflows. The tool has a user-friendly interface and uses no-code Bots that help you automate virtually any business procedure. To discover more about the technology and how to quickly set up proper data prefilling from one document to another, sign up for the airSlate Academy and take its free courses.
How do I enable automatic form filling?
In airSlate, you can populate any document with data that's automatically passed from another form. It's a great form filling software that helps you digitize your routine procedures and save tons of time and effort. To enable the automatic form filling option, simply add the Pre-Fill Document Bot to your workflow and configure its settings according to your needs. Indicate the documents to and from which you need to prefill data, map the relative fields in each form, and set other conditions for the Bot to act. If you configure it correctly, the Bot will autofill forms each time you (or other people) complete the initial template. For further guidance, check the relative course at the airSlate Academy.