Self-paced
The Pre-fill Document Bot
Self-paced
The Pre-fill Document Bot
The Pre-fill Document Bot automatically pre-fills one document with data from another document. In this course, we will explain how to install and set up the Pre-fill Document Bot.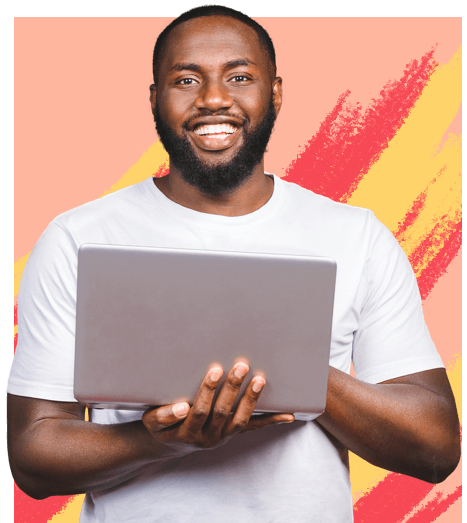 About this course:
Learn how to automate the process of pre-filling one document with the data from another one. By the end of the course, you will be able to install the Pre-fill Document Bot and set it up according to your needs.
What does this course cover?
This course guides you through the entire process of configuring the Pre-fill Document Bot, from adding it to your Flow to setting conditions for when and how it will act. You will learn how to map fields of one document with the corresponding fields of another document.
Why was this course made?
We created this course to explain how the mapped fields of one document will be pre-filled with data from the corresponding fields of another document based on the conditions you set.
Who can enroll?
Anyone can enroll in this course and we recommend doing so while getting to know airSlate better.
The materials of this course include:
learning resources to help you set up the Pre-fill Document Bot on your own
practice sessions so you can consolidate learning through practical application
What you will learn:
What a data transfer method is and a how to add it (single line or table)
How to map the fillable fields of one document with the selected fields from another document
How to set conditions for when data will be automatically pre-filled
| | |
| --- | --- |
| Duration | 1 hour |
| Certificate | A verified certificate is included |
| Subject | The Pre-fill Document Bot |
| Level | Intermediate |
| Language | English |
| Price | FREE |
Earn a verified certificate to demonstrate the skills you gain
Verified by airSlate
Receive an airSlate-issued certificate with the airSlate logo to verify your achievement and expand your career prospects.
Shareable on social media
Post your certificate on LinkedIn or add it directly to your CV.
Achieve your career goals with airSlate's advanced certification programs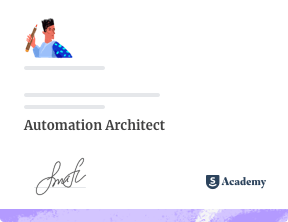 Automation Architect
Learn how to make any process in your workflow run like clockwork. Automate each step using Bots and triggers and perform integrations with popular CRMs like Salesforce or MS Dynamics 365.
Business Process Analyst
Identify which processes in your workflow can be automated. Learn key metrics to propel your business forward and increase your return on investment (ROI).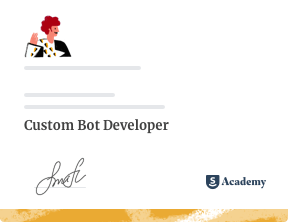 Custom Bot Developer
Learn how to design and develop airSlate Bots — a powerful robotic process automation tool that can be customized using airSlate.
See the certificate sample
Become an airSlate Partner
Students who complete the airSlate Academy's courses are welcome to become partners. Get the necessary skills for building automated processes, helping airSlate newbies, and generating revenue.
When do I need to autofill a document?
Each business must efficiently use its resources to become high-performing. Some specialists suggest implementing a wide variety of tools, but more often than not, implementing multiple tools is not only time-consuming but also expensive. So what should you do?
Highly repetitive and routine tasks are prone to human error and should be eliminated or minimized. But how?
Working with forms and documents is unavoidable and often monotonous. Depending on the job, it usually requires quite a few steps: creating, filling out and signing documents, approving requests, transferring data to electronic databases, and so on. Many are still handling this process manually. You might be doing it too. Or maybe you're using workflow automation tools? Use automated processes to save time, effort, streamline records, and reduce errors. Dozens of work hours can be saved just by implementing quality workflow automation software like airSlate. Autofill documents any time you or your team is faced with any kind of routine data entry.
Software pre-fills the document more efficiently than you do
Automation software generates documents much faster and saves a lot more time than when you do it manually. Powerful tools look for information in already existing databases or other records and autofill documents in the appropriate fields using that data. It makes the process more convenient for everyone. No matter how fast your staff types or finds data in your paper archives — AI does it much faster.
Workflow automation saves costs
It might not seem this way, but you pay employees for creating documents and then correcting those documents. The more data that needs processing — the more staff you need to hire and thus, the more mistakes that need correcting. Save money with software built to autofill documents in less time, with fewer mistakes, and more clarity. In addition, digital document management doesn't require traditional expenses like paper, printers, ink, folders, etc. It's not only cost-effective but eco-friendly too.
Employees like workflow automation
It's not a secret that everyone hates tasks that lead to mental fatigue. You can increase staff satisfaction by implementing robotic process software that can pre-fill documents. It allows employees to focus on more engaging work, while at the same time being more productive.
What can you Pre-fill in a document?
After you set up your workflow automation software, you get the ability to map fields and use smart fillable fields. Use pre-defined logic and rules to transfer and process data. Easily autofill a document with texts, images, and numbers from other documents or databases.
How to choose a workflow automation software
There are many services that implement automation in your workflows, and you would need to spend days finding the right one if it wasn't for this article. Being able to autofill a document is just one thing automation can give you.
Use the questions below to better understand what to look for when choosing a platform.
Do I have the resources needed to hire developers to integrate new software into my processes?
Where will I store the documents in-cycle, or the ones that are executed?
Do I have time to teach my staff how to use the new software?
Workflow automation is in right now. With hundreds of products on the market, consider finding a solution that will allow you not only to pre-fill documents but complete many other tasks. airSlate is a prime example of a solution that can update records, send reminders, import or export data to various services, sign documents electronically, etc. It's an all-in-one BPA platform that uses no-code integrations. That means you don't need an IT department or expensive developers to integrate it.
How to become an expert in workflow automation
airSlate is more than just a workflow automation software. You can join the airSlate Academy to gain new knowledge and skills that will help you establish yourself as an automation expert. In the academy, you'll find courses that introduce an assortment of Bots (for example, the Pre-fill the Document Bot). You will understand the fundamentals of business process automation, ways to set and use analytics, how to improve your workflows' security, and much more.
The most significant advantages of the airSlate Academy:
High quality. Get valuable knowledge in a simple and entertaining way.
Practicality. Discover new use-cases and ways to solve different problems.
Accessibility. Join the academy for free from anywhere you have an internet connection.
Product orientation. Learn how to use powerful tools for document management.
Get a fully-automated Flow today! Become a workflow automation expert and autofill a document with your new skills.