Self-paced
Pre-fill from MS Dynamics 365 Records
Self-paced
Pre-fill from MS Dynamics 365 Records
Get familiar with using automation to enhance data routing in your daily operations in MS Dynamics 365.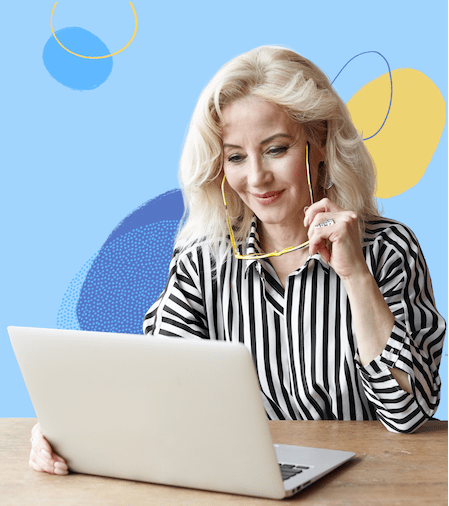 About this course:
Learn how to automatically pre-fill documents with data from one or multiple MS Dynamics 365 records when it's needed.
By the end of this course, you will know how to effectively use no-code automation in your document workflows that contain data from MS Dynamics 365 records.
What does this course cover?
This course guides you through the entire Bot configuration process, from connecting your MS Dynamics 365 account to setting conditions for when it should work.
Why was this course made?
We created this course to help those who work with MS Dynamics 365 transfer their data-heavy operations to automated document workflows.
Who can enroll?
Anyone can enroll in this course to learn how to save time by automatically pre-filling documents with data from MS Dynamics 365.
The materials for this course include:
learning resources to help you learn how to automatically pre-fill documents from MS Dynamics 365.
quiz to consolidate your acquired knowledge.
What you will learn
How to connect MS Dynamics 365 and change and share connections if needed
How to match and map document fields to MS Dynamics 365 records
How to decide when it's best for the Bot to act in your workflow
| | |
| --- | --- |
| Duration | 15 minutes |
| Badge | A sharable achievement is included |
| Subject | Pre-fill documents from MS Dynamics 365 Records |
| Level | Intermediate |
| Language | English |
| Price | FREE |
| Rating | |
Earn a verified certificate to demonstrate the skills you gain
Verified by airSlate
Receive an airSlate-issued certificate with the airSlate logo to verify your achievement and expand your career prospects.
Shareable on social media
Post your certificate on LinkedIn or add it directly to your CV.
All you need to digitally transform your business
The airSlate Academy combines everything you need to digitally transform your business, including legally binding eSignatures, advanced PDF editing, and automated workflows.
eSignature workflows
Familiarize yourself with eSignatures, their implementation, business value, and learn how to create legally binding eSignature workflows for your business.
Paperless workflows
Change the way you work with documents into an interactive online experience and learn how to make your documents look professional.
Achieve your career goals with airSlate's advanced certification programs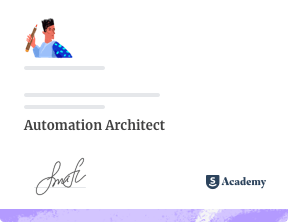 Automation Architect
Learn how to make any process in your workflow run like clockwork. Automate each step using Bots and triggers and perform integrations with popular CRMs like Salesforce or MS Dynamics 365.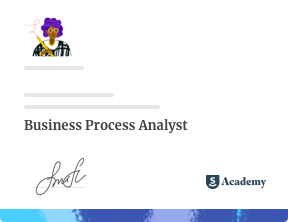 Business Process Analyst
Identify which processes in your workflow can be automated. Learn key metrics to propel your business forward and increase your return on investment (ROI).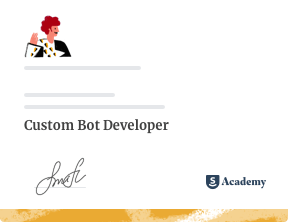 Custom Bot Developer
Learn how to design and develop airSlate Bots — a powerful robotic process automation tool that can be customized using airSlate.
View the certificate
Become an airSlate Partner
Students who complete the airSlate Academy courses are welcome to become partners. Get the necessary skills for building automated processes, helping airSlate newbies, and generating revenue.
Export data from Excel Dynamics 365 via airSlate's no-code Automation Bot
Automation has become an integral part of business processes in recent years. You can hardly come across a competitive company that doesn't take advantage of ERP or CRM solutions. However, to keep up with the leaders it's not enough just to have great tools for comprehensive organization and management. It's essential that you develop a strategy for automation. Continuously changing and evolving markets require us to not only deploy automation but be able to integrate it with the platforms we already use and love. Integration enables companies to combine several platforms together, addressing different needs and customizing their business processes and workflows to achieve higher levels of efficiency. In addition, integration creates favorable conditions for cooperation with other companies and organizations running on different platforms.
Bots: an integral part of advanced workflow automation
The most advanced and forward-looking solutions on the market use Bots (software robots) that act based on if-this-then-that conditions, replacing the need for human interaction in parts of processes that are full of mundane and repetitive tasks. With the help of Bots, users can accomplish what used to take several hours/days/weeks in just a few hours/minutes, saving you and your team a lot of time to work on more important tasks.
Fruit-bearing advantages Automation and Integration Bots offer:
Enhanced productivity
Saved time and costs
Reduced errors
Increased data security
Improved accountability and visibility
Elevated efficiency
Pre-fill and post-fill Bots are two of the most common types of Bots used in any ERP or CRM platform, such as MS Dynamics 365. They actively reduce the monotonous work that comes along with duplicating data and moving it from one document to another. By setting certain conditions, users can enable the automatic pre-filling and post-filling of forms and contracts. Significantly improve business processes and insights with powerful, no-code Bots.
Pre-fill Bot use cases
Pre-fill Bots are extremely useful in any industry and any workflow that requires forms and contracts to be updated with information from a database. Internally, they can be used to help HR or Accounting; for instance, setting up the Import Data from Dynamics 365 Bot so that your accountant can pre-fill multiple invoices or so that your HR director can automatically populate contracts. In external situations, they work just as effectively. Give Marketing the ability to pre-fill newsletters and even direct-email sales campaigns.
How to import data from Dynamics 365 with airSlate
airSlate is a robust, multi-featured workflow automation platform. It integrates with a number of other solutions and platforms including MS Dynamics 365 and helps transform working processes.
Bots are key to the automation of business processes. The Pre-fill from MS Dynamics 365 Records Bot enables users to export data from Excel Dynamics 365 to airSlate documents. Not only does it save time, but also increases accuracy and reduces human-prone errors and typos. Set the Bot up and start automating workflows in 15 minutes or less.
How to import new data from Dynamics 365 to an airSate document:
Create an airSlate account or log in if you already have one.
Choose a Flow or build one from scratch and upload your document.
Assign steps and set permissions.
Link to the needed MS Dynamics 365 account.
Find the MS Dynamics database you need.
Map document fields with database columns and set conditions.
The airSlate Academy: import data from Dynamics 365
Learn everything there is to know about connecting airSlate to MS Dynamics accounts, configuring the appropriate Bots, and setting their conditions. The course provides detailed guidelines backed by helpful illustrations to help you accomplish more with less hassle. Before getting started, it's highly recommended that you take the airSlate introduction course. It covers the basics of airSlate automation and tools you'll encounter while using it.
Conclusion
Choose airSlate and its Pre-fill from MS Dynamics 365 Records Bot to populate documents in seconds. airSlate's integration capabilities help businesses build unified, modern and intelligent Workspaces that ensure global data governance, security and compliance. Streamlined workflows make business processes predictable, scalable, and more profitable. airSlate has helped thousands of companies, including Xerox, FirstData, and CBS Sports transform and spark growth. Sign up for a trial and experience all the benefits that workflow automation has to offer.
Questions & answers
Here is a list of the most common customer questions. If you can't find an answer to your question, please don't hesitate to reach out to us.
What is the best way to extract data from Dynamics 365?
MS Dynamics 365 comes together with the Office 365 applications, so moving records from Dynamics 365 into your documents is easy and fast. If you're looking for ways how to import new data from Dynamics 365 into existing forms while prepopulating the fields, consider using airSlate. It features no-code Bots that integrate the platform with popular business tools and help users automatically export from and import data to Dynamics 365. You can find out more about airSlate automation at the airSlate Academy.
How do I export data from Microsoft Dynamics?
If you use airSlate for automating your business processes, you can add its Bots to your regular workflows to interconnect the platform with Dynamics 365 and other popular applications for quick and seamless data routing. Implement the Pre-fill from MS Dynamics 365 Records Bot to your processes, link your account(s), and configure all settings for the Bot to act correctly. This way, you can easily export data to Excel tables or other documents from Dynamics 365 entities without manually copying and pasting it. For more instructions on the Bot's setup process, register in the airSlate Academy.
How do I connect Dynamics 365 to Excel?
MS Dynamics 365 is unified with Office 365's set of applications, including Excel, so you don't need to set extra connections between them for data exchange. On the Microsoft Support pages, you can find guidance on how to export data to Excel from your Dynamics 365 records. The tool integrates with other popular business platforms, like airSlate. Connecting accounts is easy thanks to airSlate's Integration Bots that help to auto pass data from Dynamics 365 to Excel spreadsheets used in a Flow. Install the Pre-fill from MS Dynamics 365 Records Bot, connect your account (s), and set other conditions to provide automatic data transfer from your entity to the corresponding columns in your tables.
How do I automatically add data to Dynamics 365?
When processing documents every day, automation tools are the best way to transfer data from one source to another. It eliminates errors and data loss caused by manual input. airSlate provides users with no-code Bots that don't require any special skills when implementing them to your workflows. Install the Export to MS Dynamics 365 Bot to your Flow. When all conditions are properly set, the Bot will automatically import data from a document or report to Dynamics 365 Records and export the completed Flow right to the record you need.
How do I auto import new data in Dynamics 365?
By employing tools like airSlate and MS Dynamics 365 in your business activities, you can unite both solutions to make data transfer between them seamless, minimizing manual efforts and enhancing your team's productivity. airSlate provides special Integration Bots (small software solutions that operate on if-this-then-that logic) that help to automatically import new data from forms completed in airSlate into Dynamics 365 records or vice versa, refresh your records in Dynamics 365 from airSlate documents. To do so, install the Export to MS Dynamics 365 Bot to your workflows or add other Bots for document pre-filling or record updating.
What is Dynamics 365 and what products does it include?
Dynamics 365 is a set of applications interconnected and united by Microsoft into a holistic business platform. Its portfolio includes ERP and CRM solutions for Sales, Field Service, Project Service Automation, Customer Service, etc, plus it also features the full Office 365 package. Data across all services is united and connected. The platform integrates with many other business solutions, like airSlate. Import data from these apps to Dynamics 365 and back with minimum manual effort.
How do I import a list into Dynamics 365?
MS Dynamics allows users to import lists from various programs and file types but it usually requires them to be prepared in .csv, .txt, or .zip files before transmitting. Also, you'll need to repeat the same importing steps for every list you want to move to Dynamics 365. With airSlate, you can set up the process once and auto import data to Dynamics 365 using no-code Bots. Add the Export to MS Dynamics 365, Create MS Dynamics 365 Records, or Update MS Dynamics 365 Record Bots to your workflow, map fields in your document with the related records in your ERP system, and set other conditions for data transfer. You can take training courses at the airSlate Academy to better learn the platform and explore how to properly configure Bots for free.
How do I export data from Dynamics 365 to Excel?
If you're searching for solutions to automate your regular business operations and save both costs and working time, airSlate is just the right tool for you. The platform combines automation tools for just about any business process plus integration with popular applications, like MS Dynamics 365. Using airSlate, you can quickly create a Flow, build forms for your use cases, and install Integration Bots for linking the tool with CRM systems. Configure the Pre-fill from MS Dynamics 365 Record Bot to auto populate your forms. To export data to an Excel table from a particular Dynamics 365 record, choose the Table method of data transmission when configuring the settings.
How do I import a report in Dynamics 365?
Manually transferring completed reports to MS Dynamics 365 takes a lot of time and leads to misclicks and errors. Use airSlate, a holistic cloud platform for automating business procedures that will save your time, costs, and efforts on all regular operations and tasks. The tool allows users to quickly configure reporting workflows and import data to Dynamics 365 by including the Export to MS Dynamics 365 Bot. The platform provides free courses for everyone who wants to learn how it works.
What do I need to auto export MS Dynamics 365 data to an Excel table?
With airSlate, transmitting data from other solutions like MS Dynamics 365 to your working files and Excel tables is as easy as ABC. All you need to do is implement the Pre-Fill from MS Dynamics Record Bot to your workflow, indicate your account(s) for connection, and properly configure settings. If you need to export records from Dynamics 365 to a specific Excel column, simply choose the Table data transfers method when setting up the Bot. Also, specify the starting field that will make the Bot act once it's completed. No extra skills are needed. The corresponding course at the airSlate Academy provides more instructions on the process, get started for free.