Self-paced
The Pre-fill from Salesforce Record Bot
Self-paced
The Pre-fill from Salesforce Record Bot
The Pre-fill from Salesforce Record Bot automatically pre-fills documents with data taken from one or multiple related Salesforce records. In this course, you will learn how to install the Pre-fill from Salesforce Record Bot and set it up.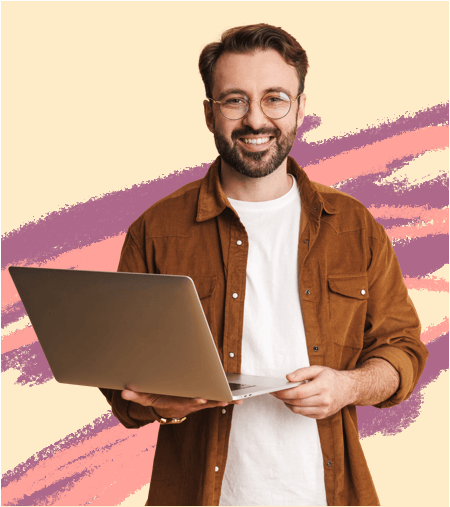 About this course:
Learn how to automate the process of populating Slates with data taken from Salesforce records.
By the end of this course, you will be able to install the Pre-fill from Salesforce Record Bot and customize it to your needs.
What does this course cover?
This course explains the entire process of configuring the Pre-fill from Salesforce Record Bot, from connecting your Salesforce account to setting conditions for when the Bot will act.
Why was this course made?
We created this course to explain how to automatically transfer data from a Salesforce record to specific fields in a document.
Who can enroll?
Anyone can enroll in this course and we recommend doing so while getting to know airSlate better.
The materials for this course include:
learning resources to help you set up the Pre-fill from Salesforce Record Bot on your own
practice sessions so you can consolidate learning through practical application
What you will learn
How to connect airSlate to your Salesforce account
How to choose the Salesforce object containing the record you need
How to find the starting record
How to map document fields to Salesforce object fields
How to set conditions for when a document will be automatically pre-filled with data from a Salesforce record
| | |
| --- | --- |
| Duration | 25 minutes |
| Certificate | A verified certificate is included |
| Subject | The Pre-fill from Salesforce Record Bot |
| Level | Intermediate |
| Language | English |
| Price | FREE |
Earn a verified certificate to demonstrate the skills you gain
Verified by airSlate
Receive an airSlate-issued certificate with the airSlate logo to verify your achievement and expand your career prospects.
Shareable on social media
Post your certificate on LinkedIn or add it directly to your CV.
Achieve your career goals with airSlate's advanced certification programs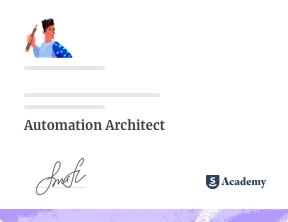 Automation Architect
Learn how to make any process in your workflow run like clockwork. Automate each step using Bots and triggers and perform integrations with popular CRMs like Salesforce or MS Dynamics 365.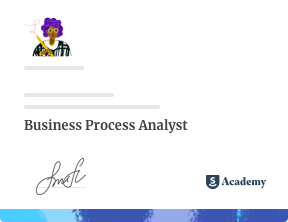 Business Process Analyst
Identify which processes in your workflow can be automated. Learn key metrics to propel your business forward and increase your return on investment (ROI).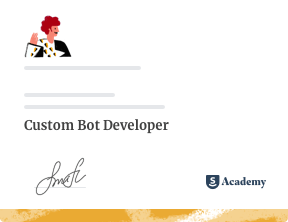 Custom Bot Developer
Learn how to design and develop airSlate Bots — a powerful robotic process automation tool that can be customized using airSlate.
See the certificate sample
Become an airSlate Partner
Students who complete the airSlate Academy's courses are welcome to become partners. Get the necessary skills for building automated processes, helping airSlate newbies, and generating revenue.
Why Salesforce is one of the most popular CRM systems
Salesforce is a unicorn when it comes to CRM systems and currently sits in the #1 seat with over 150,000 paying customers (SMBs to Fortune 500s). It allows its users to grow faster by streamlining their customer databases and helps them develop better relationships with potential and current customers and clients.
It's an easy-to-use, cloud-based solution — no need to install programs or other software. Your Salesforce records are available from any browser and from anywhere you have a strong internet connection. It has powerful integrations, efficient analytics tools, it's customizable, and a whole lot more.
Can Salesforce records improve how I run my workflows?
It's a fact, just having the CRM is going to make your business run smoother. However, as great as it is, it still requires you to manage many different document processes manually. Connecting Salesforce records to your work outside the system involves; writing, typing, papers, printers, scanners, couriers, contract negotiation, and a whole lot more that just wastes time and costs money. Time and money you could be using to spend with potential and recurring customers and clients.
As you continue reading this article, we're going to be teaching you how to implement automation into your Salesforce workflow to increase efficiency, productivity, and save you a ton of time and money.
Introduce document process automation (DPA) to your routine processes with airSlate's Salesforce Bot
A Salesforce record lets you offer different business processes, picklist values, and page layouts to different users. Basically, that means you can create record types to differentiate your regular sales deals from your professional services engagements, offering different values for each.
With all of that information, having your sales executives or administrators handle it manually is just asking for errors to be made. Simplify how you and your team handle document management with (DPA). All you have to do is evaluate your workflow and define its strengths and weaknesses, e.g., bottlenecks.
Implementing the right automation solution can eliminate manual data transfer altogether. For example, update data in Salesforce, export record information, and prefill forms and contracts instantly.
Benefits of automation
First of all, it simplifies your whole workflow. Easily prefill contracts or other forms with designated customer data pulled from the CRM automatically. When information is automatically transferred from one system to another, it saves yourself and your employees a lot of time. Experts confirm that prefilling increases conversion rates: the easier the process is for prospects and customers, the more likely they are to hit submit. In addition, automated processes are usually completed more accurately. Human error can almost be eliminated completely (it still has to be correctly added to the system the first time). Fewer mistakes means less rework.
How to start prefilling data with airSlate
airSlate is a holistic-automation solution that offers the best in document process automation; a powerful online editor, massive Forms library, industry-leading security, analytics tools, and court-admissible Audit trail. It's browser-based, which means it's accessible from any device, anywhere with an internet connection. Get started without hardware, expensive automation tutorials, or an IT department. Plus, there's no extra cost for you to onboard your entire team.
To get started:
Create an account
Create a Flow
Upload documents or choose them from the Forms library
Select automation and integration Bots like the Salesforce record Bot
It's not complicated at all. Once you configure the Bots, the entire automation process is handled and monitored by them. Each of them completes one action that they were specially built for, e.g., when you want to prefill fields from a Salesforce record, select the Salesforce Bot.
How does it all work?
First, it's valuable to say that you don't need a custom record export button. Just add the Salesforce Bot to your Flow and match fields with the required data in Salesforce. airSlate is very flexible, meaning you can use it in many situations; with email marketing, creating landing pages, or literally hundreds upon hundreds of other ways to get what you need to be done fast. If anything seems challenging for you or any of your team members, enroll in our specialized airSlate Academy course to learn more about setting up the Salesforce Bot.
In the course, you'll get valuable knowledge and insider tips about use cases that'll help you deploy airSlate and onboard your team. Learn how to prefill any form or contract in seconds, while at the same time using powerful security to keep your customers' and clients' data safe and in compliance. The airSlate Academy is absolutely free in all sense. Gain more than just useful tips on configuring and using the Salesforce Bot. Become a real business automation expert and receive a certificate for each course completed backed by and signed by airSlate showing that you have what it takes to enhance workflows of any complexity. Get started and enroll now!