Boost your career with a new skill set
Unlock your full potential with our specialized professional certification programs designed for a diverse range of roles.
Get started today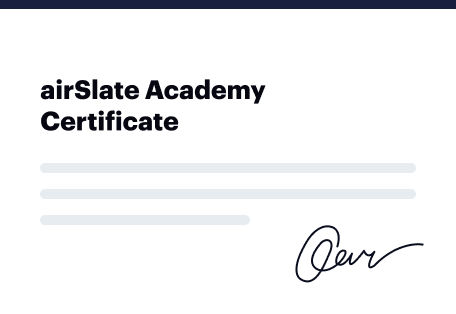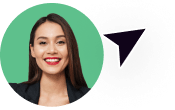 Embark on your learning journey
Upskill yourself for the future based on your background and interests.
Tailored to help you succeed
Flexible learning
Study from anywhere, at any time, to accommodate your busy schedule.
In-demand skills
Gain knowledge that helps propel you to the top of your industry.
Digital certificates
Share your achievement on LinkedIn and get the recognition you deserve.
Get certified in 5 steps
Discover the perfect certificate program that aligns with your learning needs and career aspirations.
Begin your learning journey completely free of charge and embark on an exciting adventure.
Explore the ins and outs of the certification, delve into fascinating topics, and put your knowledge to the test.
Achieve success in completing the certification program and receive a personalized certificate that you can download or access from your provided email address.
Showcase your certification on LinkedIn to validate your skills and gain the recognition you deserve.
Get your certificate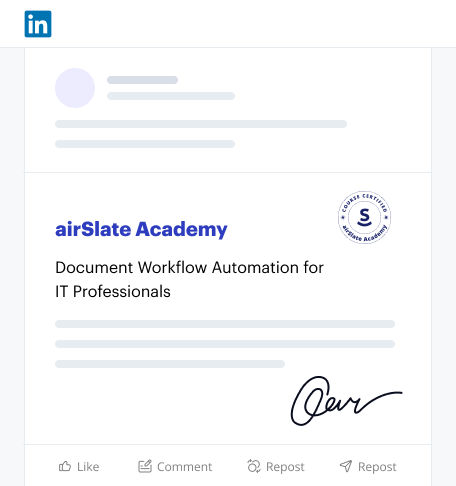 Acquire in-demand skills
Enhance your professional profile with a powerful set of in-demand skills that distinguish you from the competition.
Seize new upskilling opportunities with airSlate Academy's automation professional certification
The tech sector is all about lifelong learning, and being certified means expanding your individual knowledge and bringing proven expertise to the table. Even companies with advanced tech teams struggle to keep up with rapidly advancing technologies, highlighting the importance of personal growth for every team member.
With that being said, a business automation certification is your gateway to increasing your career opportunities and landing your dream role. At our Academy, we pride ourselves on offering a comprehensive program that equips you with the skills and knowledge required to excel in your niche, providing you with that competitive edge you seek.
What makes our business process automation certification the go-to choice for learners? The airSlate Academy is here to guide you on that journey, serving as your nexus of business process automation training and certification. What sets it apart?
Diverse content: Courses are carefully curated, well-structured, and infused with real-life use cases.
Accessibility for everyone: While many platforms come with sky-high fees, the airSlate Academy offers its extensive courses free of charge.
Versatile learning paths: The learning doesn't stop after one course. Fully immerse yourself within the airSlate ecosystem and continue to acquire a wide range of new skills.
A pace that suits your schedule: Progress at your leisure, ensuring thorough comprehension every step of the way.
Focus on real-life application: Guided practical assignments that translate theory into actionable insights.
It pays to study with us
Why wait when an automation professional certification is within your grasp? Dive into the world of automation with the airSlate Academy to focus on optimizing business processes using airSlate's no-code platform. The course curriculum addresses everything from cost-cutting to compliance, welcoming both beginners and seasoned pros.
Enroll in our free, self-paced, and industry-specific certification program today!
Questions & answers
Here is a list of the most common customer questions. If you can't find an answer to your question, please don't hesitate to reach out to us.
What are the primary objectives of your business process automation certification?
Through a mix of practical exercises and theoretical knowledge, participants can gain mastery over tools and best practices essential for modern businesses. The Academy's curriculum is designed for professionals looking to enhance their skills in digital transformation. Graduates of the airSlate Academy are better equipped to streamline operations and implement efficient workflows in their organizations.
After completing the certification, what resources or support does the airSlate Academy provide?
Upon completing the business automation certification, graduates gain access to a wealth of educational resources designed to support their continuous learning journey. Our insightful video tutorials ensure that learners can dive deeper into specific topics and refine their skills. Regular webinars hosted by industry experts provide insights into the latest trends and best practices.
Is there any prior knowledge or experience required to enroll in this course?
The business process automation certification is designed for users of all levels. Even though some of them are labeled Advanced, our experts structure information in a way that it's digestible and easy to grasp. If you have any doubts, you can always start with an introductory course and continue with more advanced ones down the road.
Does the course provide hands-on exercises?
At the airSlate Academy, we believe in result-oriented learning that combines theory with hands-on practice. That's why each course concludes with a practical assignment, ensuring you achieve a thorough grasp of the material. Additionally, each unit is followed by a quiz to further reinforce comprehension.
How much does it cost?
Our automation professional certification is offered entirely free of charge, providing significant value to those looking to enhance their skills. They're designed to be self-paced, ensuring flexibility to fit any schedule. Enroll in as many courses as you want to maximize your learning and professional growth.
How can I add certificates to my LinkedIn Profile?
You can add a certificate to your profile or share it in your feed. Start by checking your email for a message from the airSlate Academy and click Add to LinkedIn. Then, select Add to my profile to include the certificate under the Licenses & Certifications section. To share your certificate on your LinkedIn news feed, access the certificate email, click Share in a post, and compose a message about your achievement.