Digital Transformation Courses for HR Managers
Discover how workflow automation with airSlate helps HR departments by taking manual, paper-based processes off their plate so they can focus on strategic people-based initiatives that grow their business. From recruitment and hiring to onboarding, leave requests, and more — learn to design a variety of workflows and automate them from end-to-end with an 
all-in-one
no-code
solution.
Enroll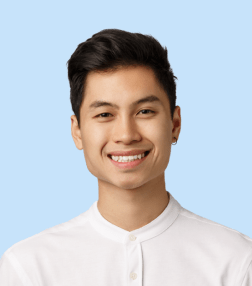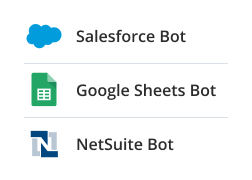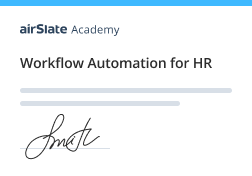 Enroll now to learn:
How to streamline data collection processes and minimize errors
How to simplify and organize document storage
How to ensure a higher rate of employee satisfaction
Courses & certification programs for the professional development of HR managers
Business Process Automation with airSlate
Get key insights into business process automation, its benefits, and how to eliminate routine tasks that slow down business performance.
airSlate Fundamentals
Learn all the essentials for getting started with airSlate to design, integrate, and automate document workflows using a single platform.
Automating Employee Onboarding
Start digitizing the most common employee onboarding processes to provide a smoother experience for new hires by saving time and reducing hassle.
Why study with us?
Upgrade your HR processes without coding
The airSlate Academy teaches you to automate the most common HR tasks and increase the overall efficiency of your HR department without writing a single line of code.
Optimize recruiting and retention
With the airSlate Academy, you will learn how to speed up the onboarding process and monitor employee satisfaction with automatic health check forms, surveys, and more.
Get access to 50+ free automation courses including use cases
Discover how automation works in practice with dedicated courses on the most common HR workflows: Employee Onboarding, Travel Requests, and others.
Receive a verified certificate and:
01

share it on social media to prove your acquired skills

02

attach it to your CV to expand your career prospects

03

download it as a PDF or print it out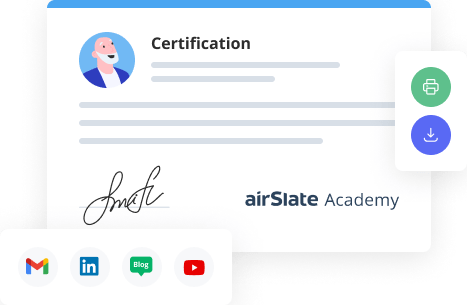 Paving the way for automation with airSlate's digital transformation courses
Work environments are constantly evolving and require company leaders to adapt quickly. Likewise, HR managers should find new opportunities to improve the efficiency of their processes without hurting their budget or backburnering long-planned initiatives.
Today, companies should be exploring HR digital transformation and its undeniable advantages. Despite warnings of a future run by robots, many companies are already reaping the benefits of implementing these technologies. Automating processes like onboarding and offboarding, performance reviews, policy updates, etc., leaves HR managers more time to focus on higher-level, strategic, and human-centered work.
Rome wasn't built in a day. Likewise, implementing automation takes time and effort. We'll review the challenges HR experts are facing in 2022, how automation can help address them, the main criteria for choosing the right solutions, and the best online courses for human resources professionals to navigate the new waters of automation.
Human resource automation: why it's a necessity
Dealing with a never-ending stream of paperwork
For some companies, paper remains a staple in HR. And it's not surprising. Some find it challenging to go paperless; others are concerned about the safety of electronic records or the possibility of a data breach. However, it is paper documents that are more prone to these situations. Plus, there's usually no consolidated way of managing documents coming from different sources and in various formats. They're scattered around multiple locations and applications. The combination of these factors creates friction and keeps HR departments from making a smooth transition to digital processes that give them better oversight.
Seesawing between the office and remote work
In light of the pandemic and global economic crises, some companies are still struggling to transition to remote work. At the same time, there's a growing trend of returning to the office or creating an adaptable hybrid environment that perfectly fits both modes (office and remote). Despite the uncertainties, one thing is clear: work is no longer tied to one location. Company leaders and HR specialists must develop a flexible strategy to keep up with these back-and-forth changes. Human resource automation can significantly transform how employees are managed, and how their productivity and efficiency are maintained.
Coping with cost reductions
As companies navigate the COVID-19 recession, many have implemented cost-cutting strategies. HR leaders have been forced to reduce their budgets, stop recruiting, and seek new ways to save money. In this unstable and unfavorable environment, it's more crucial than ever for HR departments to consider alternative ways of establishing and running HR processes. Digitalization is one of the best options to address these issues.
HR digital transformation made simple with airSlate
Considering all of the factors at play, it's important to find an automation solution that will be robust, compliant, safe, and affordable. airSlate is a multi-purpose automation solution that ensures your implementation of automation tools is smooth sailing. You can build an organized HR workflow from scratch and power it with a variety of automation and automation tools. The most exciting part about human resource automation with airSlate is that you don't need to have a working knowledge of programming languages or to hire IT people to get it up and running.
airSlate boasts a simple and self-explanatory interface that is easy to understand. We also offer a wide range of supporting materials, tutorials, and tips you can use along the way. One of the greatest ways of discovering airSlate is by taking our courses for HR managers.
Start your automation journey with airSlate's automation courses
Your company's work environment impacts your employees' happiness and their understanding of their growth possibilities. That's why it's vital that HR departments focus on streamlining their unorganized and convoluted processes in order to increase employees' satisfaction.
airSlate offers free online courses for human resources that help you learn the ins and outs of HR automation along with HR automation best practices. Here are the advantages of enrolling in the course. You will:
Learn how to set up different paperless HR processes from the ground up, launch and run Bots, and collect and route data between documents and applications, all while maintaining compliance
Explore HR automation examples and real-word examples to understand how the solution can be implemented across different industries.
Keep the learning momentum going by taking online quizzes that are included in our courses for HR managers
Earn a certificate to prove you've successfully passed the course
As you navigate the course, you can sign up for a free airSlate account and get hands-on experience using our solution. The course requires no commitment, and you can complete it at your own pace. Sign up today and start improving your HR processes from day one!
Questions & answers
What does an HR manager do?
HR managers are responsible for the "big picture" in all personnel-related processes. The role is responsible for creating and implementing recruitment strategy, bringing new people on board, maintaining and improving current HR processes, resolving employee issues, etc. The scope of their duties may vary from one organization to another.
What is the main role of an HR manager?
An HR manager's main role is to oversee and support employees throughout their employment journey. HR managers ensure that the individuals working for a company or an organization are equipped and motivated enough to achieve their career goals. Also, specialists in this sphere strive to bring on board and, more importantly, retain top talents. Last but not least, HR managers should always seek ways to enhance their skills through learning programs and courses for human resources management.
What is digital transformation in HR?
Digital transformation in HR refers to the implementation of innovative technologies, such as RPA, AI, IDP, etc, into all or some HR processes. These processes are intended to offload HR managers from participating in routine and error-prone processes associated with document generation, data collection, and the processing of a high load of information. Some HR digital transformation examples include human resources automation and moving all document-based processes online.
How is HR digital transformation implemented?
Implementing digital transformation is a process of trial and error in any industry, and HR is no exception. The implementation should be kicked off with a well-planned strategy that defines all the weak points of the existing HR processes and determines solutions for streamlining and automating them. When choosing the right tools, HR managers should work alongside IT specialists and legal experts to ensure that the solution is aligned with employment laws, data protection policies, and industry compliances. To learn more about how you can implement new technologies into your HR processes, check out and sign up for our free digital transformation courses.
What is a workflow in HR?
A workflow is a set of steps in an HR process that an HR manager oversees and runs. A workflow for one HR process may differ significantly from the other, depending on the number of people involved, the complexity, legal nuances, etc. For instance, to onboard a new hire, a manager not only needs to carry out numerous interviews but also send out a range of job- and company-specific documents, legal and payroll forms, etc. All these elements are an integral part of this specific HR workflow. To learn the ropes of automating any workflow in HR, go to airSlate Academy and check our online course for human resources.
What can we automate in HR?
Any HR-related process involving document execution and data collection can greatly benefit from automation. Whether you need to onboard a person, carry out a performance review, run NDA policy updates, collect feedback, etc., automation tools can make these activities more streamlined and consistent across the company. airSlate is a no-code automation solution that offers the tools HR managers need to eliminate manual activities and engage with the employees more meaningfully. We offer plenty of automation courses to scratch the surface of how to automate and improve existing HR processes.
How is RPA used in HR?
RPA (Robotic Process Automation) tools reduce manual work and increase HR managers' productivity. Many HR departments are still struggling to organize their documents, which exist in both physical and digital format, and to accurately process their data. Something as simple as a time off or expense request can take up hours, if not days. With RPA tools, these frictions are removed because any process can be automated, requiring minimum efforts from HR managers. Sign up for our courses for HR managers to learn more about using RPA in HR.
What HR processes should be automated?
Almost all HR processes can be automated. Any process that requires multiple steps of data entry, document execution, approval of other managers, transparency, and consistency across all company's activities can be automated. Our solution has HR automation best practices at its core. It is flexible enough to adapt to any HR processes, including employee onboarding and offboarding, performance review, employee requests, and more.
Which skills are essential for HR managers?
Above all, HR managers and the processes they initiate must be human-oriented. Developing this can be challenging if managers constantly have to deal with loads of paperwork, manual data entry, and updating records. Implementing HR digital transformation tools can help eliminate manual routine processes and free up time to make room for more engaging and valuable relationships with employees.
Which course is best for HR managers?
There are various certification courses for HR professionals who want to take their careers to the next level. Digital Transformation Courses for HR Managers, created by the airSlate Academy, are worth your attention if you want to develop your digital dexterity and discover new ways to set up and automate your HR processes. As a result, you'll have more time to help employees get up and running at your company and feel welcome. Sign up for them now!