Digital Transformation Courses for IT Managers
Discover workflow automation as a key tool for enhancing data integrity and security between different teams and applications. Gain the skills you need to stay compliant while automating IT workflows with sensitive information and routing large amounts of data to cloud services and databases.
Enroll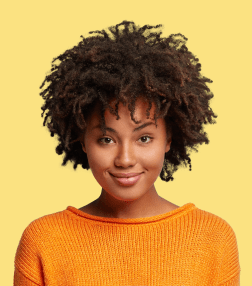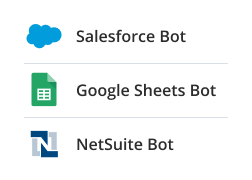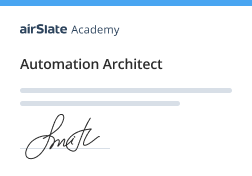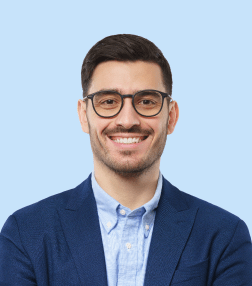 Enroll now to learn:
How to securely route data between teams
How to streamline data integrity and transparency
How to achieve digital compliance and security with simplified reporting and tracking
Courses & certification programs for the professional
development of IT managers
Business Process Automation with airSlate
Get key insights into business process automation, its benefits, and how to eliminate routine tasks that slow down business performance.
airSlate Fundamentals
Learn all the essentials for getting started with airSlate to design, integrate, and automate document workflows using a single platform.
Automating IT Requests and Approvals
Get valuable insights for optimizing IT request and approval processes, eliminating common bottlenecks, and automating workflows from A to Z.
Why study with us?
Improve your operational capacity and resource planning
Learn how to get the most out of airSlate analytics to improve operational efficiency and resource planning.
Learn to integrate with your
most-used
apps and cloud systems
With the airSlate Academy, you will learn how to route data between teams and integrate it with the third-party services you already use.
Learn how to ensure digital compliance and security
Ensure compliance and information security while routing data within your automated document workflows.
Receive a verified certificate and:
01

share it on social media to prove your acquired skills

02

attach it to your CV to expand your career prospects

03

download it as a PDF or print it out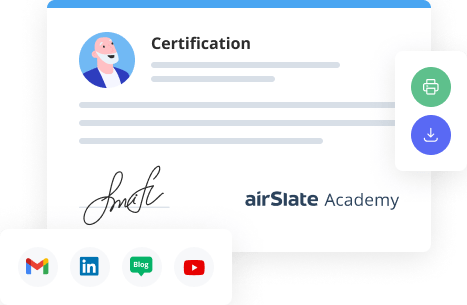 The best no-code automation courses that will change to your business processes
The pandemic gave businesses a crash course in adaptability. One of the best ways to adapt to drastic changes is to build secure and stable workflow automation for all departments. Any IT manager knows that this can be easily achieved by finding all-in-one technology to streamline your business processes safely and without interruption.
airSlate is a holistic document management automation platform that can make your IT workflows as efficient as possible. You don't need to install countless software solutions or look for cheap alternatives to save your budget. Enrolling into airSlate Academy provides you with tools and an understanding of how digital transformation can impact your business.
Why IT managers need digital transformation courses
One of the primary responsibilities of an IT manager is to keep up with all technology-related activities at their organization. At the same time, IT managers have to juggle scheduling and supervising projects, establishing onboarding processes, and developing policies and security measures for their company. airSlate presents courses for IT managers that give them the opportunity to master new software and document management automation.
Studying innovation is a crucial part of every IT manager's career. Training and IT manager certifications are a critical way for IT managers to develop new skills and see routine processes from a different perspective.
How does airSlate training benefit your IT management skills?
There is always room to improve your IT management skills, and airSlate's training will help you move in the right direction. Here are some of the ways you will benefit:
Managing your Flows with airSlate provides you with greater insights on your processes' requirements, problems, and goals. Advanced analytics and reports will improve your decision-making and critical thinking.
Digital transformation courses help you hone your strategic planning skills. When all of your processes are visible, you can avoid critical mistakes or develop a Plan B for your processes.
Introducing workflow automation reduces miscommunication between departments and teams. You can develop a clear roadmap and use it to lead your team through these challenges.
What are the benefits of workflow automation for your daily tasks?
Digital transformation changes make your job easier. Your daily responsibilities are less complicated and more effective. Here how you will benefit:
Less monotonous tasks boost your productivity because you focus on relevant activities only.
Fewer errors in your data improve your statistics and data reports.
Streamlining your processes helps you meet deadlines and keep track of tasks.
Enhanced security and compliance safeguards all your documentation and the integrity of your processes.
Workflow automation is available to you at any time without having to put your business operations on pause.
Why choose the airSlate Digital Transformation Courses?
Finding the best certifications for managers can be challenging, especially considering how many courses are available both online and in person. Forget about searching for "automation courses near me" or sifting through pages of Google results for reputable online courses that all cost more than they're worth.
All airSlate Academy courses are self-paced, free, and easy to navigate. They offer result-driven training that gives you a strong knowledge-base to use in real-life cases. Try your first course for free and get a certification.
Questions & answers
What does an IT manager do?
The responsibilities of IT managers can vary according to the specific needs of a company. In general, the IT manager ensures that all computer and information-related processes run smoothly. They also can be in charge of team supervision and onboarding of new employees.
How will automation affect management?
Without a doubt, workflow automation boosts effective communication and cooperation between departments. It creates a productive environment and reduces the possibility of errors of any kind. Whether you are introducing a new employee to internal processes or managing audits, automation makes your work as seamless as possible.
What does IT automation do?
IT automation, which includes workflow automation, is the process of automating the Flow of tasks with the help of software. For instance, airSlate offers all-in-one workflow management within one system. You can automate reminders and notifications and integrate your daily processes with other third-party applications. IT automation ensures all of your work-related tasks are done in time without jeopardizing data integrity or accuracy.
What is a workflow in Information Technology?
Workflow is a set of steps (e.g. tasks, interactions, or events) that make up any process you participate in or manage. In the IT industry, anything from gathering website feedback to collecting surveys from your employees to equipment requests is considered a workflow.
What is the best workflow automation software?
When choosing reliable software for your workflows, you have to look closely at its integrations and features. airSlate has a holistic approach to automation, giving you control over all steps in the process. airSlate functionality makes it a number one choice for companies of all sizes and in different industries to securely store, manage, and share information.
Which certificate is best for IT managers?
You should stick to IT management courses online that provide you with practical knowledge. The course certificate acknowledges your relevant training and knowledge. airSlate is the best choice for people who want to begin their digital transformation journey without having to spend years in educational programs.