Professional Automation Courses for Sales Managers
Learn how to increase your number of closed deals, signed contracts, and satisfied customers with the airSlate Academy. Discover a simple way to automate routine tasks, minimize paperwork, and save more time for your clients.
Enroll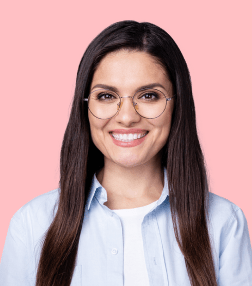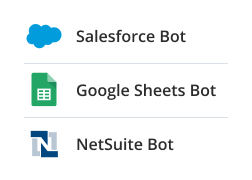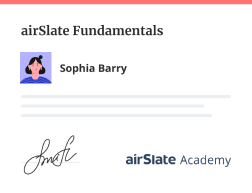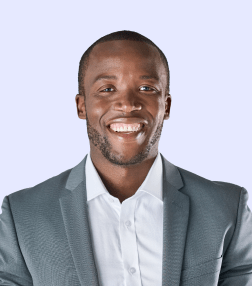 Enroll now to learn:
How to enhance visibility into the deal flow process
How to ensure accuracy and transparency with the audit trail
How to keep documents organized per your team's needs
Courses & certification programs for the professional development of Sales managers
airSlate Fundamentals
Learn all the essentials for getting started with airSlate to design, integrate, and automate document workflows using a single platform.
Automating Invoice Processing
Discover valuable insights for automating invoice processing workflows, reducing time spent on payment processing, and minimizing manual data entry.
Automating Contract Management
Get valuable knowledge for automating contract lifecycles from A to Z, minimizing common bottlenecks, and improving the overall customer experience.
Why study with us?
Upgrade your sales processes
without coding
Learn to automate and streamline the most common sales workflows, without writing a single line of code.
Provide a better
customer experience
Find out how workflow automation helps close deals faster and makes the entire process more convenient for both you and your clients.
Automate full-cycle
contract management
Discover how to create and automate customized contracts, negotiate them in real-time, track changes, and archive executed contracts.
Receive a verified certificate and:
01

share it on social media to prove your acquired skills

02

attach it to your CV to expand your career prospects

03

download it as a PDF or print it out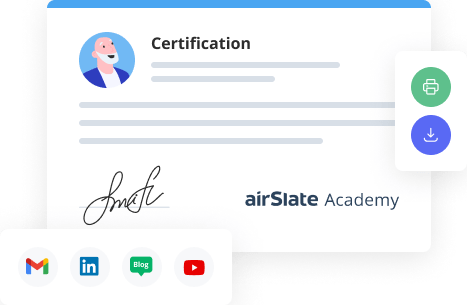 airSlate Academy's best courses for sales managers to reach new professional heights
Sales is the engine of every business. Sales teams play a primary role in a company's success, achieving its targets and providing stable revenues. However, the sales managers' work goes beyond just selling goods and services to customers and closing deals. Their responsibilities are broad and can include planning, budgeting, brand promotion, mapping prospects, working with leads, preparing commercial proposals, closing and analyzing deals, and more. They must stay in tune with market tendencies and continue learning new selling strategies, negotiation approaches, and process management best practices to get better results.
Sales manager courses can help them continue to grow. Let's take a look at what learning programs are essential for sales professionals and what practical training they need to increase productivity.
Sales manager training programs in demand
The market changes rapidly, and it demands sales specialists always stay on top of trends and always be learning as a part of their careers. There are several main spheres in which sales specialists should regularly level up their expertise:
Product learning. To effectively sell a product or service, managers and agents should know all of its ins and outs, examine competitors' propositions, and know how their own product wins for better brand promotion.
Sales strategies and techniques. Every salesperson should constantly hone their selling skills, attending professional training programs and masterclasses.
Planning and budgeting. These are important courses for sales managers related to preparing quarterly and annual selling plans and budgets for their teams.
Negotiation and communication. These are crucial sales manager courses, as these managers must understand psychological aspects of customer behavior, be highly skilled in problem-solving, and constantly motivate and mentor the company's sales representatives.
Technical skills. As technologies go forward, salespeople should stay in the know of the market's recent developments to use the most effective tools and applications in their day-to-day activities.
Popular educational resources mainly focus on sales strategies, marketing, psychological, and managerial certifications. We aim to show you how to free up more time for selling by optimizing your day-to-day with leading technology,namely airSlate workflow automation. Our automation courses offer best practices for implementing airSlate into your recurring processes and help you quickly learn its functionality to yield the best results for your team.
airSlate solutions for sales automation
airSlate is an all-in-one workflow automation platform that makes business processes run like a brecore features that make it a perfect solution for SMBs: eze with minimum human interaction. When it comes to sales automation, there are several
Document generation: It enables users to create custom contracts, surveys, and reports and to easily transform them into reusable templates.
Flow creator: It's drag-and-drop interface allows users to quickly build custom automated workflows within minutes.
Flow library: It offers pre-built templates of typical workflows, which you can easily customize according to your needs.
Legally-binding eSignatures and payment collection: These features, integrated into contract negotiation and invoicing processes, guarantee accelerated deal closure and cash flow.
No-code RPA tools (Bots): They provide seamless data transferring, share documents, send automated notifications, and integrate the platform with other business solutions.
Implementing airSlate helps save time on completing tasks and keeps errors out of documents and emails. It is the key to eliminating manual routines and increasing productivity. The tool is intuitive, but anyone would benefit from training in order to better learn how it works.
airSlate Academy: workflow automation courses for sales professionals
airSlate Academy is a free educational platform that allows anyone to quickly explore airSlate's functionality with real-world examples and practical tasks. Each certification program consists of several courses for about 20-30 minutes of learning.
If you are new to our solution, we recommend you start exploring courses like airSlate Fundamentals, BPR Essentials, and Mastering Bots. After that, you can join our specialized courses for sales managers made up of the following:
airSlate CRM Essentials course teaches you how to integrate our solution with popular CRM systems and configure smooth automated data transferring between them.
Automating Invoice Processing course demonstrates the setup of invoice creation, approval, and processing.
Automating Contract Management course illustrates how to accelerate the negotiation process and make your contract approval paperless and effective.
Apart from the certifications mentioned above, we recommend salespeople enroll in our marketing automation courses and training dedicated to creating documents, designing flows, ensuring digital security, and utilizing integrations with tools like the Google Suite.
airSlate is a valuable workflow automation tool that helps you facilitate your job every day, supports your performance, and increases your productivity. Register for the airSlate Academy and take the best courses for sales managers in workflow automation to learn how to complete regular tasks faster and more effectively!
Questions & answers
What do sales managers do?
Sales managers have a significant role in a company's success. They set main sales targets, prepare long and short-term plans and budgets for their teams, and create selling strategies. Their responsibilities include tracking sales performance, providing departmental training, and mentoring new sales reps. Today, their duties also include implementing sales automation into the team's regular business processes.
What is a sales manager in simple words?
In brief, a sales manager is someone responsible for the sales department's targets, strategies, and results. They lead their sales teams and supervise the sales representatives' performance. They also organize training sessions for their teams to improve their skills and productivity and attend sales managers' training courses to enhance their own capabilities.
What makes a good sales manager?
Sales managers must have strong planning, budgeting, analytics, process management, communication, and negotiation skills. Constant learning helps to maintain and develop these competencies. Sales manager courses, particularly in business process automation, enable professionals to keep abreast of new technologies and principles of work and better perform in fast-paced market conditions.
What does a sales manager do on a daily basis?
Sales managers routinely perform a variety of tasks. They include communicating with their team, checking their reps' pipelines, assisting with the biggest contracts, etc. Sales managers hold training sessions for their team members to improve their performance and selling skills. Apart from that, they must keep working on their own book of clients, keep in touch with customers, update their meeting calendars, etc.
What is sales process automation?
Sales process automation refers to the automation of repetitive tasks and regular workflows in sales departments. It eliminates manual work and liberates managers and agents from routine tasks. Sales automation involves using CRM systems and other software solutions that integrate with each other, streamlining managers' work.
Why is sales automation important?
Automating sales processes significantly impacts the team's work and the company's financial results in general. It helps reduce time on task completion, accelerate deal closure and payment collection, and streamline the productivity and performance of sales departments. With sales and marketing automation courses from airSlate Academy, your team will quickly learn how to optimize recurring workflows and get more signed contracts and satisfied customers.
What is a sales automation tool?
Sales automation tools refer to various digital solutions that eliminate manual work in sales processes. These are CRM systems, contract management and invoice processing software, eSignature tools for closing deals quickly, reporting instruments, email scheduling tools, and other effective workflow automation tools. airSlate is one of the best platforms for optimizing regular workflows in Sales, Finance, HR, and other departments. The solution also offers free automation courses so that anyone can quickly learn how to enhance their productivity with workflow automation.
How do you automate product sales?
airSlate is one of the best digital solutions for effective sales automation. The platform has workflow templates for contract management, invoicing, purchase orders or order cancellations, document signing, and payment collection. You can easily integrate it with other software applications, such as Salesforce, Zoho, Pipedrive, Microsoft tools, cloud storage, and others. To help you learn how to use the platform, it provides the best courses for sales managers available online, free of charge.
What are the best skills for a sales manager?
Best sales managers must demonstrate strong experience in building sales strategies, analyze current market conditions, make short- and long-term plans for their departments, delegate tasks, and mentor their team members. Knowing how to maximize sales automation is also essential. Taking sales and marketing automation courses from airSlate will help you quickly explore the top-notch workflow automation platform with no-code online solutions for contract negotiations, invoicing, email scheduling, and other regular processes. Complete an airSlate Academy certification to become an expert in automation and improve your productivity.
Which is the best course for a sales manager?
There are lots of valuable courses for sales managers. In addition to those focusing on industry trends, new strategies in building sales pipelines, and effective team management, the courses should also pay attention to innovations in industry software. airSlate offers the best workflow automation courses. Complete a free airSlate Academy certification program in sales automation comprising the platform's fundamentals, studies on contract management, and invoicing process optimization. In addition, we recommend enrolling in courses dedicated to the platform's integration with CRM systems.