Self-paced
Scheduled Workflows in airSlate
Self-paced
Scheduled Workflows in airSlate
Make your document workflows run like clockwork by choosing when and how they should automatically start. Learn how to turn your most complex processes into automated multi-level workflows that can run on a schedule with a single click.
About this course:
This course will take you through a variety of options for automatically starting your document workflows and collecting and updating data from them. You will learn how to start workflows based on specific dates, actions in other workflows, changes to records in CRM and ERP systems, spreadsheets, and many more.
By the end of this course, you will be able to automate and run your airSlate document workflows using the scheduled start of your choice.
What does this course cover?
This course guides you through the different methods and functions for starting your document workflows in airSlate automatically.
Why was this course made?
We created this course to help people retain control over their document workflows and simplify them by automatically running them on a schedule.
Who can enroll?
Anyone can enroll in this course to get more familiar with every option for automatically running document workflows in airSlate according to their needs.
The materials for this course include:
learning resources to gain knowledge on how to automatically run scheduled workflows in airSlate.
quiz to consolidate the received knowledge.
What you will learn
How to enhance planning and simplify complex workflows with scheduled starts
The different ways to automatically start document workflows in airSlate
How to automatically start workflows on a schedule according to your business needs
How to automatically run workflows pre-filled with data from external systems
| | |
| --- | --- |
| Duration | 30 minutes |
| Certificate | A sharable achievement is included |
| Subject | Configuring Scheduled Workflows in airSlate |
| Level | Intermediate |
| Language | English |
| Price | FREE |
| Rating | |
Earn a verified certificate to demonstrate the skills you gain
Verified by airSlate
Receive an airSlate-issued certificate with the airSlate logo to verify your achievement and expand your career prospects.
Shareable on social media
Post your certificate on LinkedIn or add it directly to your CV.
All you need to digitally transform your business
The airSlate Academy combines everything you need to digitally transform your business, including legally binding eSignatures, advanced PDF editing, and automated workflows.
eSignature workflows
Familiarize yourself with eSignatures, their implementation, business value, and learn how to create legally binding eSignature workflows for your business.
Paperless workflows
Change the way you work with documents into an interactive online experience and learn how to make your documents look professional.
Achieve your career goals with airSlate's advanced certification programs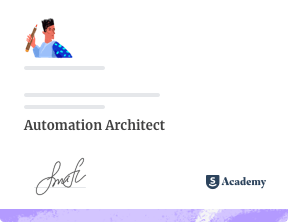 Automation Architect
Learn how to make any process in your workflow run like clockwork. Automate each step using Bots and triggers and perform integrations with popular CRMs like Salesforce or MS Dynamics 365.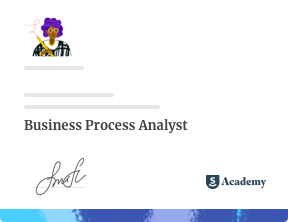 Business Process Analyst
Identify which processes in your workflow can be automated. Learn key metrics to propel your business forward and increase your return on investment (ROI).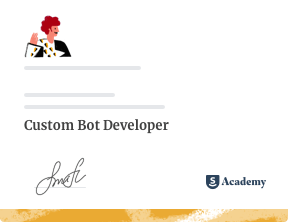 Custom Bot Developer
Learn how to design and develop airSlate Bots — a powerful robotic process automation tool that can be customized using airSlate.
View the certificate
Become an airSlate Partner
Students who complete the airSlate Academy courses are welcome to become partners. Get the necessary skills for building automated processes, helping airSlate newbies, and generating revenue.
airSlate: no-code automation for scheduled workflow setup
Accuracy and proper organization of every process running like a clockwork have paramount importance for a business. It may seem trivial, but these qualities help a company survive in the highly-competitive market environment and even substantially impact growth. Planning budgets and campaigns is essential, but setting up a timetable for a little daily routine also matters.
In the not-too-distant past, employees spent hours organizing meetings, sending regular newsletters, calling or sending messages to the participants to remind them of the documentation pending their signatures, etc. Things have changed thanks to the automation technologies boom, so now you can automatically schedule workflows and save time and resources for more significant business tasks.
What is a scheduled workflow, and what are its positive aspects?
A scheduled workflow is an integral part of workflow management. It's a business process configured to start running upon a specific condition. Depending on your needs, you can set up the autostart for your business processes based on changes in forms and agreements, spreadsheets, or CRM records.
According to such pre-defined conditions, the workflow will run with a single click of a button or even without human interaction. Often, the main criteria for autostart is a specific date and time. Such processes are called time-dependent or time-based workflows triggered by the scheduled date.
Setting up tasks this way is a perfect solution for those who need to properly organize their recurring events in the future. Using a time-based workflow allows one to update the lead owner in a CRM or ERP system, automatically initiate a new document workflow, or arrange automatic data collection and data update based on other active workflows. The benefits of applying time-based automation are beyond a shadow of a doubt:
Configuring a scheduled workflow requires a minimum of time but brings maximum effect on general performance;
It saves hours of business time and, thereby, human resources and financial costs;
Data never gets lost, and tasks are done at the appropriate time according to the team's plan;
Due to the automatic launch of the processes, most of the regular work runs smoothly and more efficiently;
The staff makes fewer errors and can focus on customers and new projects instead of wasting time on a routine manual job.
Many online services offer time-based workflow functionality. The complexity of their configuration differs a lot, and airSlate is just the solution with the perfect simplicity-in-use and accuracy ratio you need.
Creating a scheduled workflow with airSlate
airSlate is an all-in-one platform for automating business processes of any complexity. Pre-built Flow templates, the ability to create them from scratch, and numerous no-code Bots make airSlate super simple and convenient for users with any level of tech skills. And in addition to the entire document workflow automation, it also provides their planned launch via the Autostart option.
An Autostart is a particular action that activates a Flow and makes it run automatically according to the defined conditions. Set it up so that your Flow works as per timetable at a given time daily, weekly, fortnightly, monthly, etc. You can set configurations, create a scheduled workflow upon document completion, after you edit a Google spreadsheet, or update CRM records. And it's all possible with only several simple clicks.
Configuring a time-based workflow with airSlate requires only a couple of steps:
Creating a Template. Customize the document according to your needs.
Enabling the Autostart option. You can do it in the Workflow tab by clicking the Add Autostart button available either from the Flow Start block or from the Send button dropdown.
Choosing how to start your Flow. At this step, you can opt for one of the available options for scheduling the Flow:
Scheduled Start to set up the exact date and time when the Flow will be activated and with what frequency;
From another Flow selecting from what flow to pre-fill the current template;
From Google Sheet updates or Microsoft 365 Excel updates;
From Salesforce, MS Dynamics 365, NetSuite, or SharePoint;
From an External File or External Event;
Scheduled start from Google Sheets.
Once done, the process will launch automatically so that you don't have to make any extra actions.
airSlate Academy: the best way to learn to create time-based workflows
As you can see, the platform offers various options for pre-planning document workflows. Even though the setup process is intuitive, each option has customization peculiarities. airSlate Academy provides a unique course that reveals all workflow creation and customization steps, accompanied by detailed video guides. The practical section will help you consolidate knowledge and check how it works for your use case. All of this comes free of charge — enroll today!
Questions & answers
Here is a list of the most common customer questions. If you can't find an answer to your question, please don't hesitate to reach out to us.
What is a time-based workflow?
A time-based workflow is a business process that works due to a specific timetable. You can set it up to activate on a particular date and at the appropriate time. The most common examples of such workflows are sending a company's weekly newsletters or regular reminders to fill out an invoice.
How do you create a time-based workflow?
Scheduling workflows based on a particular plan at a specific time is an essential feature in workflow automation. In airSlate, you need to add the Autostart option to your Flow with the relative button in the Flow Start block or the Send button dropdown menu. Then, schedule the start for your workflow, providing the date, time, and frequency for it to launch.
What are the four types of workflow actions?
Scheduled workflows activate upon a specific condition, which can be either time or action-based. Workflow actions are the events that must be performed for a process to launch. These can be the following: - A record update in a CRM/ERP system or a specific field in a document; - Sending an email alert; - Creating a task; - Sending an outbound message.
What is a time-based workflow queue?
A workflow queue is used in some programs as a lineup for manually created tasks that users will receive for completing in a particular order. A time-based workflow queue involves tasks arrangement based on their time scheduling.
Can we configure a time-based workflow in less than 1-hour time interval?
When you configure an Autostart option for your airSlate workflows, you set a date and time when it should start working. You can also provide the frequency for your time-based workflow, specifying how often the action should occur and the number of repetitions needed. The detailed guidance is described in the airSlate Academy course for Scheduled workflows.
What are workflow rules?
Workflow rules are the criteria for an automated process to work. These are the if-this-then-that conditions that you provide when setting up the workflow. If properly configured, they will launch a process automatically once met.
What are the limitations of time-dependent workflow?
All platforms have different limitations for time-dependent workflows. The most common one is the restriction on setting the exact minutes and seconds to activate a process. In airSlate, you can initiate Flow running by choosing its start time from the 30-minute step options given in a dropdown menu and specifying the time zone.
For what criteria in a workflow the time-dependent actions cannot be created?
As a general rule, you can't set up an automatic start for an already active workflow. Also, it's impossible to schedule a workflow based on time in the past.
What manages the scheduling and execution of a workflow?
To schedule a workflow in airSlate, you must correctly define the rules for its execution. After adding the Autostart option, you must select the condition for auto-launching the Flow (based on a particular time or action), define the exact rules for executing the workflow, and set how often it should be activated.
Where can we assign the scheduler to workflows?
In airSlate, the Flow scheduler is the Autostart option. You can find it either in the Flow Start block or the Send button dropdown menu. After clicking on the Autostart, you can select what will auto-trigger your process.