Self-paced
Team Management in airSlate
Self-paced
Team Management in airSlate
Discover a simple way to streamline the management of team members working together on a specific workflow. Learn how to ensure proper access permissions for each workflow participant to enhance collaboration and speed up document turnaround times.
About this course:
This course covers Team management within airSlate, its configuration settings, and explains how an airSlate Workspace provides enhanced team collaboration.
By the end of this course, you'll be able to effectively manage your team members by granting them specific access permissions, merging them into groups, adding, removing, or blocking them, and a lot more.
What does this course cover?
The course provides all the necessary information about Team management tools within your Workspace including roles, access permissions, and the differences between them, to help you assign roles and facilitate collaboration in the most effective way.
Why was this course made?
We created this course to help teams and their managers simplify team collaboration, ensure proper access permissions to workflows, and enhance team structuring within your airSlate Workspace.
Who can enroll?
Anyone can enroll in this course to learn how to manage their team members in a more simple and efficient way.
The materials for this course include:
learning resources to provide you with detailed guidelines on how to use Team management tools.
quiz to consolidate the received knowledge.
What you will learn
How to manage team members within your Workspace
How to ensure proper access permissions by assigning roles to team members
How to simplify team collaboration by grouping users to work together on specific tasks
| | |
| --- | --- |
| Duration | 30 minutes |
| Certificate | A sharable achievement is included |
| Subject | Team management in airSlate |
| Level | Intermediate |
| Language | English |
| Price | FREE |
| Rating | |
| Enrolled | 1614 students |
Earn a verified certificate to demonstrate the skills you gain
Verified by airSlate
Receive an airSlate-issued certificate with the airSlate logo to verify your achievement and expand your career prospects.
Shareable on social media
Post your certificate on LinkedIn or add it directly to your CV.
All you need to digitally transform your business
The airSlate Academy combines everything you need to digitally transform your business, including legally binding eSignatures, advanced PDF editing, and automated workflows.
eSignature workflows
Familiarize yourself with eSignatures, their implementation, business value, and learn how to create legally binding eSignature workflows for your business.
Paperless workflows
Change the way you work with documents into an interactive online experience and learn how to make your documents look professional.
Achieve your career goals with airSlate's advanced certification programs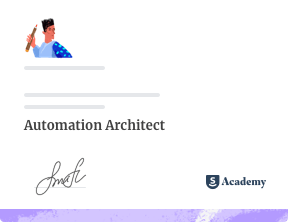 Automation Architect
Learn how to make any process in your workflow run like clockwork. Automate each step using Bots and triggers and perform integrations with popular CRMs like Salesforce or MS Dynamics 365.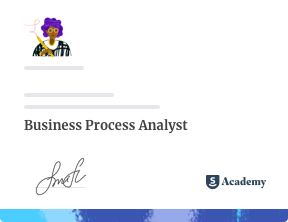 Business Process Analyst
Identify which processes in your workflow can be automated. Learn key metrics to propel your business forward and increase your return on investment (ROI).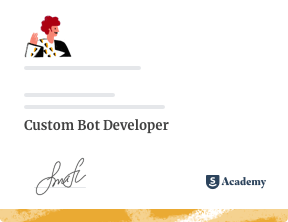 Custom Bot Developer
Learn how to design and develop airSlate Bots — a powerful robotic process automation tool that can be customized using airSlate.
View the certificate
Become an airSlate Partner
Students who complete the airSlate Academy courses are welcome to become partners. Get the necessary skills for building automated processes, helping airSlate newbies, and generating revenue.
Grow your career in people management by taking the Team Management course at the airSlate Academy
Team management is a highly valued skill in the realm of business and organizational leadership. With the effects of the pandemic and remote work, a whole new set of skills is needed by just about every industry.
A new approach to cross-company communication with employees is needed for remote team management to adapt and be considered positive for culture and company advancement.
As a result, managers' jobs all over the globe have become more complicated. Organizations are in desperate need of professionals who know how to remotely manage groups of people in a way that promotes a positive culture, while at the same time enhances efficiency and keeps workflows moving forward unhindered.
The significant challenges associated with remote task management and team building
Building Trust

. It's one of the biggest challenges. Such things as creative thinking, innovation, collaboration, and productivity are impossible without trust. Building trust is the best way to ensure employee psychological safety. When every crew member feels safe with each other, the team climate becomes comfortable for discussing opportunities and overcoming difficulties.
Therefore, an organization can accomplish its goals. Additionally, knowledge sharing is possible only in teams with a medium to a high level of trust. Otherwise, they don't communicate and avoid prompting new ideas which makes solving existing problems difficult.

Realistic Deadlines

. Being late disappoints both you and your teammates. As a result, productivity decreases. You work longer, and longer, and longer. And the number of tasks in your team management application grows. When your organization can't deliver needed results on time, consider taking a closer look at the deadlines you provide. Don't you want them to work faster than they can?

Division of Responsibilities

. Real life makes us do what we need instead of what we want, making team task management more complicated. Assigning tasks ignoring employees' interests and strengths demotivates everyone, making it one more reason results decrease. The workload and the type of assigned tasks must be carefully planned to make the work smoother and help your more\less productive teammates do better.

Communication Culture

. An organization in which members don't communicate among themselves is not a team. It's broken into pieces. In these circumstances, a peaceful and healthy work climate is impossible.

Job autonomy

. Give your employees the freedom to choose the way they work. Too demanding managers who control every step create a situation where it seems that they don't trust their team. As a result, the problems mentioned in the first point of this list become more prevalent. However, autonomy doesn't mean abdication. Don't allow your workers to feel abandoned if you don't want to lose them.
What kind of team management software is needed?
If you're an experienced manager, you already know about the existence of specialized team task management solutions. You're free to utilize any software you prefer. However, is it really efficient? Does it handle the problems mentioned above?
In order to handle essential duties as a manager, you'll encounter a variety of tasks:
Break down barriers. Talk with your employees, ask them for advice, mention their successes. They should feel like you trust them. Then, they'll trust you.
Track tasks and subtasks. Build illustrative graphs and implement widgets to help you keep track of completed tasks and deadlines.
Determine the key skill sets in every department. Allow them to do what they do best and keep track of job distribution among all teammates. Avoid assigning too much or too few tasks to one person.
Develop communication tools and styles. Create chats for formal and informal conversations. Establish and maintain a friendly atmosphere.
Implement easy reporting. Make sure that you don't hang over their shoulders. Employees must feel free but within reasonable limits.
Of course, almost any office or remote team management solution is useless for some of these issues. They can be handled only by humans in private communication. However, using the right software for the management of a team can reduce a manager's workload and help deal with the most time-consuming tasks.
What kind of team management software is available?
We'd recommend any team management application that supports the automation of repetitive tasks. When you have to do everything manually, efficiency is a fantasy. Consider checking out airSlate. Its robust automation, integration, and document generation tools can simplify lots of tasks. Communicate more with your teammates vs. handling tons of paper. Specialized software robots (Bots) will do all the work for you: set up analytics widgets, assign tasks, send reminders, create reports, and do many other routine duties. Additionally, airSlate has multiple convenient tools for the management of a team. Assign Workspace roles, define access permissions to Flows, and facilitate collaboration easier than in any other solution.
Where can I learn how to use airSlate for team management?
airSlate has its own automation Academy that teaches users how to automate business processes absolutely free. All you need is to create an account, choose a course, and improve your skills at any suitable opportunity. After completing each training program and proving that you've remembered its materials, you'll get a certificate. You can start earning your first certificate and improve your skills right now. Click Enroll at the top of this page and follow the tips. Become a pro in team project management automation now!
Questions & answers
Here is a list of the most common customer questions. If you can't find an answer to your question, please don't hesitate to reach out to us.
What is team management?
Team management refers to the various activities that empower teams to work better together. It is the manager's ability to lead a group of people to complete a task/project or achieve a common goal. Effective team management helps team members develop professional skills.
What is a management team and its purpose?
A management team is the highest group of managers and leaders in the company. It is not just an assembly of top managers, but also a team that achieves results by enhancing cooperation and teamwork among all departments of an organization. In general, the purpose of the project management team is to run the operational side of the company and to build and deliver a proper business strategy.
What are the strengths and limitations of team management?
A successful team task management strategy provides opportunities for common and aligned goals and objectives and offers limitless innovation stemming from a holistic view of work processes and results. On the other hand, the limitation may be the need to reach a final consensus. In practice, one of the biggest obstacles to creating productive teams is known to be consensus management practices. Another stumbling block can be overly compliant teams, where teammates unconditionally follow the principal leader's approach.
What is the purpose of a management team plan?
Your management team plan has three goals:
Document how your board of directors can best help the company succeed
Confirm that teams are formed effectively to pursue certain opportunities and goals, and if not, identify who you should hire to complement your company
Demonstrate to lenders and investors the feasibility and justification of projects for financing (if applicable)
What are the essential team management skills?
Team management skills are something every manager should possess and strive to continually improve. Managing a team requires a combination of interpersonal, technical, and, of course, organizational skills. Effective team managers tend to have certain skills, attitudes, and tactics:
Provide a positive workspace
Emphasize constant and effective communication
Encourage and nurture your team's growth
Make transparency a priority
What is team management software?
Team collaboration tools, also known as collaboration software, is the term used to define the various types of software and online services available to companies and individuals that allow them to work together effectively on joint projects, regardless of their physical location. Team management software is any platform that helps a team communicate, collaborate, and complete tasks efficiently. The right application for your team's needs and processes increases productivity and improves the quality of team projects created. Manage your entire team, assign tasks and projects, simplify onboarding, and centralize virtually every process in one workspace.
What are the benefits of team task management software?
The main benefit of the team task management software is that it has been designed to solve real pain points, especially now when working remotely by ensuring everyone is on the same page. For example, with airSlate workflow automation for team management, you get a simpler way to manage teammates in a single secure Workspace. You can better structure your business processes with smart prebuilt workflow templates and no-code Automation and Integration Bots. Enroll in our Team Management course to learn more.
What will I learn in airSlate's Team Management course?
This course covers Team management within airSlate, configuration settings, as well as explains how an airSlate Workspace provides enhanced team collaboration. The Team Management course provides all the necessary information about team management tools within your Workspace, roles, access permissions, and the differences between them to help you assign roles and facilitate collaboration in the most effective way.
How can airSlate workflow automation help in remote team management?
With airSlate's remote team management functionality, you get best-in-class tools that empower your remote team to deliver stronger outcomes — on time and on budget. Its workflow automation features are designed for every person in a company to create, share, track, and analyze workflows within a centralized and configurable Workspace. Here are just a few reasons why teams choose airSlate:
Create a single, secure Workspace
Add teammates to simplify collaboration on workflows
Make sure everyone has access to all the tools, equipment, and resources they need
Create a smooth process and set clear expectations to facilitate remote work
Help team members collaborate efficiently and stay in sync
What is the best team management software?
The right team task management software lets you promote continued learning with a central team knowledge base, create effective team project management road maps, and offer incredible document-sharing tools. Understanding the importance of team management applications and their impact on your team's development can help your team be successful within the workplace. If you are looking for the best team management software you should try adaptable remote team management within an airSlate Workspace that allows for simplified collaboration on workflows while providing a pleasant experience for you and your team.