Self-paced
Create Salesforce Records
Self-paced
Create Salesforce Records
Learn how to boost your work in Salesforce by automatically creating records using data from completed documents.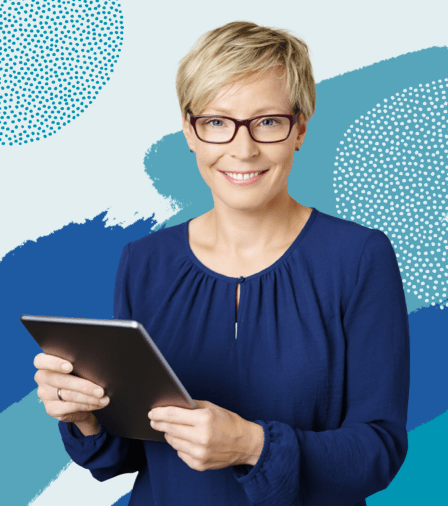 About this course:
Learn how to automatically create new records in Salesforce once your recipients enter the necessary information in the documents you share.
What does this course cover?
This course goes through the process of adapting document workflow automation for creating new records in Salesforce using data from the completed documents.
Why was this course made?
We created this course to show how one of the most common tasks in Salesforce — creating records — can be automated and simplified with document workflow automation.
Who can enroll?
Anyone can enroll in this course to start automatically creating records in their working Salesforce organization.
The materials for this course include:
learning resources to help you learn how to automatically create records in Salesforce based on the completed documents.
quiz to consolidate your acquired knowledge.
What you will learn
How to connect or disconnect a Salesforce account and change or share the connection
How to select the document data needed for creating records in Salesforce
How to adjust conditions for when the documents should be created
How to create tags to easily find the completed documents
| | |
| --- | --- |
| Duration | 15 minutes |
| Badge | A sharable achievement is included |
| Subject | The Create Salesforce Records Bot |
| Level | Intermediate |
| Language | English |
| Price | FREE |
| Rating | |
Earn a verified certificate to demonstrate the skills you gain
Verified by airSlate
Receive an airSlate-issued certificate with the airSlate logo to verify your achievement and expand your career prospects.
Shareable on social media
Post your certificate on LinkedIn or add it directly to your CV.
All you need to digitally transform your business
The airSlate Academy combines everything you need to digitally transform your business, including legally binding eSignatures, advanced PDF editing, and automated workflows.
eSignature workflows
Familiarize yourself with eSignatures, their implementation, business value, and learn how to create legally binding eSignature workflows for your business.
Paperless workflows
Change the way you work with documents into an interactive online experience and learn how to make your documents look professional.
Achieve your career goals with airSlate's advanced certification programs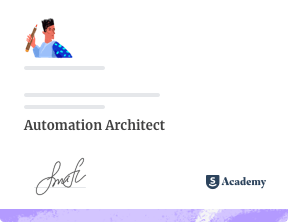 Automation Architect
Learn how to make any process in your workflow run like clockwork. Automate each step using Bots and triggers and perform integrations with popular CRMs like Salesforce or MS Dynamics 365.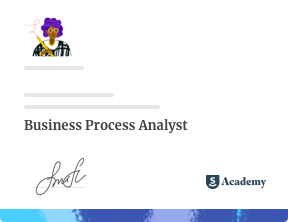 Business Process Analyst
Identify which processes in your workflow can be automated. Learn key metrics to propel your business forward and increase your return on investment (ROI).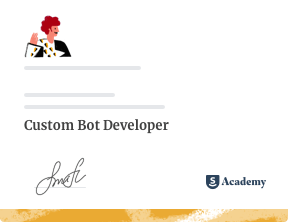 Custom Bot Developer
Learn how to design and develop airSlate Bots — a powerful robotic process automation tool that can be customized using airSlate.
View the certificate
Become an airSlate Partner
Students who complete the airSlate Academy courses are welcome to become partners. Get the necessary skills for building automated processes, helping airSlate newbies, and generating revenue.
Stay in the Loop With Automatically Created Records in Salesforce
Maintaining an accurate database of customer information is one of the key points for a successful business. This is why companies rely on customer relationship management (CRM) systems such as Salesforce — a cloud-based platform for managing business processes in sales, customer service, and digital marketing. You can adapt your CRM to just about any business need. However, as great as most CRM systems are, customization is necessary if there aren't enough functions for automating complex business logic. One of, if not the biggest reason companies all over the globe are implementing powerful workflow automation software.
Advanced software can automatically create new Salesforce records with the most up-to-date and accurate information. airSlate's Bots are exactly the technology that supports workflow optimization, enhancement, and efficiency for cutting unnecessary operational costs.
The Create Salesforce Record Bot tackles repetitive tasks and automatically creates new records in Salesforce using data from completed documents when certain conditions are met. For example, airSlate can automatically transfer data from a recently completed «New Client Registration Form» to create new leads. This enables teams to save time for completing more critical tasks, attract new customers, or support existing ones, all while having up-to-date data on hand.
How to automate the process of creating Salesforce records with airSlate
Think about all the work you do manually, from sending emails to entering contact information and creating records in Salesforce. With automation, you can make the job easier and never feel overwhelmed again. Many resources can help you do this. But the most important thing is to improve your CRM using simple automation features that work for teams.
airSlate's workflow automation provides all the necessary tools needed for replacing repetitive and routine actions usually performed by a human, with software robots called Bots, without having to code a single line.
Automation is needed when scaling your business. As a company grows, the volume of work grows too, dramatically even. The manual creation of ten customer cards is not the same as creating one thousand cards. Automated creation of records in Salesforce helps relieve employee workloads, saving them more time to close deals, build connections with prospects, and provide excellent customer service.
Optimizing workflows is one of the most popular areas of corporate technology because of its ability to transform work and provide the following advantages:
Cost reduction
Serviceability 24x7
Cycle time reduction
Error reduction
Qualitative improvement of teamwork
If you have a workflow that you want to automate right now, you can try airSlate. We provide an array of necessary tools for optimizing the way a business operates and courses to share hands-on experience for using our end-to-end solution.
Completing our courses will give you the basic knowledge needed for automatically creating a record in Salesforce and establishing more efficient workflows for your teams. You'll learn how to install the Create Salesforce Record Bot and customize it to your needs.
Why you should study automation with the airSlate Academy
The strategy that comes along with implementing automation is and should be unique for each company and may seem complicated. That's why we've created a set of training courses to help you quickly understand the processes and get started easily. With free certification programs, you can advance your digital transformation skills from basic business and document processes to expert automation deployment.
We recommend taking our online Academy, starting with the airSlate Fundamentals Certification Program and Mastering Bots course. Receive an airSlate-issued certificate with the airSlate logo to verify your achievement and expand your career prospects.
Questions & answers
Here is a list of the most common customer questions. If you can't find an answer to your question, please don't hesitate to reach out to us.
What is a record in Salesforce?
A Salesforce record is a "label" that allows users to differentiate and organize the data in the Salesforce database. The records come in different types depending on the case or a user's preferences. For instance, Opportunities can be of varying record types depending on the source of the revenue (from new leads, existing customers, or resellers).
How does the Create Salesforce Record Bot work?
The Create Salesforce Record Bot serves to automate the specific scope of a workflow by operating based on if-this-then-that conditional logic. In simple terms, it means that you can select specific components of a Slate (a part of a workflow) and configure what will happen to them before and after each step is performed.
What's a good example of using the Create Salesforce Record Bot?
One of the most popular use cases for the Create Salesforce Record Bot is collecting a prospect's data via a web form. Suppose you send out forms to collect contact information, so that you can reach out to your potential customers later or start capturing data for analytics purposes. All you need to do is set up the Bot and configure it in the way you prefer. The Bot will start acting based on the preset conditions and settings.
How do I verify if the Create Salesforce Record Bot is ready to go?
To determine whether the Create Salesforce Record Bot was enabled successfully, you need to go to the required Flow > click Configure Flow in the top toolbar > select the Bots tab > locate the Bot. The green tag under the Bot means that it's all set. Sometimes, the Bot might have the Pending status. To change it to "Enabled," you need to change the Bot configurations.
Can I connect multiple Salesforce accounts to create a record in Salesforce?
Yes, you can connect multiple accounts to our Bot. Every time you add a new connection, make sure to select the Salesforce instance (Production, Sandbox, or Custom URL). The Crete Salesforce Record Bot lets you easily disconnect it at any time.
Can I test the Create Salesforce Record Bot before using it?
Yes, we provide such an option. Before enabling a new connection, choose Sandbox as a Salesforce instance. Sandbox is an isolated environment where you can safely create Salesforce records and test the Bot's functionality without compromising your network resources and data.
Can I take the course on the Create Salesforce Record Bot without registering an account?
You can learn how to create a record in Salesforce without creating an account with airSlate. However, we highly recommend you do so. The course is self-paced and doesn't require any special skills or knowledge of Bots. You can learn how to configure the Bot and put your knowledge into practice right away. Overcome challenges connected with setting up in airSlate by having an airSlate account while you take your airSlate Academy course.
How do I check the accuracy of the data when creating a record in Salesforce?
Our Bot lets you match the document/form fields to Salesforce object fields with the help of the Mapping feature. You don't need to take any extra steps to verify how accurate the data in your newly created Salesforce records is. If you want to learn more about how to create a record in Salesforce and map fields, enroll in our Create Salesforce Record Bot course.
How can I see the Create Salesforce Record Bot in action?
Our interactive course features step-by-step guidelines on how to set up and launch the Bot. In one of the last sections, "How to set it up," you can find a video showing the entire setup and execution process. At the end of the course, you can take a quiz to refresh what you learned about how to create a record in Salesforce.
What Salesforce courses, other than the Create Salesforce Record Bot, does airSlate offer?
airSlate offers dozens of courses that will help you learn the ropes of workflow automation. However, if you're specifically interested in how to get the most out of the Salesforce integration, you can check out our Update Salesforce Records Bot, Send a Slate to Salesforce Contact Bot, Export to Salesforce Record Bot, Pre-fill from Salesforce Record Bot, and Pre-fill from Salesforce Records with SOQL Bot. No matter what course on Salesforce records you choose, you're free to take it on your terms and at your own speed.