Self-paced
The Export to Google Sheet Bot
Self-paced
The Export to Google Sheet Bot
The Export to Google Sheet Bot automatically transfers data from a document to a Google sheet. In this course, you will learn how to install and set up the Export to Google Sheet Bot according to your workflow.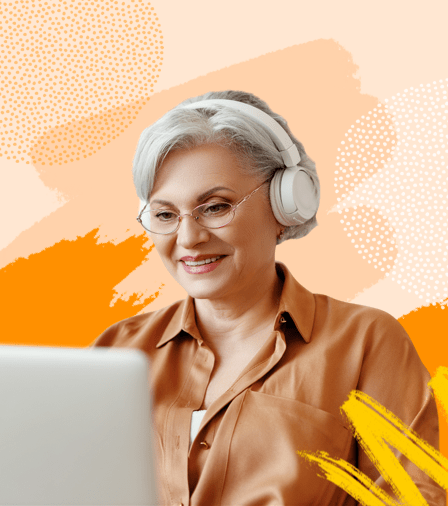 About this course:
Learn how to automate the process of populating a Google spreadsheet with information from a Slate in your workflow.
By the end of this course, you will be able to install the Export to Google Sheet Bot and customize it according to your needs.
What does this course cover?
This course covers the entire process of configuring the Export to Google Sheet Bot, from connecting your Google account to setting conditions for when the Bot will act.
Why was this course made?
We created this course to explain how to automate data transfers from the specified fields in a document to Google spreadsheet columns.
Who can enroll?
Anyone can enroll in this course and we recommend doing so while getting to know airSlate better.
The materials for this course include:
learning resources to help you set up the Export to Google Sheet Bot on your own
practice sessions so you can consolidate learning through practical application
What you will learn:
How to add the Google spreadsheet you intend to export data to
How to match and map data in a document field with a value in a Google spreadsheet column
How to set conditions for when a document will automatically export data from a document to a Google sheet
| | |
| --- | --- |
| Duration | 1 hour |
| Certificate | A verified certificate is included |
| Subject | The Export to Google Sheet Bot |
| Level | Intermediate |
| Language | English |
| Price | FREE |
Earn a verified certificate to demonstrate the skills you gain
Verified by airSlate
Receive an airSlate-issued certificate with the airSlate logo to verify your achievement and expand your career prospects.
Shareable on social media
Post your certificate on LinkedIn or add it directly to your CV.
Achieve your career goals with airSlate's advanced certification programs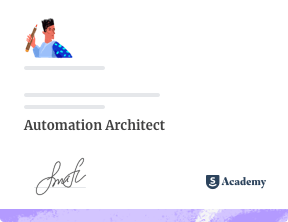 Automation Architect
Learn how to make any process in your workflow run like clockwork. Automate each step using Bots and triggers and perform integrations with popular CRMs like Salesforce or MS Dynamics 365.
Business Process Analyst
Identify which processes in your workflow can be automated. Learn key metrics to propel your business forward and increase your return on investment (ROI).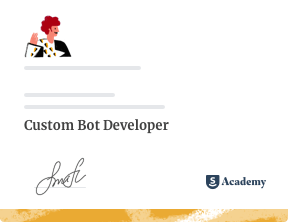 Custom Bot Developer
Learn how to design and develop airSlate Bots — a powerful robotic process automation tool that can be customized using airSlate.
See the certificate sample
Become an airSlate Partner
Students who complete the airSlate Academy's courses are welcome to become partners. Get the necessary skills for building automated processes, helping airSlate newbies, and generating revenue.
Why you need powerful tools to route and send data to Google Spreadsheets
Every day more and more solutions for gathering and systematizing information are hitting the market, so it's not really about whether you should use Google Sheets. It's about what solution is best for eliminating errors associated with information routing and enhancing efficiency — the answer — multi-cloud solutions with industry-leading automation tools like airSlate.
The ability to export to Google Sheets is essential for streamlined processes
Businesses spend a lot of money on specialized software for advertising, managing customer relations and orders, calculating expenses or profits, and many other crucial aspects of business in different spheres. Why? Because accurate information is key to a successful operation! Companies don't process large amounts of data for fun, they do it because it's essential for growth. So, how are companies currently managing information and routing it to and from various sources? They send data to Google spreadsheets or download .xls and .csv files that can be easily opened in the same service and analyzed. Just about every company making money is exporting to Google Sheets.
Export to Google Sheets and take the necessary steps to a more professional level of management
Sheets are quickly shadowing its competitor Excel, as the leader in data management. Do more with a powerful feature built right into your Gmail. Sort, delete, or add information; change the order of columns, apply filters, add calculated columns, improve how viewers see fields, and quickly adjust layout and formatting.
If you've properly set up your workflow you can even export lists to Google Sheets, which is extremely valuable when working with two or more sources of information. Professionals often use Sheets for its ability to easily combine several different spreadsheets into one master CSV file. That's crucial for businesses looking to scale while at the same time creating very organized and up-to-date databases.
Export to Google Sheets to be more economical and save resources
Have you and your team create free accounts and start organizing information in a matter of minutes rather than days or weeks for less than half the cost. You'll be able to send data to Google spreadsheets and manage records from anywhere. No need to buy expensive programs or subscriptions to open one of the most commonly used formats. As you grow, purchase an enterprise-level G Suite for your company to make things even more professional and secure.
Export to Google Sheets with airSlate for ultimate efficiency and automation that's proven to increase ROI and cut costs
The fact is, no matter how much skill you and your team have when it comes to working with spreadsheets, you still need help to completely automate information routing. Most third-party solutions offer automation, however, in the end, fail because they're unable to connect everything and pull/push data from and to various databases within a single platform. Don't even consider solutions that don't offer full-cycle, end-to-end automation.
airSlate offers full integration and end-to-end automation with Drive, Gmail, and many other cloud storage services inside and outside of associated products. Have Teammates connect their Sheet and airSlate accounts together to create seamless workflows and powerful automation by setting up our specialized Bot. Completely eliminate costs associated directly to data routing and maintenance.
Why you need to send data to Google spreadsheets with airSlate
Automatic updates aren't the main reason you should consider implementing airSlate as your business's solution to repetitive, manual processes. Get 100% automation and export data to Google Sheets with increased efficiency, saved time and money, and reduced errors associated with manual entry. Deploy more Bots and configure their triggers and use them to connect fields between documents and tables; effortlessly send data to Google spreadsheets.
How to send data to Google spreadsheets with airSlate
Learn the necessary steps to effectively export form data to Google Sheets:
Connect the needed account to airSlate.
Match and map fields with values in spreadsheet columns.
Choose the correct transfer method for exporting data.
Define conditions for when the information should be exported by Bots.
Get more details by signing up for free for the airSlate Academy course covering Google Sheets and the specialized Export Bot. Enroll and gain new knowledge and skills needed for taking your company to the next level.
Small actions take up more time than you think. And monotonous operations are prone to demotivate your employees. Free your team from the routine and profit!