Self-paced
The Export to Salesforce Bot
Self-paced
The Export to Salesforce Bot
The Export to Salesforce Bot automatically uploads a Slate (collection of documents) to a specific Salesforce record. In this course, you will learn how to install the Bot and set it up.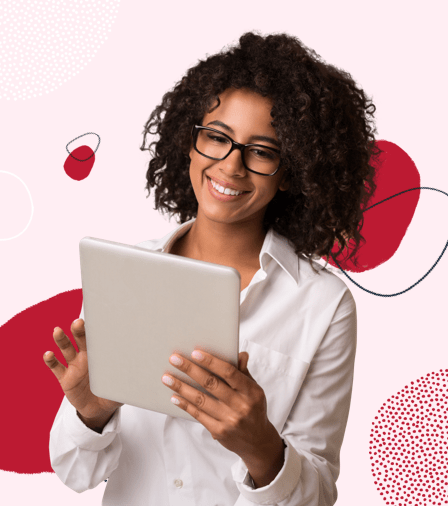 About this course:
Learn how to automate the process of adding Slates as Salesforce attachments using the Export to Salesforce Bot.
By the end of this course, you will be able to install the Bot and customize it to your workflow.
What does this course cover?
This course goes over the entire process of configuring the Export to Salesforce Bot from connecting your Salesforce account to setting conditions for when the Bot will act.
Why was this course made?
We created this course to explain how to automatically save Slates to a selected Salesforce record.
Who can enroll?
Anyone can enroll in this course and we recommend doing so while getting to know airSlate better.
The materials for this course include:
learning resources to help you set up the Export to Salesforce Bot on your own
practice sessions so you can consolidate learning through practical application
What you will learn:
How to connect airSlate to your Salesforce account
How to choose a Salesforce base object
How to match Slate fields to Salesforce object fields
How to set conditions for when the Bot will act
| | |
| --- | --- |
| Duration | 2 hours |
| Certificate | A verified certificate is included |
| Subject | The Export to Salesforce Bot |
| Level | Intermediate |
| Language | English |
| Price | FREE |
Earn a verified certificate to demonstrate the skills you gain
Verified by airSlate
Receive an airSlate-issued certificate with the airSlate logo to verify your achievement and expand your career prospects.
Shareable on social media
Post your certificate on LinkedIn or add it directly to your CV.
Achieve your career goals with airSlate's advanced certification programs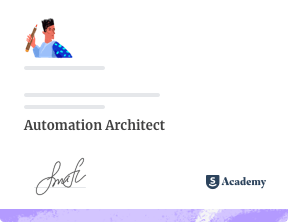 Automation Architect
Learn how to make any process in your workflow run like clockwork. Automate each step using Bots and triggers and perform integrations with popular CRMs like Salesforce or MS Dynamics 365.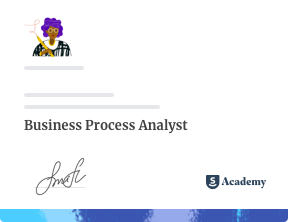 Business Process Analyst
Identify which processes in your workflow can be automated. Learn key metrics to propel your business forward and increase your return on investment (ROI).
Custom Bot Developer
Learn how to design and develop airSlate Bots — a powerful robotic process automation tool that can be customized using airSlate.
See the certificate sample
Become an airSlate Partner
Students who complete the airSlate Academy's courses are welcome to become partners. Get the necessary skills for building automated processes, helping airSlate newbies, and generating revenue.
Learn how to automatically export data to Salesforce without coding
When it comes to CRM systems, Salesforce is a top-rated solution that's well-known to anyone managing digital data. It helps businesses grow faster, providing comprehensive control over contracts, invoices, and other documents. But constantly updating the database is a tedious and error-prone process. Therefore, various services try to integrate with it to streamline data input.
Users like yourself want:
Smooth access to data from anywhere
Comprehensive analytics for each client/contact
Real-time progress reports
Automated invoicing
Salesforce integration eliminates the need to transfer data manually and therefore eliminates most errors, typos, and mistakes. Usually, exporting data to a CRM requires either programming skills or paying whoever has them.
However, with the introduction of airSlate to the market, all of that has changed and new ways to automatically push and pull data are now available.
How airSlate exports leads to Salesforce without you needing to code
airSlate provides you with an all-in-one solution that automates any process within your organization, including exporting data. The main feature that makes this possible is Bots, software robots with built-in code (if this-then that logic). airSlate Bots automate actions based on conditions you set. At any time, you can delete a Bot, add a new one, or connect another Salesforce account, creating a flexible workflow in accordance with your needs. Take advantage of other airSlate Bots to optimize all processes:
Errorless data entry – Automating the transfer of documents to your CRM prevents lost information. The system relies on common data between a filled contract and a Salesforce record, such as the client's name or mobile number. This ensures that the document will not be misplaced.
Instant updates – Connecting logic-based automation to your webforms, allows Bots to instantly export filled-in information to your CRM. Get updated records which you can view any time, download, or share without having to directly interact with the process.
Cost-effective workflow – Using more Bots doesn't cost more. Installing Bots for Salesforce takes no more than 5-10 minutes, and they'll work tirelessly until you disable them. Moreover, they make your workflow flexible, so you can change it whenever and however is needed.
Saved time – Enhancing your workflow with airSlate means saving days of time you or your team would usually spend inputting (or fixing) data. Bots save time by taking the mundane tasks, and freeing up your team for more valuable work. Focus on goals and not on data entry.
Take the airSlate Academy's Bot courses to learn how to export data to Salesforce
The airSlate Academy was created to help users learn how to export data to Salesforce. By teaching you about how to use the Salesforce Bot, airSlate gives you an advantage many of your competitors still aren't utilizing yet. Even if you have never tried to automate processes before, the course will help you get started. Each Academy course contains both theoretical and practical sections, and the Export to Salesforce Bot course is no exception.
The theoretical part explains how automation works. You'll learn how to set up the Bot to transfer data correctly, how to check its settings and deployment, and how to connect a Salesforce account.
The practical part has you follow along in your airSlate account and walks you through setting up the Bot in a real workflow. Follow the course's step-by-step instructions for the best results. Instead of reading boring how-to guides, short videos are there to help simplify the learning process.
The course ends with a quick quiz that consolidates your knowledge. If you answer some questions incorrectly, you can retake the course as many times as you need to pass.
If you configured everything correctly and the Bot still doesn't work, check the Bots log. Learn how to do that in the airSlate Fundamentals course. All information about the Bot is available in Bots Log, including data that the Bot didn't receive or export to Salesforce.
The airSlate Academy is a free learning platform where you can choose any course according to your needs and pass it at your own pace. Businesses are trying to automate all administrative and time-consuming processes, and this could be your opportunity to learn more about automation and how to streamline your organization's workflows. Along the way, you'll gain in-demand skills that are essential to business today. Jump-start your education and develop more skills in workflow automation to take your career and your team to the next level. Enroll today!