Self-paced
The Google Calendar Bot
Self-paced
The Google Calendar Bot
The Google Calendar Bot automatically creates events in Google Calendar with data from a completed Slate. In this course, you will learn how to install the Bot and set it up.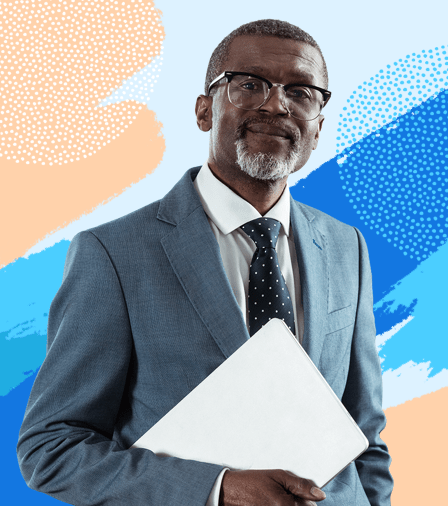 About this course:
Learn how to automate the process of creating Google events with data taken from your Slates.
By the end of this course, you will be able to add the Google Calendar Bot to your workflow and adjust it to your needs.
What does this course cover?
This course explains the entire process of configuring the Google Calendar Bot, from connecting your Google account to setting conditions for when the Bot will act.
Why was this course made?
We created this course to explain how to automatically schedule events in Google Calendar with data taken from a completed Slate.
Who can enroll?
Anyone can enroll in this course and we recommend doing so while getting to know airSlate better.
The materials for this course include:
learning resources to help you set up the Google Calendar Bot on your own
practice sessions so you can consolidate learning through practical application
What you will learn:
How to connect a Google account
How to customize event details
How to add invitees' emails
How to set conditions to automatically create an event
| | |
| --- | --- |
| Duration | 1 hour |
| Certificate | A verified certificate is included |
| Subject | The Google Calendar Bot |
| Level | Intermediate |
| Language | English |
| Price | FREE |
Earn a verified certificate to demonstrate the skills you gain
Verified by airSlate
Receive an airSlate-issued certificate with the airSlate logo to verify your achievement and expand your career prospects.
Shareable on social media
Post your certificate on LinkedIn or add it directly to your CV.
Achieve your career goals with airSlate's advanced certification programs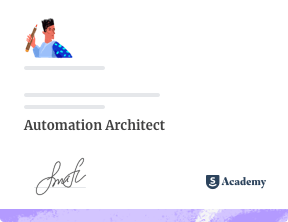 Automation Architect
Learn how to make any process in your workflow run like clockwork. Automate each step using Bots and triggers and perform integrations with popular CRMs like Salesforce or MS Dynamics 365.
Business Process Analyst
Identify which processes in your workflow can be automated. Learn key metrics to propel your business forward and increase your return on investment (ROI).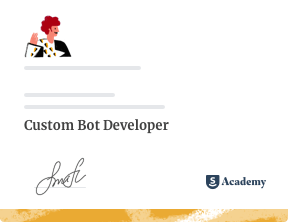 Custom Bot Developer
Learn how to design and develop airSlate Bots — a powerful robotic process automation tool that can be customized using airSlate.
See the certificate sample
Become an airSlate Partner
Students who complete the airSlate Academy's courses are welcome to become partners. Get the necessary skills for building automated processes, helping airSlate newbies, and generating revenue.
Drive company productivity with the Google Calendar Bot
Google Calendar is a service from Google designed to help you plan various events, both business and personal. Use Calendar as a web application by opening it in your browser and or through mobile apps for Android and iOS. It's entirely free for anyone with a Gmail account. In terms of free calendars, it's very comprehensive, allowing you to create events, set them as one-time events or even as repeat events, add labels, notes, and so much more. Create several calendars at once if necessary. For example, one for a business meeting and another one for a personal meeting. Plus, share these events with others by adding their emails; they'll receive notifications asking them to accept or deny your invitation. Accepting an invitation automatically adds the event to the recipient's Calendar.
However, adding things in your calendar manually eats away at your valuable time. The time you could use preparing for meetings or completing other important tasks. What if there was a way that you could automate the process? Good news. There is!
airSlate is an industry leader in workflow automation and has built a powerful tool for integrating with Google Calendar via a no-code Bot. airSlate's smart event Bot connected to Google Calendar gives a massive advantage to companies who add it to their workflows.
The Google Calendar Bot automatically creates new events by transmitting data from a document as soon as a user fills it out. In this way, you can plan further meetings faster as there is no need to enter the data manually.
With automation, teams can organize and prioritize projects, increasing efficiency; collaboration becomes much more convenient and productive. Continue to read this excerpt to learn more about the Bot and how airSlate designed it to enhance business processes.
Do more with Google Calendar automation
With all of your communication and collaborative tools in a single Workspace, remote teams can stay productive no matter where they're working from, at the office or at home.
airSlate brings teams together no matter where they are. Understanding the key features of Google Calendar automation is the first step to understanding why thousands of companies have already chosen to make the switch:
Manage and share events.
Centralize tasks and combine different software, share and fill in applications and forms, use Slate data to pre-fill Google events, and create appointments right from airSlate.
Keep projects on track.
Send automated invite updates and reminders to teammates via email, keeping everyone on top of project changes and progress.
Reduce monotonous work.
Create appointments, plan weekly meetings, automatically request and add vacation time all with data from completed e-forms.
Work with airSlate the way that suits you best. Our features and tools can be customized to meet your needs exactly.
How to send a Google Calendar invite using airSlate's Bot
Nowadays, Google's apps are leading the corporate business environment. It's tough to think of someone not using Gmail or Google Drive at a professional level. You yourself probably schedule all of your and your team's meetings in Calendar. Plan tasks, set appointments, and join online sessions with colleagues. Share calendars to keep things organized and understand who's doing what and when and to track weekly team weekly.
If your team uses Google Calendar automation or plans on using it, integrate with airSlate for significantly more streamlined workflows free from wasted time on manually managing calendars.
Let the Google Calendar Bot handle manual tasks like data input so that you can spend more time doing what matters the most. Make the automation Bot schedule a Google Calendar event:
Connect your airSlate and Google account(s)
Set up and customize event details
Add invitee emails to the event
Configure the Bot to automatically create events with data from Slates
Manage your schedule from your computer or smartphone with airSlate. Stop manually entering information into your timetable, save yourself from wasted time, and make appointments automatically without the usual hassle.
Check out the airSlate Fundamentals and Google Calendar Bot courses to get started with enterprise-grade automation.