Self-paced
The Google Drive Bot
Self-paced
The Google Drive Bot
The Google Drive Bot automatically moves completed Slates to a Google Drive folder. In this course, you will learn how to install and set it up.
About this course:
Learn how to automate the process of archiving completed Slates to a specific folder in your Google Drive.
By the end of this course, you will be able to add the Google Drive Bot to your workflow and customize it according to your needs.
What does this course cover?
This course illustrates how to set up the Google Drive Bot, from connecting your Google account to adjusting conditions for when the Bot is triggered.
Why was this course made?
We created this course to explain how to automatically archive completed Slates to Google Drive folders.
Who can enroll?
Anyone can enroll in this course and we recommend doing so while getting to know airSlate better.
The materials for this course include:
learning resources to help you set up the Google Drive Bot on your own
practice sessions so you can consolidate learning through practical application
What you will learn:
How to connect your Google account to airSlate
How to create a new Google Drive folder right from the Bot settings
How to archive more than one document
What formats you are able to archive Slates in
How to set conditions for archiving Slates to Google Drive
| | |
| --- | --- |
| Duration | 1 hour |
| Certificate | A verified certificate is included |
| Subject | The Google Drive Bot |
| Level | Intermediate |
| Language | English |
| Price | FREE |
Earn a verified certificate to demonstrate the skills you gain
Verified by airSlate
Receive an airSlate-issued certificate with the airSlate logo to verify your achievement and expand your career prospects.
Shareable on social media
Post your certificate on LinkedIn or add it directly to your CV.
Achieve your career goals with airSlate's advanced certification programs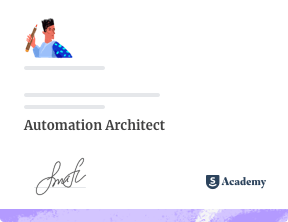 Automation Architect
Learn how to make any process in your workflow run like clockwork. Automate each step using Bots and triggers and perform integrations with popular CRMs like Salesforce or MS Dynamics 365.
Business Process Analyst
Identify which processes in your workflow can be automated. Learn key metrics to propel your business forward and increase your return on investment (ROI).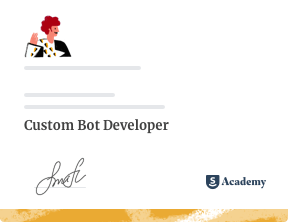 Custom Bot Developer
Learn how to design and develop airSlate Bots — a powerful robotic process automation tool that can be customized using airSlate.
See the certificate sample
Become an airSlate Partner
Students who complete the airSlate Academy's courses are welcome to become partners. Get the necessary skills for building automated processes, helping airSlate newbies, and generating revenue.
Archive documents with the Archive to Google Drive Bot to save time
Robotic Process Automation (RPA) has entered the market full-steam-ahead as a solution to repetitive, manual tasks. Over the last few years, it has helped thousands, if not hundreds of thousands of businesses get to the next level and achieve higher goals that they couldn't achieve without it. Companies that manage to get into a position where they're spending less time and resources to complete tasks, become more attractive to customers. RPA has brought on a new wave of market competitiveness. It's not enough to just be the best in terms of quality. If your business isn't efficient too, potential customers and clients will go elsewhere.
RPA tools work through microprograms, called Bots. airSlate employs two types of them:
Automation to configure specific processes and run them without human intervention.
Integration to create routes that link airSlate with other platforms to ensure smooth data transfer.
The Google Drive Bot falls into the integration category and enables users to archive documents directly to Google Drive once they are completed. The robotic microprogram frees up to several days of manual work when it's set up correctly by eliminating the need to manually pull data from one source and push it to another; however, it requires no more than 10 minutes to configure.
Free up time with a Bot: automatically archive scanned documents and forms
airSlate is a unique RPA solution that integrates with many other platforms, including a large variety of cloud storage services. Use airSlate to streamline workflows and business processes, and archive documents to OneDrive, Google Drive, Dropbox, and/or Box. Having automatic, no-code integration with the most popular cloud storage services is a huge plus.
The Archive to Google Drive Bot frees users from manually moving documents to and from different databases or forms and contracts. Once a user completes a form or adds scanned documents, the Bot automatically archives scanned documents and forms to the cloud. It works with all major file formats and even zip files. With airSlate, you no longer have to waste time uploading zip files to Google Drive.
Aside from time-saving functionality and enhanced efficiency, the Archive to Google Drive Bot has other benefits:
Eliminates human-prone errors
Reduces operational costs
Improves data quality
Enhances accuracy
Boosts workflow consistency
Regardless of the industry, airSlate has proven to be a reliable resource in helping companies boost efficiency and transform manual and time-consuming tasks into smooth and well-organized processes with cinfigurable Bots, like the one mentioned here aimed at streamlining how you archive documents to your drive. It's been used by thousands of companies, including Xerox, AMGEN, First Data and others for both internal and external purposes. For instance, an HR specialist can use it to save completed and signed job offers. Just the same, a teacher can route completed tests to a Google Drive folder.
Get FREE access to the #1 course covering how to archive documents to Google Drive with airSlate
airSlate was designed to be customer-centric in th sense that every users should have a great experience while using the product. Setting up airSlate Bots takes minutes rather than hours and configuring an entire workflow takes hours instead of days. However, if you've never dealt with RPA solutions before absorbing everything could be a little stressful. To soothe that, the airSlate Academy was launched!
There are courses for every aspect of working with the product, including a special course created just for archiving to Google Drive. The course contains detailed text instructions with visual elements on how to set up the Bot to archive documents. It even finishes up with a quiz to test your knowledge.
Once you complete the course, you will have learned the following:
How to link airSlate with your Google account.
How to generate a new folder in Google Drive without a need to leave the Bot settings page.
How to understand which document formats can be archived by airSlate.
How to set conditions (General and Advanced), so that documents are saved automatically.
airSlate enables users to archive scanned documents and zip files. Institutions like healthcare centers, schools and universities, passport offices, and recruiting agencies can all benefit. Any company that stores and pulls data would benefit from airSlate automation.
airSlate Academy: the main takeaways
The course has been developed to quickly teach users how to configure the Archive to Google Drive Bot. Before getting started with any Bot courses, take the Introduction to airSlate course. It provides easy step-by-step instructions for users to confidently take action and archive documents. By configuring just one microprogram, you can save time, minimize bottlenecks, improve productivity, and so much more. Use airSlate and the respective Bot to make business processes work for you!