Self-paced
The Pre-fill from NetSuite Records Bot
Self-paced
The Pre-fill from NetSuite Records Bot
The Pre-fill from NetSuite Records Bot automatically pre-populates a Slate using data from a NetSuite record. In this course, you will learn how to install the Bot and set it up.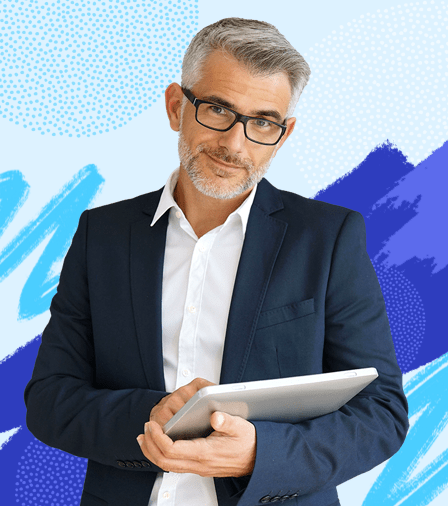 About this course:
Learn how to use the Bot to automatically transfer data from a NetSuite record to specific fields in a Slate.
By the end of this course, you will be able to add the Pre-fill from NetSuite Records Bot to your Flow and set it up.
What does this course cover?
This course explains the entire process of configuring the Pre-fill from NetSuite Records Bot, from connecting your NetSuite account to setting conditions for when the Bot is triggered.
Why was this course made?
We created this course to explain how to automatically populate a Slate with data from a NetSuite record.
Who can enroll?
We recommend taking this course while getting to know airSlate better.
The materials for this course include:
learning resources to help you set up the Pre-fill from NetSuite Records Bot on your own.
practice sessions so you can consolidate learning through practical application.
What you will learn:
How to connect a NetSuite account
How to select a base and NetSuite record
How to map record fields and Slate fields
How to set conditions to automatically pre-fill a Slate
| | |
| --- | --- |
| Duration | 1 hour |
| Certificate | A verified certificate is included |
| Subject | The Pre-fill from NetSuite Records Bot |
| Level | Intermediate |
| Language | English |
| Price | FREE |
Earn a verified certificate to demonstrate the skills you gain
Verified by airSlate
Receive an airSlate-issued certificate with the airSlate logo to verify your achievement and expand your career prospects.
Shareable on social media
Post your certificate on LinkedIn or add it directly to your CV.
Achieve your career goals with airSlate's advanced certification programs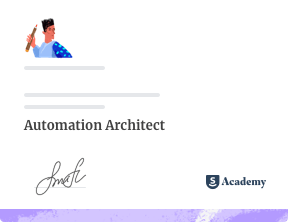 Automation Architect
Learn how to make any process in your workflow run like clockwork. Automate each step using Bots and triggers and perform integrations with popular CRMs like Salesforce or MS Dynamics 365.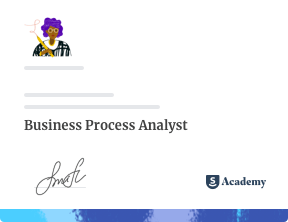 Business Process Analyst
Identify which processes in your workflow can be automated. Learn key metrics to propel your business forward and increase your return on investment (ROI).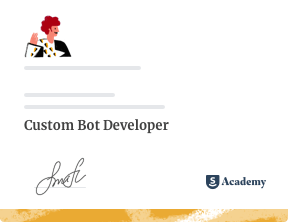 Custom Bot Developer
Learn how to design and develop airSlate Bots — a powerful robotic process automation tool that can be customized using airSlate.
See the certificate sample
Become an airSlate Partner
Students who complete the airSlate Academy's courses are welcome to become partners. Get the necessary skills for building automated processes, helping airSlate newbies, and generating revenue.
Accelerate business processes with airSlate's NetSuite integration
NetSuite is a popular ERP system widely known across the globe. In fact, it's a solid set of cloud-based software that helps companies manage their financial operations, track projects, and manage customer relationships. Within one system, you get access to a complete database, which includes everything from payments to your phone numbers. If you enter data into the system, you can view, analyze, and change it at any time.
How to set up the NetSuite export function?
The ERP system uses high-end security measures such as IP address restriction and automatic user logout from the system in standby mode. Even if you forget to log out, your data is still safe. However, one of the main reasons why people choose it over the competition is its ability to integrate other software using its huge database of client information along with its ability to set up NetSuite exports.
Contract preparation. Access to data empowers you with the ability to pre-fill contracts using client data without manually entering it. You don't need to search for a client profile because all the information you need transfers automatically to your form. Get rid of time-consuming processes and focus on important tasks instead of copying and pasting numbers.
Sales invoice. Invoicing is an essential process for any company in an area where a single mistake can have high costs. By adopting NetSuite integration, you can avoid running the numbers and manage data seamlessly without hassle. No matter how large your company is, you can create an unlimited number of documents without human intervention.
Reporting. To clearly highlight a company's goals and find out which processes require more attention, employees need to create analytical reports. The problem is that it takes a long time to organize such reports manually, but with the help of integration, you can select the data you need for analysis in a few clicks.
The NetSuite Integration API is an open source that, theoretically, anyone can use. But unfortunately, the ERP system is quite complex, so without a clear understanding of what data you need to push and pull, the NetSuite integration may not be useful. Moreover, you need a team of programmers who can maintain this data binding and change it whenever required. An inflexible process will cost you a fortune and may require routine modifications.
There's another way to effortlessly establish data transferring between systems using a solution that's already integrated with NetSuite, for example, airSlate.
airSlate is an all-in-one solution that helps you integrate any process with the most popular CRMs, ERPs, databases, and so on. It's easy-to-use and suits businesses for the following reasons:
No code. If you want to set up the NetSuite export process using airSlate, just connect your account, and that's all. You don't need to write code or hire programmers. airSlate no-code Integration Bots do everything else for you.
Flexibility. You can delete, set up, and install Bots whenever you need. Customize each Bot according to your requirements without having to contact support. Update your workflow in a few clicks any time you need to update it.
Free plan. The best part about using airSlate is that you can choose the free plan and practice as long as you like — no rush before buying. Test it out with various processes to better understand if it suits you and your business.
How does the airSlate Academy help teams better understand the NetSuite integration?
airSlate understands how important the NetSuite integration is to your organization. That's why we created the Pre-fill from NetSuite Records Bot course by the airSlate Academy. Combining theoretical and practical knowledge, the course clarifies all the ins and outs of using the NetSuite integration Bot and helps users like you install, configure, and deploy it hassle-free.
Minimize data entry errors
Eliminate inaccuracy in reports
Enhance efficiency
Build a cost-effective process
Reduce the human factor
Sign up for the course for free and take it at your own pace. No hidden fees or time-consuming registration. Just jump in and start learning.