Self-paced
Pre-fill from Microsoft 365 Excel
Self-paced
Pre-fill from Microsoft 365 Excel
Processing vast amounts of data in spreadsheets can seem like a nightmare due to the likelihood of errors, delays, and manual hassle. Learn how to automatically transfer data from Microsoft 365 Excel spreadsheets to your documents, making the process fast and seamless.
About this course:
In this course, you will learn how to boost your document workflows by automatically prepopulating document fields with data taken from Microsoft 365 Excel spreadsheets.
What does this course cover?
The course explains how to automate data routing from Microsoft 365 Excel spreadsheets while improving accuracy and saving time and hassle spent on copying data from spreadsheets to documents.
Why was this course made?
We created this course to demonstrate how airSlate transforms the process of handling loads of data from Microsoft 365 Excel spreadsheets into an automated and seamless document workflow.
Who can enroll?
Anyone can enroll in this course to streamline their data-heavy workflows that include routing large amounts of data from Microsoft 365 Excel spreadsheets.
The materials for this course include:
learning resources to help you learn how to automatically populate documents from Microsoft 365 Excel spreadsheets.
quiz to consolidate your acquired knowledge.
What you will learn
How to connect your Microsoft 365 account and change or share the connection
How to map documents to columns in Microsoft 365 Excel spreadsheets
How to decide when your documents should be pre-filled
How to easily navigate through the completed documents
| | |
| --- | --- |
| Duration | 15 minutes |
| Badge | A sharable achievement is included |
| Subject | The Pre-fill from Microsoft 365 Excel Bot |
| Level | Intermediate |
| Language | English |
| Price | FREE |
| Rating | |
Earn a verified certificate to demonstrate the skills you gain
Verified by airSlate
Receive an airSlate-issued certificate with the airSlate logo to verify your achievement and expand your career prospects.
Shareable on social media
Post your certificate on LinkedIn or add it directly to your CV.
All you need to digitally transform your business
The airSlate Academy combines everything you need to digitally transform your business, including legally binding eSignatures, advanced PDF editing, and automated workflows.
eSignature workflows
Familiarize yourself with eSignatures, their implementation, business value, and learn how to create legally binding eSignature workflows for your business.
Paperless workflows
Change the way you work with documents into an interactive online experience and learn how to make your documents look professional.
Achieve your career goals with airSlate's advanced certification programs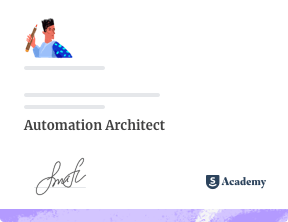 Automation Architect
Learn how to make any process in your workflow run like clockwork. Automate each step using Bots and triggers and perform integrations with popular CRMs like Salesforce or MS Dynamics 365.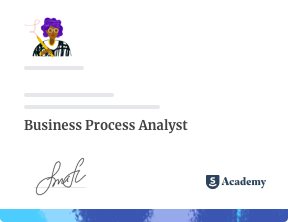 Business Process Analyst
Identify which processes in your workflow can be automated. Learn key metrics to propel your business forward and increase your return on investment (ROI).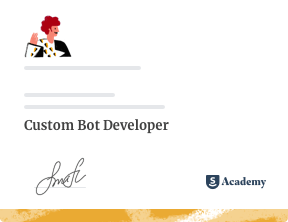 Custom Bot Developer
Learn how to design and develop airSlate Bots — a powerful robotic process automation tool that can be customized using airSlate.
View the certificate
Become an airSlate Partner
Students who complete the airSlate Academy courses are welcome to become partners. Get the necessary skills for building automated processes, helping airSlate newbies, and generating revenue.
Learn to export data and pre-fill business paperwork from Office 365 Excel spreadsheets
Despite the modern IT market offering hundreds of precious business solutions, most companies still actively use Excel spreadsheets as one of their primary instruments. They work perfectly for documenting, calculating, and storing a whole series of indicators in statistics, procurement, finance, and other areas. Extracting data from one table to another is also lightning-fast and convenient, thanks to various built-in formulas. However, it becomes burdensome when you need to pull out some records from Excel Office 365 to other business paperwork. With manual data exports, the likelihood of errors is very high. Here is when automation is a necessity.
How to automate Excel 365 workflows
If you're looking for an effective solution for improving regular workflows while keeping most of your business records in Excel spreadsheets, airSlate is an excellent choice. This comprehensive document workflow automation platform enables users to easily and smartly create, pre-fill, update, share, and store paperwork. Plus, it perfectly works in tandem with multiple software applications on a codeless basis thanks to its vast collection of ready-to-use pre-programmed Bots. Configuring a particular Bot within a workflow guarantees you export data from Excel to contracts, invoices, and other documents instantly and with maximum accuracy.
Pros of airSlate automation for data exports from spreadsheets
Companies get lots of positive outcomes from the Office 365 integration with airSlate.
Here are just a few benefits of workflow automation for data exportation from Excel tables:
Saves hours of working time across teams
Facilitates regular task completion
Eliminates errors and miscalculations in documents
Excludes business risks caused by such inaccuracies
Reduces costs and improves productivity.
airSlate Academy course on pre-filling from Excel 365
Using any software to its maximum abilities requires training. airSlate created its own learning platform for everyone to explore the ins and outs of workflow automation, so you don't need to spend hours surfing the web for specialized articles and guidance.
airSlate Academy is a fast and convenient way to become an automation expert, free of charge.
Join the platform and explore how to easily, quickly, and precisely export data from Excel spreadsheets and pre-fill documents without coding. In only fifteen minutes, you will learn the mechanisms of connecting airSlate with Office 365, mapping form fields with the relative columns in your Excel tables, and setting conditions for such record exportation.
Discover the simplicity of workflow automation with airSlate Academy!
Questions & answers
Here is a list of the most common customer questions. If you can't find an answer to your question, please don't hesitate to reach out to us.
What is the best way to extract data from Excel?
Use airSlate's Pre-fill from Microsoft Excel Bot to export data from Excel files. Take a few minutes to set up the Bot and have your information automatically transferred from Microsoft 365 to the specified fields in your documents. The Bot will act based on the conditions you pre-set.
What are the different methods you can use for transferring data in Excel?
You can export Excel data from one spreadsheet to another with the help of several Excel functions. On the other hand, you can automate data export and pre-fill your documents automatically using the airSlate no-code Bots. This method eliminates errors in your files and takes less time.
How do you automate Excel 365 routine?
airSlate offers several automation Bots that can significantly facilitate your experience with Excel 365. For example, the Pre-fill from Microsoft 365 Excel Bot will automatically fill out documents with information from the Microsoft 365 spreadsheet. You can also transfer data from your documents to Microsoft 365 spreadsheet using the Export to Microsoft 365 Excel Bot.
How do I automatically export data from Excel?
Consider automating data transfer from spreadsheets to your documents with the Pre-fill from Excel Spreadsheet Bot. You can set up the Bot in three simple steps: 1. Upload an excel file. 2. Select a data source. 3. Indicate the conditions for the transfer. Once the specified conditions are met, your document will be pre-filled with information from the uploaded spreadsheet.
How do I automatically transfer data from one Excel sheet to another?
There are a few ways you can automate data transfer from one sheet to another within the same file. The easiest way to do it is by linking cells in both sheets. In the destination cell, type the equal sign, click on the source cell in the other sheet, then click Enter to save the formula. If the source cell is updated, the destination cell will be automatically updated as well.
What are the types of data in Excel?
Excel data types are the following: - The number data type. - The text data type. - The logical data type. - The error data type. Each of them has its properties and can be used with different functions.
How do I extract specific data from an Excel spreadsheet?
If you need to export data from a spreadsheet to your document, use the Pre-fill from Excel Spreadsheet Bot or the Pre-fill Dropdowns from Excel Spreadsheet Bot. The Bot setup takes minutes and includes matching the fields in a document with cells in a table and specifying conditions for the Bot activation.
How do I automate data transfer from Excel?
airSlate provides a set of Bots to automate data exports from a spreadsheet to documents. They allow you to save time and reduce errors that may occur when transferring information manually. Learn how to use no-code Bots for Excel from one of the airSlate Academy courses.
What tasks could be automated in Excel?
Take advantage of airSlate no-code Bots to automatically pre-fill fields in your documents with data from spreadsheets. Use the Pre-fill Dropdowns from Excel Spreadsheet Bot if you need to transfer values specifically in the dropdown fields in your document. Install the Bot, upload a spreadsheet, and connect the document fields with the cells in the spreadsheet.
Which Excel function can be used to extract data from another worksheet?
Use the VLOOKUP (for values arranged in columns) or HLOOKUP (for values arranged in rows) function to extract information. The functions can be used for data exportation within the same spreadsheet or even from one file to another.