Self-paced
Pre-fill from Office 365 Excel
Self-paced
Pre-fill from Office 365 Excel
Working with mountains of data in spreadsheets can be a nightmare due to the likelihood of errors, delays, and hassle. Learn how to automatically transfer data from Office 365 Excel spreadsheets to your documents, making the process fast and seamless.
About this course:
In this course, you will learn how to automatically prepopulate document fields with data taken from Office 365 Excel spreadsheets.
By the end of this course, you will know how to boost your workflows by automating data transfers, and as a result, improve accuracy and save time.
What does this course cover?
This course explains how to start automating workflows where you need to transfer data from Office 365 Excel spreadsheets to your documents. It shows how airSlate automation helps save time and hassle spent on copying data from spreadsheets to documents.
Why was this course made?
We created this course to demonstrate how routing loads of data in Office 365 Excel spreadsheets is made fast and seamless with airSlate.
Who can enroll?
Anyone who works with Office 365 Excel spreadsheets and wants to streamline their workflows (that include data routing) with airSlate automation.
The materials for this course include:
learning resources to help you set up the Pre-fill from Office 365 Excel Bot on your own.
quiz to consolidate the knowledge you received.
What you will learn
How to automate the process of pre-filling documents with data from Office 365 Excel spreadsheets
What the common use cases of pre-filling documents with data from Office 365 Excel spreadsheets are
How to add the Bot to your Flow, configure, and activate it
| | |
| --- | --- |
| Duration | 20 minutes |
| Certificate | A sharable achievement is included |
| Subject | Pre-fill from Office 365 Excel Bot |
| Level | Intermediate |
| Language | English |
| Price | FREE |
| Rating | |
Earn a verified certificate to demonstrate the skills you gain
Verified by airSlate
Receive an airSlate-issued certificate with the airSlate logo to verify your achievement and expand your career prospects.
Shareable on social media
Post your certificate on LinkedIn or add it directly to your CV.
All you need to digitally transform your business
The airSlate Academy combines everything you need to digitally transform your business, including legally binding eSignatures, advanced PDF editing, and automated workflows.
eSignature workflows
Familiarize yourself with eSignatures, their implementation, business value, and learn how to create legally binding eSignature workflows for your business.
Paperless workflows
Change the way you work with documents into an interactive online experience and learn how to make your documents look professional.
Achieve your career goals with airSlate's advanced certification programs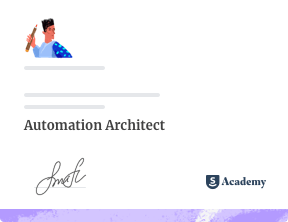 Automation Architect
Learn how to make any process in your workflow run like clockwork. Automate each step using Bots and triggers and perform integrations with popular CRMs like Salesforce or MS Dynamics 365.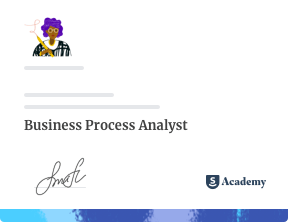 Business Process Analyst
Identify which processes in your workflow can be automated. Learn key metrics to propel your business forward and increase your return on investment (ROI).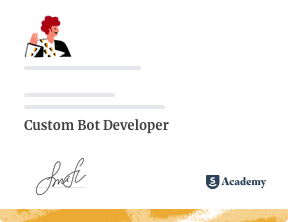 Custom Bot Developer
Learn how to design and develop airSlate Bots — a powerful robotic process automation tool that can be customized using airSlate.
View the certificate
Become an airSlate Partner
Students who complete the airSlate Academy courses are welcome to become partners. Get the necessary skills for building automated processes, helping airSlate newbies, and generating revenue.