Self-paced
Rename Slate
The Rename Slate Bot helps you automatically assign names to Flows when needed, using different types of data.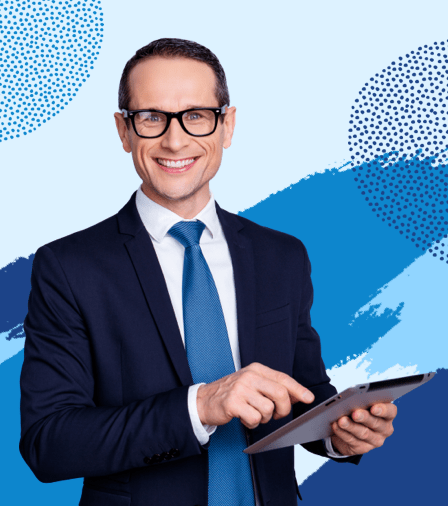 About this course:
Learn how to apply no-code automation for creating and assigning new names to the documents of your choice.
By the end of this course, you will be able to add the Rename Slate Bot to any document workflow you choose.
What does this course cover?
This course goes over the entire process of configuring the Rename Slate Bot. It covers every step from selecting a Flow that will be renamed to setting conditions for when the Bot should act.
Why was this course made?
We created this course to help you accelerate document routing and simplify navigation among the completed Flows.
Who can enroll?
Anyone can enroll in this course to learn how to save time on renaming Flows manually.
The materials for this course include:
learning resources to help you learn how to automatically rename the completed Flows.
quiz to consolidate your acquired knowledge.
What you will learn
How to automatically assign names to Flows using different types of data
How to set specific conditions to activate the Bot
How to create tags for easier navigation of all Flows
What to do if something goes wrong with the Bot setup
| | |
| --- | --- |
| Duration | 15 minutes |
| Badge | A sharable achievement is included |
| Subject | Automatically renaming Flows |
| Level | Intermediate |
| Language | English |
| Price | FREE |
| Rating | |
Earn a verified certificate to demonstrate the skills you gain
Verified by airSlate
Receive an airSlate-issued certificate with the airSlate logo to verify your achievement and expand your career prospects.
Shareable on social media
Post your certificate on LinkedIn or add it directly to your CV.
All you need to digitally transform your business
The airSlate Academy combines everything you need to digitally transform your business, including legally binding eSignatures, advanced PDF editing, and automated workflows.
eSignature workflows
Familiarize yourself with eSignatures, their implementation, business value, and learn how to create legally binding eSignature workflows for your business.
Paperless workflows
Change the way you work with documents into an interactive online experience and learn how to make your documents look professional.
Achieve your career goals with airSlate's advanced certification programs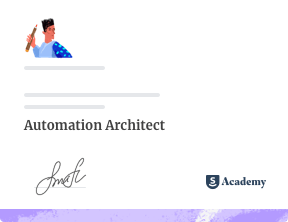 Automation Architect
Learn how to make any process in your workflow run like clockwork. Automate each step using Bots and triggers and perform integrations with popular CRMs like Salesforce or MS Dynamics 365.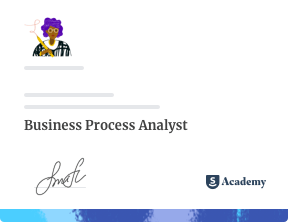 Business Process Analyst
Identify which processes in your workflow can be automated. Learn key metrics to propel your business forward and increase your return on investment (ROI).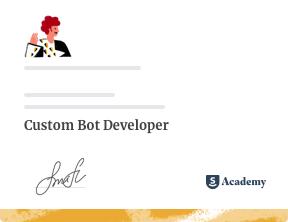 Custom Bot Developer
Learn how to design and develop airSlate Bots — a powerful robotic process automation tool that can be customized using airSlate.
View the certificate
Become an airSlate Partner
Students who complete the airSlate Academy courses are welcome to become partners. Get the necessary skills for building automated processes, helping airSlate newbies, and generating revenue.
Experience streamlined document workflow automation and what it can do for your organization
During the last few decades, technology and automated business processes have been developing fast. They've become a vital part of many types of activities. Document automation workflow helps organizations get everyday tasks completed faster and improves the overall productivity of a team by removing hassle and eliminating the mundane steps of a task.
If you could imagine your business as a Boeing747, then document workflow automation would be its autopilot. Of course, you could fly without it, but not for long distances. Today, running a company is similar. Tackle the many challenges that come in all shapes and sizes by automating and optimizing your business processes for more efficient success in the long term.
There's a variety of software available for completing routine working tasks. But each of them performs a limited number of functions, usually in one specific area. These include CRM systems for Sales and Client Services, task managers, and even software for creating invoices and reports. Using so many separate tools takes a lot of time, especially for learning and managing each one. But what if you could unify them all into one holistic system and create an effective document workflow for increasing operational productivity?
How to implement streamlined workflow document automation using airSlate
airSlate is the market leader in document workflow automation systems. It's a powerful no-code end-to-end tool that allows anyone to easily generate, integrate, and deploy every business tool into one holistic Workspace. It suits both large enterprises and small companies and helps to create and configure an infinite number of business processes, without involving IT departments and/or using expensive APIs. How's that possible? The key is in using no-code Bots (built-in software robots) that allow users to combine Slates into a complex document workflow. It only takes 10 to 15 minutes to configure a fully automated Flow.
In your airSlate Workspace, you can build Flows for:
Contract Management and Negotiation
Employee onboarding
Creating invoices
Company budgeting
Finance
Marketing campaigns
Sales and Customer Service
Education
HR
To build a Flow, install Bots and configure their settings and conditions. They'll be triggered when recipients open or fill in your Slate. The platform features thousands of no-code tools, which fall into two main categories:
Automation Bots — pre-fill forms, create roles, reminders, new Slates, and much more.
Integration Bots — integrate Flows with the most popular databases, CRM systems, and cloud services.
By configuring Bots, you are giving your organization the chance to experience a document automation workflow that operates 24/7 without human interaction.
Create or enhance a document workflow with the Rename Slate Bot
When a Slate is created, airSlate automatically names it. To automate the process more efficiently and customize new Slates, use the Rename Slate Bot. For example, when you build a Sales Invoice Flow, it is signed and returned by recipients as is — unnamed and undefined.
Using the Bot helps you avoid having to manually rename every form individually. Add the Rename Slate Bot and set its conditions. After creating a Slate and your invoice is signed or opened by a recipient, the Bot will give it a custom name, using the client's name, invoice number, and/or date of submission (for instance).
Find and identify invoices easier. The Rename Slate Bot helps you effectively create a document workflow and automate it.
While setting up the Bot, you can tell it how to name or pre-fill Slates with data from form fields or the +Data variable list. The Rename Slate Bot can be triggered:
based on fillable fields in a form;
based on specific recipient information entered in a form;
based on a specific date or time;
based on Slate metadata (Revision status or tag).
Configuring the Bot per your needs creates a streamlined document automation workflow that reduces and sometimes eliminates monotonous tasks. In the airSlate document workflow automation system, you save time for other important tasks and projects, like client relationships and business development.
The airSlate Academy: short courses for future benefits
Even if it now seems easy to automate your working processes, it's worth going through the Academy's courses for a deeper dive into what the right BPA tools can do for your organization. Business is a sensitive mechanism that requires precise actions. Join the airSlate Academy and learn more about document workflow automation and business process optimization. Find simple instructions on creating Slates, level up your skills in setting up Bots, and explore real use-cases for different areas of activity. By the end of the course, you will receive a personalized document automation workflow certificate.