Self-paced
The Roles Reminder Bot
Self-paced
The Roles Reminder Bot
Email reminders are powerful tools that help you stay organized and get tasks done on time. Use the Roles Reminder Bot to do just that. Learn how to automate reminder emails to keep all participants in a workflow on track.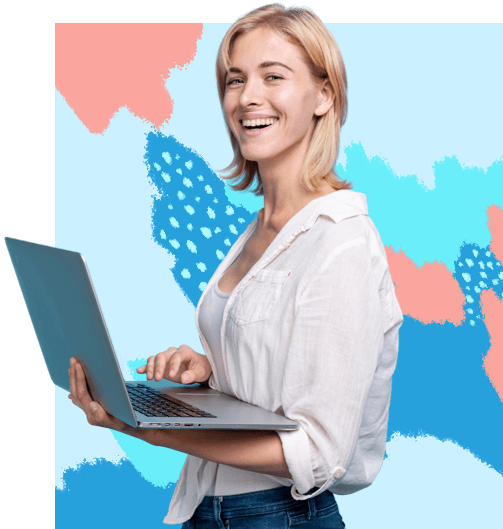 About this course:
This course goes over how to automate email reminders based on the recipient roles in your workflow.
By the end of the course, you'll be able to install and set up the Roles Reminder Bot on your own.
What does this course cover?
Learn how to set up the Roles Reminder Bot to automate reminder emails. In this course, we will explain how to choose a recipient and specify when they will be notified, as well as set conditions for when the Bot will act.
Why was this course made?
We created this course to demonstrate how to send reminder emails to recipients, reminding them to complete or sign a document connected to their specific role.
Who can enroll?
Anyone can enroll in this course and we recommend doing so while getting to know airSlate better.
The materials of this course include:
learning resources to help you set up the Roles Reminder Bot on your own
practice sessions so you can consolidate learning through practical application
What you will learn:
How to сhoose a recipient to remind
How to specify a time for when recipients will receive their reminder emails
How to set time intervals between reminders
How to limit the number of reminders being sent
How to set conditions for when reminders will automatically be sent
| | |
| --- | --- |
| Duration | 1 hour |
| Certificate | A verified certificate is included |
| Subject | The Roles Reminder Bot |
| Level | Intermediate |
| Language | English |
| Price | Free |
Earn a verified certificate to demonstrate the skills you gain
Verified by airSlate
Receive an airSlate-issued certificate with the airSlate logo to verify your achievement and expand your career prospects.
Shareable on social media
Post your certificate on LinkedIn or add it directly to your CV.
Achieve your career goals with airSlate's advanced certification programs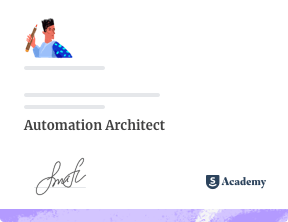 Automation Architect
Learn how to make any process in your workflow run like clockwork. Automate each step using Bots and triggers and perform integrations with popular CRMs like Salesforce or MS Dynamics 365.
Business Process Analyst
Identify which processes in your workflow can be automated. Learn key metrics to propel your business forward and increase your return on investment (ROI).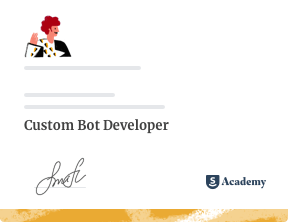 Custom Bot Developer
Learn how to design and develop airSlate Bots — a powerful robotic process automation tool that can be customized using airSlate.
See the certificate sample
Become an airSlate Partner
Students who complete the airSlate Academy's courses are welcome to become partners. Get the necessary skills for building automated processes, helping airSlate newbies, and generating revenue.
Stay organized with reminder emails
How much time do you spend on reminding your employees or colleagues to complete assignments? In reality, whether you realize it or not, it wastes a lot of time checking tasks, their status and then mundanely checking in with those responsible for them. With airSlate, you can use automatic reminder emails and eliminate these monotonous tasks completely.
Why you should use automatic reminder emails
Despite the popular opinion that email is losing ground, it's still a major part of modern marketing. It's an easy way to stay in contact with your employees, colleagues, partners and customers. Especially if you're using automation. When you set up triggers correctly, each email is personalized and relevant to the recipient. Sending reminders that are unique, results in people opening their inbox more often, leading to better communication and efficiency.
Sending email reminders manually to each person is a senseless waste of time and effort. It makes much more sense to use automation. Set up your email reminders once, and then relax. Each email will automatically be sent to the recipient it was configured to be sent to. The only thing you have to understand is how the triggers that send emails work. After you've adjusted when your reminder emails will be sent, they'll help you manage the workflow and keep everyone involved up to date.
In addition to it being a very simple process, email reminders are more effective than phone calls because most don't have time to answer calls. Everyone is always running somewhere and calls are distracting. Not to mention how much time you waste when you call and someone doesn't pick up.
Additional benefits of using reminder emails:
Organizing tasks in the order they should be completed in and by who.

Organized duties lead to better work and due dates that get executed on time.

Reducing unnecessary interaction in a meaningful way.

By eliminating unnecessary phone calls or untimely messages communication and effectiveness are enhanced.

Optimizing team resources.

When resources are used in the best possible way, extra benefits emerge, e.g., team members can focus on what's important rather than creating reminders.
Some tips to help you to create efficient reminder emails
The main goal of email reminders is to get people focused on completing the workflow. Creating a message that doesn't clearly tell the recipient why they're getting the reminder is a mistake. Follow our tips below on how to create an effective message.
Personalize your email reminders. Include the recipient's name.
Don't be dull. Write in an energetic way or include nice a joke.
Make sure that the recipient will clearly understand what you want from them.
Add a call-to-action button to help them complete the process faster.
Remember to always be checking feedback and improving your email reminders. The better you write — the better the results.
How to choose a service for sending reminder emails
Finding the right solution for reminders is challenging. There are plenty of powerful platforms out there like Gmail and Outlook that have great features for sending email reminders. The problem is that they probably aren't directly connected or embedded into your workflow in any way. There are also many web services but again, the issue with a connection to your workflow remains. So what are you options? You don't have hours of extra time for finding and testing a bunch of random services. The best service is going to be the one that integrates completely with your workflow.
With airSlate, the only holistic business automation platform, send automatic email reminders AND implement workflow automation in your business at the same time.
How to send a reminder email in airSlate?
airSlate is a workflow automation software, so sending reminder emails is one of its many powerful features. Use it for internal and external communication for staying in touch with your entire organization and its connections. To start, you'll need a Flow and to set up a reminder Bot — an airSlate software robot. First, upload any relevant documents or choose some from our Forms library (edit them with the editor). After you've chosen your docs and turned them into smart templates, go to the Bots menu and add the Roles Reminder Bot and set its triggers and conditions for sending reminder emails. To do so:
select the conditions that will trigger the Bot;
define who the Bot will remind;
create a custom message that the recipient will get.
With fully automated reminder emails manually notifying people is a thing of the past. Setting up the Roles Reminder Bot is a sure way to increase your team's efficiency. To learn more about airSlate and its Bots, visit the airSlate Academy and take any of its numerous online courses. You'll find everything you need to automate business processes of any complexity. Even get an automation architect certificate for each completed course, preparing you for a successful career in workflow management.